Introduction:
When multitasking, will you lose your temper by switching between different tasks? Besides, you're easily getting onto the wrong page, which wastes your time. Are there any methods to solve this problem? Luckily, screen splitters can help. This poses a question:
how to split screen
?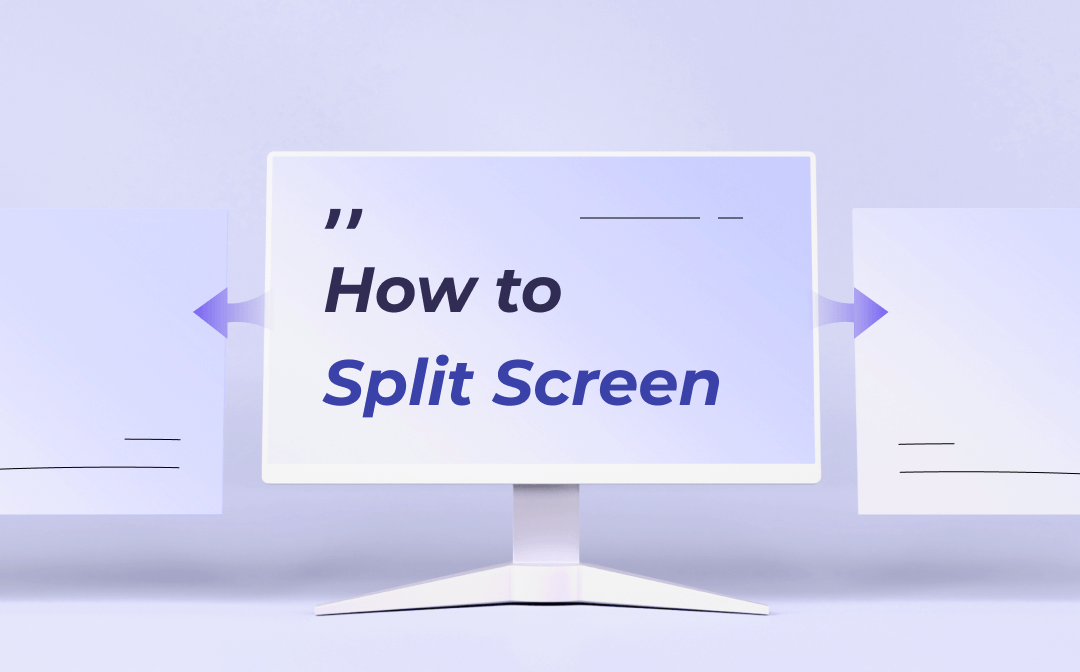 tion of
how to split screen on Windows
. With these methods, you can manage to split the screen to better process multitasking without breaking a sweat.
Split Screen on Windows 11 with Snap Windows
Before starting to split screen on Windows 11, you need to enable snap windows on your device first. By doing so, you're allowed to split screen on Windows. Follow these steps: Go to Settings > System; click on Multitasking; and enable Snap Windows.
By the way, the feature of Snap Windows is changed to Snap Assist in Windows 10.
Method 1. Choosing a Layout
Windows 11 offers you a super-easy way to split screen by single-clicking. There are a total of six different screen layouts that you can choose from, and you can split your screen up into four divided screens.
Before splitting screen, you must make sure that at least two windows or applications are open. Let's see the exact steps to split screen on Windows.
Step 1. Put your mouse over a window's maximize/minimize button. You will see a box pop up under your cursor, which offers you six different ways to arrange your task windows;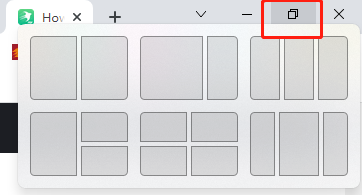 Step 2. Select the most suitable viewing mode.
In addition to using the mouse to open the box, you can also use shortcuts to achieve this. By simply pressing the Windows key and Z simultaneously, you can open the layout box and choose a suitable layout.
Method 2. Using Shortcuts to Split Screen
There's a much easier way to split screen on Windows 11. You don't need to call out the box in advance. Let's see how to make it with the shortcut keys:
When working on one task, you can press the Windows key and the Left/Right arrow keys, so your screen can be put aside to the left or right side easily.
However, this method only applies to the situation when you need two screens. When you are working on two screens, displaying the two screens together will improve efficiency.
Method 3. Using Your Mouse to Split Screen
Do you know you can split your screen with your mouse only? With this method, you don't have to remember any shortcuts.
Step 1. Place your mouse on any empty area at the top of a window;
Step 2. Long press the left mouse button and click on the blank space. Drag the window to either the left or right side until you can't drag it anymore;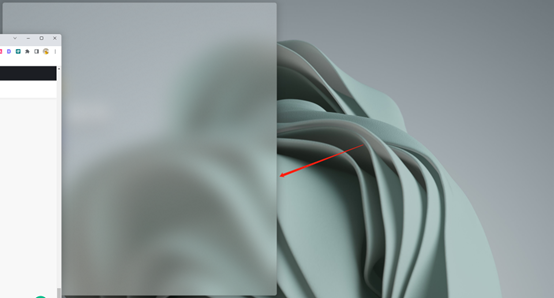 Step 3. Release the mouse, and the window you dragged will be automatically put to the side. It now fills half the screen;
Step 4. On the other side of the screen, all the other windows you've opened will be displayed, so you can choose the one you need to fill in this side.
Now you've successfully split your screen into two screens. You can drag the dividing line to resize the two windows.
Note: By dragging the window to one corner of your screen, you can easily split your screen into four divided screens.
With this approach, you can also split your screen into two or four screens easily on Windows 10.
Split Screen on Windows 8, 8.1, and 7
On Windows 8 and 8.1, the same feature to help you split screen is Snap View. You also need to open it in the Settings app in advance. Please note that if you want to split it into three screens, each window needs to have a resolution of at least 1080p. Otherwise, only two screens are supported.
To split the screen on Windows 8 and 8.1, you can use method 3 mentioned above for Windows 11. Long press your left mouse button and drag the window to one side of the screen as far as possible, then select another window/app to fill the other screen.
You can also resize the two screens by adjusting the dividing line, but unlike Windows 11 or 10, only one window will be resized when you move the dividing line, and the other one won't get changed automatically on Windows 8 and 8.1.
On a Windows 7 operating system, you can use the same approach to split your screen. The only difference is that you need to drag the other window manually, too. In addition, Windows 7 supports a maximum of two screens.
How to Split Screen on a PDF File
When checking a large PDF file that contains many pages, it's hard to remember all the content by only reading once. Moreover, you may need to scroll up and down to find the mentioned information or contrast the details of the same finger.
When it happens, a PDF viewer that supports splitting screen would be very helpful. Luckily, SwifDoo PDF is exactly the right one, which can help you read a PDF document with two divided screens.
Developed by an experienced team, SwifDoo PDF is an all-in-one tool to help you solve problems with PDF files. You can use it to edit, annotate, convert, and compress PDF files without a hassle. Almost all the editing features you need for a PDF file are offered by SwifDoo PDF.
SwifDoo PDF supports splitting screens in three ways: vertical, horizontal, and four windows. Both vertical and horizontal views split your files into two screens.
Splitting screen on a PDF file is super easy. Check the following steps:
Step 1. Download and install SwifDoo PDF, then launch it;
Step 2. Open the target PDF file with SwifDoo PDF;
Step 3. Click View in the top navigation bar, then selects Split Screen.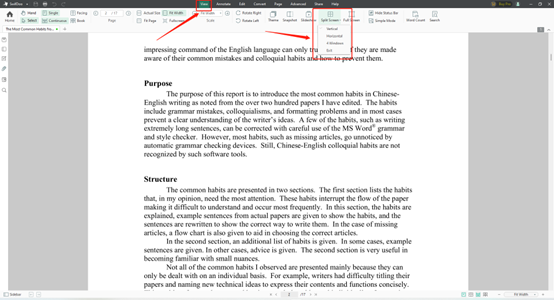 Note: The screen will be divided into two screens, and they will be displayed vertically by default. By clicking the inverted triangle in the lower right corner of the split icon, you can choose the other two forms of splitting the screen.
Final Words
That's all about how to split screen on Windows. Splitting screens is a super helpful feature when you're multitasking. Windows 7 is the first version that supports splitting screens, so it's relatively less inconvenient to finish the task. You can see that this feature is becoming much more mature.
Usually, it's difficult to get a PDF tool that supports splitting screens for better reading large PDF files. If you find this feature useful, you can have a try on SwifDoo PDF. It's a totally free and useful tool that can help you for real!