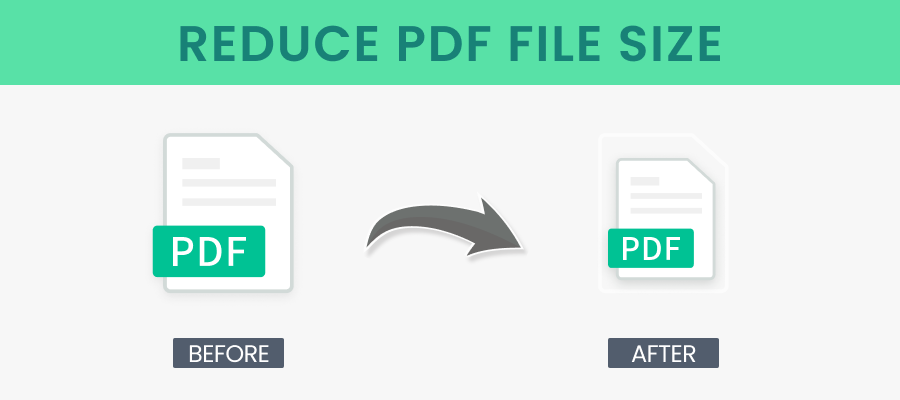 When it comes to PDF documents, ever-growing in popularity, there are many reasons why one would want to benefit from compressing or optimizing the file. The following are a few of the advantages that come from reducing PDF file size:
Facilitate Sending Emails.
Have you ever tried to send a PDF attachment in an email but couldn't because you exceeded the 20 or 25MB file size limit? This can be quite a frustrating situation, especially when the PDF file is work-related or time urgent. By using SwifDoo to compress the PDF to a smaller file size, you can avoid email delivery failures (and the directly related stress!)
Reduce Storage Needs.
PDFs are great for presenting images, graphs and other illustrated content. That said, such a PDF can be considered very heavy and large, thus requiring tons of storage space. To avoid such a problem and reduce storage needs, you can use SwifDoo to optimize the PDF and decrease its overall size before saving it to your computer.
Decrease Loading Time.
Do you have to upload PDFs online, or download them to your computer in order to use them for work or school? You can improve both performance and load times by compressing the PDF file size using SwifDoo in just a few simple clicks.
Batch-processing Files.
As earlier mentioned, PDF documents are continually growing in popularity, and with reason. However, it can become challenging to process many PDF files at once and quite time-consuming to handle them manually. Thanks to SwifDoo, it's now possible to batch-process PDF files in record time, which otherwise means compressing several PDF documents all at the same time.
Improve Website Usability.
We've all had it happen to us, and therefore, we all know how frustrating a slow website can be. Overly large PDFs are one reason why a website can slow down, affecting user experience and SEO results. By optimizing your PDFs with SwifDoo beforehand, you're increasing your visibility as well as ensuring a quick and pleasant web performance.
Simplify Remote Working/Teaching. There's no denying, remote working, teaching and learning have increased tenfold in popularity over the last year. Coronavirus has obliged many individuals to both work and study at home. In order to simplify this switch in functioning, one can reduce PDF file size to ensure working, fast and effective documents at all times.Compressing a PDF with SwifDoo.
SwifDoo PDF is an all-inclusive program that allows you to work with PDF all while utilizing several useful tools. One primary need when it comes to PDF is compressing large files, and SwifDoo offers a compression option that covers all needs. Using the program couldn't be any easier.
Here are the steps to follow:
Open the SwifDoo program and enter your username and password.
Step 1: Once the program window opens, select the Compress PDF icon located to the right of the screen;
Step 2:A second window will open, specifically for compressing PDFs. Here, click on the Open or Drag Files Here button at the center of the window;
Step 3: Add the file or files that need compression. The file name will appear in the dropdown list below. Remember that SwifDoo allows batch-processing of numerous documents at the same time;
Step 4: Before simply clicking on the Start button beneath the Operation tab, select the compressed document's image quality. There are three options to choose between: HD, Standard and Normal.
Tips:
Selecting a different image quality can determine the overall size of the compressed PDF as well. All three options provide clear and legible content and images, but a normal image quality will consume less space than the HD option.
Step 5: Click Start to reduce the file size on Windows with SwifDoo PDF!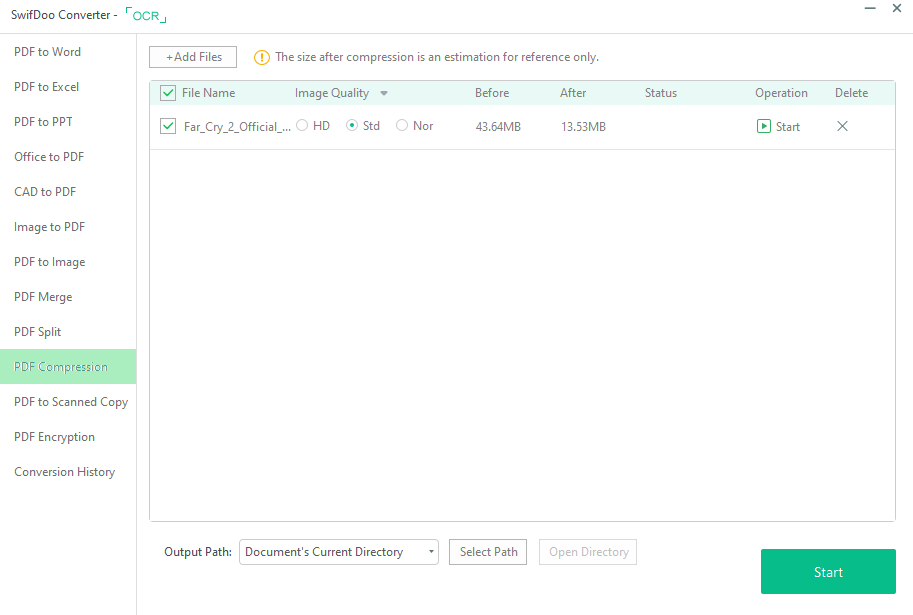 Note that SwifDoo PDF equally provides an estimate of the compressed file size, which can be greatly useful when knowing exactly how much space one has to use. Moreover, it is also possible to compress and optimize documents other than PDF, such as Word, Excel, Google Docs, PowerPoint and much more.
Depending on the original document's size, the time required to compress the file may vary; however, generally speaking, the task is completed quite rapidly, allowing the compressed versions to be accessed in the following minutes. Once the file has been compressed, it is possible to open the document directly from the SwifDoo program.
Furthermore, one can open the directory to see where the file has been located. Finally, it is equally possible to delete the document directly from SwifDoo with one simple click.
Final Thoughts
As the way we work and learn continues to shift from in-person and in-office toward online and remote, PDF compression and optimization needs will equally continue to grow and expand. If you're looking for a top-of-the-line, all-in-one program to work with PDF documents, SwifDoo is the leading technology you want!