Introduction:
In some cases, PDF users need to insert or create a fillable form into a document to help display data and statistics. Optionally, users can add a form in an editable file, such as Word, then convert it into a PDF.
However, the easiest method is to directly create an editable form instead of converting a Word document to a fillable PDF form. In the following paragraphs, high-quality free PDF form fillers and creators will be introduced.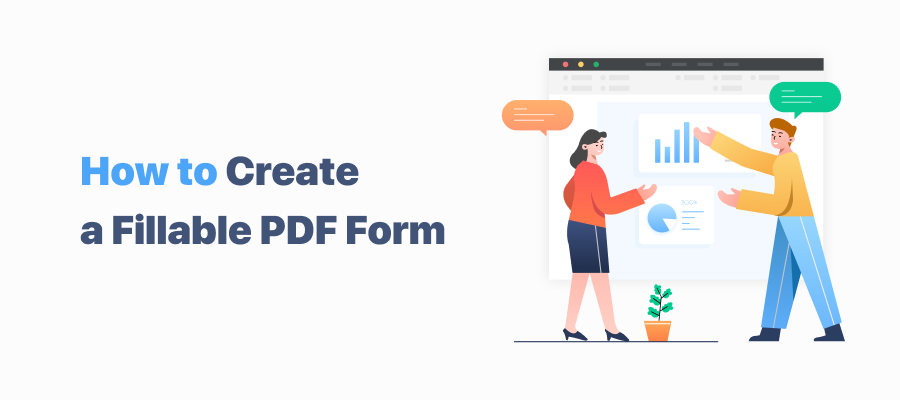 n provider, which works well on Windows, Mac and mobile devices. Whilst users may think of it as a PDF editor or converter, Foxit PDF has developed features to cope with the huge demand of creating fillable PDF forms:
Step 1: Create a new PDF or upload an existing PDF from local device to Foxit PDF's panel;
Step 2: Add the needed interactive form fields on the tab of Form, including but not limited to push button, radio button, checkbox, combo box, and text field;
Step 3: If you want to make sure whether a pdf form is fillable or not, click Run Form Field Recognition to recognize the editable parts and edit the forms.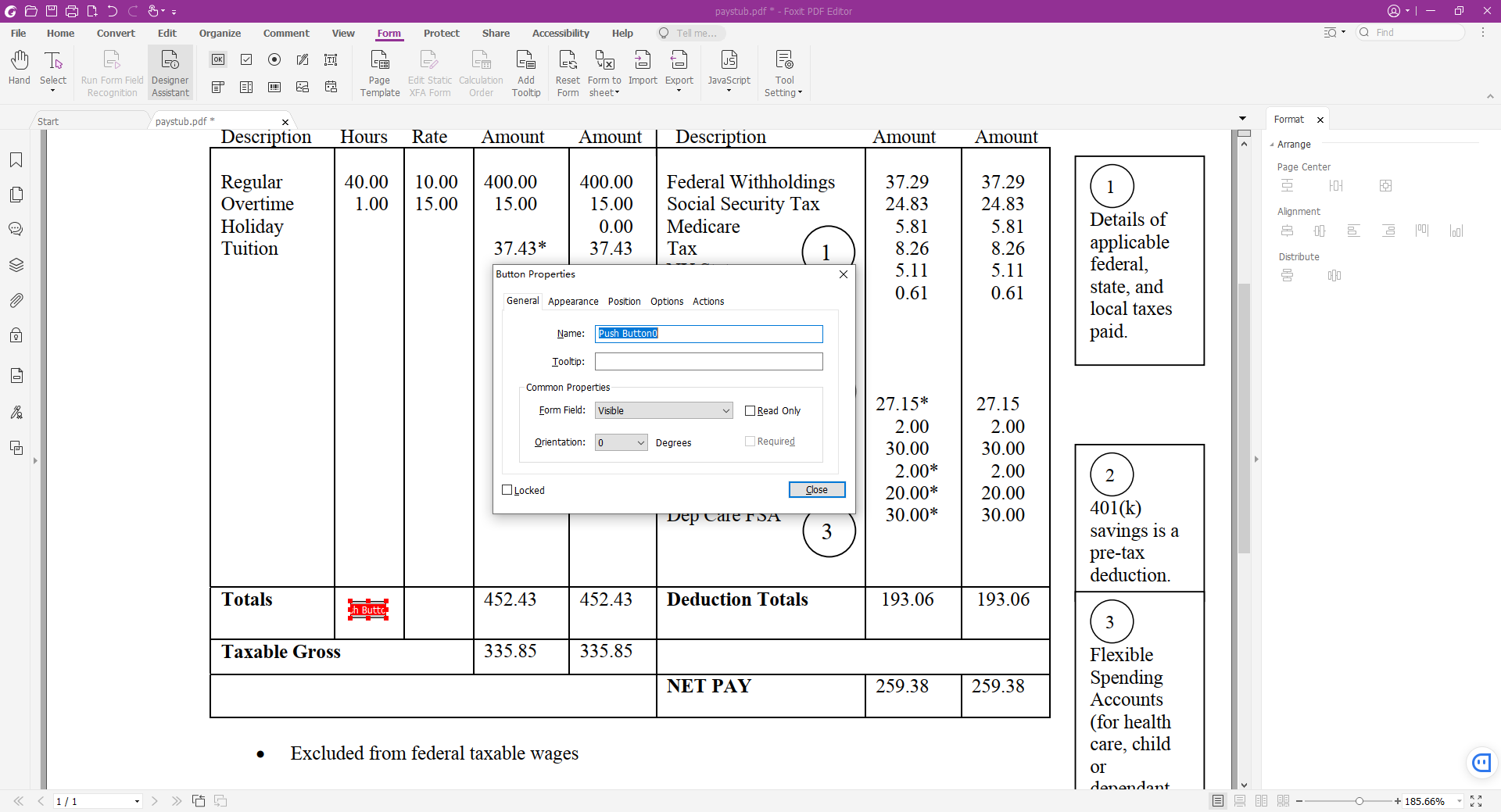 Besides the mentioned tools, Foxit PDF integrates related components to document and edit JavaScript. With Foxit, users can even export forms to files or directly share the forms via email. This streamlined and simplified workflow can greatly increase efficiency.
Soda PDF
Soda PDF is a reliable PDF program that allows users to view, edit, convert, and protect their PDF documents. As an all-in-one PDF tool, Soda PDF enables users to edit or create a fillable PDF form as well. It is both available online and via desktop, which means users can access their Internet-based service to prepare a PDF form online.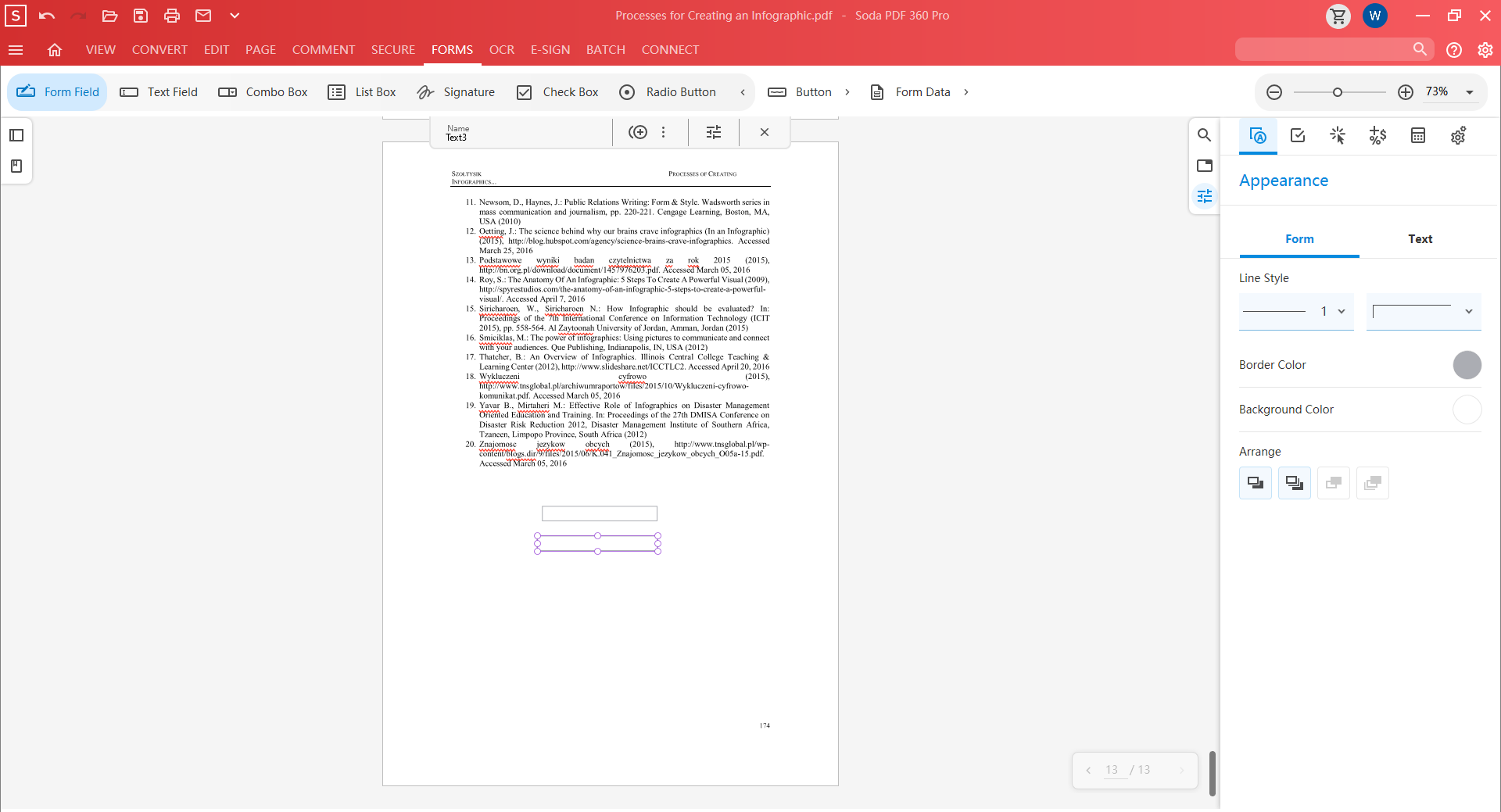 If you need to create a fillable PDF form with Soda PDF, follow the below instructions:
Step 1: Download Soda PDF desktop from the official website, and install the program;
Step 2: Launch the software, put your cursor at Create PDF from Blank;
Step 3: Select Form at the menu bar, then choose the needed feature (highlight form fields, text field, checkbox, radio button, list box, combo box, and push button);
Step 4: Click on View to preview the newly added form fields. When everything is okay, click Save or hit the Ctrl + S to save changes.
Note: If users need to adjust and modify the field properties, just click on each item to trigger the "Setting" window on the right side.
How to Create and Fill a PDF Form on Mac
The built-in PDF reader on Mac Preview incorporates many features except creating and filling PDF forms. But it doesn't mean it is impossible to build fillable forms on Mac. Mac users can utilize a device-agnostic PDF form creator, PDFelement developed by Wondershare.
PDFelement
PDFelement is a cross-platform supported PDF editor. This June, it unveiled PDFelement 8.0 for Mac. This new version on Mac has introduced several new features, including filling, signing, creating, converting, and extracting from forms.
To create fillable forms on Mac, you can trust PDFelement for Mac. Here comes the most complete guide to create and edit a fillable PDF form on Mac devices:
Steps for Using Form Templates Provided by PDFelement for Mac
The easiest way to insert a form into a PDF is to use the existing templates:
Step 1: Download a PDF form template from the template page;
Step 2: Open the software and import the templates to the workstation;
Step 3: Select Form on the menu bar, then click More Options to choose Form Field Recognition.
Whenever you need to edit or change the items, click the toolbar.
Steps to Edit PDF Forms
Step 1: Upload a PDF containing forms to the PDFelement's workplace;
Step 2: Hit the Form button to recognize those fillable parts within the PDF form;
Step 3: Fill out forms with interactive or non-interactive fields, such as checkboxes, radio buttons, combo box, list box, or images;
Step 4: When you add an element to the PDF form, you can edit or change the field properties (appearance, formatting, action, and options) if needed;
Step 5: Once finished, save changes to the current document.
Filling a PDF form or creating a fillable PDF form, is relatively easy with the help of PDFelement. However, this action requires a membership to continue.
Create and Fill a PDF Form with Online PDF Tools
JotForm
JotForm is an expert in creating online forms. Apart from being a PDF form creator, JotForm is the home to multiple templates; for instance, table template, PDF template, card template as well as form template.
With JotForm's fillable PDF form editor, users can create customized PDF forms that they can easily fill out and submit from their digital devices.
Step 1: Open JotForm and start creating a PDF form from scratch. Alternatively, users can either import an existing PDF form to convert into a fillable PDF, or, choose a well-designed template from JotForm's template resource library;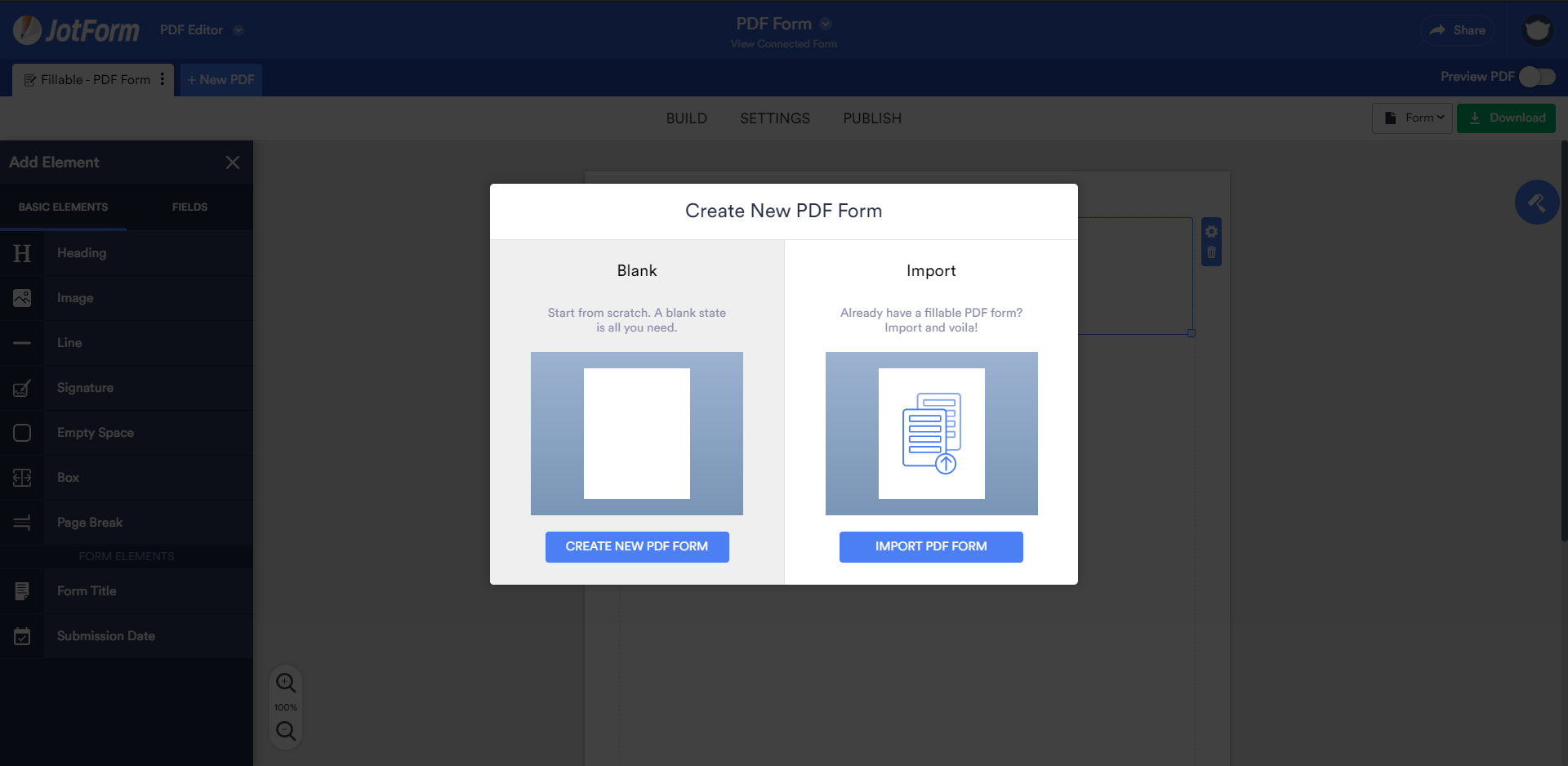 Step 2: Fill inthe PDF form by adding basic elements (such as heading, signature, box, image, page break, submission date, and form title) or fields (including number, dropdown, single choice, multiple choice, and other options);
Step 3: Change the page background, question style, and line spacing if needed.
Step 4: When everything is set, click the Download button to export the PDF form.
Users should note that JotForm is a free online form creator, therefore forms will be watermarked with its brand name on the bottom right of the PDF. Only users with a paid subscription can remove the watermark from the form.
Personally, it is fair enough because they offer up to 5 forms and an array of free templates for each newcomer. If you are discontent with the service, cancel the subscription plan within 30 days.
pdfFiller
While DocuSign can boast of its excellent editing, creating, and managing PDF documents and forms online, users can place their 100% trust in pdfFiller's PDF form maker and builder. This web-based form creator can help with filling forms automatically, creating new forms and documents, hosting fillable forms, adding fillable fields, and protecting forms.
Step 1: Enter the URL on the search bar, you can either turn a form into a PDF or create a new form;
Step 2: If you need to insert a fillable form into a PDF, click ADD FILLABLE FIELDS on the right side right after your PDF document has been imported to the workplace;
Step 3: Select a field to add from standard fields and template fields;
Step 4: When everything isdone, click Preview to check whether the newly added forms are what you want;
Step 5: Press Exit Preview and then choose SAVE to keep all changes.
Comprehensively, pdfFiller is an all-in-one online PDF solution, apart from the ability of creating or filling in PDF forms, it integrates multiple features within its operation panel such as PDF converting, splitting & merging, compressing, and editing.

Final Thoughts
Before users can directly create a fillable PDF form, converting a PDF with forms seems to be the only way. The aforementioned PDF tools or professional form creators contribute a lot to enhance productivity, and thus we can create a savable PDF form or fill in an editable PDF form.