Introduction:
The prevalent increase in using digital and mobile devices to read electronically, has led to questions around how to convert an electronic book format to a PDF document for enhanced compatibility and accessibility. Fortunately, thanks to the emergence of free eBook to PDF converters both online and offline, this is no longer an issue.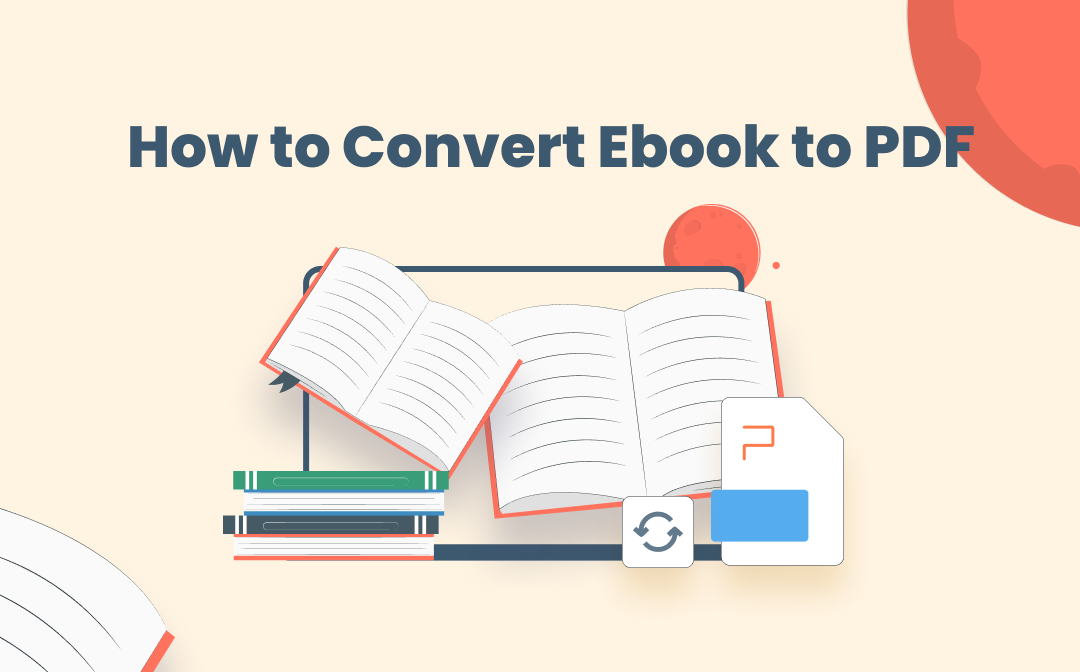 This post will focus on several easy-to-use converters to turn an eBook into a PDF within a few clicks.
What is an eBook?
Firstly, we need to explain the definition and common formats of eBooks.
An eBook is an electronic version of a traditional printed book which can be read on computers or mobile devices. There are a number of eBook formats but the ones most commonly heard of and used are: text (.txt) format, EPUB (.epub) format, MOBI (.mobi) format, AZW (.azw) and AZW3 (.azw3) formats, and PDF (.pdf).
How to Convert an eBook to a PDF Online
If you search on Google how to turn a Kindle eBook, an iBook, a Google eBook or an Amazon eBook, into a PDF using an online service, you'll be dazzled by the search results. Here in this section, we review two online products that can help save an eBook as a PDF.
Zamzar
Personally, we put Zamzar in first place simply because it is an all-round online converter. It is able to convert images, documents, videos, audios, and eBooks. With a mission to provide high quality file conversions for as many file formats as possible, Zamzar supports EPUB to PDF, MOBI to PDF, AZW and AZW3 to PDF, as well as text to PDF. To convert your files using Zamzar, follow the steps below:

Step 1: Visit the Zamzar official website and click CONVERTERS > EBOOK CONVERTERS;
Step 2: Click Add Files, drag your file to the workstation or select link to upload your eBook files, then choose the output file format as PDF;

Step 3: Once ready, press the Convert Now to export this eBook as a PDF.
The converted PDF will be automatically downloaded. However, it is important to note, the maximum download file size at Zamzar is 50 MB. Larger files will require users to upgrade their account. If users are concerned about file security, ZAMZAR promises that all traffic to and from the servers is secured by 128-bit SSL encryption technology.
Online-convert.com
The next recommendation is Online-convert.com, a web-based conversion tool similar to Zamzar. However, Online-convert.com is a file compressor as well as a file converter. This tool can deal with most mainstream eBook formats, including AZW, MOBI, ePub, and IBA. Let's get down to business:

Step 1: Enter the URL on the search bar. Click All tools and navigate to eBook converter. When you see Online Converter, select Convert to PDF;
Step 2: Upload your eBook to the workplace via URL, Dropbox, Google Drive.
Step 3: When you're ready, hit the Start button to output this eBook as a PDF.
Tips:
Different from Zamzar, Online-convert.com considerately allows users to change relevant settings, including base font size, embed font, input encoding, target eBook book, title and author of the converted PDF, and add borders.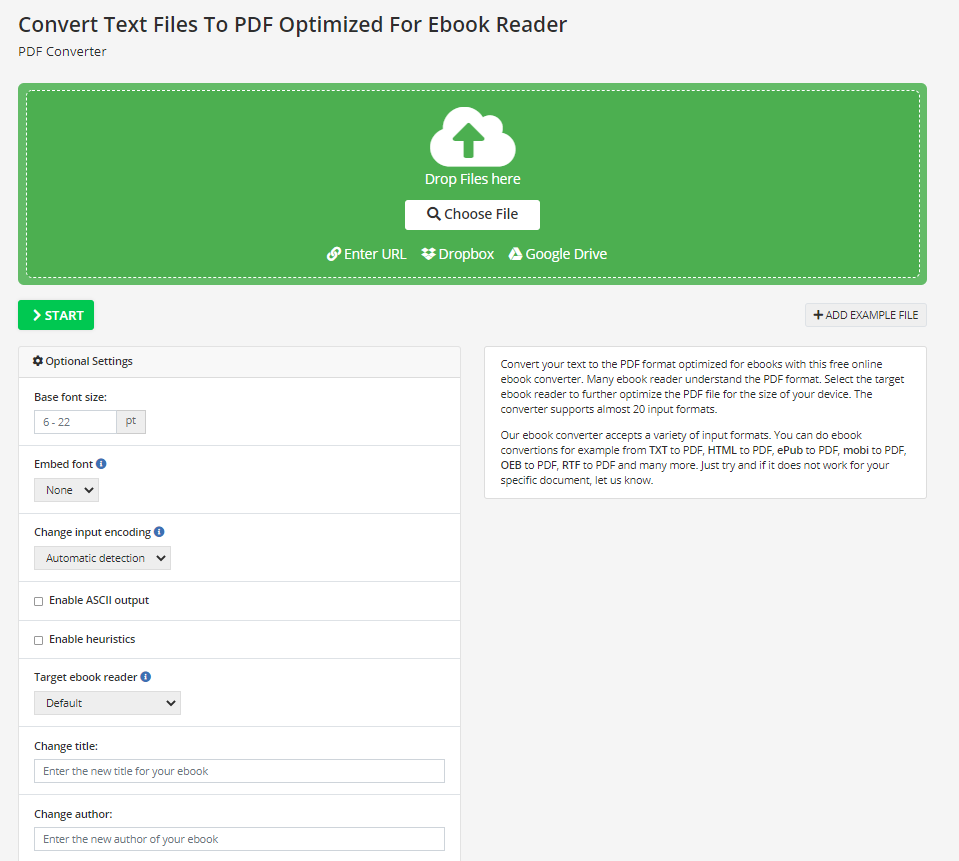 If you need to access the tool on your mobile device, Online-convert.com offers iOS and Android versions. Plus, it is available in the Chrome Web Store and users can install it as an extension.
In summary, online converters are favored because they require no login or registration, which is beneficial for cautious users who are reluctant to try third-party software. During reviews, we've found if your eBook is more than 5 MB, the conversion process will take more than three minutes which can lead to conversion failure.
How to Convert an eBook to a PDF with Desktop Software
For those who regularly work with computers, a desktop version can be a good option. Here we cover a popular eBook reader and converter available on both Mac and Windows: Calibre.
Calibre
Calibre is an open-source, dedicated eBook management tool, which means this is a freeware to use. It is a comprehensive e-book viewer, which has the ability to download eBooks from the web, share and backup the library, and more importantly, edit eBooks.
Aside from these features, Calibre can reach a wider audience by being available on Windows and macOS. Check out the steps below to export an eBook into a PDF using Calibre: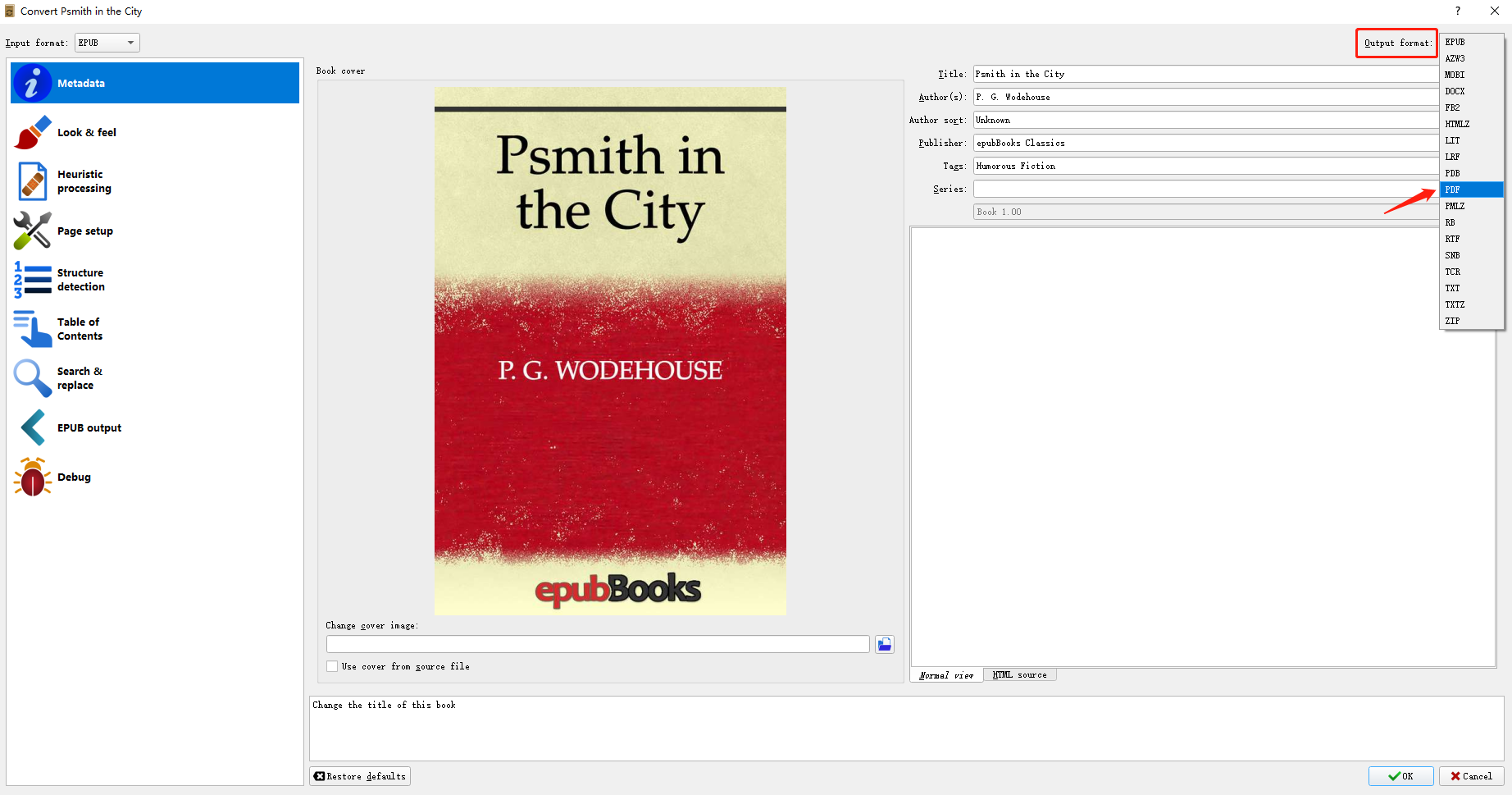 Step 1: Download the program from the official website;
Step 2: Launch the software on your device and choose Add books on the ribbon bar. Users can add eBooks from folders or sub-folders;
Step 3: Click on the Output format to change it into PDF. Of course, users can select any desired formats.
Calibre allows users to edit the metadata of the original eBook, search and replace text within the book, and change the appearance. That is why we call it an eBook one-stop solution. If you are looking for a free eBook to PDF converter on iPad, macOS, Android, Linux, or Windows, consider giving Calibre a try.
How to Convert an eBook to a PDF on Mobile
If you need to save an eBook as a PDF on your mobile device, eBook Converter is an option that has you covered.
eBook Converter
This is an easy-to-use application available on both Android and iOS, and it is adept in presenting electronic eBooks and exporting documents to eBook formats, such as FB2, AZW3, LRT, MOBI, EPUB, to name just a few. This office assistant enables users to custom read, convert files in batches, and support multiple eBook formats.
Step 1: Download the app from Google Play or App Store;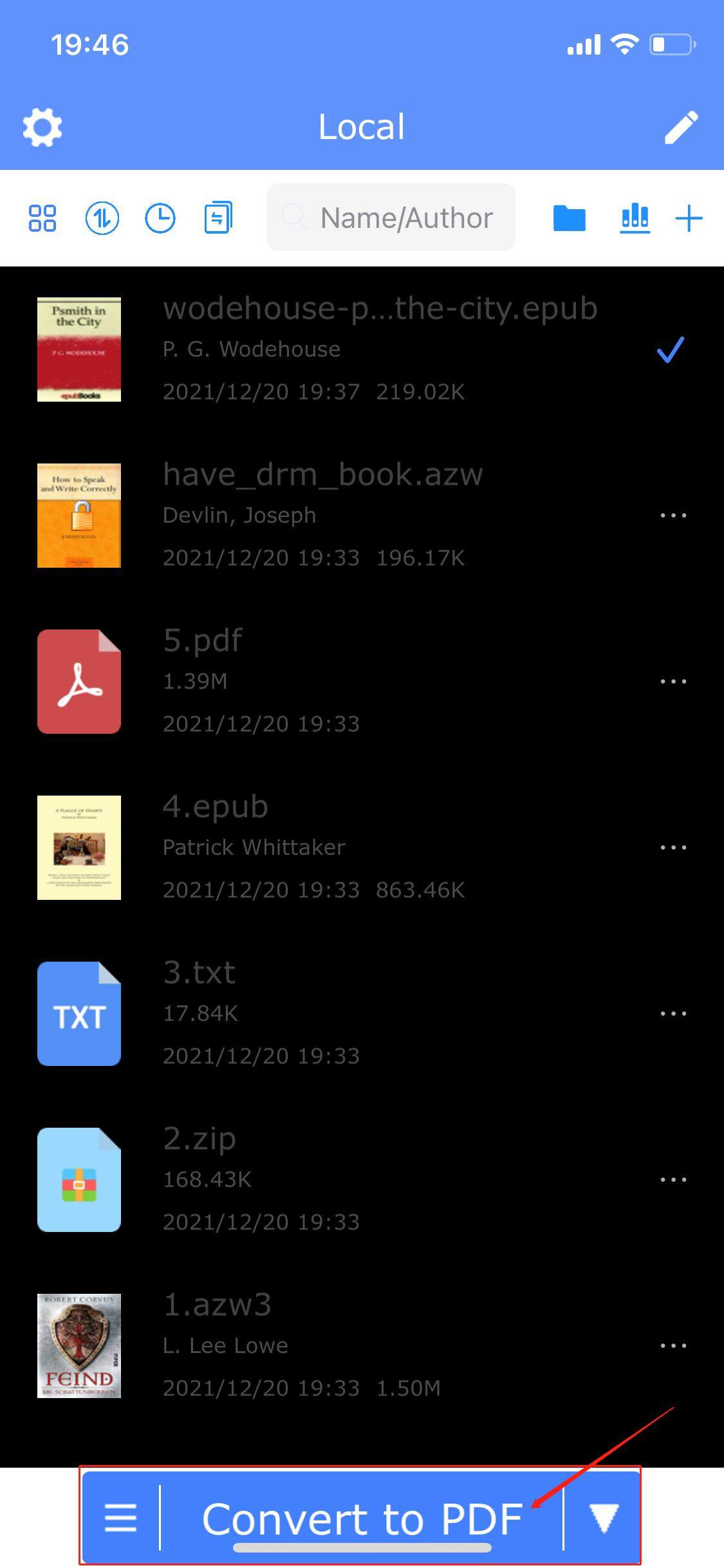 Step 2: Open an eBook using the app;
Step 3: At the bottom of the app's interface, click Convert to PDF to successfully turn this eBook into a PDF.
However, even though the app is intuitive and simple, if you need to save an eBook as a PDF, you will need to upgrade your plan as the basic version can only convert files into text or MOBI documents. The good thing is, this app is quite reasonable and the lifetime version only costs $8.99 yearly.
If you are a freelancer or blogger who may need to publish your own eBook, this post may help a lot by covering writting tips.
Tips for Writing Your Own Ebook in 2022
More and more content producers are into writing their own e-books, but how to write a good one is always a problem.
READ MORE >
Final Thoughts
When your eBook is small in file size, online tools offer a suitable solution. Otherwise, if users have larger files to convert, we strongly recommend Calibre. In addition to this, most web-based conversion service providers have set limits for each file size and free tasks, which is another reason we recommend Calibre as the top choice when it comes to a free eBook to PDF converter.
If you need a reliable PDF reader to access your newly converted PDF on Windows 10/8/7/XP, SwifDoo PDF is a good option.