Introduction:
Merging PDFs is the process of combining two or more PDF files into a single one. Since most PDF tool enables users to combine or merge PDF files, we may subconsciously think this job is rather easy. However, this seemingly simple task may require a lot of trial and error if you don't know which PDF combiners you should utilize. This raises a question: How do I combine PDF files?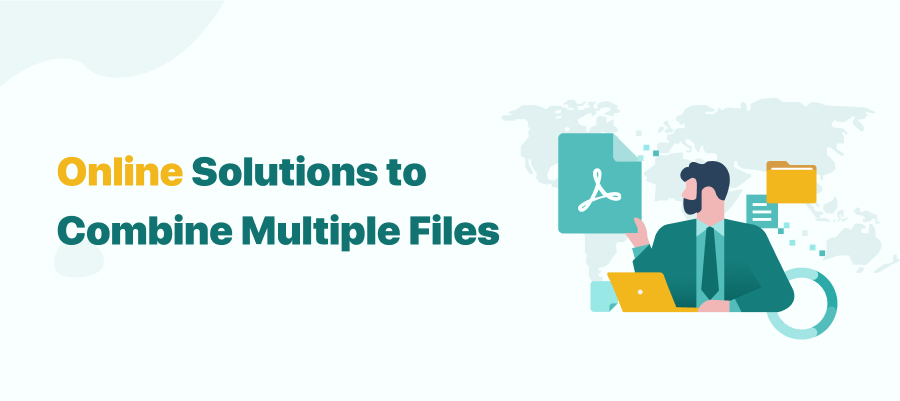 When you want to attach several PDF documents to an email, some service providers won't allow this action. Or you get tired of the PDF file clutters on your desktop and have no way around it. For project managers, combining different PDF documents into one facilitate document management for large projects. These usage scenarios showcase the necessity of combining PDF files.
Adobe Acrobat, though, is the pioneer in the PDF industry, we still have other choices to combine PDF files. For instance, online PDF combiners often require no registration or download process, which is convenient and user-friendly. Therefore, this article focuses on 4 online PDF combiners: iLovePDF, Online2pdf, Smallpdf, and Sejda PDF. We will expound on workable methods to combine PDF files for free.
iLovePDF
If you are an active PDF user, you might be familiar with this online PDF combiner - iLovePDF. To offer a free, accessible, and high-quality product, this team is dedicated to making PDF-related tasks easier and faster.
As a whole, iLovePDF provides 25 valuable tools to simplify all PDF-related tasks, including splitting pages and merging multiple PDFs. Let's dive into how to combine PDF files with iLovePDF.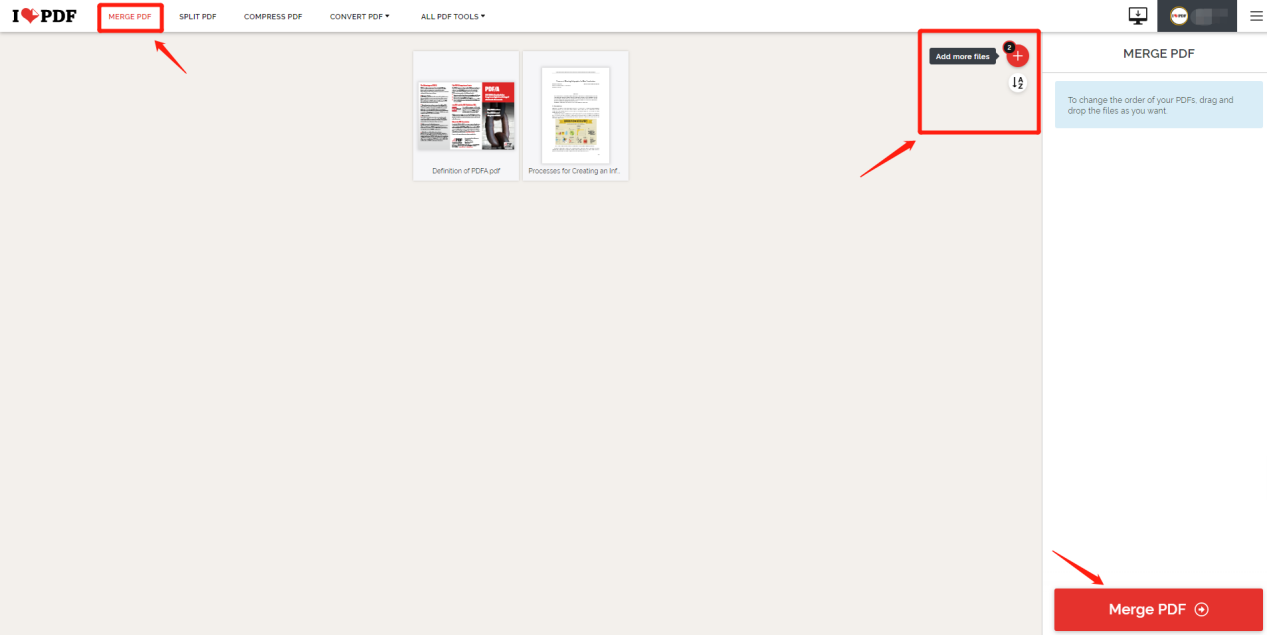 Step 1: Visit iLovePDF and you will see an operation panel;
Step 2: Click Merge PDF;
Step 3: Upload the PDF document that needs to be combined. iLovePDF allows users to upload files from Google Drive, Dropbox, and local computer;
Step 4: Click the Merge button to start combining these files.;
Step 5: When your PDFs have been successfully merged into one file, iLovePDF will automatically download the newly created file.
At the same time, you can choose to save this file to other cloud storage platforms - Google Drive & Dropbox. Alternatively, you can share a downloadable link with people or generate a QR code.
Though iLovePDF is a PDF combiner for free, it does not mean the free service is unlimited. Users are restrained to access features when they run out of two free tasks per day. Unlimited document processing entails a subscription plan. By the way, if you are looking for other solutions to combine PDF pages, iLovePDF provides a desktop version as well as a mobile app for different users.
Sejda PDF
The next recommendation to merge PDF files without Adobe Acrobat goes to Sejda PDF. This online combiner was developed in 2010 and has combined millions of PDF files so far. The free PDF tool provides 30 tools to improve both workflow and efficiency, and it's important to highlight that this web-based program enables users to view the page/file mode when combining PDF files. The feature lets users decide what and how to combine PDF files, seldom seen in other online products.
As to the merging process, this free PDF combiner is quite impressive as the whole merging process is very simple. Follow the instruction to easily combine PDF files for free:
Step 1: Open the PDF tool in your browser;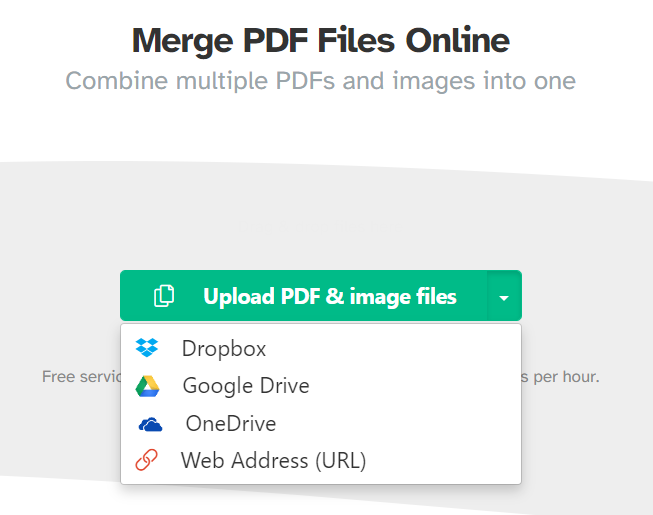 Step 2: Choose a convenient way of uploading a PDF: local folder, Google Drive, OneDrive, or URL;
Step 3: When ready, hit the Merge PDF files to combine PDF files.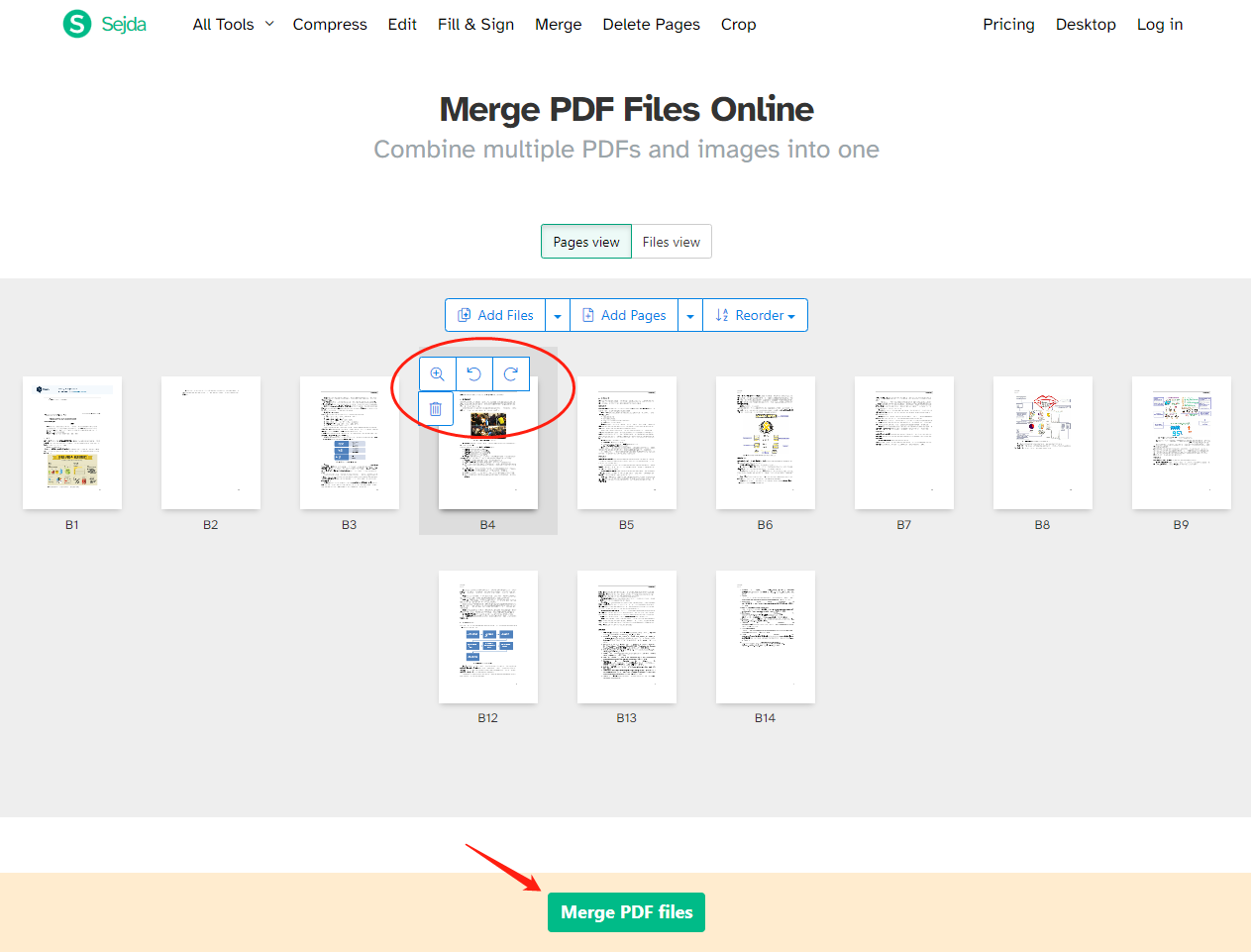 As the image demonstrates, users can directly rotate, delete, and enlarge PDF pages when putting the cursor on each page. If you need to reorder or add PDF pages, just put your mouse on a PDF document and click "Reorder". In this way, users can rearrange PDF files based on actual needs.
What needs attention is that the PDF combiner is not a 100% free online tool, with three free tasks every 24 hours instead. Still, the "Merge" feature we just described requires no subscription and registration. Plus, the intuitive design is user-friendly, and its various tools are worth a shot.
Smallpdf
Smallpdf, another familiar name in the document management industry, hopes to craft a product that is reliable, secure, and simple to use. To a certain degree, this was a success and it helped make PDF easier by providing 20 practical features to deal with PDF-related tasks, including merging PDF files. Have a glimpse of how to combime PDF files for free:
Step 1: Go visit the official site. Click Merge PDF;
Step 2: Choose files from a local device, Dropbox, or Google Drive;
Step 3: The site will prompt you to choose how you need to merge the files: file mode or page mode.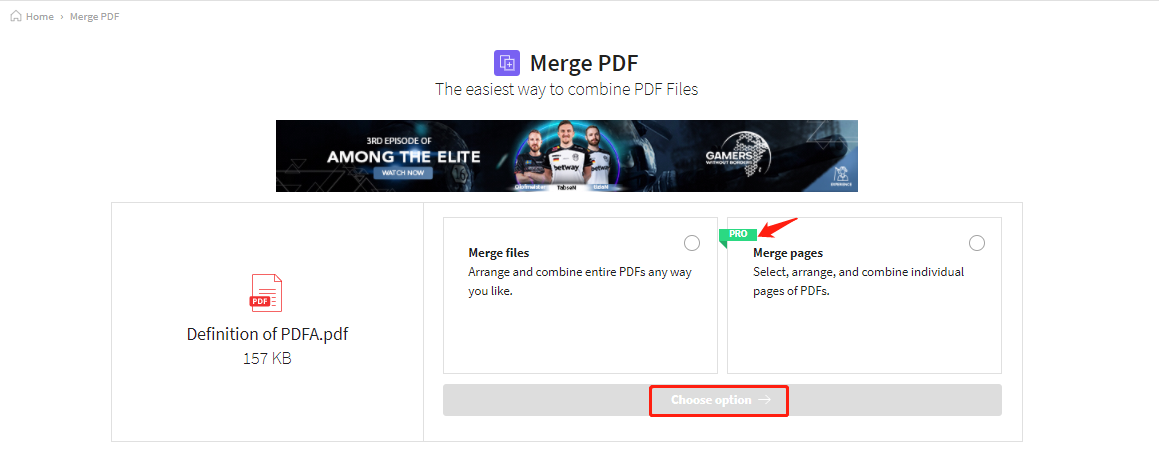 Step 4: After choosing the merging mode, click Choose option to start merging;
Step 5: Smallpdf will not download the merged PDF automatically; you have to click Download to save it to the local device. Optionally, you are allowed to store/share the PDF to two mainstream cloud storage platforms, Drive and Dropbox. Tips: Sharing the merged PDF requires registration.
As the image clearly demonstrates, a user can process two tasks a day. If you like this product, you can unlock the one-week free trial before paying for a subscription plan.
Tip: The former file model is to combine entire PDFs while the latter can arrange individual pages of PDFs. Please note that you need to upgrade from the free plan if you want to organize different pages of PDFs.
Online2pdf
The last online PDF combiner is Online2pdf. Without too many words introducing themselves on their official website, this tool keeps a low profile. Online2pdf is not a commercial website, and the services it provides are completely free of charge and without any obligation.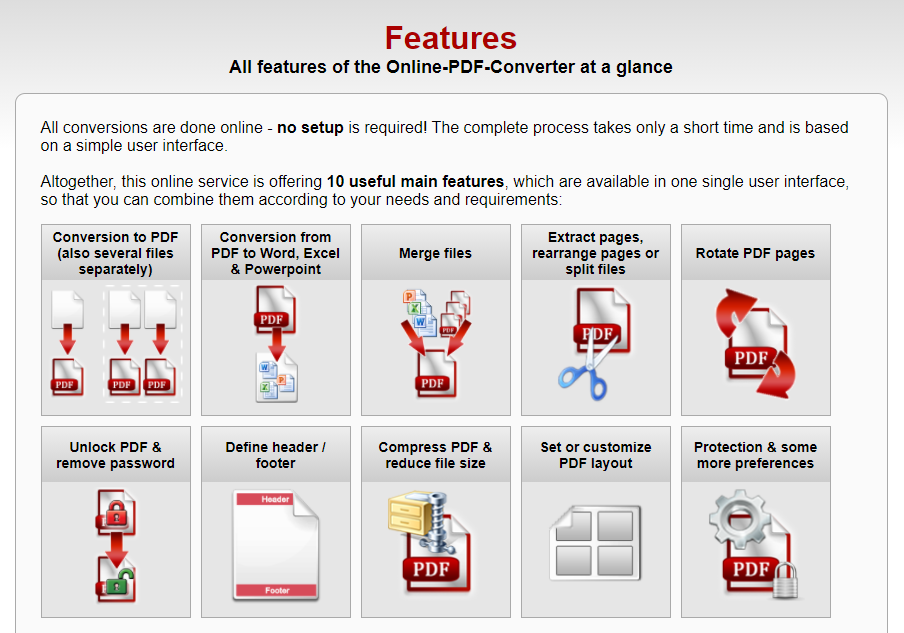 Although this online tool boasts its conversion features (as shown in the picture below), it can combine PDFs and be considered an excellent free PDF combiner. Let's take a look at how to combine PDF files online:

Step 1: Type the URL at the address bar;
Step 2: Upload the PDFs to the panel. This site only supports uploading existing documents from local folders. Any cloud storage platforms are not currently available;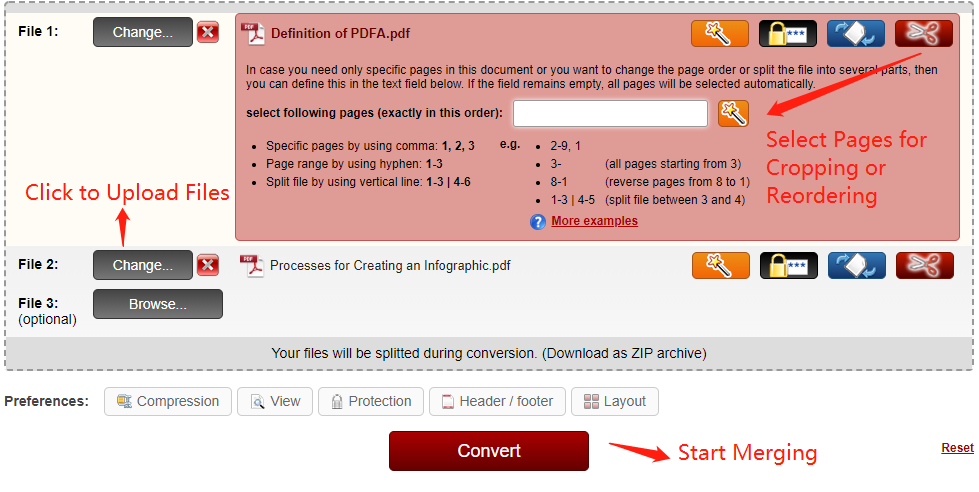 Step 3: When you finish uploading files, you can optionally change the page order of these documents and specify which pages to merge by clicking the wand or scissor icon;
Step 4: The entire process to combine PDF files is automatic, which means you don't have to do anything else after clicking on Convert. However, your needed document will be exported in the ZIP format. This format may be used simply because it supports lossless data compression.
Conclusion
Merging PDF files without Adobe Acrobat is not a tough task as long as you find the right PDF tool. All the listed four PDF combiners are free of charge, internet-based, and compatible with multiple operating systems. However, each of them has its strengths and weaknesses.
The former two PDF software are relatively more popular and allow every user to combine PDF files twice/three times a day. Otherwise, you're suggested to upgrade your payment plan. The last two PDF programs, though, are free to use and have certain impressive features, they don't provide any desktop or mobile versions, making them less convenient and portable.