Introduction:
There are 195 countries in the world today and 7,117 known languages spoken by people around the world. It's almost impossible for a person to understand all the languages in the world. And language barrier often prevents you from reading text written in other languages, which makes translators an indispensable tool in all walks of life.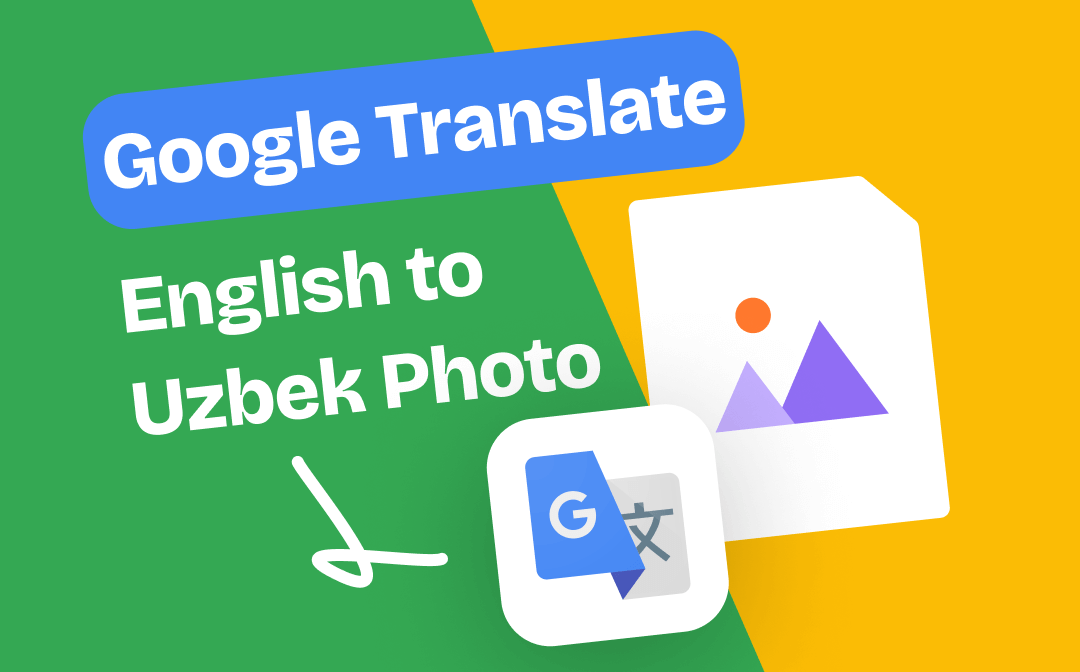 In this post, we'll offer you a step-by-step guide to Google Translate English to Uzbek photo. Uzbek, the official and national language of Uzbekistan, is a Turkic language spoken by Uzbeks. However, Uzbekistan barely speaks English in their daily life except for a small number of educated young people. Now, let's explore the power of Google Translate and translate English photos to Uzbek ones without breaking a sweat.
contents
Understanding Google Translate
Google Translate is a machine translation service developed by Google in 2006. It's a free translator that enables users to translate any language from one to another anytime, anywhere. As of 2022, there are 133 languages supported in Google Translate, covering the most common languages in the world. According to Google Translate, they have over 500 million people daily and translate more than 100 billion words per day.
Major Features of Google Translate:
Google Translate can help translate text, images, documents, and websites effortlessly. Here's a simple introduction to its main functions:
Text Translation: Type or paste any text into Google Translate to translate it.
Image Translation: Upload images and translate them without losing formatting.
Document Translation: Import documents from your device and translate PDF, Word, Excel, PowerPoint, etc. with a single click.
Website Translation: Input a URL and translate a whole webpage in seconds.
How to Google Translate English to Uzbek Photo
Translating pictures can be tricky without help from professional translation tools because you cannot copy text from images directly. Traditionally, you can only translate text in a photo by typing all the words manually. However, a specialized image translator like Google Translate can help you translate pictures from English to Uzbek hassle-free.
Uzbek is a Turkic language spoken by Uzbeks. Around 44 million people speak Uzbek and mainly live in Uzbekistan, Afghanistan, China, Tajikistan, Kazakhstan, Turkmenistan, Kyrgyzstan, and Russia.
Steps to translate English photos to Uzbek online with Google Translate are available below:
Step 1. Navigate to https://translate.google.com/. You don't need to sign in with any account.
Step 2. Select English or Detect language as the input language and Uzbek as the output language.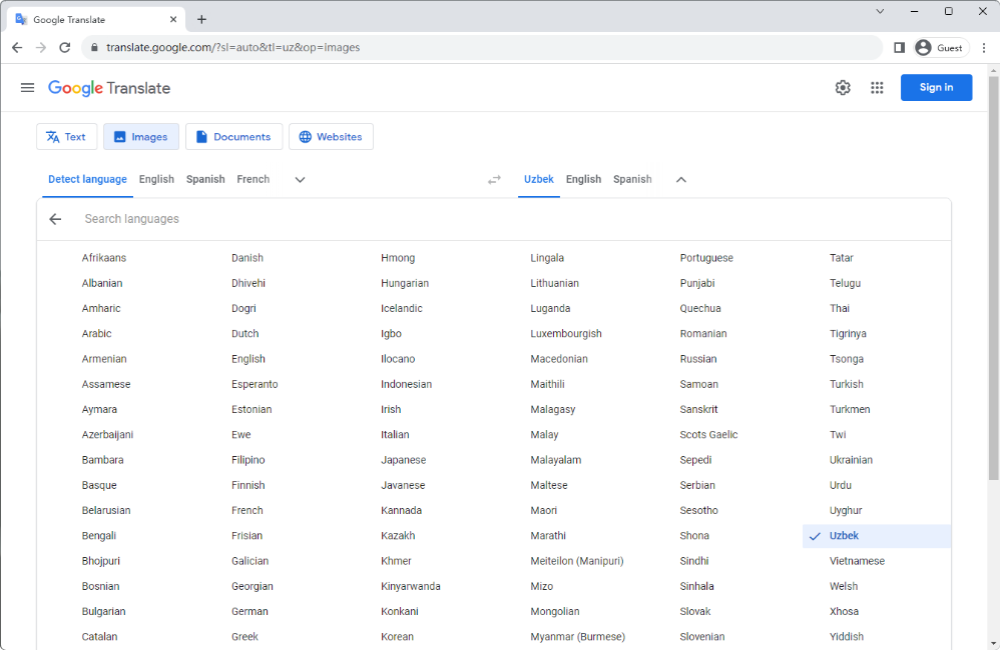 Step 3. Click Images on the top menu bar. Then drop the image you need to translate or upload it by clicking Browse your files.
Step 4. Google Translate will translate this English photo to Uzbek automatically. Simply Copy text or Download translation to get the translated result.
Note:
When using Google Translate to translate English photos to Uzbek, only .jpg, .jpeg, and .png images are supported. And if you want to check the translated text with the original image side by side, simply turn on Show original.
Benefits of Google Translate for English to Uzbek Photo Translation
Free of charge: It's totally free to Google Translate English photos to Uzbek, eliminating expense when translating.
Multiple accesses: No matter you're using a computer or a mobile phone, you can use Google Translate online or download a desktop app from the app store.
History available: By Google Translating multiple English photos to Uzbek, you can recap all translation history with a single click for reference.
Alternatives to Google Translate English to Uzbek Photo
In addition to Google Translate, there are many professional image translators on the market. SwifDoo PDF is such a handy tool for photo translation. It supports translating between 110 languages with accuracy. With the help of OCR technology, you can easily make an image recognizable and translate it from any language to another.
Here's how you can translate an English photo to Uzbek with SwifDoo PDF:
Step 1. Free download and install SwifDoo PDF on your PC.
Step 2. Open the images you need to translate. SwifDoo PDF will convert it to an image-only PDF straightforwardly. Remember to click Apply OCR to make this image editable.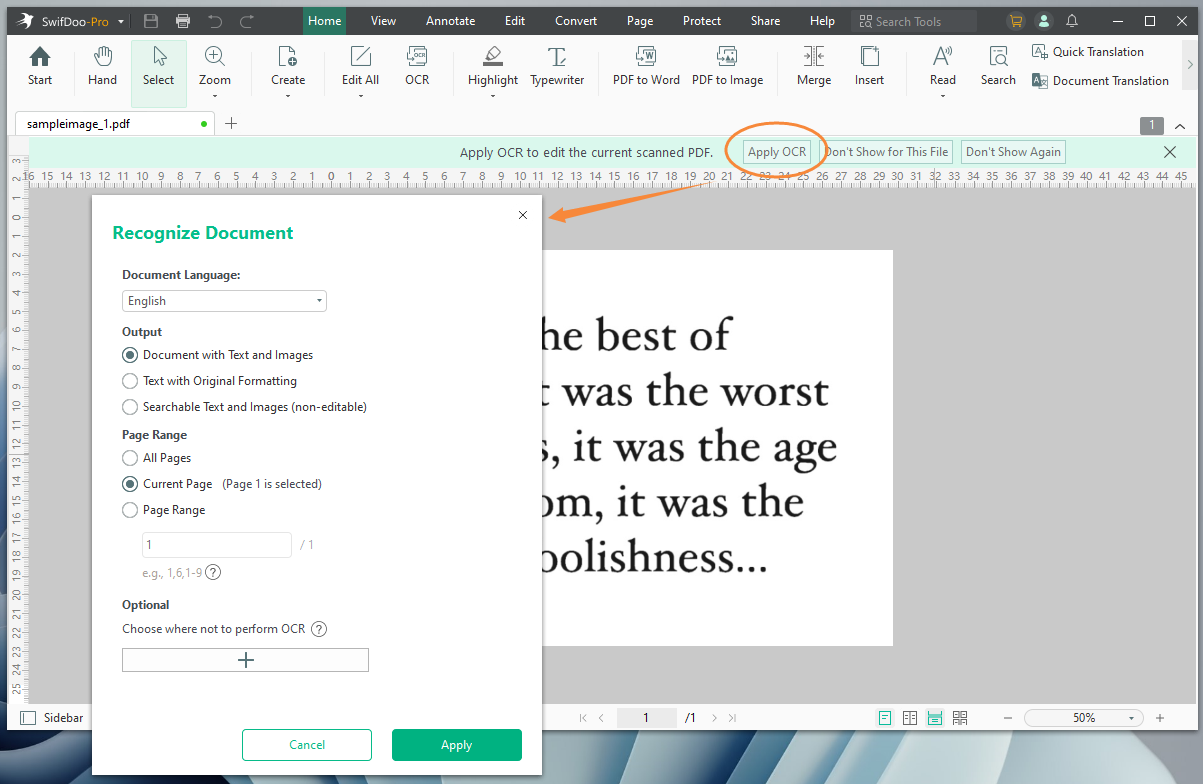 Step 3. Click Home > Document Translation and select English and Uzbek (Latin) as the input and output language, respectively.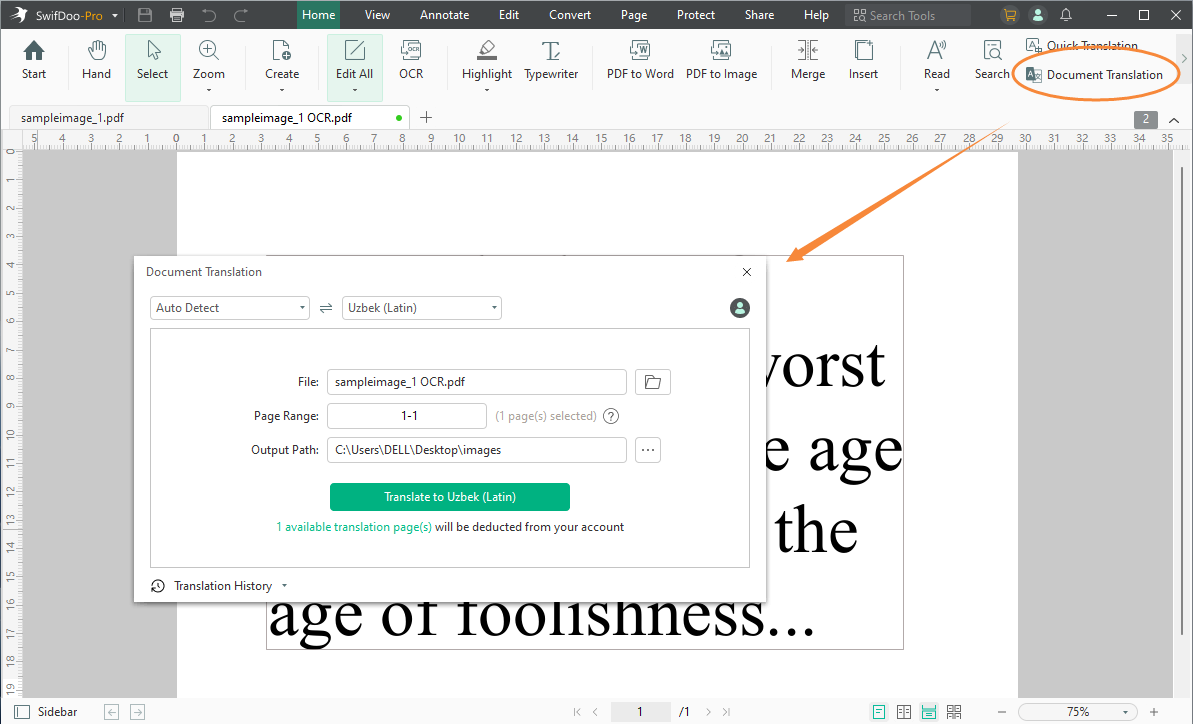 Step 4. Select an Output Path. Then, tap Translate to Uzbek (Latin).
Alternatively, if you only need to translate selected sentences in an image, you can use Quick Translation instead. Simply click on Quick Translation and select any word, sentence, or paragraph in the image, choose Uzbek as your target language, and you will get the translated content in seconds.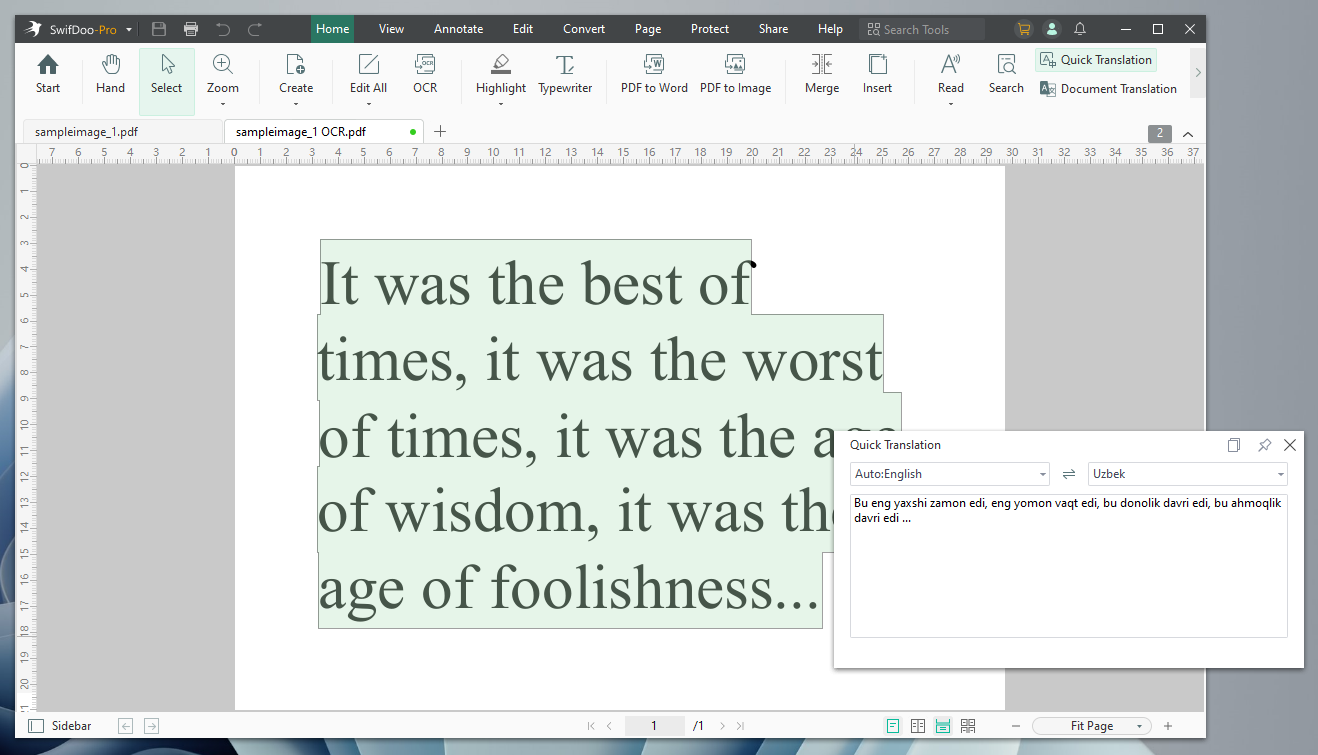 Besides serving as an image translator, SwifDoo PDF is also an all-around PDF translator and editor. With its aid, you can easily translate a whole PDF file or select the text you need to translate within this program rather than asking for help from other translation tools. In addition, editing text, images, and links, converting PDFs, protecting PDFs with password or e-signature, etc. with SwifDoo PDF is easy to follow even for beginners.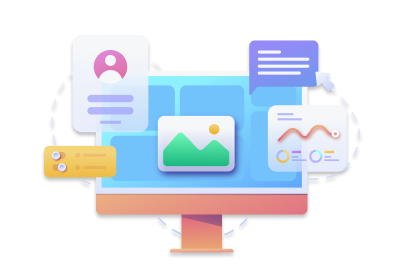 SwifDoo PDF: All-in-One Free PDF Tool
Annotate PDFs by adding notes, bookmarks, etc.
Convert PDFs to Word, Excel, and other editable files
Edit, compress, organize, and split PDFs
Try It Now
Buy Now
Conclusion
It's easy to Google Translate English to Uzbek photo as long as you're connected to the Internet. Mastering the ability to translate images can help you a lot in your work and daily life. In addition to Google Translate, SwifDoo PDF is also a competent translator that can help you translate images from English to Uzbek. Try it now for free!