Introduction:
According to Autodesk, there were approximately
two billion DWG files
in 1998. Now, with more companies emerging, the number must be much larger, which has led to the huge rise in the demand for
DWG to PDF
conversion.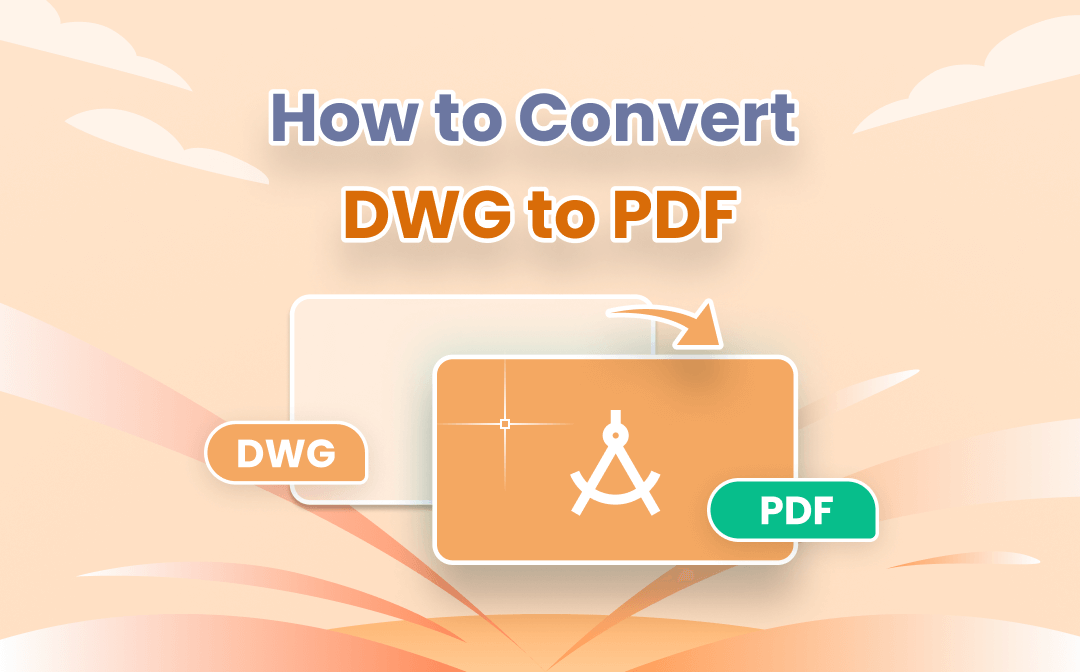 Why? Because there are many times when a CAD engineer needs to share a DWG drawing with clients or audiences who don't have suitable software to open or view it. In this case, converting DWG to PDF, the file format independent of operating system, software and hardware, is very helpful.
This post will cover different ways to convert DWG files to PDFs with SwifDoo PDF desktop application and 3 online converters.
What is Exactly DWG?
Thanks to technological advances, people now no longer draw blueprints or architectural models by hand but use computers to efficiently produce complex 2D and 3D designs.
DWG, a proprietary binary file format, is widely used by drafters and designers for Computer-aided design (CAD) drawings that contain vector data. The format was developed in the 1970s and later licensed by Autodesk. Some other formats of CAD files include DXF, STEP and DWF.
A DWG file is denoted by .dwg extension, and created with AutoCAD (the CAD software from Autodesk), and a few other CAD packages. Not like PDF documents, CAD files can only be opened with a dedicated program. That's why many people attempt to convert DWG to PDF when sharing drawings.
Without further ado, let's get started with the conversion solutions.
Convert DWG to PDF with Desktop Application
SwifDoo PDF
While there are plenty of websites and applications designed to convert DWG to PDF, for the sake of your file security and conversion speed, we would recommend SwifDoo PDF. With cutting-edge conversion technology and millions of downloads, SwifDoo PDF has been one of the best PDF converters trusted by users. Here is how to convert DWG to PDF.
Step 1: Launch the SwifDoo PDF application on your PC, then click any of the conversion tabs such as PDF to Word in the home interface;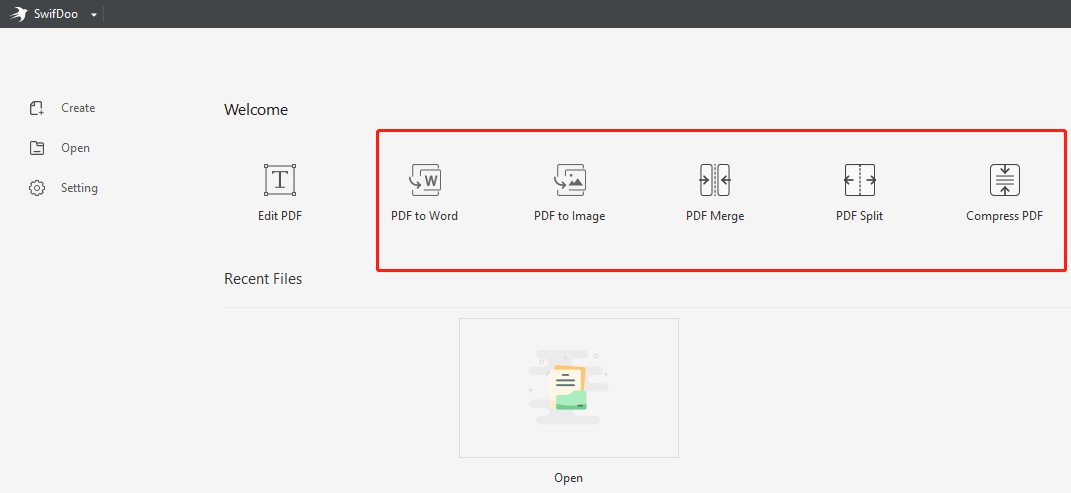 Step 2: In the opened SwifDoo PDF Converter window, choose CAD to PDF;
Step 3: Click Add Files to import your DWG file, select an output path and hit Start to change the DWG file into a PDF.
If you are in need of converting multiple DWG files to PDF documents at once, simply tap "Add Files" to add all the DWG files you need to convert before pressing the "Start" button. Once the tasks are completed, you can directly open the PDF files to view and edit within SwifDoo PDF.
Why Use SwifDoo PDF?
Converting a drawing from DWG to PDF is a piece of cake if you are the AutoCAD or some other drafting software user. But if you are not and don't want to install any CAD software that always takes much storage space and slows down your computer, turning to a file converter like SwifDoo PDF is wise.
SwifDoo PDF is a quick, tiny and powerful PDF management and manipulation application which enables you to convert DWG to PDF without AutoCAD. It can batch convert large DWG files to PDF documents in a short time.
Additionally, you can use it to convert your DXF drawing to a PDF with ease. SwifDoo PDF also makes it simple to secure your PDFs with open and permission passwords. What's important, the program only takes a small amount of storage space on your computer and has a clean and simple-to-use interface.

When necessary, all the PDFs can be converted back to CAD formats with SwifDoo PDF. In regard to how to convert PDF to CAD, please check the following post.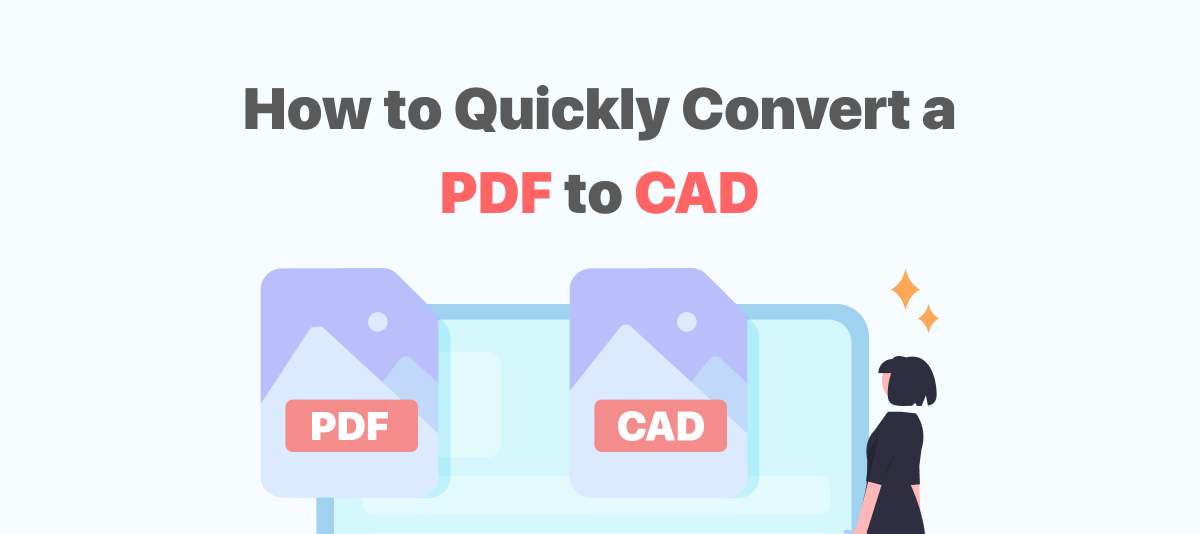 [2023 Newest] How to Convert PDF to CAD Easily
AutoCAD files (.dwg, .dxf) are popular among industrial designers. When receiving a PDF drawing, do you know how to convert it to a CAD file?
READ MORE >
Convert DWG to PDF with Online Tools
SwifDoo PDF Online Converter
For those who only need to convert a couple of DWG files to PDF files occasionally, using an online converter is probably the best way to go. This is where SwifDoo PDF web version comes into play.
Step 1: Enter into SwifDoo PDF website and click Convert PDF on the top;
Step 2: Choose CAD to PDF on the left side of the screen;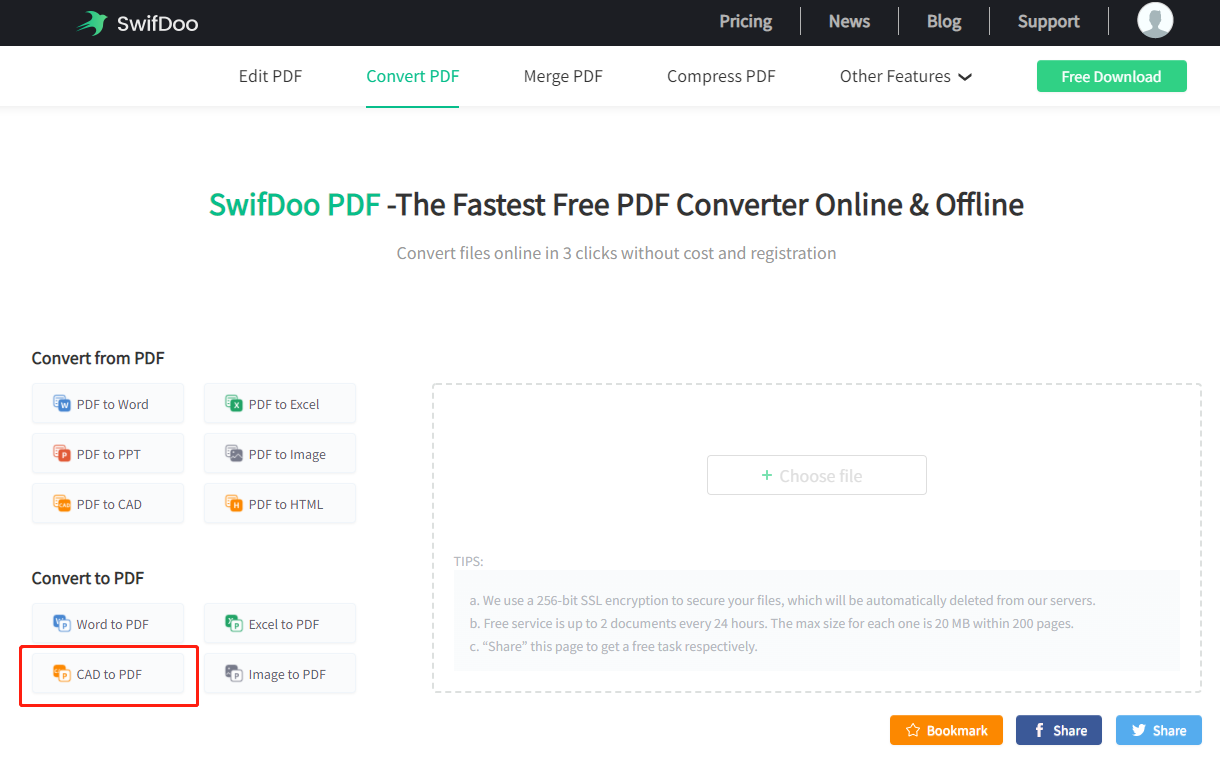 Step 3: Tap Choose file to upload your DWG drawing and the conversion will automatically start.
This is how you can convert DWG to PDF online free without downloading and installing a desktop application. You even don't need to have an account.
Note:
The online service enables you to convert up to 2 files within 24 hours. You can share the converter page on social media for more free conversions.
Autodesk Viewer
Speaking of online free DWG to PDF converters, Autodesk Viewer is one of the best. AutoDesk provides the viewer for viewing different types of 2D and 3D drawings including AutoCAD DWG, DXF, STEP, SolidWorks, and so on. Check how it helps save a DWG as a PDF.
Step 1: Access the online free file viewer through any browser, sign up and log in to your account;
Step 2: Click Upload new file to upload the DWG file you need to save as a PDF;

Step 3: Tap Print in the top right corner and press the Print button in the right panel;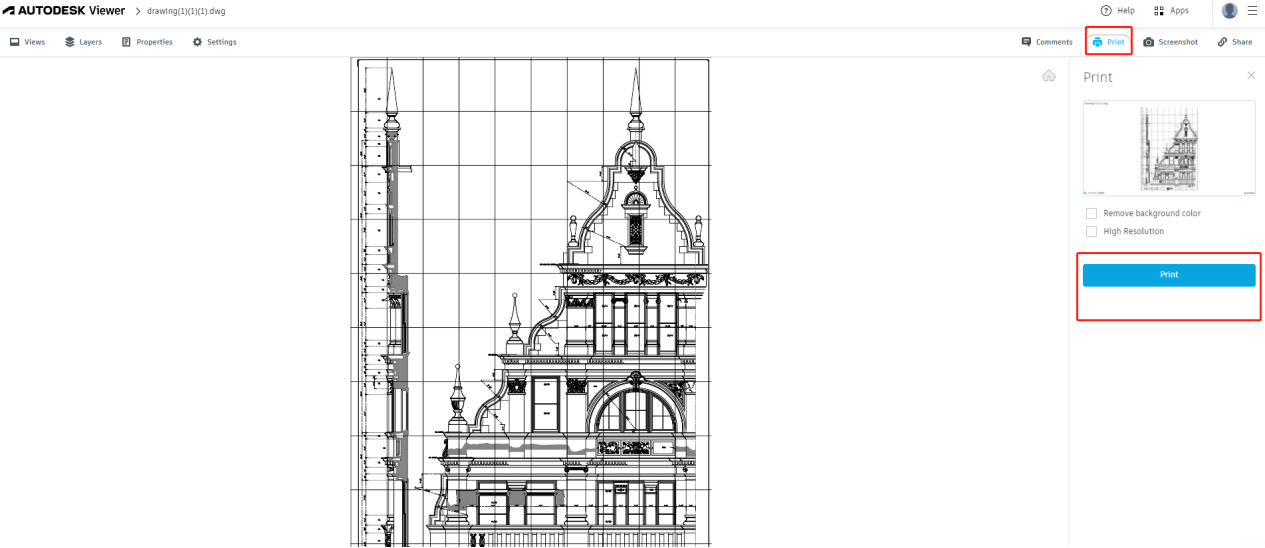 Step 4: Select Save as PDF or Microsoft Print to PDF from the Print dialog box. Choose other options as needed;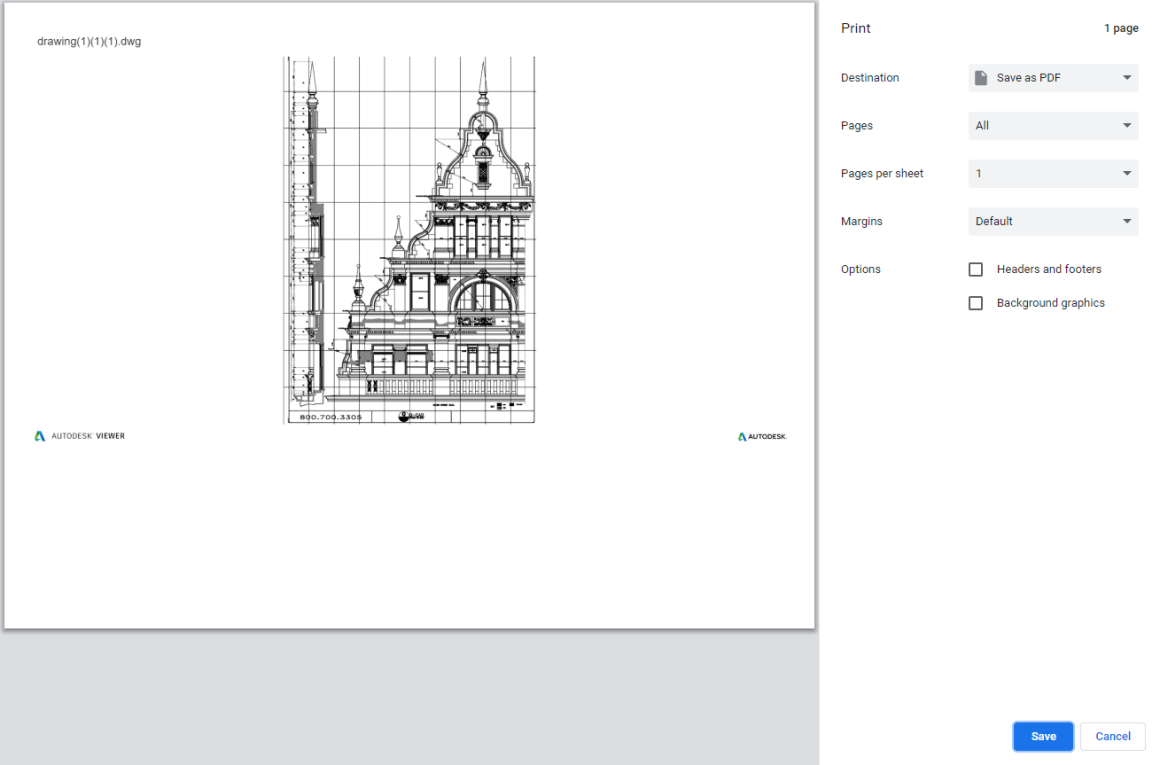 Step 5: Hit Save to save the DWG file as a PDF.
Zamzar
There are tons of tools to convert files online, but the simplest probably comes from Zamzar. This is an all-inclusive online converter that lets you convert many types of files such as PDF, Word, Excel, CAD, ebook, audio, video, and so on. Let's see how to convert DWG to PDF with the web-based software.
Step 1: Click Choose Files on the home page of the online converter to upload your DWG files;
Step 2: Tap Convert To to select the output format as PDF;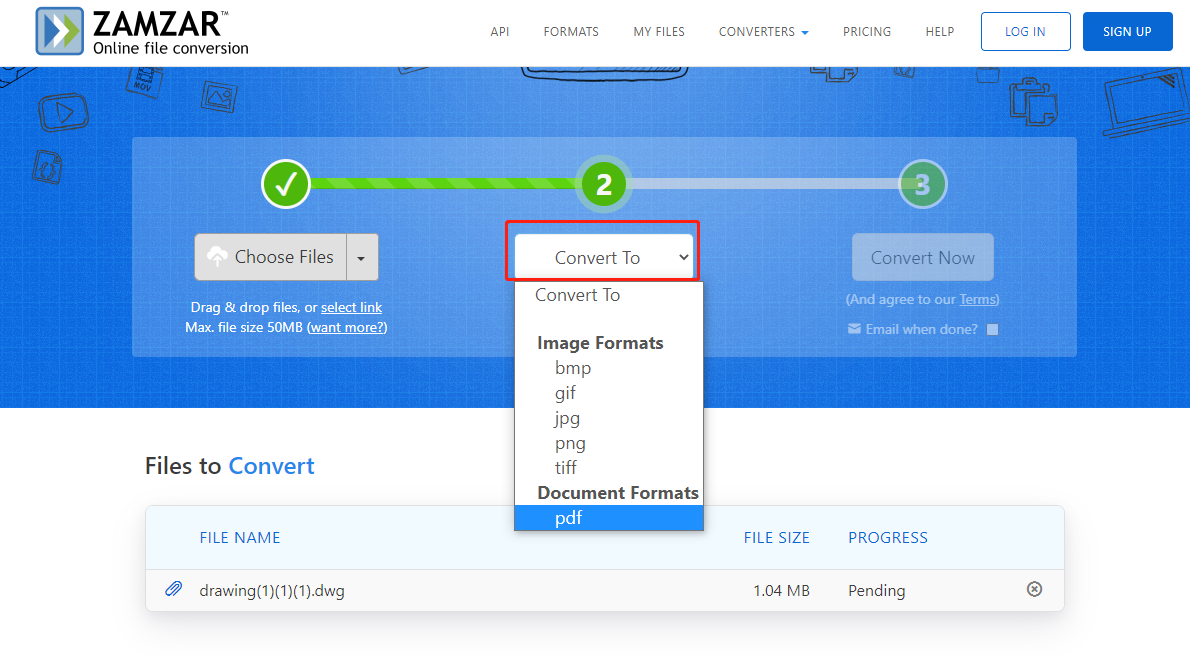 Step 3: Hit Convert Now to complete the DWG to PDF conversion.
Note:
The conversion software only allows you to free convert up to 50MB files in total, for bigger and more files, you have to create a paid account.
What is the Best DWG to PDF Converter?
By using any of the introduced methods, you can convert your CAD drawing (.dwg) to a PDF (.pdf) with ease. But if you want to batch convert a group of files quickly, and have perfect control over the converted PDFs, a professional desktop app like SwifDoo PDF is the way to go.