Text to speech or TTS is becoming popular for many reasons. It can relax your eyes, help people with reading disabilities, and contributes to language learning. Because of the great benefits, lots of software have been developed to convert text to speech. When you need to select one for yourself or business, you might wonder which the best text to speech software is. To narrow down your options, this article is created to introduce some.
From features, performance, and user-experience to output and pricing, you will learn all the vital info about the choices. Now take a further look at what TTS software is and overview of the 6 best text to speech software. They may be free or paid to use, and some have the ability to read PDFs aloud.
What Is Text to Speech Software?
Text to speech software leverages the speech synthesis technology to convert text to spoken words. It's the software to read text or a document aloud. So users are able to see text and listen to the audio simultaneously. It is very valuable for those who struggle with reading. Usually, such software offers different voices for you to choose and hear. The best text to speech software can synthesize audio with more natural human voices.
1. SwifDoo PDF
SwifDoo PDF is one of the best text to speech software that can convert PDF text to audio. The software allows you to choose whether to read an entire document or a single page out loud. It supports over 10 languages, including English, Deutsch, and French. The method to converting text of a PDF to voice is to choose "Read" under the "View" tab, select a conversion mode and the document language, then start. You can pause or stop the audio playback and set the pitch.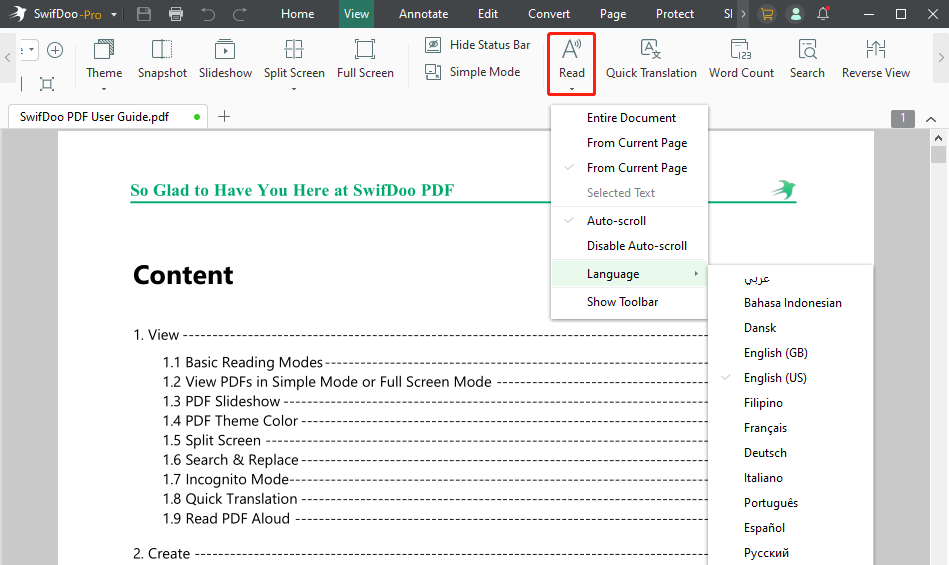 The best text to speech software also allows you to change the volume of the converted speech. The whole application runs fast and smoothly with a small size. The interface is simple to navigate. Better yet, the software program has a complete set of PDF tools, including a PDF annotator, PDF editor, PDF converter, and more. As one of the most full-featured software, it offers a 15-day free trial for accessing all its tools.
2. Speechify
Speechify is the best text to speech software for multiple platforms - Chrome, iOS, Android, and Mac. It's a downloadable mobile and desktop app, an online tool and a Chrome extension. The app enables you to listen to multiple types of files. It can generate speech from Google Docs, emails, websites, and PDFs. It also makes converting physical books or printed text into audio possible with an OCR engine. You can utilize the app to read text in an image aloud as well.

The best text to speech software stands out with the ability to convert written text to natural sounding voices. It allows you to hear text in a male or female voice, and adjust the listening speed. 50+ voices are available for premium users. You can download the audio to MP3 or WAV files using a premium account. By delivering excellent customer experience, Speechify becomes the top rated app in the App Store.
The annual subscription prices at least $139. The best text to speech software and reader provides users a 3-day free trial with credit card information required.
3. Synthesys
Synthesys is an easy-to-use realistic voice generator and the best AI text to speech software that can convert nearly any text to audio. It offers 65 life-like human (boy and girl) voices, a wide range of tones and languages for text reading. The voice gender, accent and style are selectable. The best text to speech software gets your voiceover and narration production for videos faster and convenient. With an intuitive interface, no learning curve required for using the software.

The best text to speech software is good for students and professionals to learn or read. It is cloud-based and runs on any device in your browser. No installation or updating need. You can download the text-to-speech software for Windows PC, Mac, iOS and Android mobile for free. Converting text to voice takes just three clicks: select your liked output voice, paste or type the text into the software interface, and click Create.
Synthesys offers a yearly plan at $324 and does not have a free plan.
4. NaturalReader
Another best text to speech software is NaturalReader. The software can convert text, PDFs, and webpages into spoken words or audio. Other supported file types include doc(x), ppt(x), and images. It is an AI-powered text to speech software for dyslexia and any others. Students can have any text read aloud to help them focus more on the understanding of the content instead of looking at the screen. The software provides dyslexia font, and text highlighting features.

The best text to speech software is available for free download on Android and iOS mobile phones, and Windows and Mac devices. It comes with an online version and also a Chrome extension. Its commercial version allows you to convert and download text to audio for YouTube, eLearning platforms, or other commercial purposes. The software is also good for educational and personal use.
Free users of the top text to speech software can turn text into and hear 20-min voices per day. Depending on the device or product you choose (e.g. online app or mobile app), the pricing plans of the text to voice or speech generating software are different. The online app's premium version prices at $59.88/ year and the plus version at $110/ year.
5. Murf AI
Murf AI is cloud-based software for text to speech and generating AI-based voiceovers. You can utilize the best text to speech software to unlock the best listening experience with 120+ voices in 20+ languages such as Hindi, Deutsch and French. It offers four Indian accent voices. To experience the service, open Murf Studio on a computer, create a new project, copy and paste text into the text box, select a voice, and transcribe the text to speech with the software.

The free online text to speech software allows you to try all 120+ human voices but only supports 10 mins of voice generation and transcription. You can share link for the audio output but cannot download the voiceovers. No credit card required for registration. The best text to speech professional software tool is available to create voiceovers for YouTube videos on a Mac or Windows PC desktop or laptop for free. But you can import only 5min videos.
To obtain unlimited audio downloads and 24-hour voice generation, go to the basic plan ($228 billed annually) or the pro plan ($312 billed annually) of the best text to speech software.
6. eSpeak
eSpeak is a compact, open-source and free text to speech software and speech synthesizer with natural voices. The synthesized speech is clear but not as natural as what the former mentioned professional text to speech recognition software generate. You can use the software to turn typed text or text from a file into speech. It enables you to listen to blogs and websites. All the widely used languages in the world are optional in the software.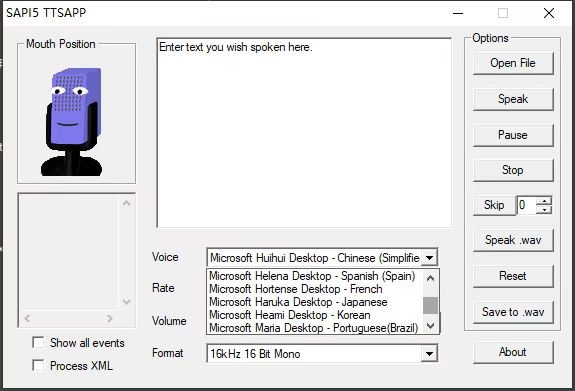 The best free text to speech software can be downloaded for Linux and Windows for free and has been ported to Android and Mac. It allows you to set the volume and reading speed, skip phoneme, and output voices as WAV files. You can pick your favorite text to speech boy or girl voice within the free software. It is a stellar option for personal users. The downside of the good text to speech freeware software is the age-old UI.
Conclusion
Whether you need a text to speech solution for enjoying ebooks or producing training videos, e-learning content or advertisements, this post collects several best choices for you.
If you need to listen to a PDF book, SwifDoo PDF is the most cost-effective and simple-to-use software application to adopt. Or, you can convert and download text of different kinds to speech with other introduced 5 best text to speech software. They are dedicated narration software if you regularly listen to digital content. Try them to improve your accessibility and multitasking efficiency.