It's Turkey Time! Keep calm and eat turkey.
But Thanksgiving is more than Turkeys, Pumpkins, and Cranberries.
Thanksgiving is here to pause, appreciate, and express gratitude for every little joy and person that helps you sustain and grow. It is the time to celebrate the people in your life, and thank them for all they ever did or do for your well-being and prosperity.
We have a bounty of Happy Thanksgiving messages and quotes for everyone to choose from. This Thanksgiving, shower your family members, friends, and coworkers with gratitude using one of our thoughtful, inspirational, and heartfelt messages to express thankfulness and appreciate the good things in life.
Before we get started, "Happy Thanksgiving everyone!"
contents
10 Happy Thanksgiving Wishes to Families
Count your blessings this Thanksgiving and ponder your family's efforts to appreciate their sacrifices and abundant love. Whether cooking, hosting or just feeling grateful for those you love, this collection of Thanksgiving wishes and greetings will come in handy. Express your love with a Thanksgiving greeting or message, and be thankful for their presence in your life.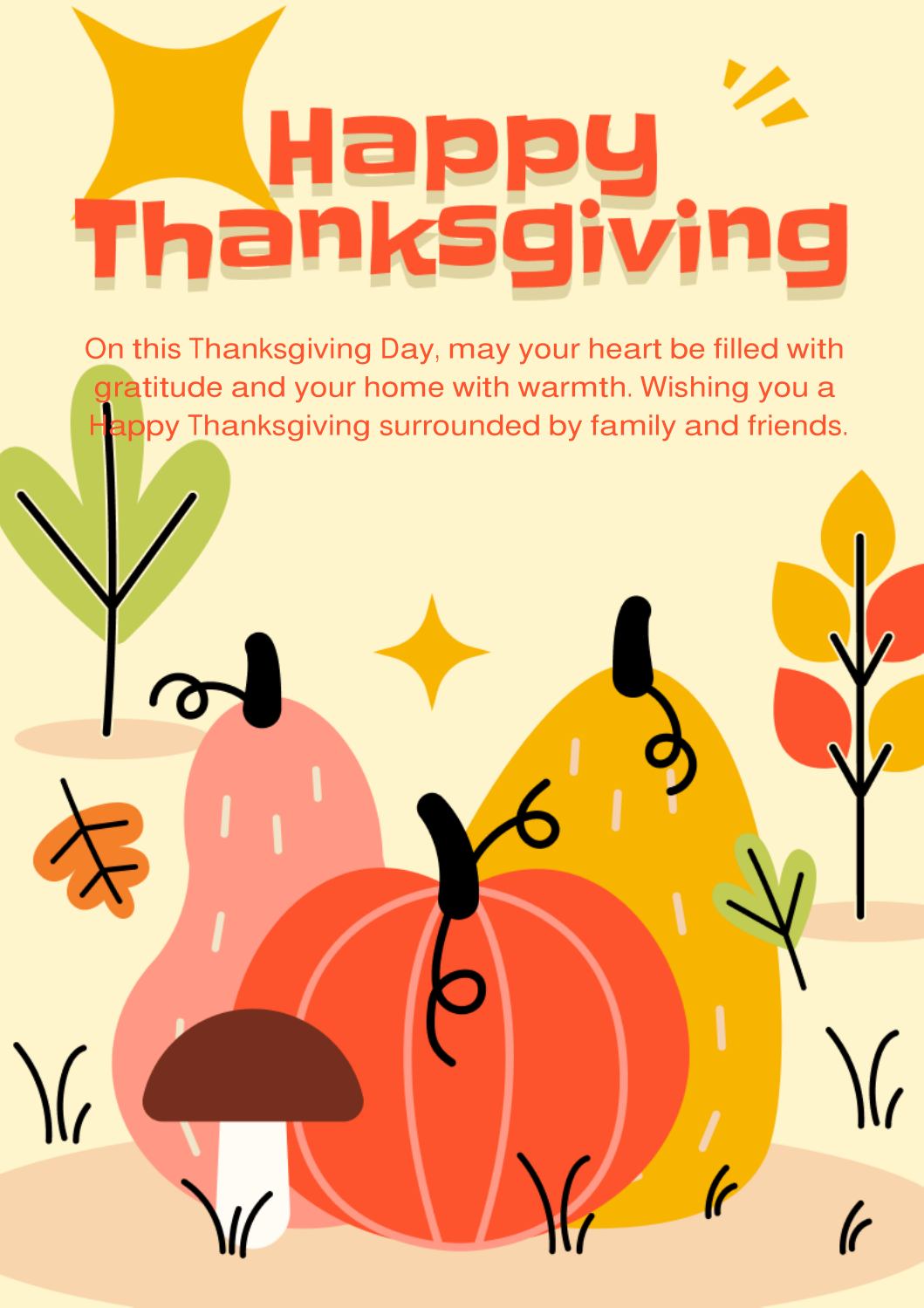 Download Thanksgiving Card Template for Free >>
I am so grateful that I have such an incredible family. Thank you so much for all the wonderful things you have done for me. Enjoy the feasting! Happy Thanksgiving!

Happy Thanksgiving to the people who make me thankful to be me. I wish you were here to overcook the turkey!

We might be a crazy family, but I'd never ever wish for it to be any other way. I am so deeply thankful for you!

Happy Thanksgiving everyone!

Let joy, happiness, and abundance be the blessings you celebrate this Thanksgiving. In everything, give thanks. Happy Thanksgiving!

May you all celebrate Thanksgiving Day with love in your heart, prosperous vision in your mind, and gratitude in your being.

Happy Thanksgiving everyone!

We may be a chaotic family, but I'm grateful you put up with me anyway.

Happy Thanksgiving everyone!

I am so thankful for the love that this family shares on Thanksgiving and always. Thankful, Grateful, Blessed. May the wishbone smack in your favor this Thanksgiving.

We laugh, cry, and argue over who has to carve the turkey, and I wouldn't want it any other way— The happiest Thanksgiving to the kindest of people. Happy Thanksgiving!

When it comes to families, we got the best of the bunch.

Happy Thanksgiving everyone!

Families are like pumpkin pies. They're not everyone's favorite, but Thanksgiving wouldn't be the same without them. Thank you all for being my greatest blessing!
10 Thanksgiving Text Messages to Friends
Regardless of the dishes gracing your table, this warm holiday is a reminder to show gratitude for the companionship and love you receive. You cannot have your friends around all the time, but that must not stop you from thanking them for all the little efforts they have made for you and the little joys they have brought you. Here are the thoughtful and emotional Thanksgiving messages and wishes to reach your friends and let them know you are still thinking of them.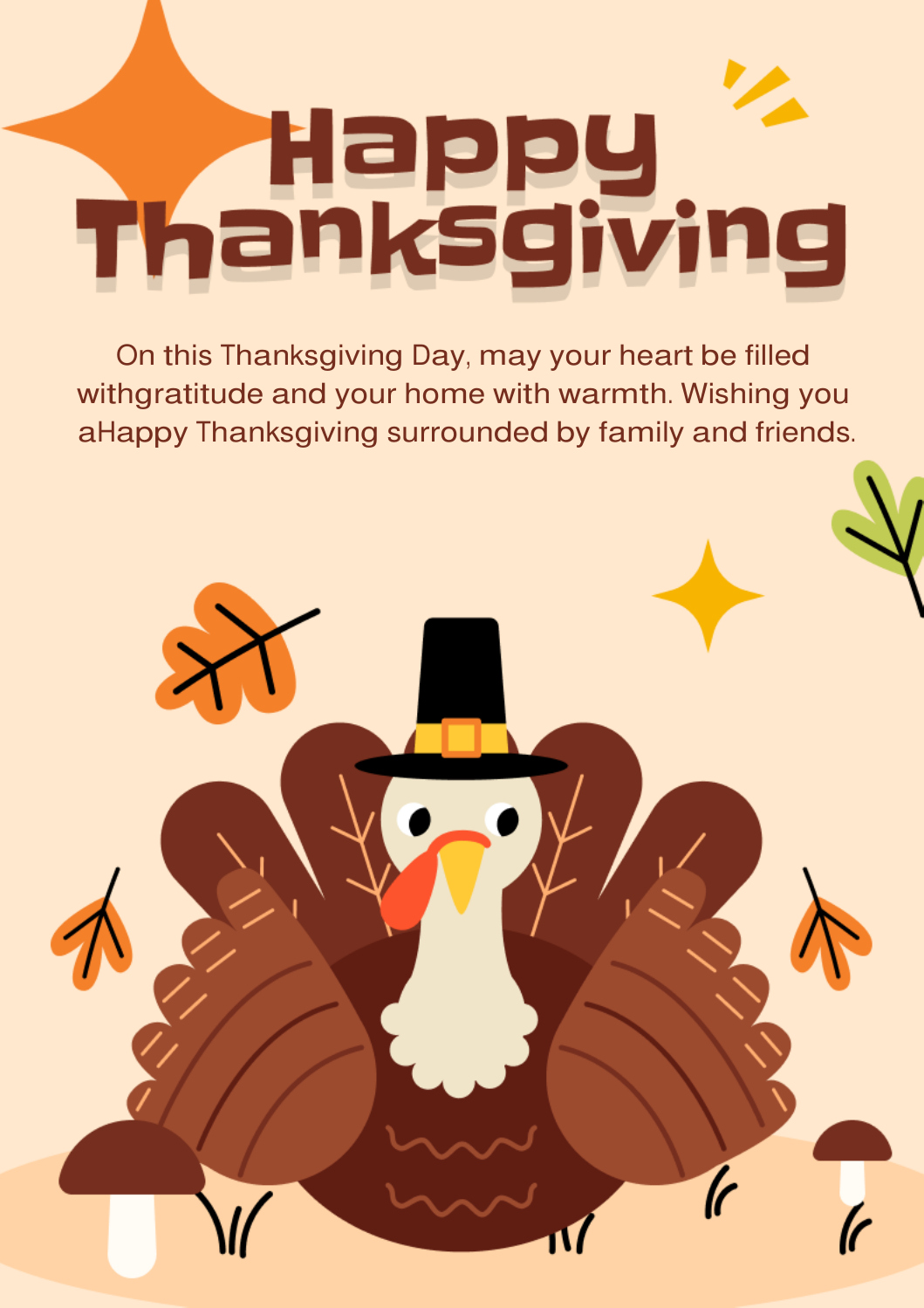 Share Thanksgiving Card to Friends >>
There's nothing better than having you as a friend unless you brought pumpkin pie— Better pumpkin latte than never.

May the blessings of this Thanksgiving fill your heart and home with joy. Pumpkin pie spice and everything nice this Thanksgiving!

The greatest gift in life is friendship. I'm so thankful for yours. I wish you every blessing of this bountiful season.

May every day be filled with God's uncountable blessings, memorable moments, and happiness. Wishing you a blessed Thanksgiving.

This Thanksgiving, I'm thankful for so much, including our friendship. I wish you a wonderful day. Happy Thanksgiving! Gobble till you wobble.

May this day and every day be filled with love, joy, and happiness. Let the gourd times roll. Happy Thanksgiving, dear!

I wish you the blessing of hope and the gift of faith and wisdom this Thanksgiving Day! May the turkey leg be yours this Thanksgiving.

The echoes of our laughter remind me how lucky I am to have you as a friend. Happy Thanksgiving! Eat, drink, and cranberry!

Good friends, good food, and good times. That's what it's all about. Happy Thanksgiving! Give thanks and be cran-merry!

One good friend is better than a thousand relatives. Happy Thanksgiving. Warmest Thanksgiving greetings to you and your family.
10 Happy Thanksgiving Messages to Colleagues
You may long to spend time with your favorite colleague on Thanksgiving day. However, if you are away, you can send them one of the special Thanksgiving wishes and greetings to let them know how thankful you are to know them and have them in your life. We have the perfect Happy Thanksgiving sayings and messages of appreciation for colleagues that you can use as Instagram captions or cards.
Click to Get This PDF Thanksgiving Card >>
May all the good things of life be yours in abundance, not only at Thanksgiving but throughout the coming year. I hope your Thanksgiving is as wonderful as you are.

Thank you for bringing your bright outlook and positive attitude to work and the workplace every day. I hope you have a happy and enjoyable Thanksgiving with your loved ones!

Thank you for everything you do to make this a successful and breathable place to work. Have a wonderful long weekend filled with positive things around. Happy Thanksgiving!

It is a pleasure to know you and work with you. I wish you a wonderful and enjoyable holiday filled with the warmth, joy, and happiness of the season. Happy Thanksgiving!

Working with you has always been enjoyable and inspiring! Happy Thanksgiving to you.

May this year be full of hope and faith for you, Mate. I hope you have blessed times with your family and friends, and I wish you a very Happy Thanksgiving.

May the good things of life be yours in abundance, not only at Thanksgiving but throughout the coming year.

May the chairs around your table be filled with those you love— Home sweet Thanksgiving home.

Wishing you a restful and relaxing Thanksgiving! Sending blessings for Thanksgiving and every day.

I am so grateful to work with such kind and caring colleagues. I hope you all have a great Thanksgiving with your family!

Happy Thanksgiving everyone!
10 Emotional Words of Thanksgiving and Gratitude
Thanksgiving is a time of celebration to thank everyone around us and the blessings we receive. Though there are many ways to express gratitude, these thoughtful, emotional words of Thanksgiving and gratitude are perfect for celebrating the festive occasion to send your loved ones a short message, note, or even email on Thanksgiving.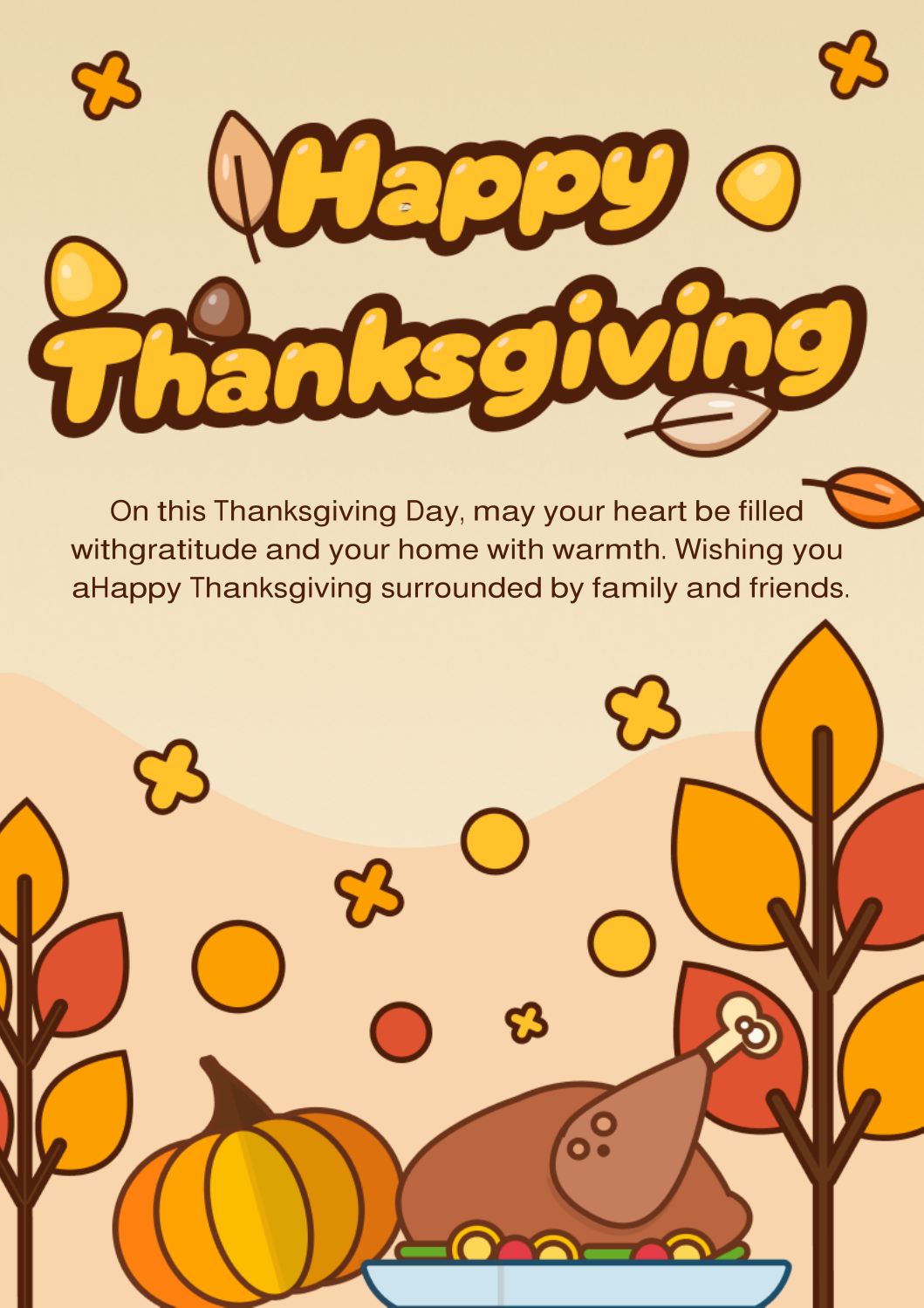 Download Happy Thanksgiving Card for Everyone >>
May simple plenitude fill your cup with gratitude this Thanksgiving. Let us give thanks with grateful hearts.

There are so many reasons to be thankful this Thanksgiving; you're one of them. Give thanks to the Lord even for the smallest blessings you receive.

I appreciate you today and every day. Grateful, thankful, and blessed — that sums up how I feel. I am most grateful for having you in my life! Happy Thanksgiving!

May your blessings be many, your troubles be few, and your Thanksgiving be most wonderful. My heart is full of gratitude for all the things you've done for me. Happy Thanksgiving!

When you're grateful for all you have, then Thanksgiving is eternal. I pray that God answers everyone's prayers and continues to bless their lives. Happy Thanksgiving.

May you celebrate Thanksgiving day with love and warmth in your heart, prosperous vision in your mind, and gratitude in your being. Thanksgiving wishes to everyone!

Thanksgiving is all about gratitude, so I just want to say that I'm grateful for you and the love you bring into my life.

Happy Thanksgiving everyone!

Thanksgiving reminds me of how grateful I am for your kindness. Thank you for your generosity this Thanksgiving and all year long.

We are receiving abundant blessings thanks to the Lord. It's time we say our gratitude. Happy Thanksgiving!

It's the season to reflect on how far we've come and be grateful for all the blessings He has given us. Happy Thanksgiving!
Craft Unique Thanksgiving Cards on Your Own
We hope you have carefully chosen your Happy Thanksgiving greeting for this year, and SwifDoo PDF can help you design unique PDF Thanksgiving cards for people you love in no time.
SwifDoo PDF creator is one of the best free PDF creators, enabling you to create, merge, convert, split, compress, edit, annotate, and do much more to your PDF documents hassle-free. A PDF Thanksgiving card is good for sharing and printing. And luckily, SwifDoo PDF can solve all PDF-related issues.
Check out the quick process to create a Happy Thanksgiving card for your friends and families with SwifDoo PDF.
Step 1: Install and launch the SwifDoo PDF creator on your computer.
Step 2: Select Create in the left column and click Blank on the homepage.
Step 3: Choose a preferred page size and click Confirm.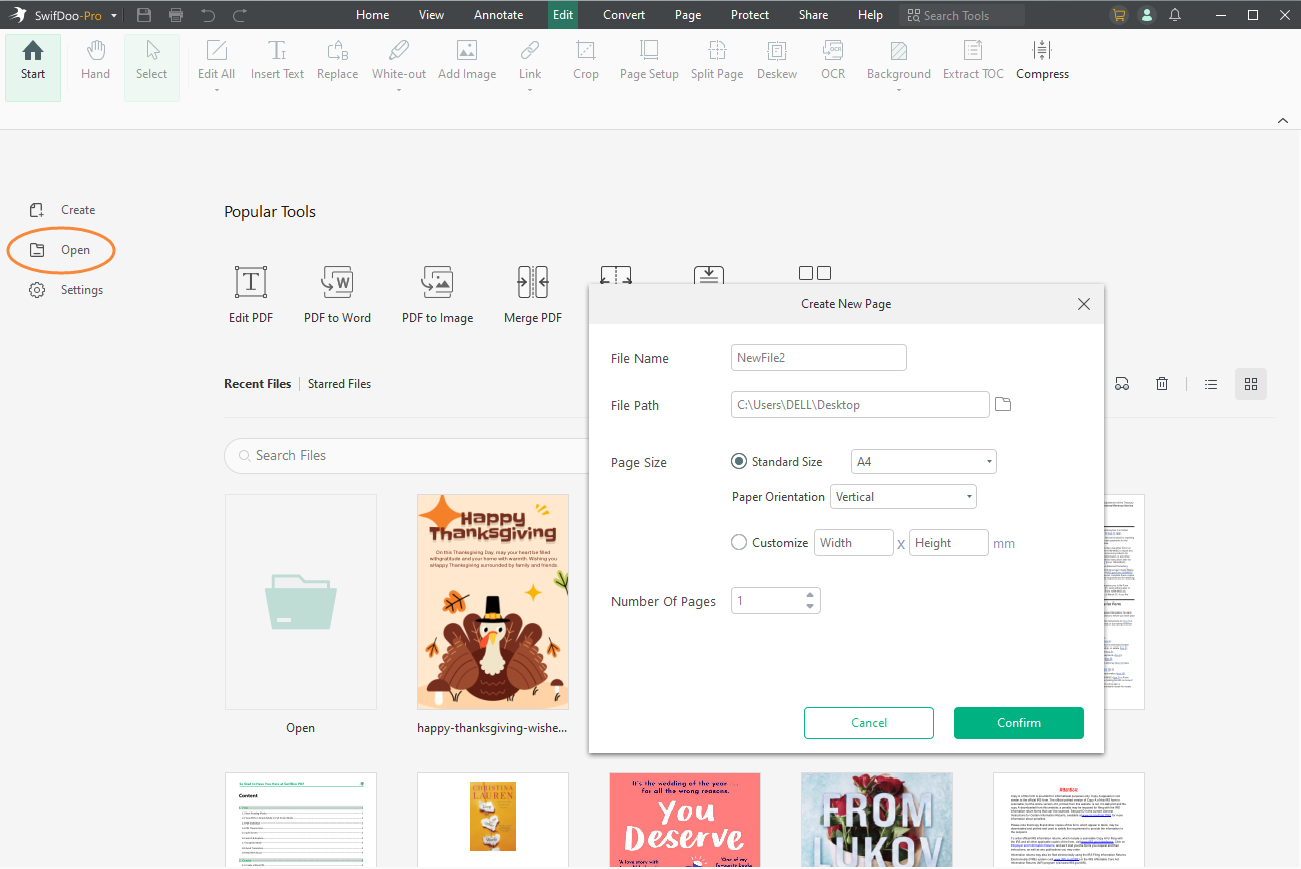 Step 4: Type your Happy Thanksgiving wishes and greetings on this PDF page and add images to make it more beautiful.
Alternatively, you can use SwifDoo's free card templates and customize them to make a Thanksgiving card quickly.
Step 1: Download and open the card template in SwifDoo PDF.
Step 2: Hit Edit in the menu and tap Edit All.
Step 3: Copy and paste your chosen Happy Thanksgiving everyone messages or wishes into the text box in the PDF.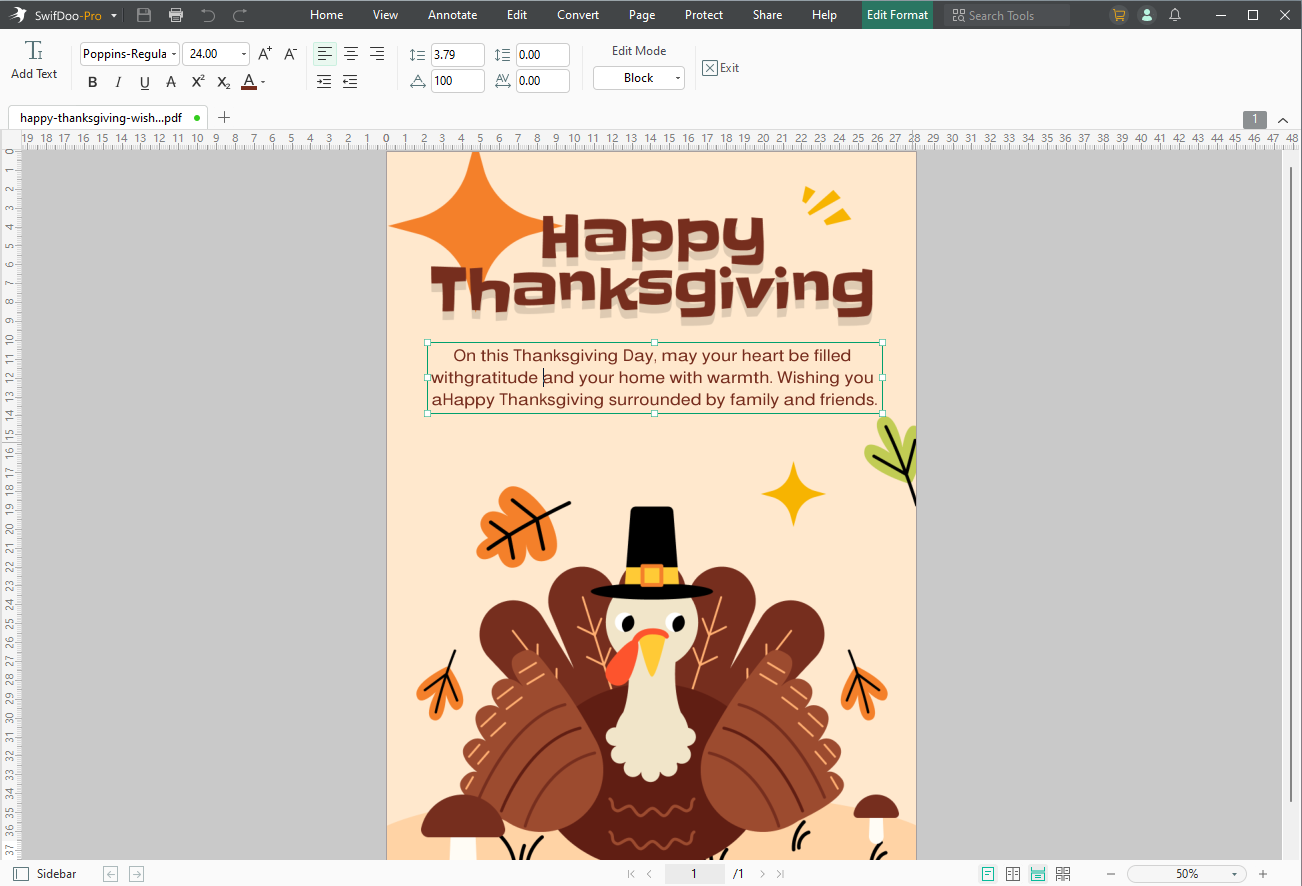 Step 4: Insert a picture and more personalized texts if needed.
Tips:
SwifDoo PDF supports many font styles to let you change the image and text's properties and create exclusive Thanksgiving cards with even handwritten texts.