Introduction:
Hocus Pocus! It is October, and we are nearing the spookiest time of the year: HALLOWEEN. But what can be more scarier than not knowing what to say? You may find yourself stuck with what to write in a Halloween card. Get into the spooky spirit of Halloween with our handpicked collection of Halloween sayings that will bewitch your kids and family members.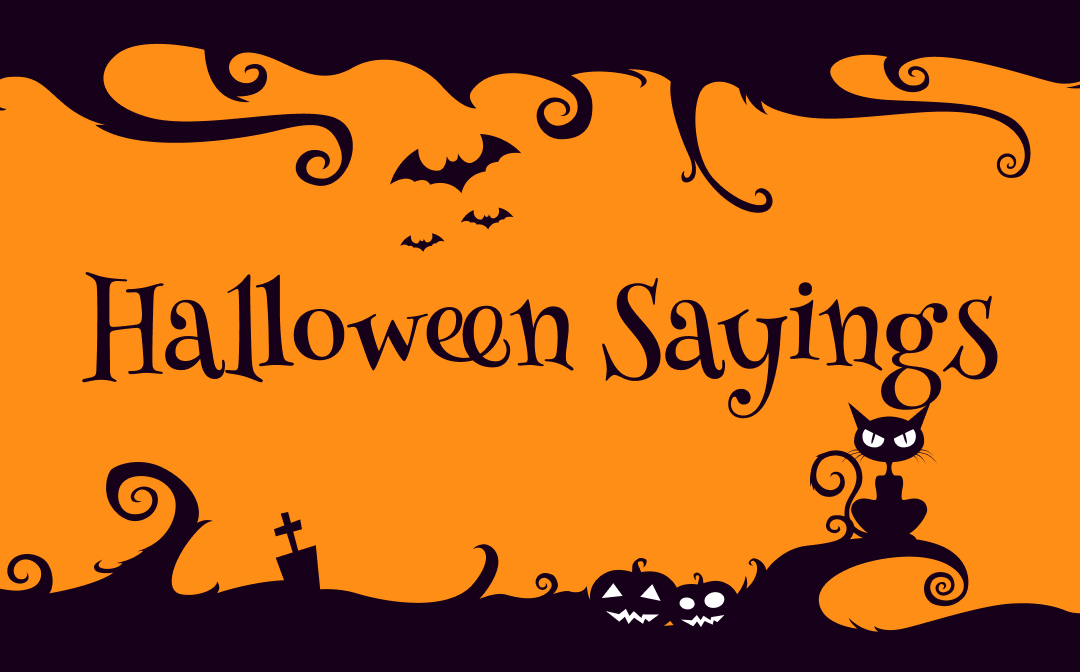 From eerie sayings to ghoulishly delightful words, these Halloween greetings are perfect for adding a touch of macabre charm to your Halloween-themed content. Trick-or-treaters will surely have a pumpkin to discuss after going through these spooktacular Halloween puns and greetings. Hold onto your broomsticks and stick around with us to find 45 happy Halloween sayings for cards. Have a fa-BOO-lous Halloween.
15 Funny Halloween Sayings for Adults
Are you holding an adult Halloween party and are thinking of spooky yet funny Halloween greetings for adults? Relax! You need not sweat. Instead, invite your guests with our witchy greetings and catchphrases to send a shiver down their spine.
Here are the 15 funny Halloween sayings that are lighthearted and ghoulishly funny for some inspiration.
1. Howl you doin'? I wish you a night full of frights and a bag full of delights! Happy Howl-oween!
2. Get in the Halloween spirit! May tonight be the darkest, scariest night of the year! Let's meet and have some skele-fun.
3. Halloween candy is yummy and all, but do not forget to save room for 'I Scream.' Eat, drink, and be scary! Squad ghouls
4. Pick your broom and be costume-ready. It's the most wonderful time of fear. Have a bootiful Halloween.
5. It is a brew-tiful day for eating tons of candy. But hey! Don't go goblin up all my candy. May our best witches go with you!
6. I am not playing Twix when I say I love this holiday. Keep calm and carry a wand. Happy Howl-oween!
7. Welcome to the pun-kin patch! May you breeze through October without a scare in the world. Have a spookily good Halloween!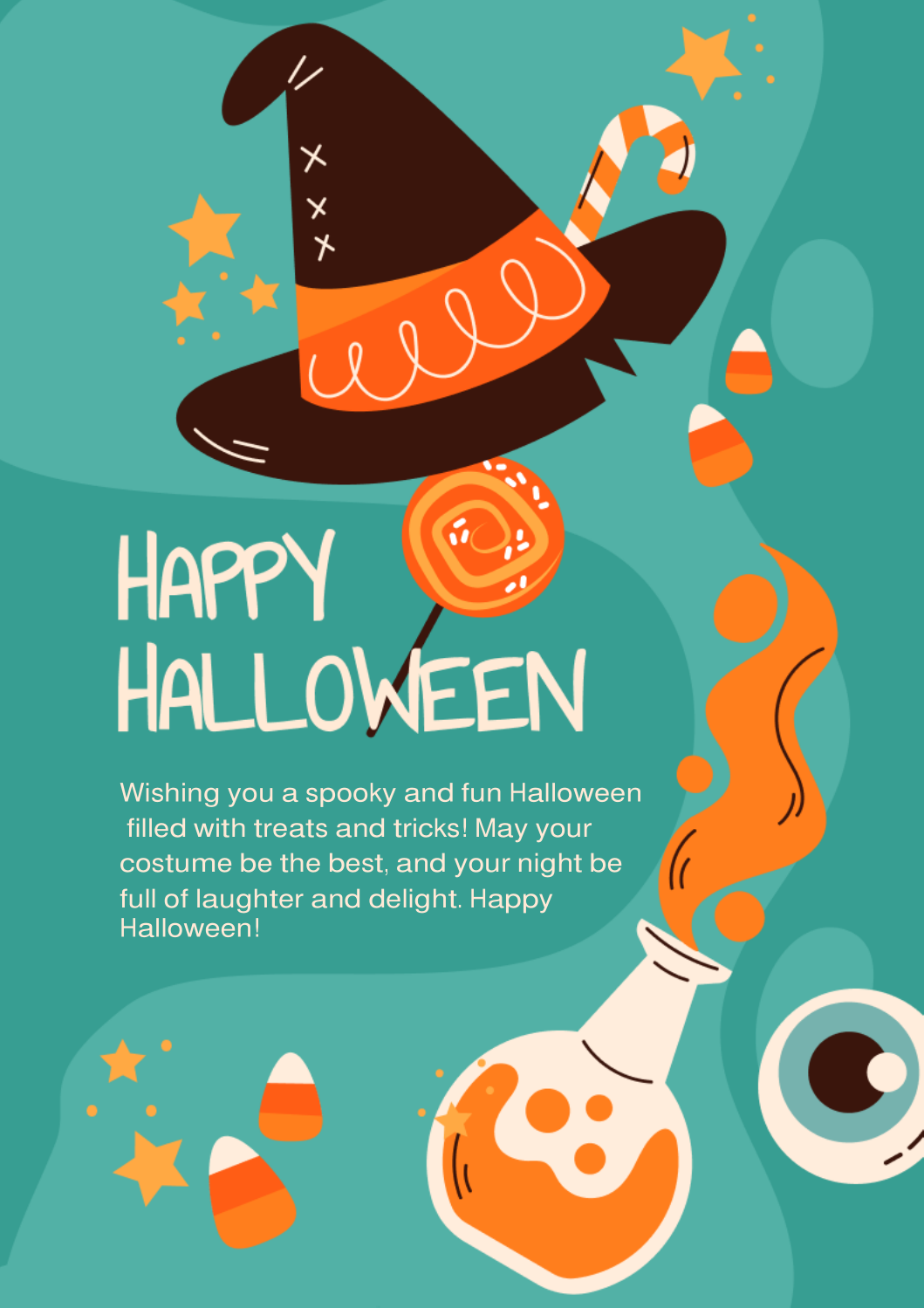 Free Download the PDF Template Card to DIY the Halloween Card Messages and Greetings >>
8. Whoo, ghost there! Keep calm; carry a wand and pumpkin on. But beware of resting witch face.
9. Ghostly greetings to you! Quickly grab your broomstick so we can make a clean gateway! Sending you Happy Halloween wishes. Creep it real
10. Demons are a ghoul's best friend. So beware and take care on Halloween night. I hope all your Halloween fears come true. Have a howling good time!
11. You are the Pun-kin King of Halloween! Sending a warm hello and festive greetings to you this Halloween. Happy Hallow's Eve! Squashgoals
12. Pumpkins a 'blazing. I hope your Halloween is amazing. May your treats be many and tricks be few. Witching you a Happy Halloween wishes.
13. What do you say when you're having dinner with a skeleton? Bone appetit! Happy haunting! Beware the witching hour.
14. Halloween's not the same if I cannot be witch you. May all your fears come true and your candy supply (treats) last you well into the Christmas season. Happy Hallo-weenie!
15. It's Halloween! The time to be batty, creepy, chilly, eerie, deadly, ghostly, and downright scary! Witching you a Happy Halloween.
These are some of the creepiest, most dreadful, and spookily funny ways to write happy Halloween sayings for cards. You can utilize SwifDoo PDF to write the provided Halloween greetings on the PDF template card.
15 Funny Halloween Sayings for Kids
You may think about what you should write on a Halloween card for your kids— a good Halloween phrase or quote. Don't stress. We have covered you with scary, non-scary, and funny happy Halloween sayings for kids to celebrate this spooky holiday. These witty Halloween quotes are perfect for adding some lighthearted fun to your festivities.
Check out 15 Spooky and Funny Halloween Sayings for Kids.
1. You are Fang-tastic! Pumpkin Wishes and Candy Corn Kisses!
2. Ghosts, goblins, and jack-o-lanterns at night. I sure hope your Halloween is the best type of fright! Happy Hallo-weenie, my little monster!
3. A candy a day keeps the monsters away. But beware of the cute little monsters.
4. Peek-a-BOO! Keep a lookout for ghosts this Halloween. Ghosts, goblins, monsters, and more will come walking through the chimney and the door.
5. May you scare more and get scared less this Halloween. Happy Halloween.
6. Why didn't the skeleton want to go to school? His heart wasn't in it.
7. Oh my ghourd! Little monster, you're so Franken-cute - A cutie that's a little spooky. But the cutest pumpkin in the patch.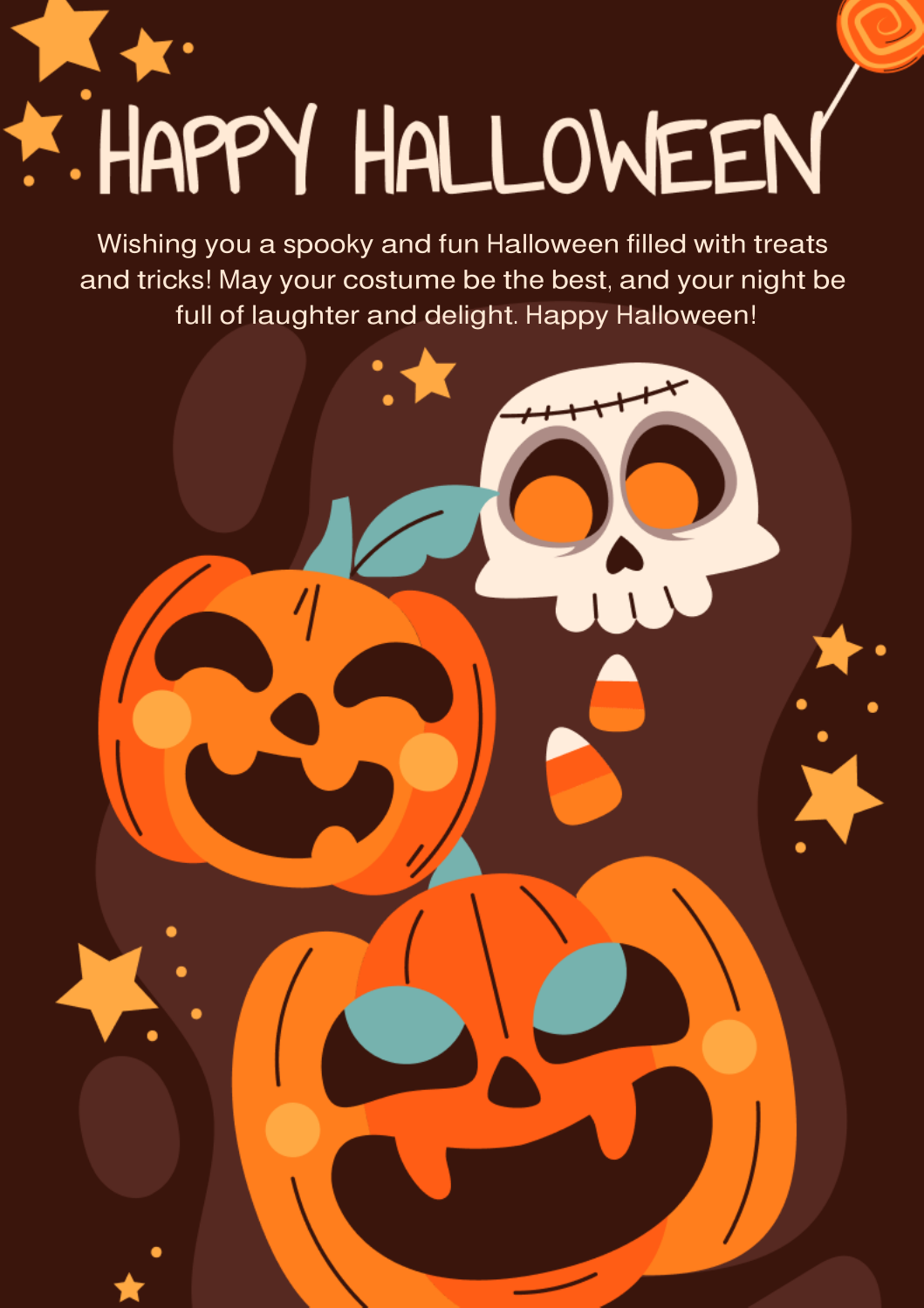 Click to Access the Expertly-designed Halloween Template Card>>
8. The witches and goblins are near! Happy Halloween to you… Witch-ing you a spooktacular one!
9. The only thing we have to fear is FEAR itself.. and spiders. Happy Halloween!
10. May you enjoy Halloween the most. May you scare witches and ghosts. I love you more than candy corn! Happy Halloween!
11. I never met a pumpkin I didn't like! Happy Halloween, Little Miss Trick or Treat!
12. There's magic in the night when pumpkins glow in the moonlight. Happy Halloween wishes to my handsome little monster!
13. Sticky fingers, tired feet, one last house: Trick or treat. Have a haunted Halloween. #Witchful Thinking
14. Black cats, skitters, and ghouls patter by; it is time to celebrate as All Hallow's Eve has arrived! Happy Halloween, I put a spell on you, little one.
15. What kind of music do mummies listen to? Wrap music!
Prepare to infuse a touch of delightful spookiness into your Halloween celebrations with our curated compilation of kid-friendly, spooky, and funny happy Halloween wishes. You can use the Halloween stickers offered in the SwifDoo PDF to decorate the template card as you want.
15 Halloween Sayings for Signs
Are you brainstorming happy Halloween wishes or sayings for signs but cannot get that perfect sign to make your Halloween more creepy and spookier? We have some funny, scary witch sayings in our kitty that you can use on your front door or yard for a spooky touch this year. Regardless of the location, our Halloween sign ideas will help you to come up with some creative signs this year.
Check out some of the best happy Halloween sayings for signs to use as cute decor. These slogans are bound to work great.
1. Boo Yah! I Witch You a Happy Halloween
2. Trick or Treat Smell My Feet
3. Home Sweet Haunted Home
4. Welcome to Our Dead and Breakfast
5. Come In For a Bite… I'm Dying to Meet You
6. Danger! Enter If You Dare
7. May the Ghost Be With You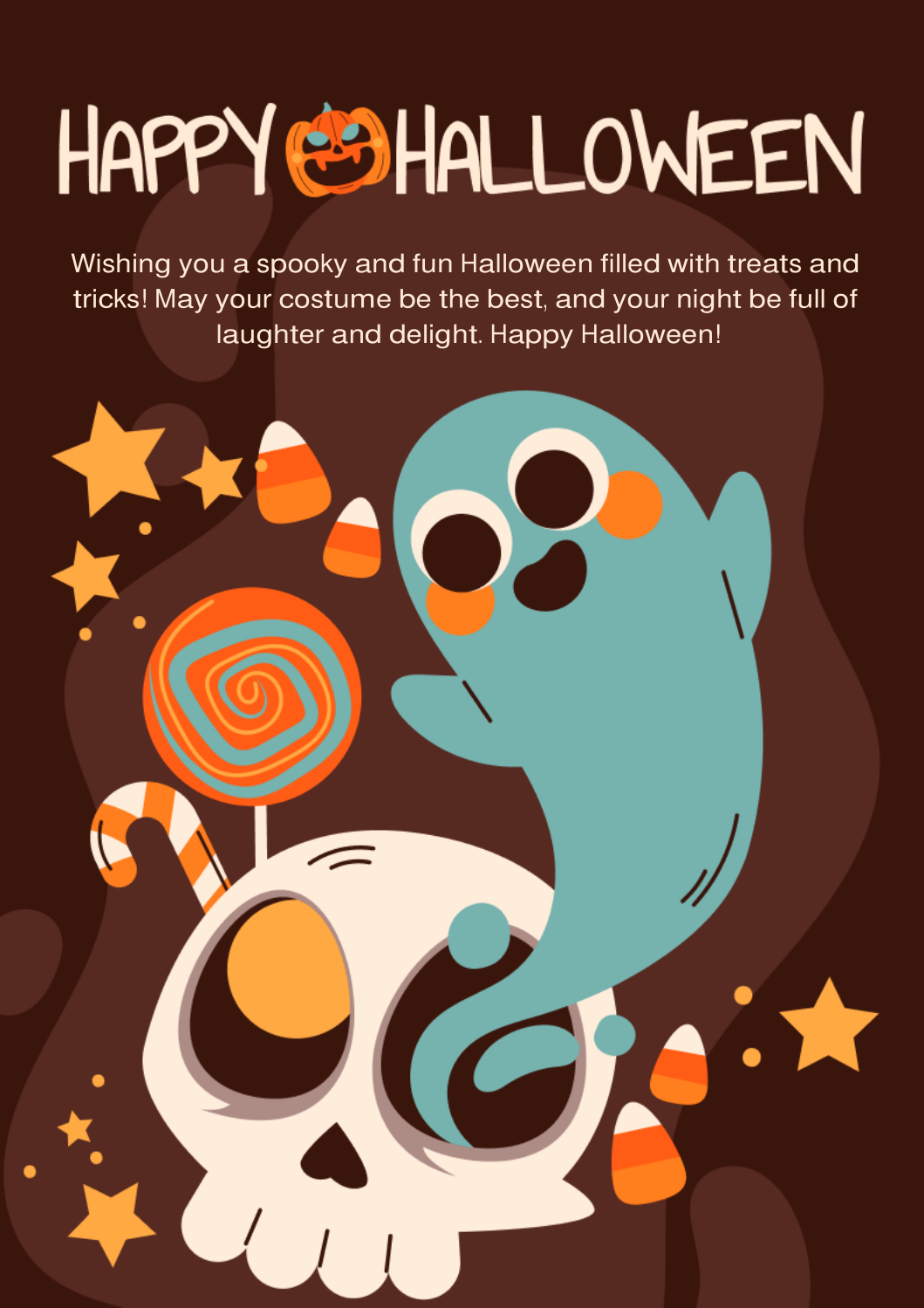 Use the Read-made Card Template to Write Funny Halloween Greetings>>
8. Once a Witch, Always a Witch
9. Boo You! It's October Witches!
10. Ghouls Just Wanna Have Fun
11. Too Cute to Spook!
12. Free Flying Lessons (Bring Your Own Broom)
13. Can You Be My Halloween Treat
14. Halloween is my Love Language
15. It's Halloween. Go totally catty, batty, deadly, ghostly, and scary!
You can make a sign with these cute and funny Halloween sayings by writing the greetings on the SwifDoo PDF's readymade card template. Then, print the PDF template in color to attach it to the sign.
How to Write Halloween Sayings for Cards in PDF and Print It
Keep Calm and Say BOO!
After having ample Halloween sayings for cards and signs for kids and adults, it's time to create a funny Halloween card to put the greetings to use. You can use the SwifDoo PDF creator to create a Halloween card from scratch or use its readymade templates to edit and customize it to meet your needs.
Feel free to copy and paste any of our above-listed happy Halloween sayings and messages to the readily available PDF template card and print it with the SwifDoo PDF. Check out the step-by-step guide on how to use SwifDoo PDF.
Step 1: Install the SwifDoo PDF creator software on your Windows computer and launch it.
Step 2: Open the card template and click the Edit menu. Then, select Edit All.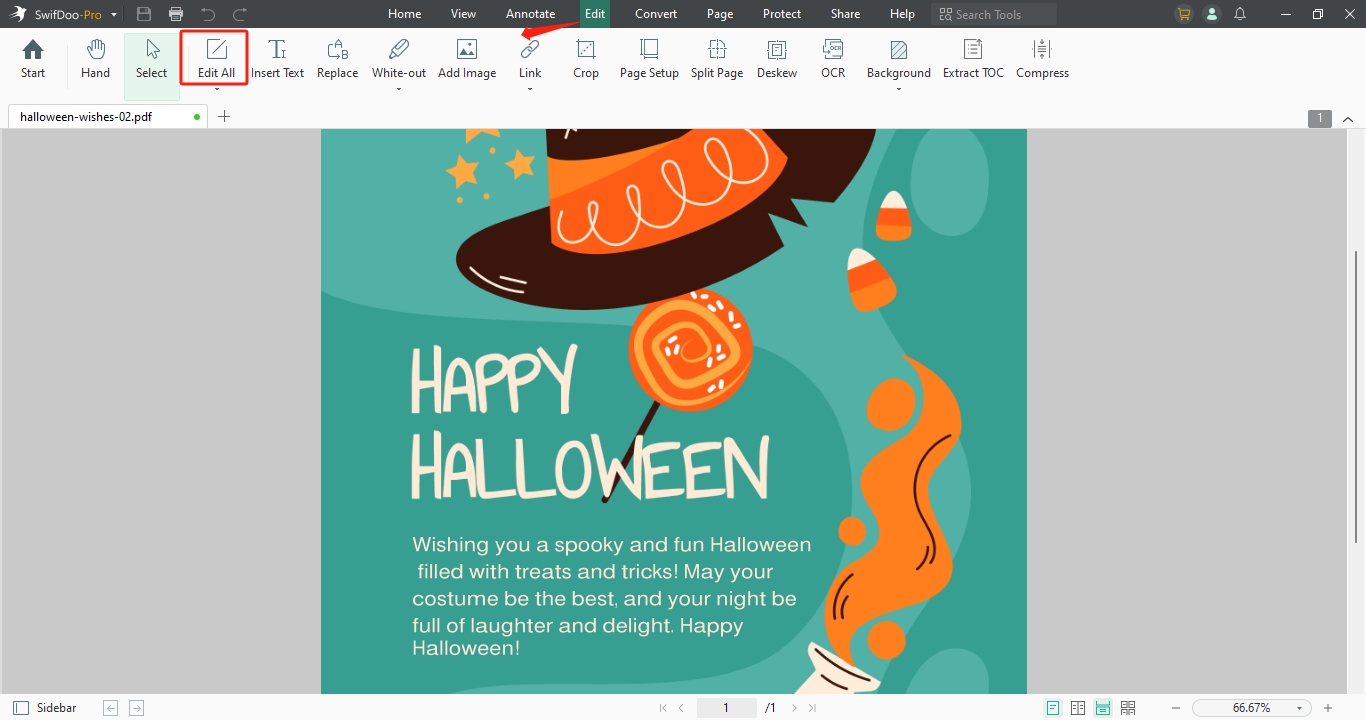 Step 3: Copy and paste your chosen Halloween card messages for kids or adults or write the Halloween signs into the text box in the PDF.
Step 4: Add spooky images and Halloween stickers for a creepier effect and change the text and image properties through the software's multiple font styles.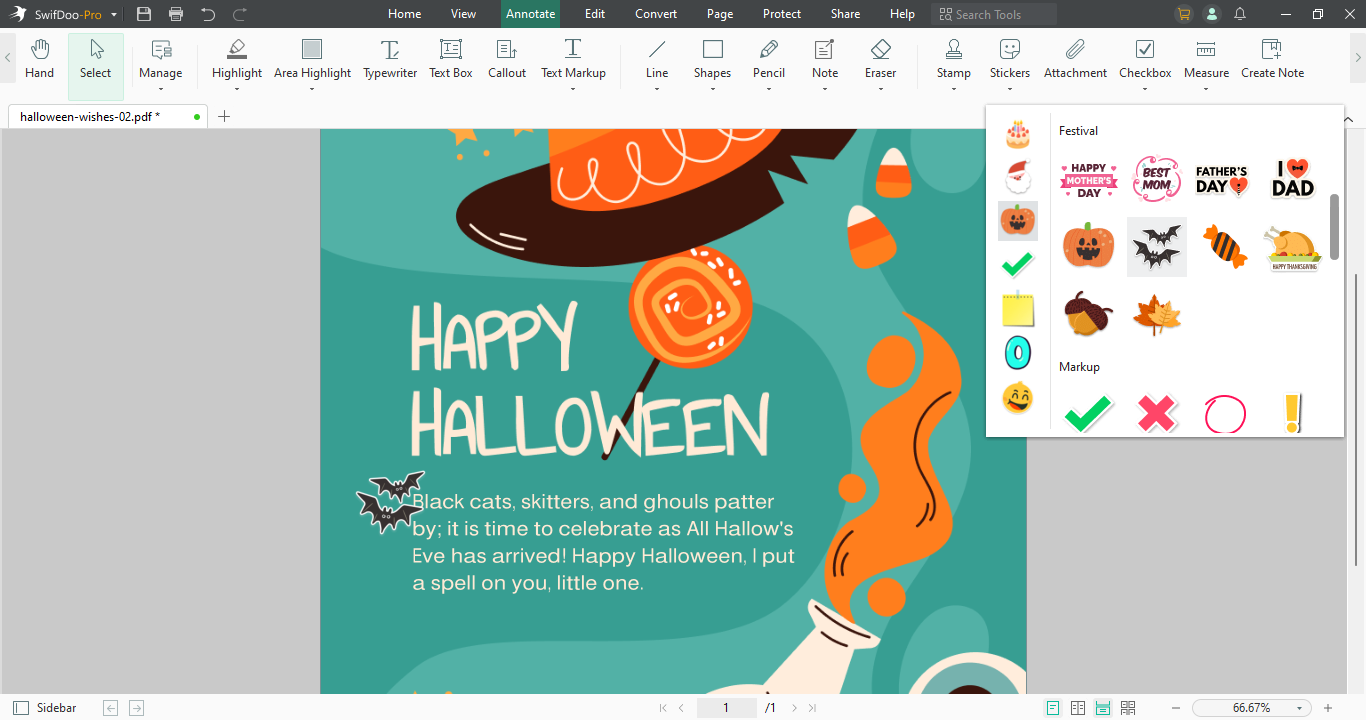 After writing your chosen happy Halloween wishes on the card, you must print it in color to send it to your friends, kids, or family members in person, or use the spooky Halloween signs as home decor, at the front door, or in the yard. Here's how.
Step 1: Open your PDF card with the SwifDoo PDF program and click the print icon in the top-left corner. You can also press Ctrl+P keys simultaneously.

Step 2: Click Color in the Color options and adjust the other related settings.
Step 3: Click the Print button.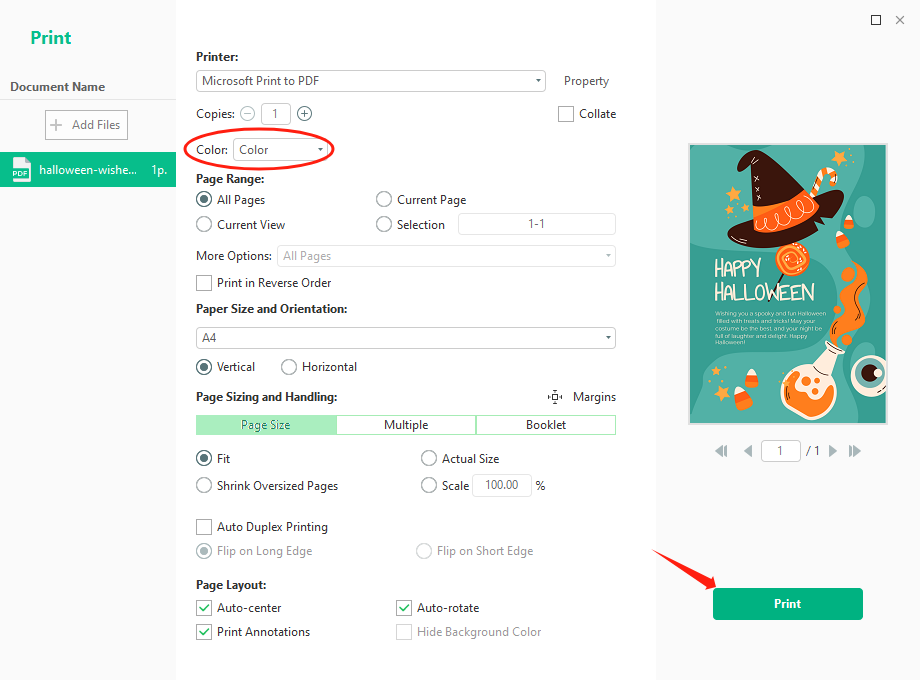 SwifDoo PDF is more than creating cards and printing them. The software addresses all PDF-related issues and provides many features, like editing, conversion, splitting/merging, annotation, etc., to simplify your work.