Introduction:
Among many special bonds in the family, one is between a niece and her aunt or uncle. Their birthdays are special, and to make it more memorable, gifts alone cannot do the job. Instead, you must pen some touching birthday wishes for your niece that stay with them throughout her life.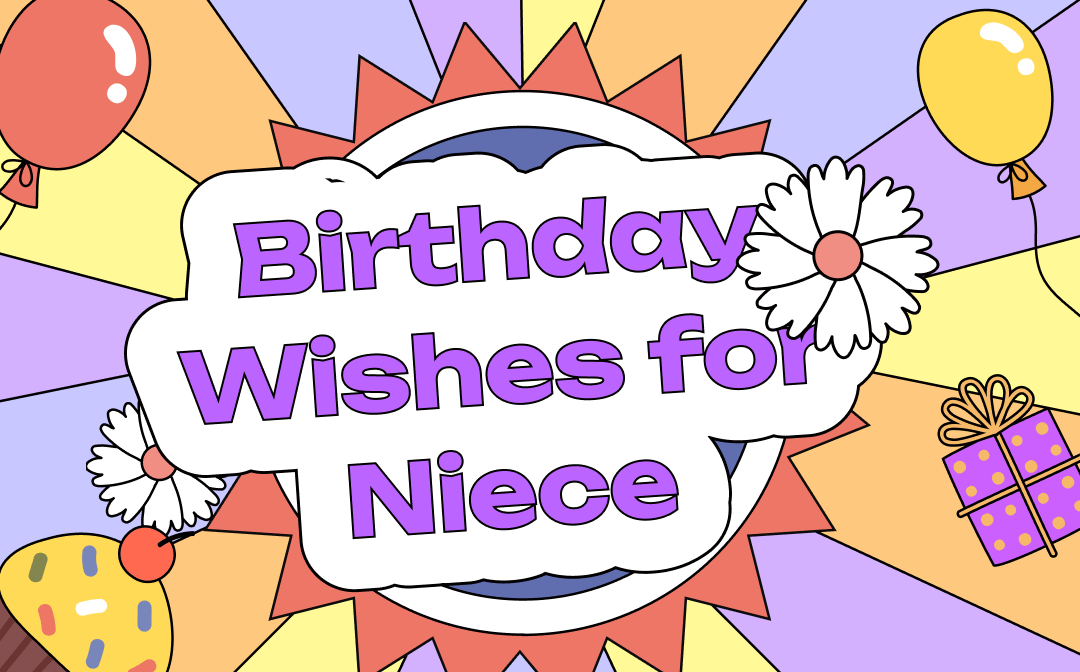 This post will introduce you to the perfect blend of 35 heartfelt, thoughtful, inspirational, and unique Happy Birthday wishes for nieces to fill them with happiness and celebration and make their special day more fun-filled and joyful. We'll also introduce the easiest method to create a virtual card and get it printed with your chosen birthday wishes. Stay tuned with us!
15 Birthday Wishes for Niece (Brother's Daughter)
Now express your heartfelt emotions with these birthday wishes for your niece to tell her how much she means to you. While the gifts may be outdated with time, these beautiful birthday wishes and prayers can be preserved in a card to stay with them forever.
1. Happy Birthday, my dear niece! May your days be long, and may you have more than you ask and pray for. God Bless you!
2. I'm an Awesome Uncle only because I have a Wonderful Niece like you. We are such a perfect family. Happy Birthday, Princess!
3. To me, you are a friend, a daughter, and a delightful companion. I pray your birthday is just as impressive as you are. Happy Birthday, my darling niece!
4. Happy Birthday to my niece, my pride and joy! I'm so grateful to have you as a daughter.
5. Today is a special day, not just because it's your birthday but also because it's the day when I first saw my Angel! Happy Birthday, my sweet Princess!
6. Watching you grow is a joy that words cannot explain. I love everything about you. Live long and remain blessed throughout your life. Happy Birthday, dear!
7. I truly love you not only because you are my niece but also because you are a wonderful human being. Happy Birthday to you, dearie.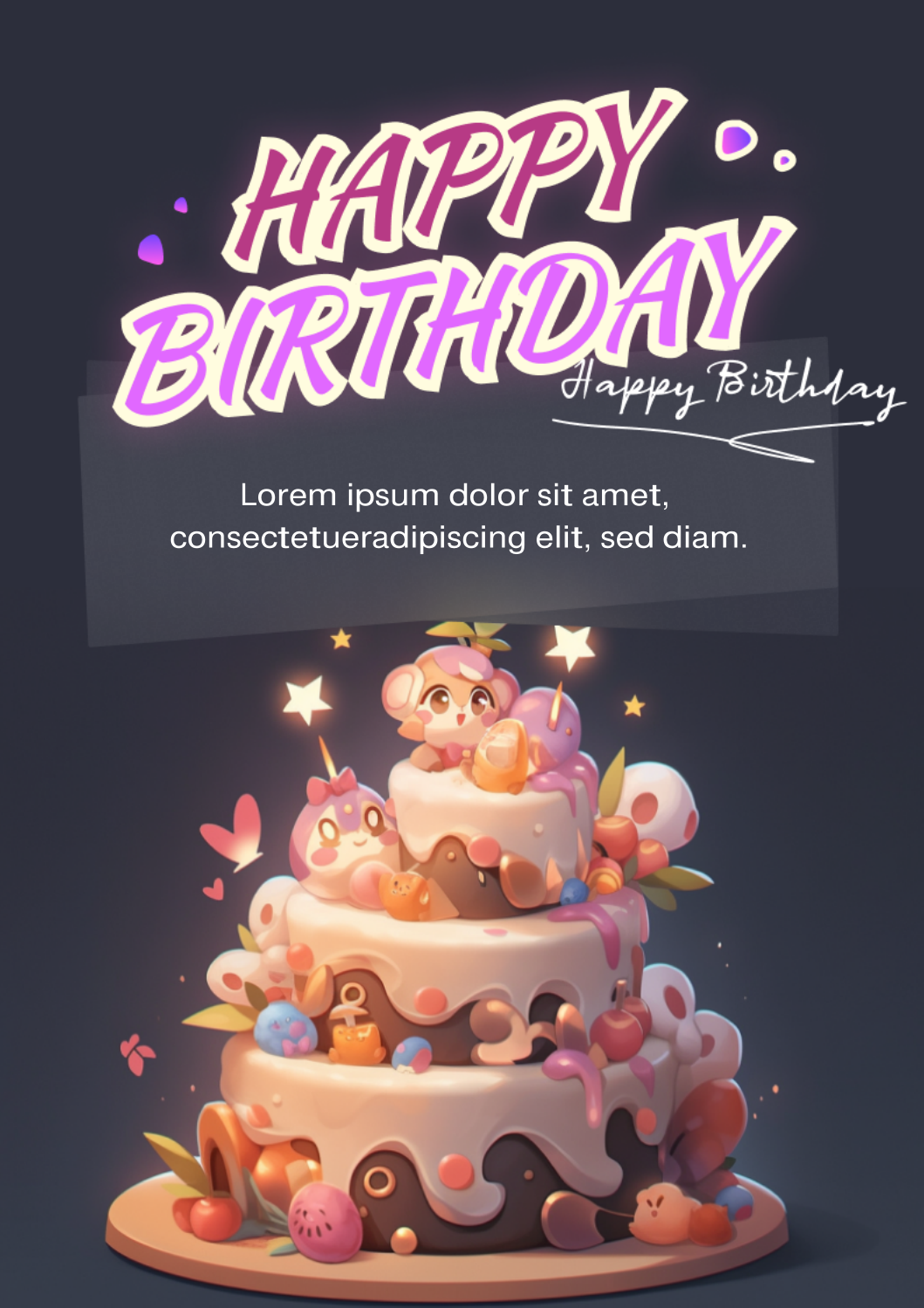 Get This Birthday Wishes Card for Niece for Free>>
8. No matter how many birthdays come and go, you will always be my little girl—Happy Birthday to a wonderful niece and a great friend.
9. Happy Birthday to my sweet little Princess. My brother is so blessed and lucky to have a daughter like you. I love you so much.
10. My dear niece, you are a daughter and best friend to me. You've illuminated my life with the deepest joys. Happy Birthday, dear! Keep smiling and stay blessed.
11. Happy Birthday my Rockstar! Words cannot explain how much I love you. You are like a daughter to me—more smiles on your face all year round.
12. Dear baby niece, you know Uncle loves you. I promise to always be there for you. I pray that your path shines brighter and brighter. Happy Birthday, Niece.
13. You are my relief when I am stressed and my joy when I am sad. You make my life complete by all means, my dear niece. Have a wonderful birthday and a beautiful life.
14. You're not just a beautiful and wonderful niece to me but my heart's caretaker, too. I wish you a Happy Birthday and the very best in life.
15. Happy Birthday, my lovely niece. You are one in a zillion. I wish you a life of favor all your days. Continue to grow in God's love.
You can use these birthday wishes for your brother's daughter and edit them in the template provided with the SwifDoo PDF to make a wonderful Happy Birthday wishes card in less than a minute.
15 Birthday Wishes for Niece (Sister's Daughter)
If you have a special niece you always delight in, these simple and touching birthday wishes for your niece are perfect to use on her special day and express your love for her to make her birthday more memorable.
1. On this special day, you will begin a new phase in your life. I wish you much happiness, strength, and courage to make wise decisions in all walks of life. Happy Birthday, my sweetie!
2. Happy Birthday, my beautiful niece! You brighten our lives and hearts with your infectious smile and beautiful spirit.
3. I genuinely love you because, besides being my niece, you are a wonderful human being. Happy Birthday, dear!
4. You are the most stunning person I have ever seen. Happy Birthday, my Princess!
5. Happy Birthday, my dear niece! May this year be a marvelous chapter in your life, filled with growth, happiness, and your dreams' fulfillment.
6. You might be surprised, but I want you to know that having a niece like you completes my life. Happy Birthday to you. Have fun!
7. Happy Birthday, my prettiest niece. I want you always to follow your heart, which will never lead you astray.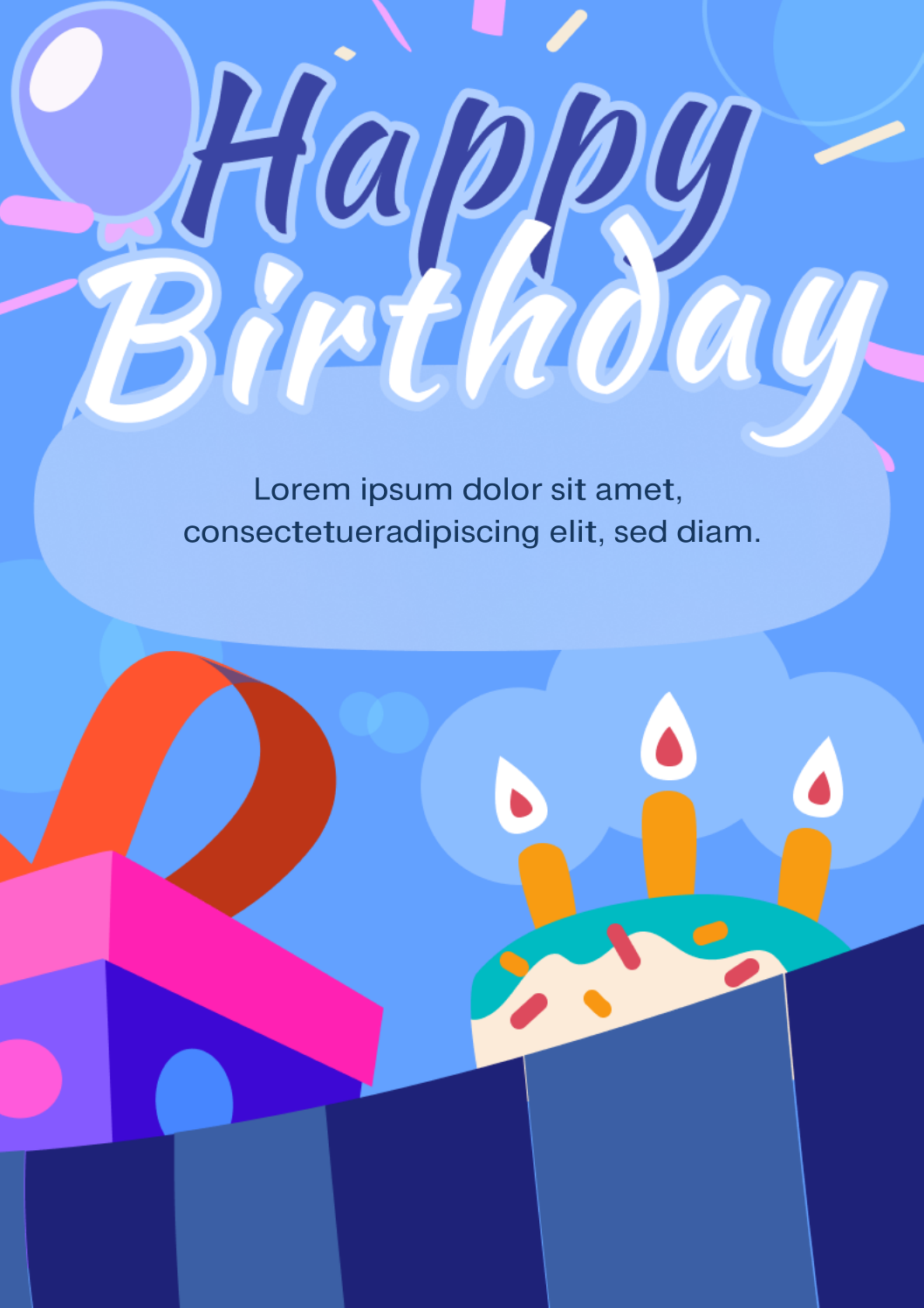 Free Download the Happy Birthday Wishes Card for Your Niece>>
8. I wish you the best in this special day. I love you dearly; know that you can always count on me. Happy Birthday to my niece!
9. Sending love, hugs, and the happiest birthday greetings to my beautiful niece. May this year bring abundant blessings, exciting opportunities, and endless love. Happy Birthday niece!
10. It's mandatory to have an amazing niece to become the most fantastic aunt in the world. I hope you are enjoying this day a lot. Happiest birthday wishes! Sending smiles and blessings your way.
11. I saw your mom at this age; you are as charming as her. I feel so lucky to be your aunt, and I wish you the best in the world. Happy Birthday.
12. Happy Birthday to the most incredible and wonderful niece in the world! May this day mark the beginning of a year filled with endless possibilities, and you work to achieve your dreams.
13. Happy Birthday to my niece! As your aunt, I have the duty to wish you as the very first person on your most special day. Wishing you the best birthday.
14. Never feel alone or down because I'm always around as a companion when you are alone or to hug you when you are down. Happy Birthday, my wonderful niece!
15. Warmest birthday wishes to my precious and sweetest niece! Your sparkling smile lights up the room, and your kind heart touches every soul around you. Enjoy your special day, sweet girl!
You must try the SwifDoo PDF creator to write down the birthday wishes for your sister's daughter on the free templates provided by the PDF creator and editor tool. You can even change the text color in the PDF template.
18th Birthday Wishes for Niece: 5 Quotes
Turning 18 is a significant milestone in anyone's life as they enter adulthood. These grown-up Happy Birthday niece wishes will fill the momentous occasion for your beloved niece with all positivity and strength as she embarks on her life's new chapter.
1. On your 18th birthday, I wish you courage, strength, joy, and all life's happiness. Embrace this new chapter with enthusiasm and seize every opportunity that comes your way. Happy Birthday to my niece!
2. Happiest 18th birthday to the most fantastic niece! Your presence in our lives is nothing less than a gift, and I'm grateful for every memory we have created together.
3. As you turn 18, I pray to God to bless you with strength, courage, and confidence in all walks of life. May you work towards your dreams with complete dedication, and your heart always be filled with love. Happy Birthday, my favorite niece!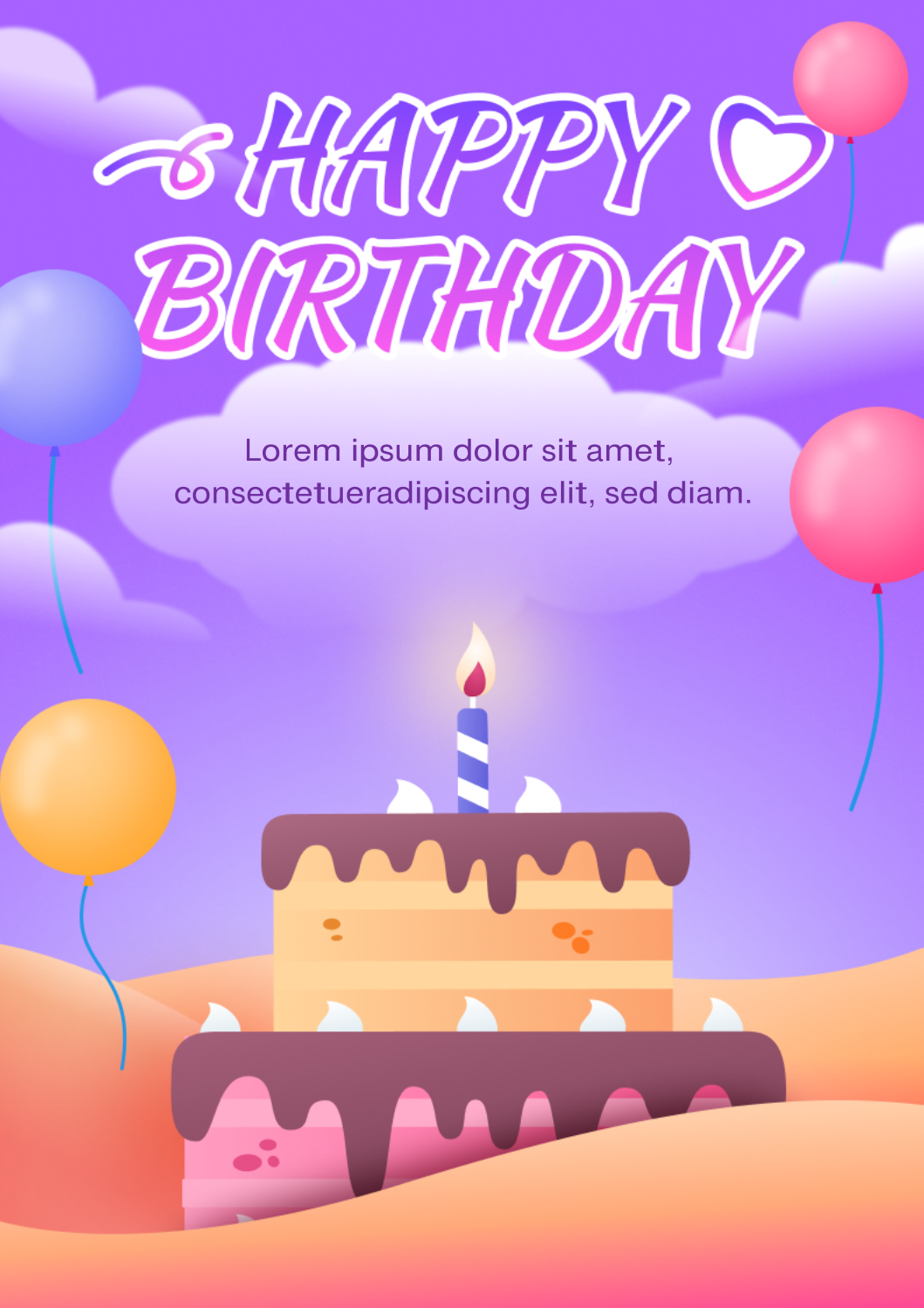 Access the Card to Send Happy Birthday Wishes to Your Niece>>
4. Your 18th birthday marks the beginning of a remarkable journey. May you dream big, work hard, and soar high in all you do. Happy Birthday niece! Stay blessed with the Lord's choicest blessings always.
5. Congratulations on entering the realm of adulthood, where you can shape your destiny. I wish this new chapter of life welcomes you with endless opportunities, the strength to overcome hurdles, and the courage to chase your dreams fearlessly. Happy 18th Birthday, my fantastic niece!
Using SwifDoo PDF creator's free templates, you can replace text in the PDF wish card and design customized Happy Birthday wishes for your niece's birthday card hassle-free.
Edit Your Birthday Wishes Card for Niece
When you have sorted out the touching birthday wishes for your niece, why not make a card to express it more warmly? SwifDoo PDF offers a free card template where you can paste your birthday greetings and customize its font to adjust its design according to your preference.
Check how to use SwifDoo PDF to add your niece's birthday wishes to the PDF template card.
Step 1: Download and launch the SwifDoo PDF creator and editor tool.
Step 2: Open the free card templates and tap Edit > Edit All.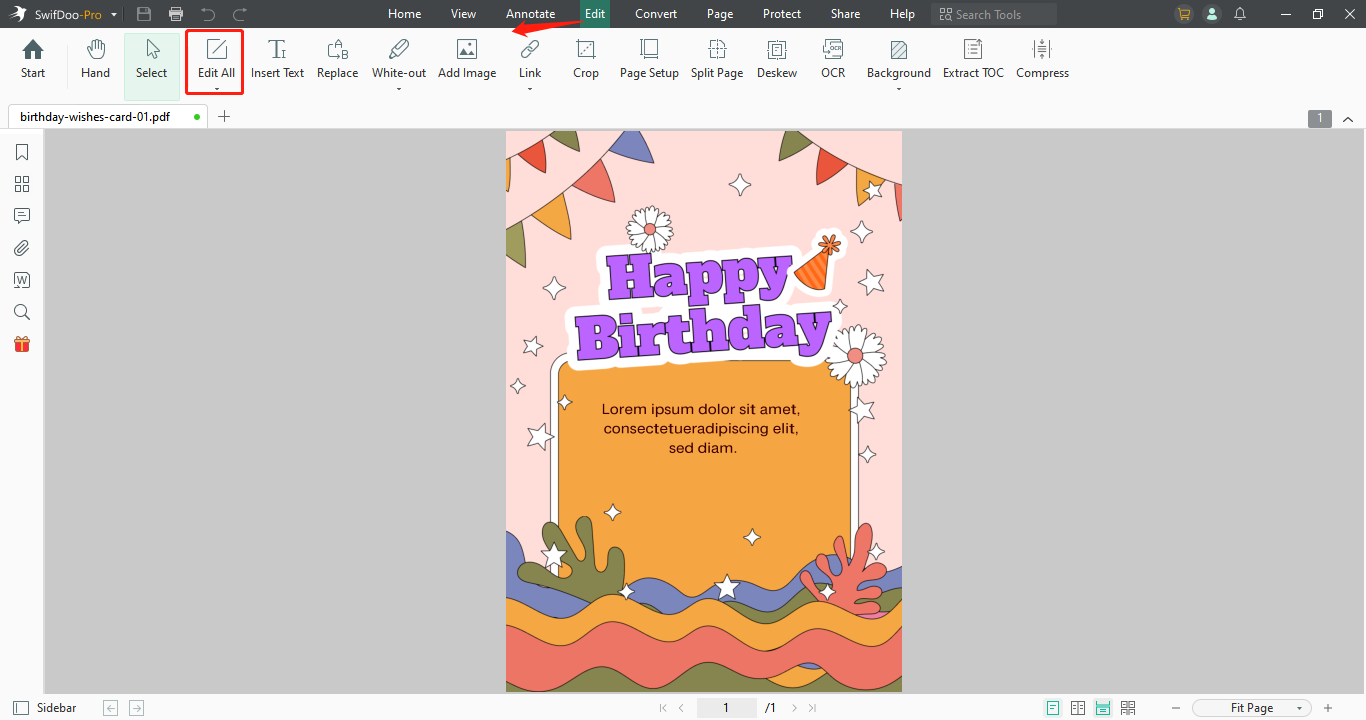 Step 3: Copy the Happy Birthday wishes to your niece and enter them into the PDF's text box. You can add any desired image, too.
Step 4: Change the image and text's format as you like.