Introduction:
Jiju is an integral part of the family who's not only your sister's husband but your greatest friend and confidante. When his birthday is getting closer, you may need to wish a Happy Birthday to your Jiju with the best birthday wishes and messages. We've got your back with our 40 birthday wishes for Jiju as a simple gesture of love and appreciation, which you can write on your gift as a note or a birthday card.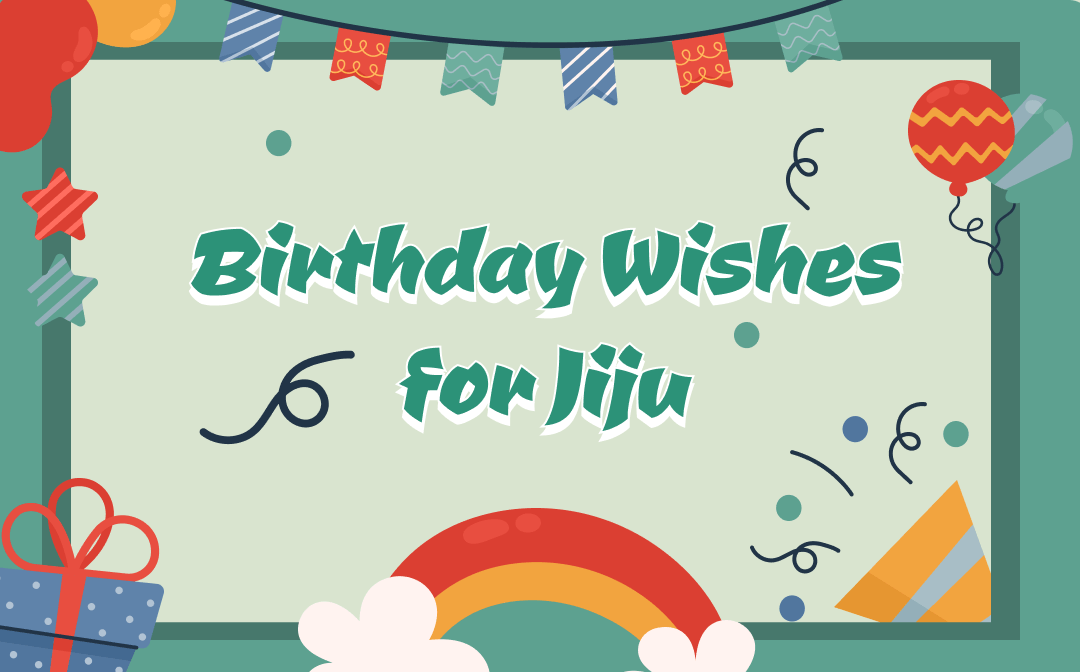 We have got everything from heartwarming messages to funny one-liners and teases that are guaranteed to make your Jiju(brother-in-law) smile. You can use our Happy Birthday wishes for Jiju on WhatsApp Status or birthday captions on Instagram, or send them as a text message.
10 Birthday Wishes for Jiju from Sali
We love all our relations and even cherish different types of relations, but the naughtiest and most exciting relationship is between a Sali and her Jiju (brother-in-law). If his Birthday is nearing, you can choose some special bunch of birthday wishes for Jiju from Sali and write the words on social media or create a personalized birthday card to cherish his presence in your life.
Check out these 10 birthday wishes to your Jiju to add up joy and love to his special day.
1. Happy Birthday, Jiju! Your ability to always see good in everything is truly inspiring. You inspire me to be more driven and dedicated in life.
2. Happiest Birthday, my Jiju. Irritating and teasing you is my favorite pastime, yet you always take it all in stride. I appreciate your presence in my life.
3. Dear Jiju, you inspire me to keep exploring new things. Have a fantastic birthday full of crazy new adventures. Enjoy your day, and stay blessed.
4. Jiju, you always keep things interesting in the family with your witty anecdotes. Happy Birthday, Jiju, my best wishes to you.
5. Happy Birthday, my dear Jiju. In you, I found a brother that I never had. I wish you a delightful and enjoyable birthday.
Download the Birthday Wishes for Jiju Image or PDF Card>>
6. Happy Birthday to the Jiju, who always lends a helping hand. Your love and care is unmatched. Have a smashing birthday.
7. Happy Birthday to Jiju. May God bless you with love and prosperity. You are my role model. Enjoy your day.
8. Dear Jiju! May you get a chance to fulfill every item on your bucket list and live your life to the fullest. Happy Birthday.
9. Happy Birthday, dear Jiju. Thank you so much for being more of a close friend and always helping me out of tricky situations. You are one of God's greatest gifts.
10. Here's to a year full of fresh opportunities and thrilling escapades. Happy Birthday, my Jiju!
We have sorted out the best birthday wishes for Jiju. You can select any that best describes your bond with him and get into typing the text on a PDF birthday card using the best PDF editor app, SwifDoo PDF.
10 Birthday Wishes for Jiju in a Funny Way
Depending upon your bond, you can poke fun at once in a while. Our 10 funny birthday wishes for Jiju will surely add a humorous touch to your Jiju's special day. Whether you've known him for a long or are recently blessed with a new family member, express your love and gratitude and even tease a bit. Take the best wishes and quotes for your Jiju's Birthday.
1. My sister may have made many bad decisions in life, but marrying you was the best decision. Happy Birthday, dear Jiju.
2. Happy Birthday to the Jiju, who's always up for a good time! May your day be filled with lots of celebration and partying.
3. Congratulations on another trip around the sun, Jiju! Don't worry, you don't look a day over 50! I wish you a Happy Birthday, Jiju.
4. I hope your birthday is filled with everything that makes you smile – especially when no one else is looking… Happy Birthday, Jiju!
5. Another year of being a Jiju and still no sign of being able to resist a good dad joke! Keep them coming, Jiju.
Use this Free Birthday Card to Write Birthday Wishes for Jiju>>
6. Happy Birthday to the guy who still hasn't figured out the way to escape our crazy family. Cheers to another year of trying!
7. Happy Birthday to you, Jiju! Let's celebrate by eating cake and pretending we're not getting older, though we are mostly.
8. Congratulations, Jiju! You've managed to stay young at heart despite your advancing age. Keep it up!
9. You have seen me at my best and worst. I can never thank you enough for always being there. P.S. Even when I don't want you to! Happy Birthday, Jiju!
10. Another year older and still as handsome as ever! Just kidding, Jiju... Tbh, you were never that handsome, to begin with!
Now, use these special birthday wishes for Jiju with photos downloadable to edit to make your Jiju giggle and laugh out loud. You can put these greetings on WhatsApp Status or as birthday captions on a post. Also, feel free to add pictures to the PDF card you can save here easily with a handy tool.
10 Birthday Wishes for Jiju from Sala
With our carefully crafted 10 birthday wishes for Jiju from Sala, you can express how grateful you are to have him in your life. Jiju is a special member of the family like a friend, mentor, and confidant. When you celebrate his Birthday, show him how much he means to you. Just write meaningful and thoughtful Happy Birthday wishes, quotes, and messages for your best Jiju.
1. Warmest birthday wishes to the man who always knows how to have a good time. May your day be filled with happiness and love!
2. Happy Birthday, Jiju! I know our family is a bit weird, but we are so glad you are a part of it.
3. Cheers to a birthday filled with love, laughter, and good wine. Life is always more fun with you around, Jiju – I wish you a fun-filled Happy Birthday and a fantastic new year ahead!
4. My dear Jiju, as long as you keep taking my side whenever I have an argument with my parents. You will always keep receiving cool gifts on your birthdays. Happy Birthday to you!
5. Happy birthday Jiju. It's always fun when we get to hang out. I hope this next year is even better than the last.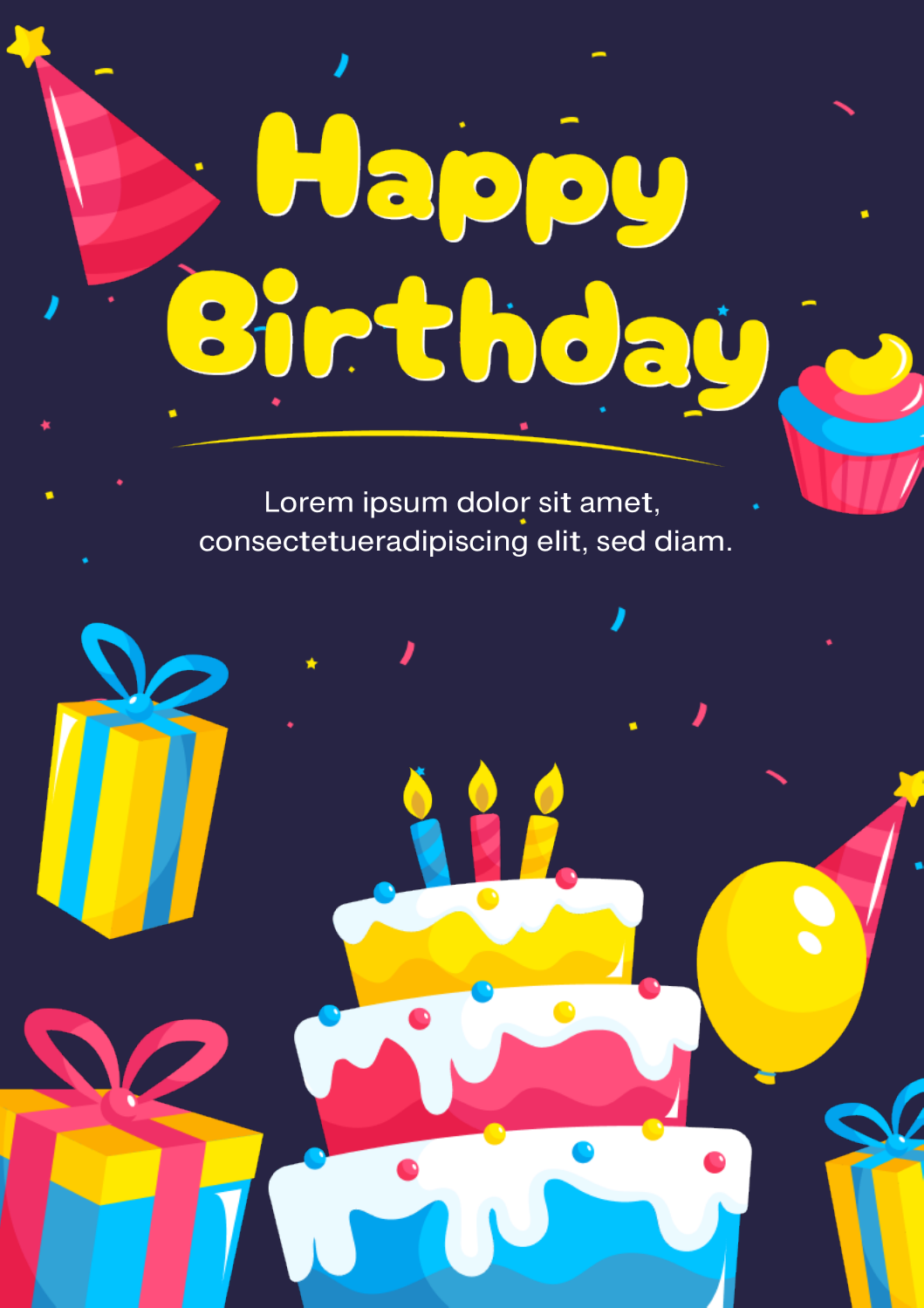 Save the Free Image or PDF Template to Put Birthday Wishes for Jiju>>
6. Happy Birthday, a brother from another mother! You're a kindred spirit, a great friend, and a person who makes every day a little more awesome.
7. Dear Jiju, you are a superman who can do anything so quickly and efficiently; your work management is superb— Happy Birthday to Mr. Perfect.
8. Here's hoping your Birthday is filled with a bunch of good presents, a load of good food, and lots of good company. Have a joyful Birthday, Jiju!
9. Here's to an incredible and fun-filled birthday and a whole year of incredible journeys, shared conversations, and belly laughs – in short, Life as it should be! You're not just family; you're one of our most incredible and coolest pals. Cheers to that!
10. Billions of greetings, thousands of wishes, hundreds of colors, pounds of cakes, millions of smiles, and peace of mind. That's what I asked God to give you the entire life. Happy Birthday, my dear Jiju.
You can utilize these Happy Birthday wishes for Jiju and quotes to make his Birthday more joyful, as they are a medium to express your care and appreciation for his being. Besides being a brother-in-law in relation, your Jiju is also like an elder brother to you.
10 Short Birthday Wishes for Jiju
Take a look at the 10 short and sweet birthday wishes for Jiju to bring a smile to your Jiju's face. Take the opportunity to describe what makes him stand out and express how his presence in the family has added value to relationships and filled everyone's life with joy, fun, and happiness. You can leave the simple birthday wishes to Jiju as a note on his birthday gift.
1. Happy Birthday, Jiju! May your day be as charming and witty as you are. You're officially the coolest Jiju around. Keep being awesome.
2. You're not just my Jiju but a part of our tribe and our clan. We love and appreciate you more than words can say. Happiest Birthday, Jiju.
3. Happy Birthday to dear Jiju, my partner in crime. Congrats on surviving another year in this mad world. You're doing great!
4. I'm proud to call you my brother-in-law and even more proud to call you a friend. Happy Birthday, Jiju. I hope it's a wonderful one.
5. Happy Birthday to the most wonderful, incredible, handsome, courageous, funny person. I have an awesome Jiju. Stay Blessed always.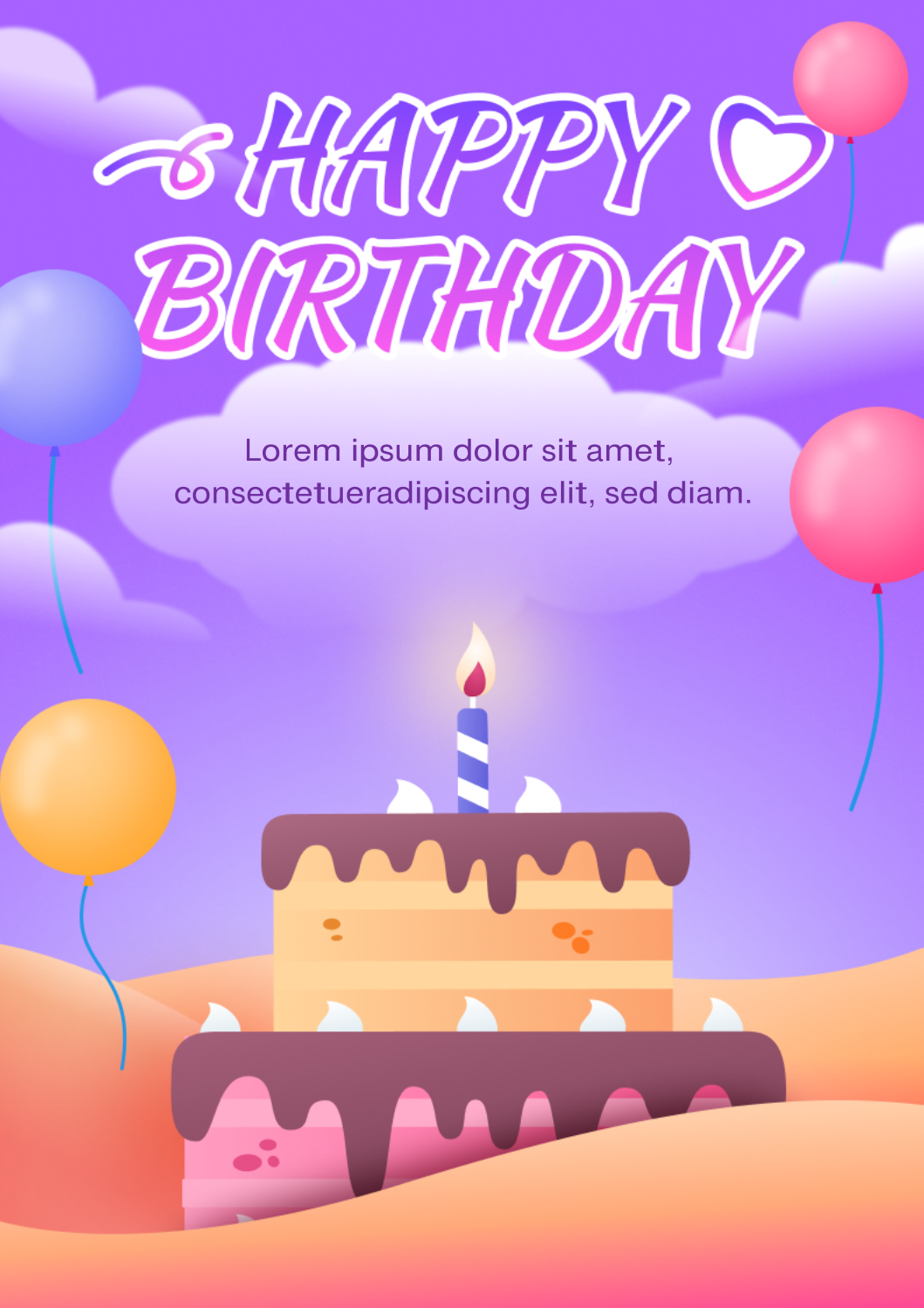 Get This Birthday Card to Send Birthday Wishes for Jiju>>
6. Here's wishing a Happy Birthday to the most charming, attractive, funny, and rocking personality. Happy Birthday to my favorite Jiju!
7. Wishing my favorite Jiju a very Happy Birthday! I wish you always be blessed with all the happiness, blessings, and success in the world.
8. You are really a wonderful person. May this day bring you lots of happiness. Happy Birthday to you, Jiju!
9. Today, we raise a glass to your health and happiness! Happy Birthday, Jiju!
10. Here's to a fabulous birthday for my dearest Jiju! May this birthday bring you all the amazing things you deserve, and may you have endless blessings.
Send these short birthday wishes for Jiju in 2 lines as a text message to express your respect and love towards him and brighten his special day.
How to Make Birthday Wish for Jiju Card
With all the birthday wishes and messages for the world's best Jiju, you can create a birthday card using SwifDoo PDF. You can even add your own ideas and use the available free templates to quickly edit your card. Not just birthday wishes for Jiju words, but also a customized gift to make your Jiju's Birthday even more special and memorable. Here's how to make a birthday card for your Jiju, edit, save, and print it.
Step 1: Download and open the image or PDF card template in the SwifDoo PDF app;
Step 2: Click Edit in the top menu bar and tap Edit All;
Step 3: Now copy and paste your chosen birthday wishes for Jiju into the text box;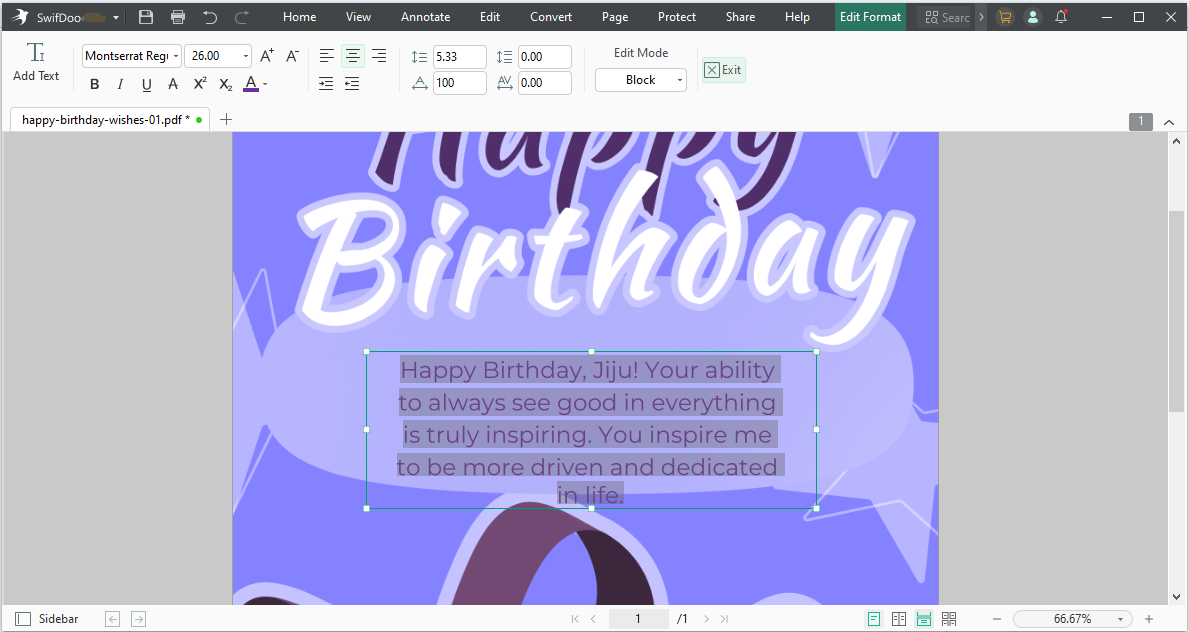 Step 4: You can also add some personalized texts, beautiful stickers, or images if required;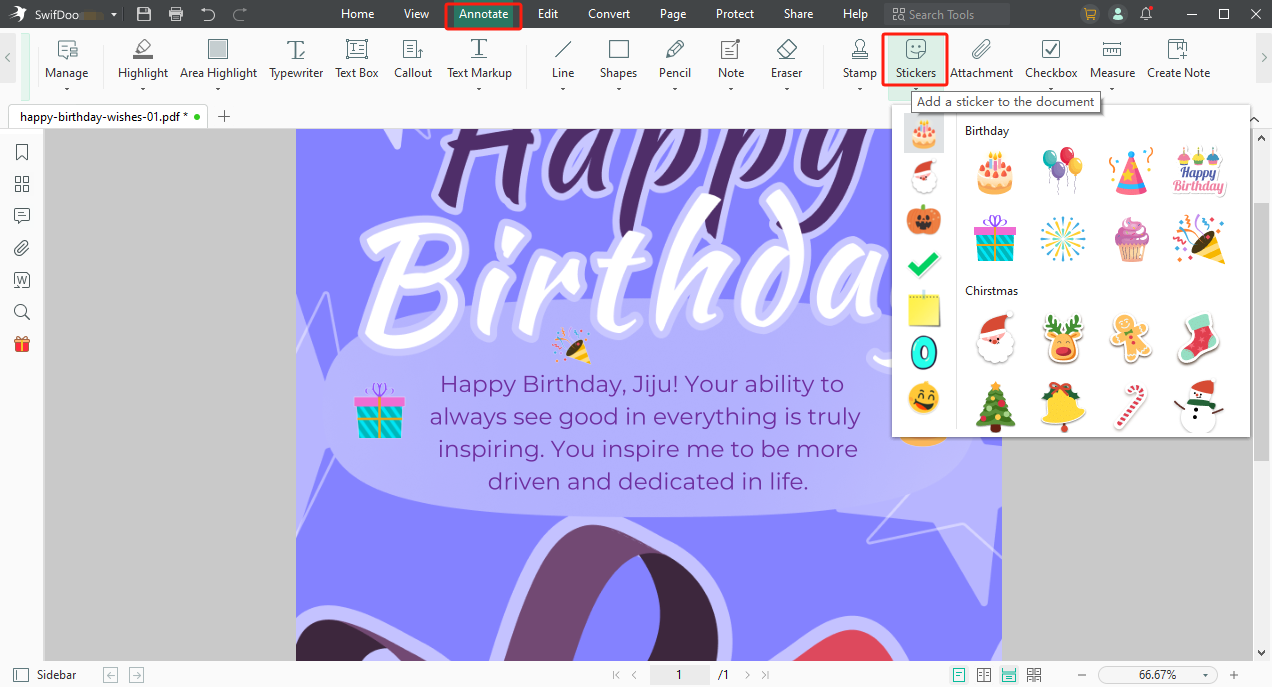 Step 5: Finally, save your birthday card as a printable PDF or an image as you like. You can also print it out directly.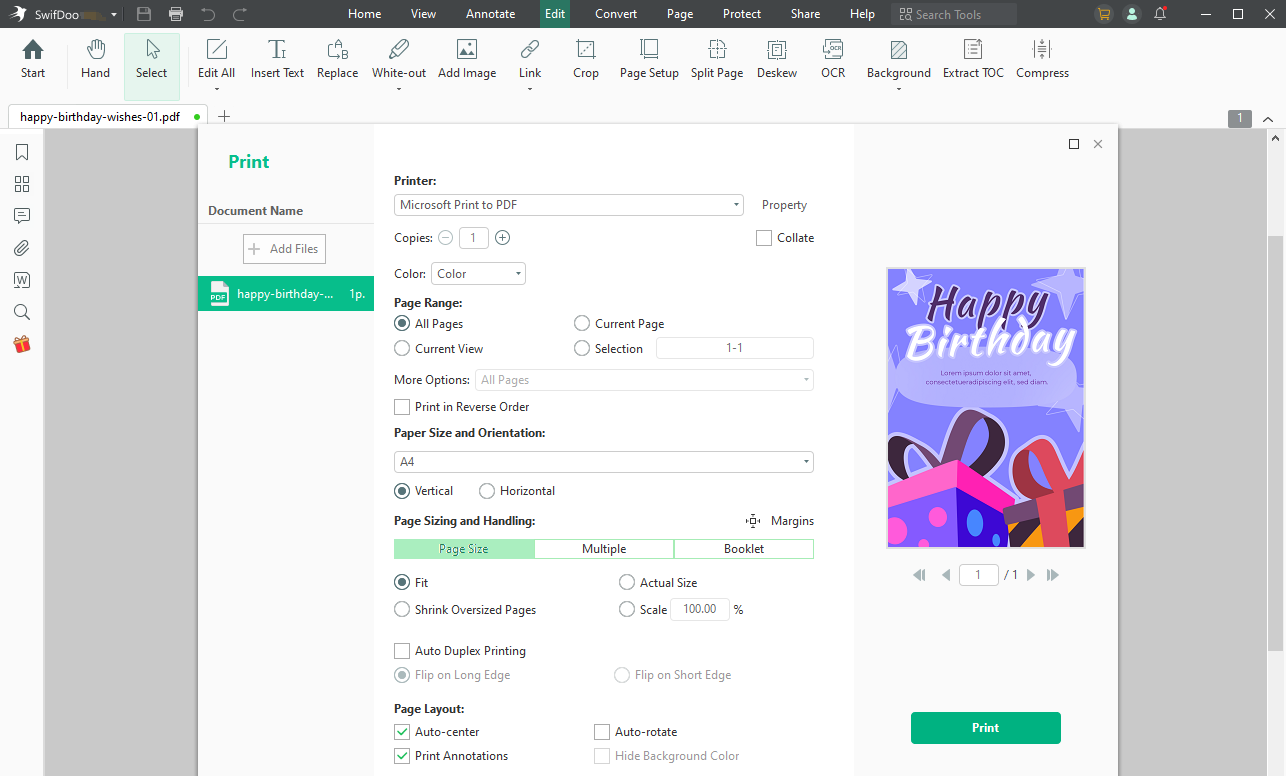 These were some of the heartfelt and unique birthday wishes for Jiju that can help you draw inspiration to write customized messages to foster the bond. We have provided sweet and heartwarming birthday wishes and even focused on how to wish your Jiju on his Birthday. Now rejoice and celebrate a Happy Birthday for your Jiju by making more cards for him using SwifDoo PDF and printing them to give your Jiju as a lovely keepsake.