Have you ever encountered that some clients or recruiters ask you to send them RTF documents? Perhaps you have never seen or heard of this type of file before and thus have no idea how to open, create, or convert them.
In view of such cases, this article is to explain what an RTF file is, what it's used for, how to open and create it as well as convert RTF to PDF or other formats.
What Does RTF Mean?
RTF means Rich Text Format. It is a file format developed by Microsoft Corporation in 1987 and has not been maintained since 2008. The RTF format is older than Word DOC and was designed for universally exchanging documents between Microsoft Word and other word processors without a hassle. While the format is not that popular now but still has a place.
What Is an RTF file and What Is It Used for?
What exactly is an RTF file? An RTF (Rich Text Format) file is an editable file with the .rtf file extension. As the name implies, RTF files are formatted text documents. Unlike normal text files with only plain text, they can contain some formatting such as boldface, italics, font sizes, and images. When editing an RTF file, it looks like a Word document.
RTF files are supported by almost all word processors and OS including the older versions of Windows and Mac. They are also widely accepted on most email platforms.
Therefore, an RTF file is used for transferring your formatted document between different platforms and software. It is very helpful for keeping your file content readable no matter what device and software the recipient uses.
Is RTF the Same as Word DOC?
While both RTF and DOC are developed by Microsoft Corporation and used in Microsoft Word for word processing, they are different. For example, DOC supports more features for rendering a document than the Rich Text Format and contains macros.
Is RTF the Same as PDF?
RTF is different from PDF. Documents in PDF format can not be edited without a professional PDF editor and thus the format is mostly used for protecting files from being altered such as copying content.
Pros and Cons of RTF Files
The pros and cons of RTF files are listed below:
Advantages
Ease of access and creation: People can easily create, edit and send their documents successfully irrespective of devices they use, even the old Windows 98. That makes some staffing agencies require RTF resumes.
Security: RTF files are secure as they don't use macros which may contain viruses. Sending your documents as RTF files ensures the recipients' devices won't be affected by viruses.
Small size: The size of an RTF file is small because it doesn't include much formatting, which is easy to send as an email attachment.
Disadvantages
Risk of being tampered with: Rich text documents are easily edited and can not prevent others from tampering with.
Limited formatting: The features of RTF files are limited since they only permit some basic formatting.
No update: The improvements and development of the RTF format are discontinued. New versions of Microsoft products release DOC to replace RTF.
How to Open an RTF File
An RTF file can be opened by text editors and most word processors such as:
The pre-installed Microsoft WordPad on Windows;
The built-in Apple TextEdit on Mac, Apple Pages on Mac, iPad, and iPhone;
Microsoft Word on Windows and Mac;
Free and open-source LibreOffice/OpenOffice Writer for Windows, macOS, and Linux;
Google Docs for all web, ChromeOS, iOS, and Android devices.
You just need to right-click on an RTF file in a folder, choose "Open with", and select a proper program to open it. Or, if you didn't install third-party word processing software, double-clicking on your RTF file will automatically trigger the pre-installed app such as WordPad and TextEdit on Windows and Mac to open it.
How to Create an RTF File
You can edit and create an RTF file in most word processors such as Microsoft Word and Google Docs. When you are happy with the file opened in a word processor, go to "File" and "Save As"(in Microsoft Word), or similar options in other programs to save it as an RTF (.rtf) file.
How to Convert RTF to PDF or Other Formats
As RTF is less popular now, you may oftentimes need to save rich text documents as PDFs to meet different requirements.
The easiest way to convert an RTF file to a PDF or another type of file is to open it in one of the programs mentioned, then use the "Print", "Save As", or "Download as" feature to export it in a different format.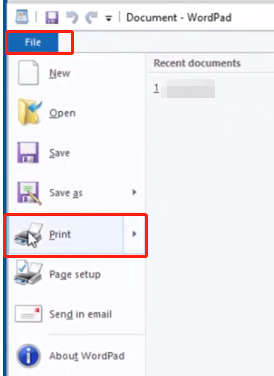 Yet you can also employ a dedicated online file converter to achieve that, which always enables you to batch convert multiple files for free via a browser.