The DPS format is a new file format and you may have no idea what to do with an unfamiliar DPS file. Today, this article gives a brief introduction to a file with the file extension of .dps. What is DPS and how can we open a DPS file? Let's check it out.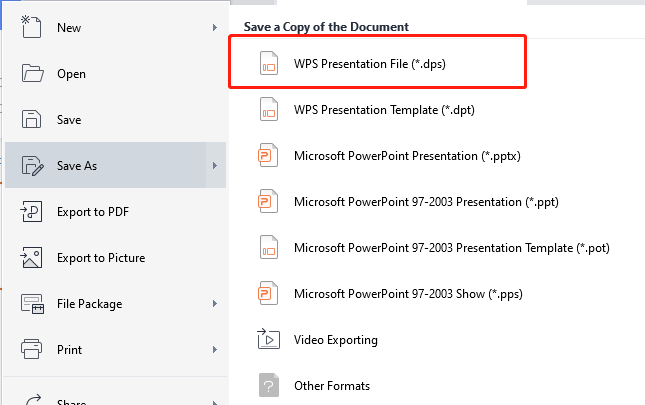 What Is DPS
The DPS file format is a native format of the Kingsoft Presentation software, a presentation maker belonging to the WPS Office suite. Hence, a DPS file represents a Kingsoft Presentation file with the file extension of .dps. This kind of file includes a series of slides which are embedded with text, pictures, audio, animation, and other multimedia elements. The same as PPT files, DPS files are frequently used to deliver presentations for seminars or reports.
There is another type of DPS file - the DivX Player 2 Skin file. Though it is not an Office document, this DPS file is relatively popular among its target audience. Created by DivX Player version 2, a video player, this DPS file includes images which are saved in a zip file. The purpose of this file is to change the appearance of the DivX Player interface.
How to Open a DPS File
To directly open a DPS file generated by the Kingsoft Presentation software, you need to download and install the application.
The Kingsoft WPS Office is free to download and designed for Windows, macOS, Linux, iOS, and Android. Users can double-click it to open the DPS file on the desktop or view the file with one click on their mobile phones.
If you do not want to download a new application just in order to open a seldom used file, you might utilize a DPS converter to convert DPS to PDF. Because PDF is the most compatible and common file format in the world. Almost all word processing software supports the PDF format. OnlineConvert.com is a free online DPS converter to finish the DPS to PDF conversion.
For a DPS file generated by DivX Player, you can use a desktop program or to open it with an online DPS viewer. Here is a list of some DPS file viewers:
1.DivX Player: a piece of media player software supporting the DPS format for Windows and macOS.
2.FileViewPro: an easy-to-use program to open a DPS file created by DivX Player 2 and associated with Windows, macOS, iOS, Android, and Linux.
3.Online DPS viewer by FileProInfo: a DPS viewer to read DPS files online and available on Google Chrome, Firefox, and other web browsers.