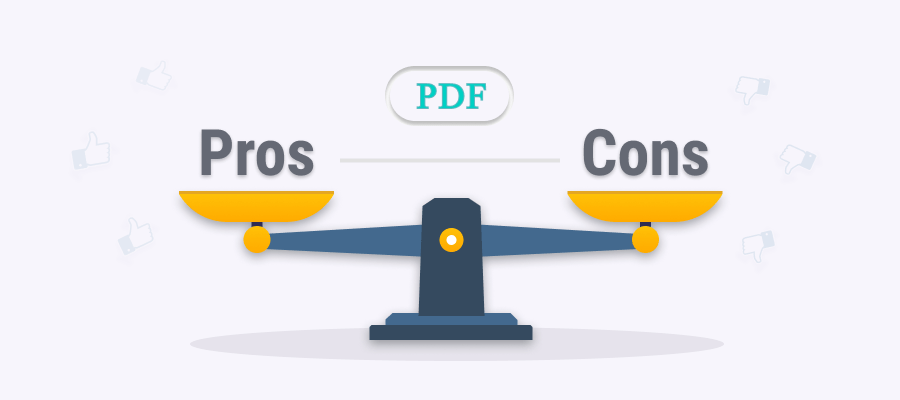 This special file format often comes with a heated discussion surrounding the usage and impact on its users.
Portable Document Format, otherwise known as PDF, is arguably one of the most popular tools for creating, storing and distributing information, which can be divided into two categories: native PDF and scanned PDF. PDF documents are widely used on a daily basis, and PDF has essentially become a prerequisite to ensure a higher working efficiency in modern offices.
Developed by Adobe in the 1990s, PDFs were born to create a document format that displayed and presented the same content on any device. Such a characteristic popularized PDF usage among university facilities, students, and professionals.
There is no denying, PDF is a help assistant, but it still has a few drawbacks. Thus, the PDF pros and cons will be expounded in this article.
Pros
Cons

Compatibility

A PDF file remains self-contained - even on a different OS. This file type is irrespective of operation systems, software or hardware. That is to say, whoever you send the PDF document to and on whichever device, the file will remain unchanged and undistorted. Therefore, converting MS office formats or other formats into a PDF file is a great way to maintain styling, format, and font usage along with the content.

Editability

Simply put, editing PDF files isn't as easy as with other formats. The main issue is that, in most cases, all PDF editing software requires cash because PDFs can be a scanned copy of an existing document by OCR technology. Scanned PDFs differ from a native PDF.

Compaction

When a PDF contains too many HD images or other content, the file tends to be very large. Such an issue can be well resolved by PDF's compression algorithm, which helps optimize a large file into a smaller one. Hence, it won't take up as much space as it usually would.

Extraction

If you want to extract or export images from a PDF document for future use, then this file type may not be your best choice. Its nature makes it hard to extract the embedded images and paste them anywhere.

Security

Security settings can be customized, and two-level passwords are available to limit certain operations on your shared PDF document, such as editing, printing, annotating, or converting. Additionally, you can improve the authenticity of your file by adding e-signatures.

Mobile and SEO-Friendly

PDF will always remain the same, no matter what device you use. In a sense, PDF isn't a responsive and interactive file format. When you open the file on web pages or smaller mobile devices, the page layout or the structure won't be automatically altered in accordance with the new parameters.

PDFs are not a preferred format for most search engines because they lack certain essential elements that web pages have. In other words, when it comes to SEO and mobile users, this may not be an ideal format.

Portability

PDFs can be displayed on most existing devices (PC, mobile phone, Mac, tablet). In addition, the compatibility will make sure you're worry-free about content distortion.

Teamwork

Throughout the market, many developers have released tools to help synchronous editing. To date, there aren't any similar features in PDF tools, making it difficult to collaborate with team members. However, most productivity programs like MS Office and Google Gmail now allow real-time collaboration on documents.
Hopefully, the pros and cons of PDF have been clearly detailed above. A comprehensive guide is provided before making any decision. If you need to optimize your PDF documents, maybe SwifDoo PDF can help!