The idea of centralized hosting of business applications is not new.
In the 1990s, the rise of the Internet led to an increasing number of Application Service Providers (ASPs). They managed the hosting of applications from external software suppliers, but, the software still had to be installed on the user's computer.
Software as a Service (SaaS) is actually an improved version of the ASP model described above: the suppliers manage their own software and nothing more needs to be installed by the user.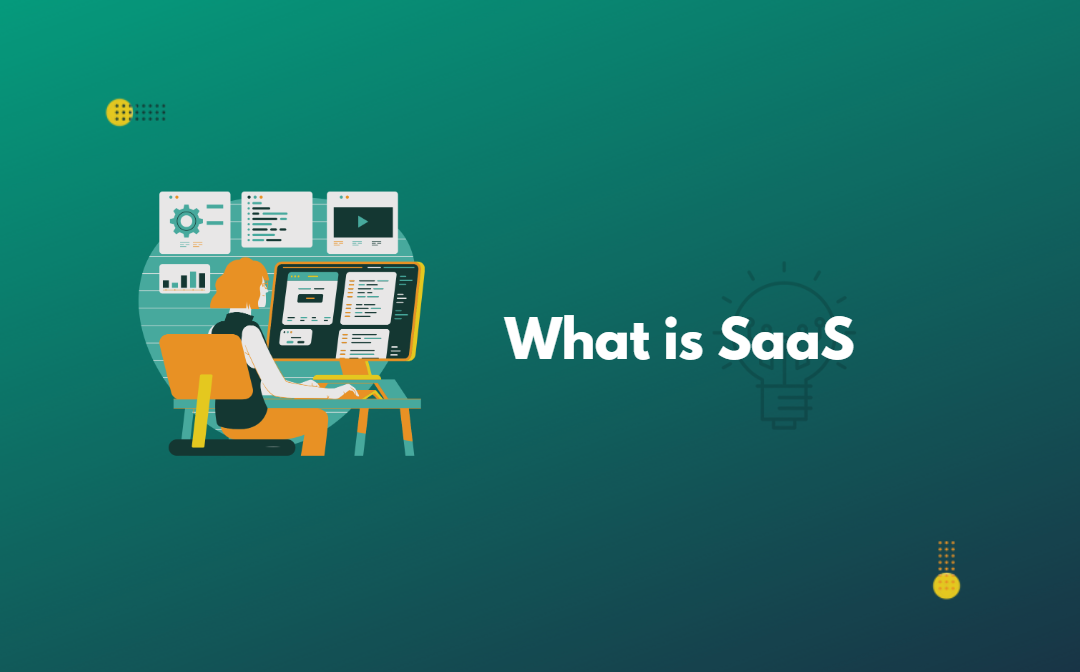 What Is SaaS?
SaaS is a software development model in which a third-party vendor builds applications using cloud infrastructure and makes those applications available to the customer over the Internet.
The service provider is responsible for ensuring maintenance, fixing bugs and bringing new functionalities to its application.
How Does SaaS Work?
Since you have learned what is SaaS, you may want to figure out how it works.
Unlike a locally installed application on your device, the user only needs an Internet connection and a web browser to access the service.
This model is a turnkey solution. To use it, the customer only needs to pay for the subscription.
Users access SaaS via web browsers or API. Thanks to this, they do not have to worry about the configuration or maintenance of the software.
SaaS Main Characteristics
With the rapidly growing ecosystem in the industry, the providers quickly introduce new services to maximize profits and keep customers loyal and happy.
Some significant characteristics apply to the most SaaS services:
Updates are applied automatically without customer intervention
The SaaS service is purchased on a subscription basis
No hardware required
Moreover, the service providers are better informed about their applications and the customer company's policies and procedures. This leads to a better overall customer and user experience.
What Are the Advantages of SaaS?
SaaS is primarily a convenience for the user. It is created to help in everyday struggles. It usually makes the workflow more flexible and productive, and affordable for all budgets.
The use of the SaaS has many advantages:
✓ No additional costs for servers - In order to develop the enterprise's information infrastructure, it is not necessary to purchase expensive IT equipment, such as servers.
The processing power for SaaS applications is provided by the servers on which they run in the cloud.
It can also be particularly advantageous for small businesses, as it provides access to expensive, high-power software that would otherwise be impossible to obtain through traditional methods.
✓ No installation and configuration - It is an alternative to installing traditional software, where users build servers, install applications and configure them.
The applications are available on a subscription basis, hosted in a data center, and accessible via internet connection.
In this case, you will not have to spend on hardware resources, maintenance, licenses, and installations.
✓ Pay as you use (or Pay per use) - The user pays only what he uses.
In the case of SaaS applications, the user pays only for the required functionality, which incurs much lower costs.
✓ Automatic updates - When a software update is available, it is done automatically on the server and is provided to the user at no additional cost.
The subscribers can simply use the software, which is already updated, without doing anything.
✓ Compatibility with multiple devices - Compared to Software as a Product (or SaaP), intended for a single type of device, SaaS can be accessed from any device connected to the Internet, whether a laptop, PC, tablet, or phone, providing the user increased mobility.
✓ Accessible from anywhere - The service can be accessed from anywhere. The user is connected from this point of view to the location where the program is installed.
What Are the Disadvantages of SaaS?
The benefits of SaaS are numerous, both for the companies that use it and for the service providers. But there are also some drawbacks that everyone should be aware of.
Dependence on an internet connection.
The connection must be stable and possibly have a backup connection. Or at most, you may need to download a different web browser that will work best with your system.
Most applications are standard and cannot be modified by the customer.
The service provider is responsible for the application's security and the client's data security. The client must take extra security measures to secure the data stored in the cloud properly.
Tips for Choosing the Right SaaS Provider
Selecting SaaS software based on functional requirements is no different than choosing a software package. However, choosing the right service provider for your business is not easy.
The difficulty lies in the fact that you must also consider the implementation options, the ability to customize, and the cost, scalability, and value of the business before deciding.
There are some tips to keep in mind when choosing the right provider.
High reliability and efficiency
Downtime is inevitable and any SaaS application for business will experience it at some point. Ensure the service provider you choose has established, documented, and validated processes for dealing with planned and unplanned downtime.
Integrates with other applications
It would be helpful if you made sure that the software could integrate with other applications that you already have. Make sure you can easily migrate existing contact data into your new application. Also, check if you can export information from the new software.
GDPR features
With GDPR now in place, your customer data and where it is stored are more important than ever. Having a GDPR-ready application helps you manage customer data more efficiently.
Data recovery in case of failure
Understand the provider's disaster recovery policies, processes and capabilities, and data retention expectations. This should include data criticality, data sources, scheduling, backup, restore, etc.
It is essential because your team may be responsible for implementing some of these processes in many cases.
As more and more SaaS systems are outsourced, selecting the right service providers has become critical to long-term success.
Is It for Everyone?
Every organization needs scalable applications to handle data that is increasing.
This model gives you the ability to combine solutions for the entire enterprise. Updates are adapted to the pace of development and the company's business needs. Data is in one place, and we can easily share them and avoid costly data transfer by other methods.
In this perspective, not every single enterprise user has a SaaS application, so this type of service is excluded from everyone.
Can SaaS Application Replace Desktop Software?
Operating systems, such as Windows, macOS, or Linux, offer several onboard tools that you can take advantage of even more from your computer.
Whether it's hard to drive defragmentation, memory management, or existing text editing options - all of these are possible without additional tools.
Or more specifically, you come across PDFs regularly when you work on your computer. While your Windows computer gives you the Edge browser for viewing PDFs, you have several options with the right tool. Adobe Acrobat Reader or SwifDoo PDF is popular.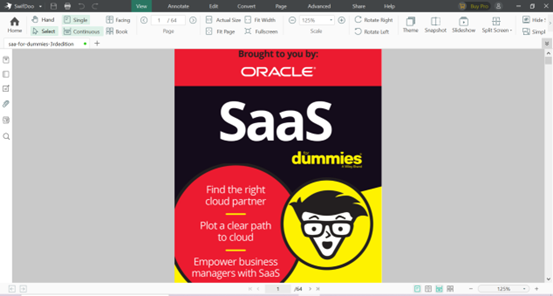 Desktop software is a tool that helps you manage your computer. These programs (mostly non-SaaS) allow you to work more efficiently on your computer and are mainly designed to be easy to use.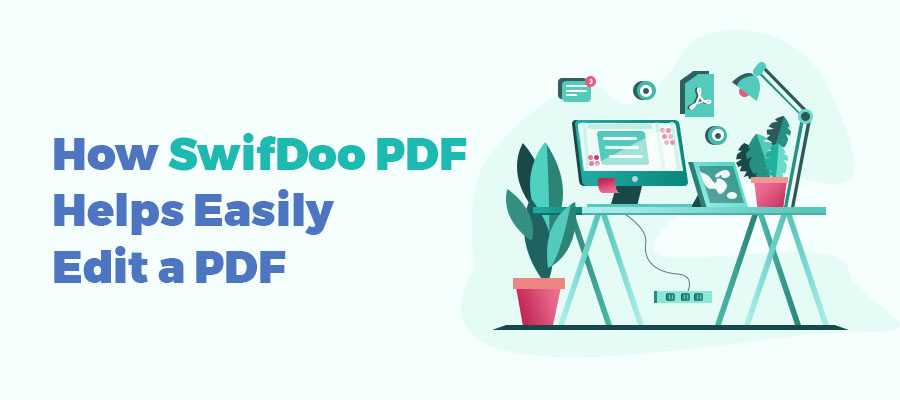 Two Methods to Easily Edit a PDF with SwifDoo PDF
To help users quickly and easily edit PDF documents is what SwifDoo PDF Editor goes for. Let's dive into how to edit a PDF file within a few clicks.
READ MORE >
If you don't have such software that works for you, it could take hours or even days to retrieve an important document, which can be a considerable hurdle for your entire team.
Therefore, the extra desktop software is convenient and should not be missing from your computer.
The Future of SaaS
The very rapid technological development popularized the idea of SaaS service. This form of rental has become much more attractive than purchasing a license and the construction of IT infrastructure.
Innovation is an indispensable element of functioning in the digital age. The dynamically changing market of SaaS adoptions depends on the quick introduction of innovations more tailored to the client's needs.
In Conclusion
SaaS application offers ready-to-use solutions that meet your specific business needs. There are definitely more advantages than disadvantages to this solution.
The SaaS model is powerful and expansive and will continue to provide many benefits to its suppliers and customers.
Companies are currently looking for innovative ways to achieve and develop their goals. With the help of new services, the business will continue to grow in the future.