Introduction:
Strikethrough tool is one of the most used annotation tools in daily work. But not all document editors have a strikethrough feature on the menu bar to help cross text directly. As a result, you have to undergo the time-consuming process of finding the strikethrough button in the hidden menu. An effective way to cut this through is using a
strikethrough shortcut
. In this
SwifDoo PDF
's post, you will see the keyboard shortcuts for strikethrough in PDF, Excel, Google Docs and Word.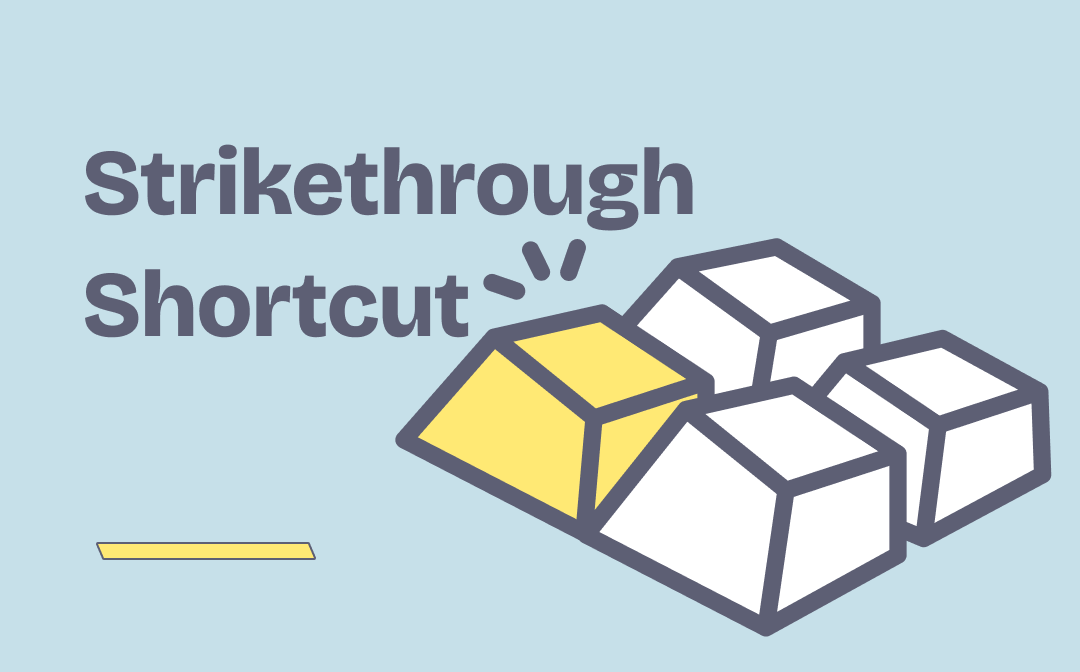 What Is Strikethrough Shortcut
Strikethrough is a formatting option that will add a horizontal line to your text. You can find it in most text editors like Word and Google Docs. A keyboard shortcut, or a hotkey, is one or more keys used to quickly invoke a function in a program or an operating system. A strikethrough shortcut refers to a series of keys used to add a strikethrough effect to certain text.
In online documents, a strikethrough often implies a change of mind and is frequently used in collaborating work. The way to strikethrough text differs from one editor to another. But almost all offer a strikethrough shortcut to help you do that efficiently.
Now, let's learn about the strikethrough keyboard shortcuts of different editors.
Strikethrough Shortcut for PDF Documents
To strikethrough in a PDF document, you need a PDF editor like SwifDoo PDF. In SwifDoo PDF, you can customize the color of the strikethrough line as you prefer. Except for strikethrough, there are more than ten annotation tools to help you make comments on PDF files with ease, namely, highlight, underline, shape, stamp, etc. Now, let's see how to use the strikethrough shortcut in this PDF editor to annotate your PDF.
Step 1: Download SwifDoo PDF, and open your PDF document with it;
Step 2: Select the text you want to strikethrough and press the Ctrl + K keyboard shortcut.
This PDF software enables you to change the shortcut key if needed. To do that, you should hit "Shortcut Key" on the "Help" Page, expand the Annotate collapsing arrow, and find "Strikethrough". Then, you can customize your strikethrough shortcut key.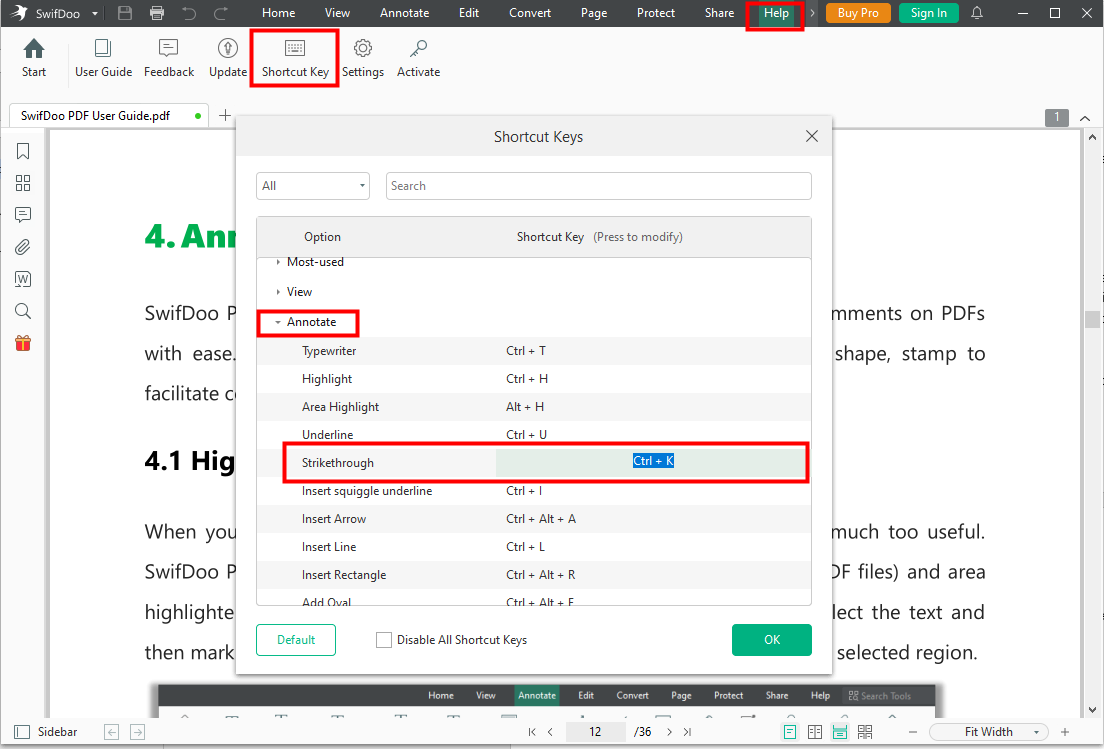 If you want to change the color of the strikethrough line, go to the "Annotate" tab, click the arrow beneath "Strikethrough", and pick the color you like.

You can also change the line color after you add a strikethrough to a text. Simply click the strikethrough added, then you will see some color choices. Hit the three dots icon to see more colors.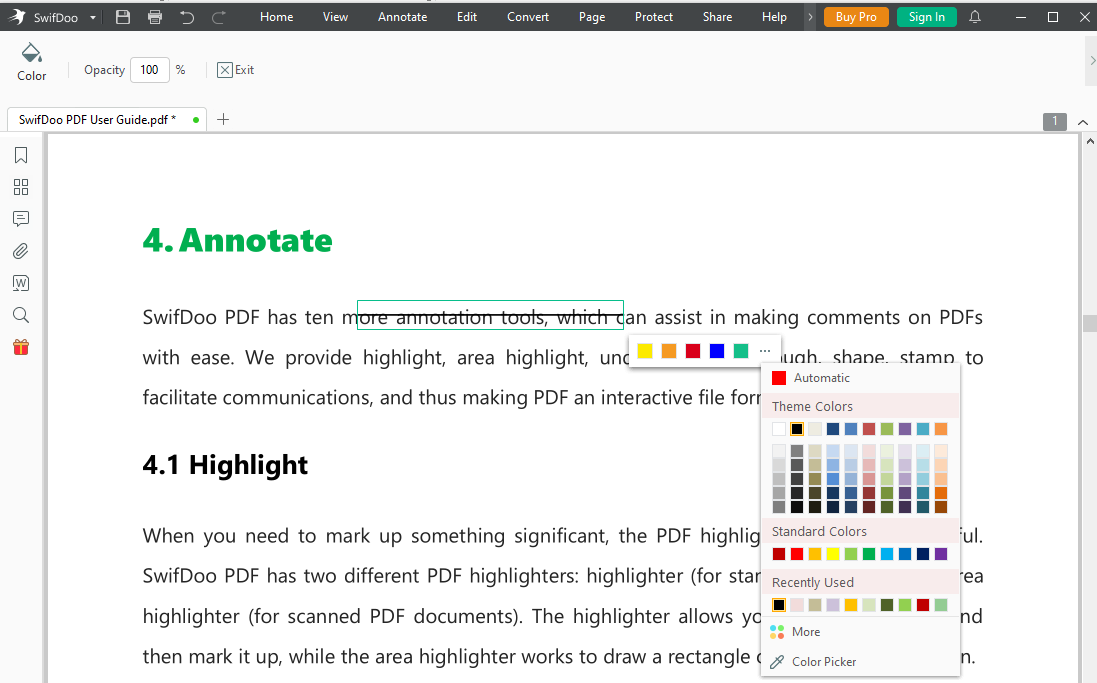 Strikethrough Shortcut in Excel
Excel is an excellent application for manipulating numbers. Unlike Word and many other editors, you cannot find a Strikethrough button in the ribbon to cross out text. Alternatively, you can use a strikethrough shortcut.
Ctrl + 5
On Windows, the most straightforward Excel strikethrough shortcut is Ctrl + 5. You either can add strikethrough to cell values or certain text in a cell. If you want to remove the strikethrough effect, press the Ctrl + 5 shortcut again. The Mac strikethrough shortcut in Excel is Command + Shift + X.
Format Cells dialogue box shortcut
Another way to use a shortcut to do a strikethrough in Excel is using the font setting.
Step 1: Pressing Ctrl + 1 or Alt + H + F + N to bring up the Format Cells dialogue box;
Step 2: Hit Alt + K on your keyboard to mark the Strikethrough checkbox and hit OK to apply the changes.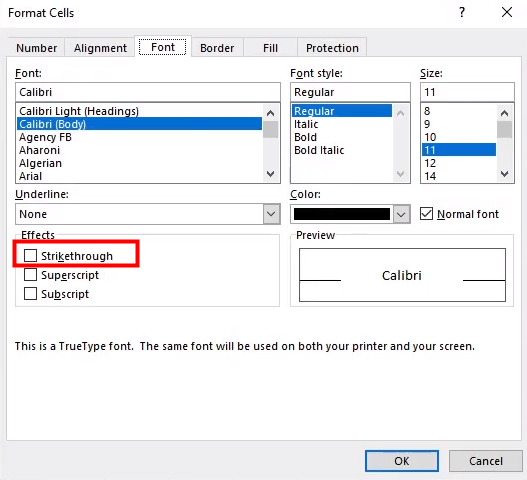 Google Docs Strikethrough Shortcut
Google Docs is a frequently used online word processor for many people. You may want to know the strikethrough shortcut of it to speed up your workflow.
Step 1: Log in to your Google Docs account and open a document in your browser;
Step 2: Select the text you want to strikethrough by dragging with your cursor;
Step 3: Press the Alt + Shift + 5 shortcut on Windows while Command + Shift + X on Windows to cross the text you select.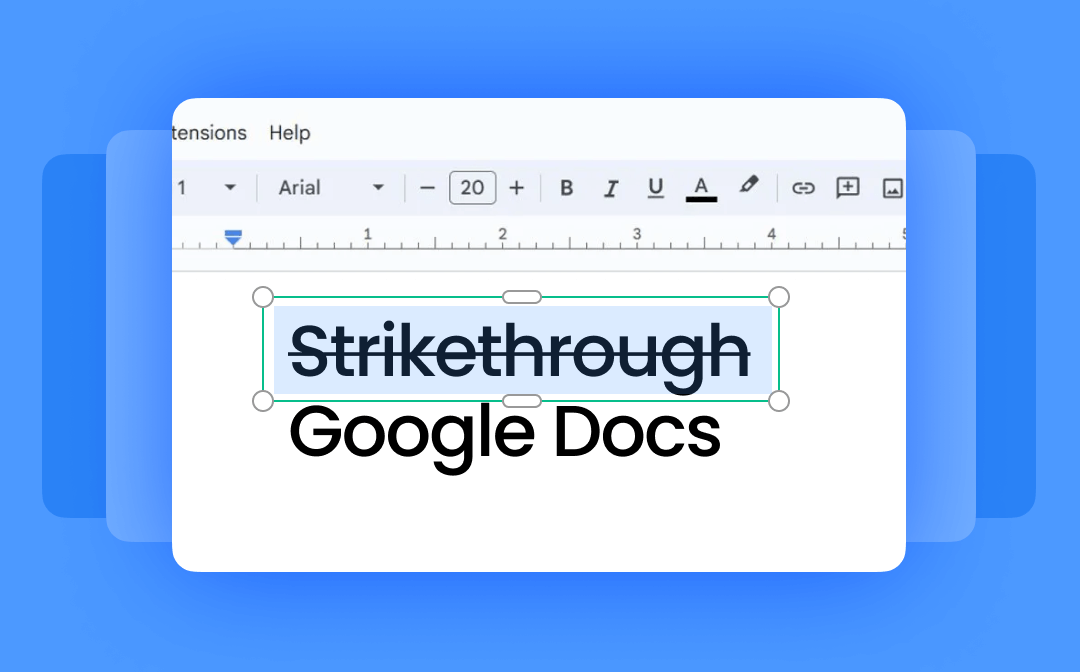 Strikethrough Google Docs: How to Do [Detailed Guide in 2023]
This page will show you how to strikethrough Google Docs on computers and mobile devices in detail. Come on and check it out.
READ MORE >
Strikethrough Shortcut for Word
Similar to that in Excel, you can cross out text in Word documents using a strikethrough shortcut or with the help of the Font setting.
The keyboard shortcut for strikethrough in Word is "Alt+H+4". This shortcut doesn't require you to press each key simultaneously, so you can press them in sequence to gain the same effect.
To access the Font dialog box using a keyboard shortcut and then apply the strikethrough, do the following.
Step 1: Select the text you want to strikethrough in Word;
Step 2: Press Ctrl + D to bring up the Font dialog box;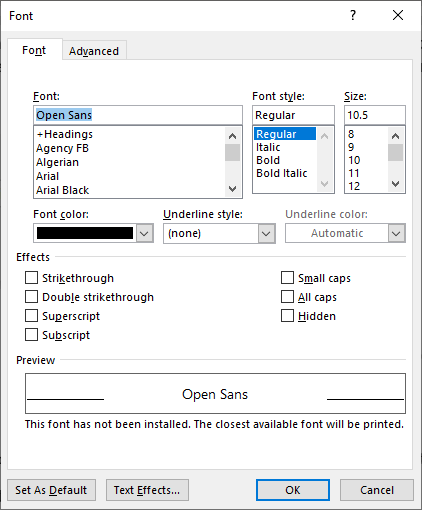 Step 3: Use the Ctrl + K shortcut to select Strikethrough and press OK.
Final Words
Using shortcuts is a helpful way to improve work efficiency and productivity. As strikethrough is one of the most used tools in daily work, learning the strikethrough shortcut of different software will bring up great convenience.