Have you ever heard of e-invites or e-invitation cards? Whether you have created or tried sending a digital invite yet or not, you must have surely received one for any event or occasion.
Electronic invites are time-saving, budget-friendly, and flexible.
And can there be a better platform than WhatsApp to create and share these super cool invitation cards with your loved ones?
Let's explore some exemplary methods to create WhatsApp party invitation templates and customize them to the best of your needs. Keep reading ahead!
What Makes WhatsApp Invitation Cards Relevant
Nowadays, WhatsApp invitation cards are in fashion. And why not when they are invite-friendly?
These invitation cards are quick to make, budget-friendly, and can be sent to multiple people with a click. In addition, these eco-friendly invitation cards look beautiful, save time and keep you organized. Also, it is easy for guests to synchronize their personal calendars.
Leaving no room for postal delivery errors, you always have the freedom to update it quickly. So let's look at different invitation cards and how you can choose the one that suits your occasion.
Types of Invitation Cards
Here's a list of invitation cards that you can use depending on your event and occasion:
Flat invitations
Send and seal fold-up invitations
Pocket invitations
Folded invitations
How to Make WhatsApp Party Invitations
Here are some of the most effective and reliable methods to create fabulous invitation cards.
You can always take the help of party invitation templates like Christmas party invitation templates, Halloween party invitation templates, etc., to get an idea and create one as per your event and occasion.
#1: Use WhatsApp Status
Using the Status feature of your WhatsApp, you can put your creativity in motion and make beautiful invitations. To create your party invite, simply open the WhatsApp Status screen and use the text, doodle, sticker, emoji features, or background colors.
Now you can take its screenshot, crop it and send it to your loved ones personally.
#2: Create a Video on the Phone
Make a video using multiple pictures or a slideshow of photos using your phone anytime. Just have some good images (complementing the occasion) ready. You can also make a physical card and take pictures.
You can club the photos, create a slideshow, add texts and stickers, change music, and more using a video editing app. Share it on WhatsApp and send it to your loved ones.
#3: Create a Video on the Computer
Using video editing software for PC, you can make a video invitation card and send it to your Android or iPhone devices. In addition, you can share the videos as a document on WhatsApp to avoid compromising the quality.
#4: Create a Card from the Web App
You can also use a web app and create a sophisticated party invitation for any occasion. Simply select a theme, fill in the event details and create a multiple-page invitation with a gallery, directions, reminders, etc.
#5: Use Invitation Card Maker Applications
Using invitation card maker apps, iOS and Android users can install apps or use web versions to create invitation cards. Enter the text, change the theme and modify some elements as per your occasion.
Once the invitation image is generated, you can share it with others on WhatsApp.
#6: Send a PDF
You can rearrange the pictures and create a PDF document from images to give your invitation cards a more realistic feels for any occasion. For example, you can download an image-to-PDF converter like SwifDoo PDF software for the easiest and most convenient solution.
Make Your Own Birthday Party Invitation Card
Besides making party invitations from WhatsApp Status, you can also create a detailed invitation from Microsoft Word. Let's check how.
Step 1: Open a new or empty Word document.
Step 2: Tap the File menu at the top toolbar and select the New option. Multiple template categories and their thumbnail previews will display on the screen.
Step 3: Select Invitations from the template Category. Double-click to choose and open an invitation template that suits the occasion, like the Birthday Party Invitation template.
Step 4: Customize your chosen template by clicking on the text to edit it. Add the event information like name, date, time, venue, etc.
You can also adjust the graphics and art as per your liking. For example, using the Insert Picture option, you can replace it with another picture.
Step 5: Once everything is done, save it by clicking the File option and selecting Save As. Locate the folder to save your created invitation card, enter a filename and click Save.
You can send this invitation card on WhatsApp and share it with everyone you would love to invite to your event.
Access Party Invitation Template PDFs
You might not find ample time to create a fresh, realistic, unique, and special invite for your party. You may also miss the essential details in a hurry while creating one. In such a case, it is always best to scroll the web and find some readily available party invitation templates.
Multiple sites offer template categories and various designs under each category to pick up that best matches your event.
For example, you can use the Halloween party invitation template, Christmas party invitation template, birthday party invitation template, and more as per your party occasion.
You can save and use these templates in image or PDF format and access them anytime to edit and customize on the go and create an attractive invitation. You can also use SwifDoo PDF software to ease the customization process. Here's how.
SwifDoo PDF Software: Design Your Own Party Invitation Templates
SwifDoo PDF is a software well-versed with PDF files and provides high-end features to edit and customize your Birthday/Halloween/Christmas party invitation templates as per your needs.
It delivers ample features and functions to manage your PDF files efficiently and effortlessly. This software is created for beginners and professionals to serve them with complete document security.
What Makes SwifDoo PDF Your Best Pick
SwifDoo PDF can perform all the PDF tasks and complete them in seconds. Ensure a stable internet connection and get started with the following features instantly.
Access Open and read your PDF tutorial files to create attractive invitations
Merge and compress multiple PDF files at a place to access them at a click
Compressed files do not interrupt the picture quality
Edit your PDF file with customized texts, images, background color, and more
Crop your saved templates to match your desired size
You can convert your image templates to PDF files
Share your creations with all your loved ones at a click
These are just a handful of features that add feathers to its cap. But SwifDoo PDF is much more than this. So try it right away to get hold of all its functions.
Steps to Customize Your Party Invitation Template PDFs with SwifDoo PDF Software
SwifDoo PDF software allows you to edit and customize your PDF template designs per your needs and requirements. Here are a few simple and quick steps to help you create your birthday, Christmas, Halloween, or any party invitation cards.
Step 1: Download for free, install the SwifDoo PDF software on your computer and run the program to launch it.
Step 2: Select the Open tab in the left panel and choose the template PDF file you desire to edit and customize.
Step 3: Once the selection is made, click on the Edit PDF tab.
Step 4: Now click the Edit, Insert Text, Image, or Background menu to input your customized text, change the card's background color and edit the font size of your choice.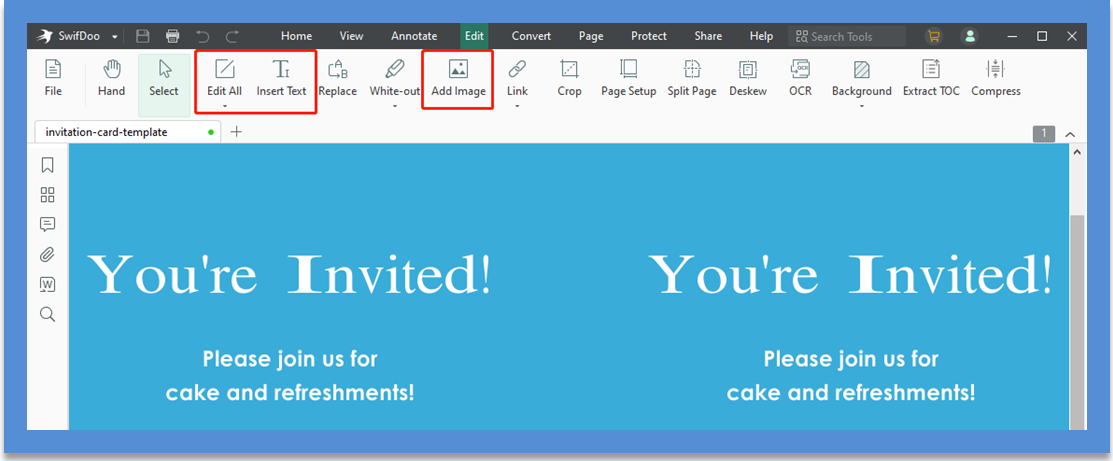 After completing your editing, the customized PDF template will save automatically to your computer storage. Fortunately, SwifDoo PDF doesn't read your personal folder and never stores your personal details on its server.
Even if you have downloaded a template in image format, with the help of SwifDoo PDF, you can turn the image into a PDF document and edit it according to your choice.
Final Words
Party invitations send chills and excite everyone for the big day. But making an unforgettable invitation grabs attention and stays in mind even long after the event is over. So what are you waiting for?
If you have an event in line, you can take our tips to make a WhatsApp invite right away and share it with your loved ones. Also, don't forget to check SwifDoo PDF software for seamless style and customization of your invitation cards.