Ever thought of a Wanted Poster? The words 'Dead or Alive' and 'Reward' must be flashing in your minds now. The vintage era has given us a lot, including these posters. However, they are not as common nowadays as they were back then. But, hey! They haven't gone extinct. It is just their concept that has evolved with the modern era.
While most of the classic 'Wanted posters' take the space on billboards, you can still recreate the charm of the classic ones. This article here will provide you with various examples of some popular Wanted Posters and, of course, some excellent Wanted Poster template websites and ideas to help you create one.
You can customize one with the necessary tips and structure for any emergency or fun activity. But to begin with, let us quickly check what a Wanted poster is and what goes into creating one.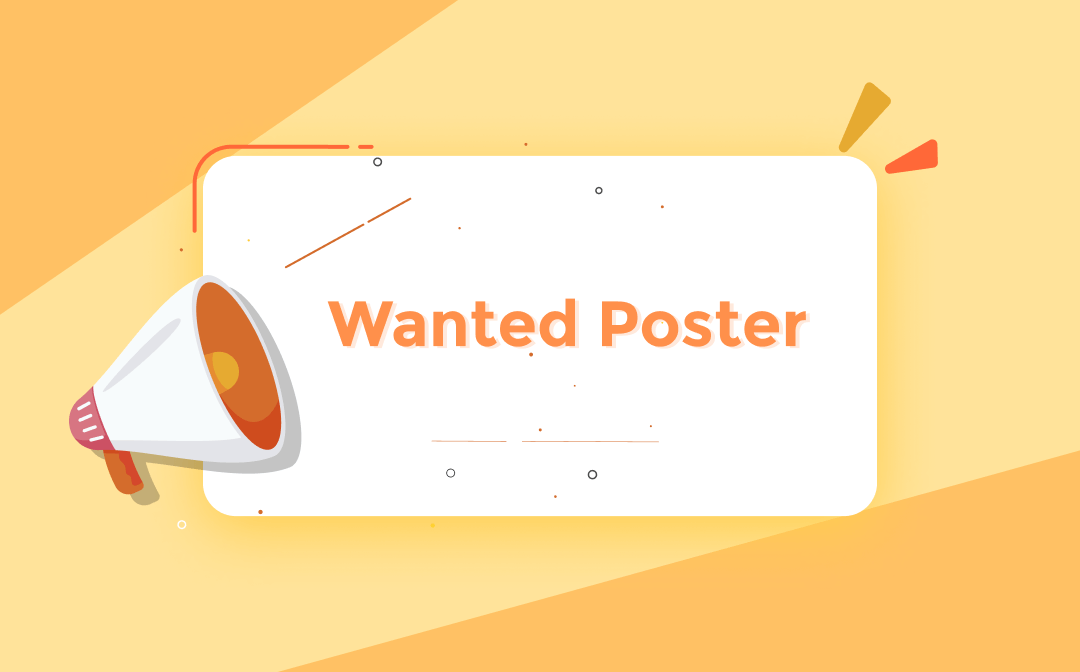 What is a Wanted Poster?
A wanted poster usually includes the person who's gone missing and is 'Wanted' for specific reasons. It is unlike the usual posters and follows a particular font size. The font used in creating such a poster is Nashville, a distressed slab serif.
Traditionally, agencies used these posters to describe the missing person's basic details and crime. They also advertised the monetary reward paid as an incentive to the one who finds this person. But over the years, these posters aren't restricted to crime alone. Instead, they have evolved to find lost or aged family members, pets, etc. Rather many schools use it in their fun activities to help students learn their concepts and grow reactively.
The various types of recreational Wanted Posters include:
Blank poster
Western poster
Old poster
Funny poster
Holidays poster
Wanted posters for home/ work
Wanted posters for cartoon characters and celebrities
What to Include on a Wanted Poster?
Creating a Wanted poster becomes easy when you know what and where the content will be added. It would always be best to have a thorough idea of the essential details of making one. The primary content of such a poster includes.
Full name and Alias
Personal photograph/ sketch/ video snapshot
Personal information: birth date, birthplace, job, etc.
Physical attributes- height, weight, clothing before missing, identification marks, specific information
Reasons for being 'Wanted' (list at least five reasons)
Any relevant symbol
Last seen time before missing
Relative/ guardian looking for the missing person
Reward
Bibliography: Cover any extra information on the back of the poster
Wanted Poster Examples: Classic and Modern Designs
Some of the famous examples of the classic Wanted Posters include:
Bounty
Wanted poster background
Print-ready wanted poster
Wild West style wanted poster
Wanted poster mock up
Wanted western poster
Vintage western wanted poster
Old western wanted a poster
Wanted bad Santa
Wanted poster photoshop action
Some other modern examples of fun activities for kids include the following:
Needs and wants poster
Good citizens wanted poster
Symbiosis project
Quadrilateral wanted poster
Fairy Tale wanted poster
A friend/ best friend wanted poster
Character description wanted poster
Easter Bunny wanted poster
Infectious disease wanted poster
Invasive species wanted poster
Wild West activity wanted poster
Missing pet wanted poster
Wanted Poster Template: Format and Guide to Make a 'Wanted Poster'
You can always use a wanted poster template to edit it with your required details effortlessly. Such templates are available with preloaded text for 'Wanted,' 'Dead or Alive,' and 'Reward.' If you need to add anything extra, you can customize it freely.
Some of the popular websites that provide you with downloadable templates for a Wanted Poster include:
Etsy
Tuxpi
Twinkl
Canva
Behance
Free pik
Storyboard That
Template lab
Template net
Photo AD King
Poster my wall
Place it
Slides go
Design Tutsplus
Design wizard
101 planners
Since these templates are in a PDF format, you would need a PDF Reader, say, SwifDoo PDF Reader, to help you open and read such documents. Now download your PDF files but keep them neatly in a systematic order by maintaining a library of your essential documents.
With SwifDoo PDF software, you can choose to edit your PDF documents on the go anytime and anywhere. Instead, it allows you to crop, compress and merge your PDF files while retaining their original quality.
How to Create a Wanted Poster Digitally
Now you can create a customized poster digitally using a wanted poster template. Follow the steps given below to make a classic poster in under minutes.
1. Open a Word document:
Open a Word document and set your dimensions. If you need to print it, you can select CMYK mode.
2. Select a background:
Now select a background for your poster, like old-fashioned or vintage background, prefer using vector images for greater authenticity.
3. Select the font and its size:
Usually, the size of the font varies according to your paper. But generally, the word 'WANTED' takes up the most space, while the description is written in smaller fonts. Wanted is written in Nashville, a distressed slab serif font.
4. Add an image:
Select the preloaded image from your desktop. For a classic and old-fashioned look, you can choose to have a sepia or a classic black and white photo. If you have a colored picture, you can edit it using photoshop.
5. Add effects:
After completing your poster, finish it with different effects of blur, color, and burnt poster effects for a classic and vintage look.
6. Save it:
Once your poster is complete, save your document as a PNG file. You can choose to print it anytime you need.
You can always use a wanted poster template to edit and customize it according to your needs. At times all you must do is download a template, paste your Character's photo, and print it. You can choose to create one when you need to be specific and thorough with the additional details.
What Are the Materials Required in Creating a Wanted Poster on Paper?
Suppose you are all geared up to create an artistic Wanted poster. But while making one, you are missing an essential material. It won't only spoil your mood but frustrate you further even to complete it. To create a poster, you must be well prepared with the required materials in advance.
Here is a list of materials that you can check and get the missing item before proceeding to make one:
Construction paper
Old magazine
A pair of scissors
Markers
Colored pencils
Glue sticks
Computer-generated titles or clip art
How to Make a Wanted Poster With Your Kids
Once you have arranged for the necessary materials, all you must do is get your kid along and start creating one. You can make it a learning or fun activity by pranking your loved ones. Irrespective of your motive, the basic steps remain the same. We have listed some easy steps for your assistance:
1. Set a plot:
Be clear about why you are making a poster and what Character needs to go on it. For example, it might be your friend, family member, pet, or fictional novel/ movie character.
2. List down the necessary details of your Character:
Once you are clear of your object, jot down the relevant details that you will be writing on your poster. You can also use an alias for your Character.
3. Clearly define your 'Character':
While writing the details, describe the specific marks and unique traits of your chosen object that make it easier to fetch one. For example, it can include height, weight, tattoos, scars, hair and eye color, etc.
4. State reasons for 'wanted':
List down specific reasons why that Character is wanted. It can be anything like he is missing or a prank for being too cute or pretty, depending on your chosen Character. Write the reasons specific to your Character.
5. Describe the 'Character's' traits:
You can mention some peculiar traits of the Character's personality that makes him unique. For example, you can say his habits, hobbies, skills, etc.
6. Include the last seen:
Don't forget to mention where your Character was last seen before he went missing.
7. Compile the steps mentioned above:
After you have compiled all the necessary information, you are only left to assemble it on your poster. Be careful of the order. Though you are always free to customize, following the preset order makes it look more authentic. You can follow the below-given order:
'Wanted'/'Help Wanted'
Full name of the Character in bold
Character's picture
Physical description
Reason for crime
Special skills and traits
Last seen
Reward
8. Affix the picture:
Now, paste the picture of your chosen Character into the center of the poster. It can be from your scrapbook, newspaper, old magazine, photo album, etc. you can also choose to draw or sketch your Character.
9. Add a reward:
After completing all the steps mentioned above, add a reward incentive for anyone who helps you find leads for your Character. Your rewards can include anything from money to chocolates, toffees, pizzas, plush toys, etc.
10. Share with your friends and family:
That's it. Now share your Wanted poster with your loved ones, and don't forget to share it with your chosen 'Wanted' Character if he is one amongst your family members or friends. You can also frame it for your room as an artistic design.
A Quick Sum Up
A Wanted poster is not confined to informing the authorities of a criminal or fugitive on the run. In modern times, people are using such posters as design and decor. Undoubtedly, the roots are still the same, but the concept is modernized with time.
Now you can engage in a fun and playful activity with your kids helping them learn the subjects and fictional characters. It is one of the intelligent ways to learn by creating and indulging in a fun leisure activity.
You can always use a wanted poster template to edit it or create a customized one. Such templates provide a base and prove fruitful in getting an idea. We have already listed many famous examples for you to know how to create your Wanted poster in multiple ways. However, when you thoroughly understand the concept, you deliver unfailing results.
So what are you waiting for? Hurry up! Grab your stationary and engage in a fun learning activity with your kids today.