What's better than a planned trip? The unplanned ones, because the scheduled trips seldom happen. But not everyone has the guts to explore a foreign place spontaneously. Spilling the facts, we all know the importance of planning ahead of time to avoid any last-minute hassle.
Suppose you are a tour manager planning a trip for your clients and tourists. Or you are a sporty kid planning a trip with your friends and family. In such a case, you must create a well-written itinerary. An itinerary plan for your trip and paths in advance helps you decide the necessary course of action- like budget, packing, and sights.
Here we are presenting you with multiple renowned websites to help your job of scrolling through the itinerary template to help you edit and tailor-make one. Before creating your route plans, stay tuned to check what an itinerary is and why it is essential to prepare one.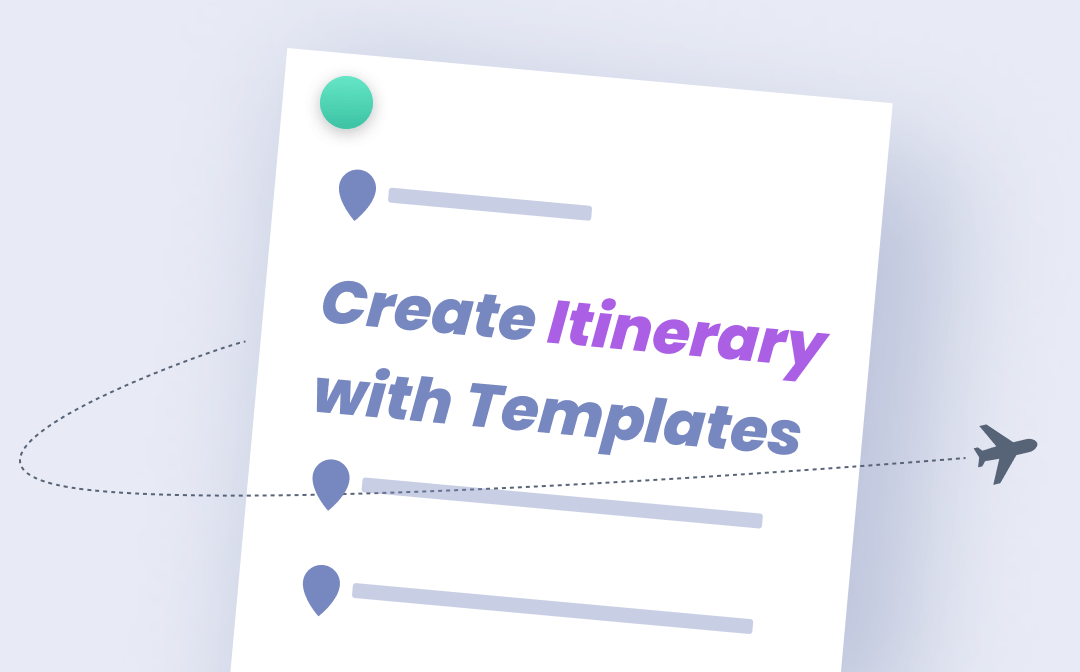 What Is an Itinerary: Learn All the Meticulous Details
An itinerary is a travel document that helps you record your journey or route. It is a planner that outlines your trip's essential elements from scratch. Whether you have a road trip ahead or you are planning for your weekend vacation, an itinerary is indispensable.
It helps you structure your trip wisely so you do not miss any details. It plans your time and resources effectively to reap the maximum benefits from your adventurous trip and make it memorable. It includes hotel planning, car rentals, restaurant reservations, booking flight tickets, sightseeing, etc.
Still Taking the Load of Itinerary Planning
Itinerary planning has its perks and benefits. If you are clueless about them, read down below for a greater conviction:
It helps you keep track of your stays
Includes all the vital elements, so you do not forget to pack the essentials
Ensures you do not miss anything important
It helps you plan your days and activities
Assists you in prioritizing the activities
It provides you the benefit of purchasing tickets ahead of time
Allows you to take more recommendations
It helps you to pack your stuff in advance
It saves 'waiting and deciding' time
Enable you to know your return date
It helps manage your expenses
Brackets Covering the Itinerary: Knowing the Packages and Destinations
You can make an itinerary plan based on multiple packages. A few are:
Single/multiple destinations
Tour package
Domestic tour package
Travel package
Outbound and inbound package
Special interest package
Widespread Dimension of an Itinerary: Multiple Types Of Itineraries
The multitude of itineraries is limited to a specific number of dimensions. The various types of itineraries are:
Personal (self/family) itinerary
Personalized (specific client) itinerary
Travel itinerary
Tourists itinerary
Tour managers itinerary
Vendors itinerary
Escorts or guide itinerary
Coach drivers itinerary
Itinerary Template: Formats, Designs, and Websites
Suppose you plan a road trip spontaneously and need to chalk out the plan and share it with everyone in a short period. Here is where an itinerary template can come to your rescue.
An itinerary template can aid you in multiple ways. These templates are available online at a click away, and you can scroll them to download the one that best serves your purpose. These readily available and preloaded documents help save effort and time and guide you with the necessary guidelines.
Some websites that can help you with downloading an itinerary template to your device are:
Canva
Hello Travefy
Monday
Jotform
Templates Office
Adobe
Pinterest
Etsy
Evernote
All About Planners
Generally, an itinerary template is in PDF format. Though you can download and print them quickly on your devices, accessing them needs a dedicated tool. So, for example, you can use the SwifDoo PDF reader to open and read the downloaded documents and templates.
SwifDoo PDF software lets you neatly arrange the preloaded templates and PDF files in a library. In addition, you can merge multiple PDF templates to compress and create a customized design that suits your needs. Doing so would not hamper the quality of your files.
Additionally, you can create your itinerary and share them online with your friends, family, and acquaintances who will be connecting with you on the trip.
How to Create a Foolproof Itinerary: Structuring Your Journey Effortlessly
Planning a trip or journey is a lot of fun, especially when you know the places to visit and all your days are engaged wisely. Every journey is limited by the number of days, so you must plan accordingly to make the most of your leisure time and activities.
Whether you are planning the itinerary for yourself or your family, or if you are a tour agent, here is a flawless structure to help you create your itinerary.
1. Do thorough research of your place:
Before creating your itinerary, you must be thorough with the place you are about to visit and the suitable month (timing) of your trip.
2. Remember to name your tour:
You must name your tour to decide the necessary course of action.
3. Map your tour:
Remember to map your tour with the duration, frequency, and departure of your stay. It will assist you in planning your days and time well.
4. Enlist the significant locations of your tour:
Enlist the highlights of your place and different nearby areas to avoid missing any reel-worthy and selfie-worthy sites.
5. Prepare your tour content:
List your tour well will everything you plan to watch, including the history and culture, flora and fauna and prepare any resources that you may find necessary while visiting them.
6. Add any additional inclusions:
Research the place well and include the offerings of third-party activities in your content. It may include tickets to fairs, cruises, national parks, and bike rides.
7. Remember to ask for permits:
Before using any property of private owners, you must have written permission to access it. Having it beforehand saves you from embarrassment and any stress in the future. Similarly, if you want to access any government-owned property, you must obtain their consent on a prior basis to enjoy your trip smoothly.
8. Slay your tour timing:
You must be accurate with your timing. Timing plays a crucial role while planning your itinerary. For example, a minute spent less/more at a specific place can cost you visiting other sites and carrying out different activities.
9. Take advice from friends and experts:
You may do some 'trial runs' to manage your activities ahead of time. You must talk to your friends and other industry professionals to help plan your activities and set a reasonable time for each.
10. Share your itinerary:
Once you have created your itinerary, you must share it with the concerned people so that everyone can manage their trip accordingly and share their wise suggestions (if any). It would be great if you considered your clients' needs and requests to help them serve in the best possible manner and make necessary adjustments ahead of time.
Note: You can also chalk out and plan your itinerary online using an itinerary template. Simply download a template that best suits your requirement and fill in the spaces using the above structure and its contents. It will act as a blueprint for your customized itineraries.
Constructive Tips to Follow While Writing an Itinerary
No amount of tips can be enough for a road trip local or abroad. But some suggestions are indeed better than nothing. It is always a nice idea to be wise in your planning and acknowledge every little source of information. So here, you can be mindful of the following tips while creating your itinerary.
Keep enough margin for flexibility and opportunity.
Research your place in advance.
Divide the city into multiple sections.
Make a note of your bucket-list adventures.
Collect necessary information like car rentals, restaurant reservations, hotel bookings, and flight numbers not to fall prey to a last-minute rush.
Be careful of the weather during your trip and pack your stuff accordingly.
Create a wise budget.
Prepare a calendar.
Organize your travel information.
Prepare a hard copy.
Keep a database handy for emergency contacts, blood groups, addresses, and special medical needs.
Be realistic with your goals.
Do's and Don'ts of an Effective Itinerary
Planning an itinerary is as important as designing it wisely. It would be best to consider your people, clients, and their specific needs for an excellent adventure. You must follow some do's and don'ts to make the most of your adventurous trip.
Do's:
Remember to add meal plans.
Include places for a halt with a specific time and date.
Mention a summary of the city/country to visit.
Mention the hotel name, vehicle type, and arrival/departure time.
Remember to provide maps.
Include unique information about the destination.
Provide some key names and places of local languages.
Include additional information about the city, restaurants, hotels, and sights.
Consider your client's age, eating habits, language barriers, and physical disabilities (if any).
Always account for your responsibilities.
Don'ts:
Don't include any restricted area.
Don't get distracted by ambiguous directions.
Don't forget the restaurant recommendations.
Don't add unnecessary details to avoid confusion.
Don't forget about your clients' nature and specific details.
Don't forget the currency conversion rate before preparing a budget and the cost of the trip.
Final Feed
Having an itinerary can help you utilize your time and expenses wisely. It is not very often when you might plan such trips. But when you do, they must be foolproof and hassle-free.
You can download and edit an itinerary template online to save time and effort. Of course, having the aid of general tips is a blessing. It helps you to be mindful, wise, and considerate of your decisions.
So before packing your bags, remember to plan your itinerary for a happy and safe traveling!
Bon Voyage!