Contrary to the famous saying, "Don't judge a book by its cover," a cover does have a tremendous effect on the salability of a book. A good book cover can make or break your game before making a name in the industry.
So if you are a budding author, you must create a book cover to draw the reader's attention and instead persuade them to flip the pages asap. Rather, it would be best if you broke through the clutter to convince your readers to buy your plot immediately.
With the help of a book cover template, you can get a good idea to start with the basic book cover designs. Then, of course, you can add your design elements, customizing them to your needs. For example, we have listed multiple websites to help you save time and effort. Instead, we have provided some helpful tips you can be mindful of while drafting your book covers.
So stay tuned for a quick catch on book covers and how they can ace your game by using them as an effective marketing tool.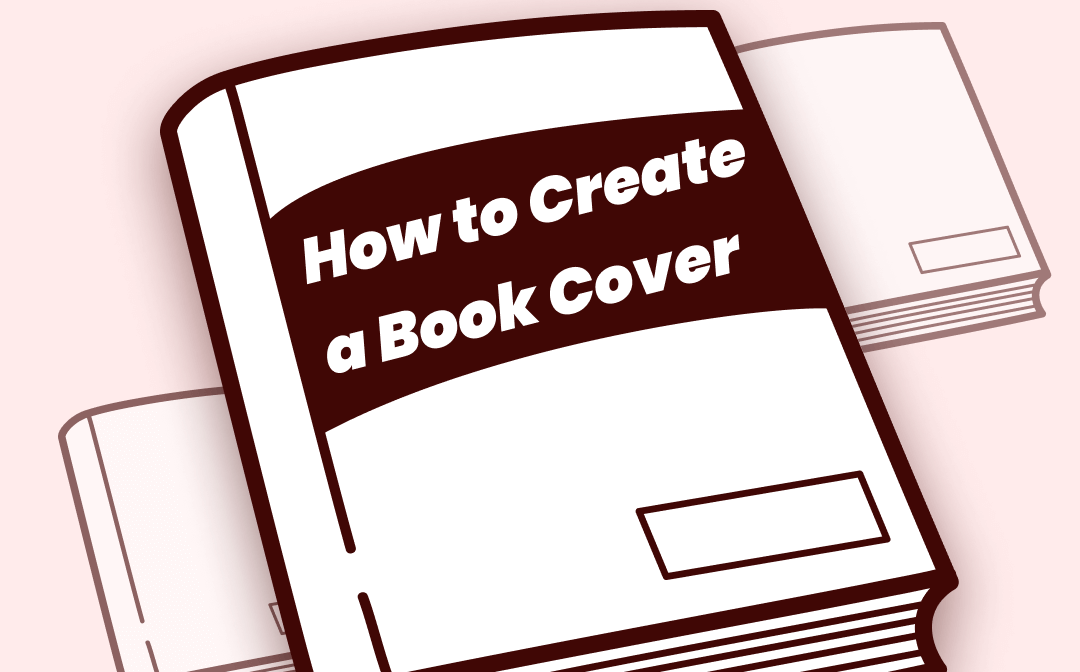 What Is a Book Cover?
A book cover helps bring to life the contents stated in the book. It can serve as a dynamic working and marketing tool and enables you to sell the books using eye-catching images, typography, a visually striking thumbnail, and a simple typeface.
A book cover should be such that it grabs the attention of the maximum number of readers to nose-dive in your book and help you increase the revenue. As an author, you must invest in the book cover design to reap heavy returns and the attention it deserves.
Book covers can be in the form of:
Papers
Cloth fabric
Real/ fake leather
Hybrid (including paper and cloth)
Key Inclusions of a Book Cover
While writing a catchy book cover, you be considerate of the following three aspects:
1. Front cover:
Eye-catchy imagery:
Photograph
Illustration
Geometric shapes
Typography:
Book title
Book subtitle (if you have one)
Author name
Publisher name and publishing house
2. Back Cover:
Book description
Book reviews or quotes
Author bio
ISBN and barcode
3. Spine:
Book title
Author name
Publisher imprint
Working Mechanism of a Good Book Cover
A well-created book cover can give you the best benefits, provided you have the theme interpreted attractively to help sell your plot.
It helps grab the attention of potential readers
Assists the readers in knowing the plot and theme of the book
Conveys the genre (fiction/non-fiction)
It helps convey the author's brand and message
It helps garner reviews and recommendations
Book Cover Examples: A Quick Guide on Style and Genre
Your book cover can either be governed by a typical style or draw inspiration from its genre.
1. Book covers by style:
Photography
Type
Minimalist
Illustration
Conceptual
2. Book covers by genre:
Art and design
Guides or memoirs
Science fiction and fantasy
Young adult
Children
Mystery and thriller
Business
Cooking
Personal development
Romance
Book Cover Template: Websites, Themes, and Layouts
A book cover template guides you in multiple ways while you plan to design your own book cover. Firstly, it is freely available online, saving your time and effort to get a quick idea of how to make one. Then, it also enables you with a business standard structure, so even if, as a novice, you are unfamiliar with the technicalities, you can still use them to customize them to your needs.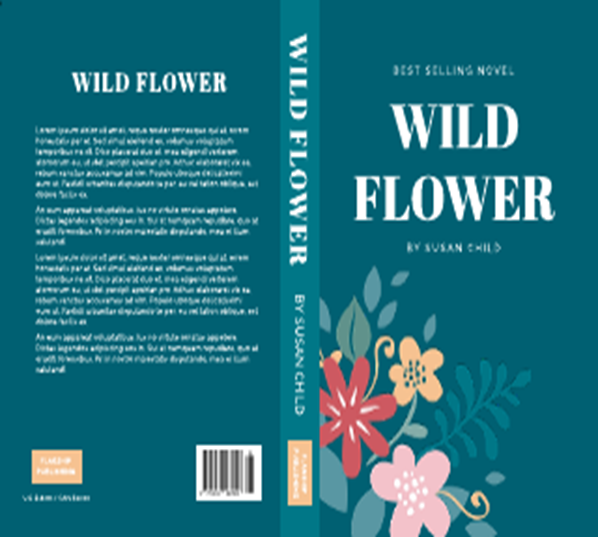 These templates are usually available throughout the web; all you must have is access to the internet connection to browse and scroll through the multiple designs. We have made your work easier by providing you with a list of websites you can check to get started.
Book design templates
Canva
Ingram spark
Poster my wall
Desygner
Vecteezy
DIY book covers
Freepik
Make use of
Elements Envato
Doc Hipo
Placeit Net
Barnes and Noble press
While numerous websites assist you with downloading and printing the book cover template, these templates are generally in PDF format. Hence, you would need a professional PDF reader to access them on your device. For example, the SwifDoo PDF editor can serve your purpose in multiple ways.
Using SwifDoo, you can open, read and edit your PDF documents and templates within no time. Instead, it allows you to access all the preloaded documents in a place. Using its fantastic library feature, you can even segregate them in a neat arrangement.
SwifDoo also enables you to convert your documents from PDF format to Word, Excel, PPT, CAD, etc., and vice versa. The goodness holds no bounds as you can crop, merge and compress your templates and other documents without losing the original picture quality, font style, and format.
Now create your own book cover on the go and save them on your device. You can also share it online with your colleagues, team members, and the author to assist you in finalizing the design.
How to Create a Perfect Book Cover: Smart Process to Help You Dive into the Details
While a book cover template can help you tailor-make your own book cover, you must still have a blueprint to start with your design. So here is where you can follow the below-given steps to make a foolproof book cover design.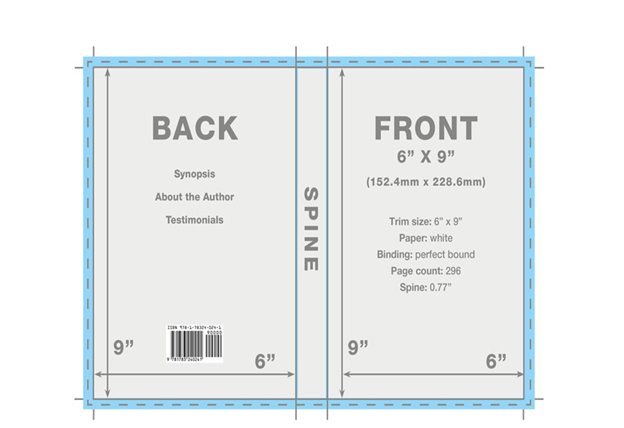 1. Have inspiration for your book cover:
Go through multiple visually striking designs like imagery, themes, visuals, and layouts to draw some inspiration for your cover. You can also make a mood board to assemble all your ideas. Collect a minimum of 10 to 20 creative ideas for visual stimulation.
2. Outline the central theme for your book:
Your book cover must revolve around your book's theme and mood. A book cover helps decide the tone of the book for the reader. So it would be great if you were thorough with the central theme to further decide on the visuals and imagery you will likely use.
3. Be considerate of your genre:
Each genre has a convention. Hence, it would help if you referred to other book covers of the same genre to have an idea so that the readers can recognize your genre immediately.
4. Go for visual hierarchy:
You must place the book title, author name, and cover graphics with prominence. As a budding author, readers might find interest in your book title. But if you are an established author already, readers (your fans) must see your name on the book to place their orders right away, irrespective of the title.
5. Avoid cluttering your cover:
Refrain from cluttering the book cover with unnecessary elements. Instead, select a focal element (imagery or book title) and design the rest of the cover considering it. You must leave enough white space around the focal point to grab the reader's attention.
6. Make legit thumbnails:
Your title must be prominent enough to be legible to your readers, even in small sizes. Instead, your cover must have a powerful impact on the thumbnail size regardless of many details.
7. Select a suitable font style:
Your typeface must look aesthetic as a full-size cover but be legible on a small size of thumbnail too. So before selecting one, you must look at it at both large display and small thumbnail sizes to ensure its readability.
8. Select an appropriate color palette:
Selecting the appropriate color palette helps draw the reader's attention and lets them know the book's tone and mood. Color palettes help establish the book's spirit. While neon colors build a fun element, dark and pastel colors denote a serious or scary tone. So you must select wisely.
9. Make your book titles stand out:
Titles are crucial for a book cover as they help give clues to the book's content. Ensure the readability of the book titles in small and large sizes and that it does not merge with the background graphics.
10. Be considerable of the book spine:
The back and spine are equally essential design elements in a book cover as the front. Spines come to play when the readers browse the bookshelves. There must be printing errors due to the front and back covers and spine alignment. So you must have a background design on the entire cover to curb such mistakes. In turn, it helps the book look consistent and professional.
Valuable Tips to Remember While Building an Effective Book Cover: An Author's Guide
Book covers must have their own identity and a distinct style.
It must clearly define the genre.
It must tell the readers what the book is about.
The book cover must set the right tone.
It must introduce your protagonist (hero/villain, etc.).
Remember to pay attention to even the little details.
Be mindful of following the design rules.
Design a book cover that has a good marketing strategy.
Tips for a Publisher
Know the author to build brand recognition.
Understand the book content before creating a book cover.
Recognize and acknowledge the genre and stick to the genre rules.
Identify the critical motifs like theme, characters, symbols, and ideas to visualize and incorporate them into the book cover.
Consider that the book's sale market as a print media is different from the digital platforms.
Proofread and check for any errors before publishing it.
A Quick Sum Up
Book covers have evolved since the digitalization of booksellers and e-books. However, the basic principles still apply to them. A book's success lies in the creativity of its cover. The more appealing and eye-catchy it is to the reader, the more market it will build.
During a visit to the physical bookstore or while scrolling through the limitless collection of e-books, an avid reader goes through the book covers to help learn about the plot. So your book cover should be such to sell the idea to your audience.
Though captivating various readers in an over-infused market is challenging, a good book cover can help you swiftly get your book off the shelf and into your reader's hands.
Using a book cover template online, you can take some guidance, to begin with. However, you must always be mindful of the valuable tips that we have shared while you draft your appealing book cover.