LinkedIn holds its own as an employment website that millions of job hunters and employers use. If you are seeking for a job online, it will be a nice choice to upload resumes to LinkedIn. This post will give you a comprehensive instruction on how to add a resume to LinkedIn.
Why Add Resume to LinkedIn
Owned by Microsoft, LinkedIn is the largest professional network on the internet. It can help you find the ideal job or internship, establish and strengthen professional connections, and get the knowledge you need to further your career.
The reasons for adding resumes to LinkedIn are as follows.
Numerous job opportunities: With over 750 million users, LinkedIn is a world of career opportunities. Companies from all industries will post numerous job listings on it every day. LinkedIn will recommend jobs to job seekers based on their personal information including location and optional job preferences provided in their resumes. If you add a resume to LinkedIn, the recommendations you get will be more precise.
Increase visibility for employers: When you upload your resume to LinkedIn, recruiters and hiring managers can easily access it. It will increase your chances of getting a job.
Expanding professional network: Except for hunting for a job, you can tap into a network of professionals, companies, and groups within and beyond your industry. Adding resume to LinkedIn will showcase your expertise and experience and increase your credibility. This will make creating business connections and finding potential clients easier.
In a nutshell, uploading resumes on LinkedIn provides many benefits for your career development. Let's see how to add a resume.
How to Add Resume to LinkedIn
LinkedIn allows you to add a resume to multiple sections. You can add a resume to Easy Apply while applying for a job, or to your LinkedIn account for future job applications. In addition, you can add your resume to LinkedIn as a post, or present it on your LinkedIn profile. Let's take a look at the concrete steps to add resumes to LinkedIn.
Add Resume to LinkedIn Easy Apply
Adding a resume to LinkedIn Easy Apply will help you simplify the job application process. You can apply for the job that interests you and submit your resume without transferring to the company's website. Let me show you how to do that.
Step 1: Go to the Jobs tab and search for your ideal job in the search box.

Step 2: Click on the results to see more details about the job postings.
Step 3: Tap Easy Apply if you are interested in a job posting and type your contact information in the pop-up window.

Step 4: Hit Upload resume to add your resume to LinkedIn and click Next.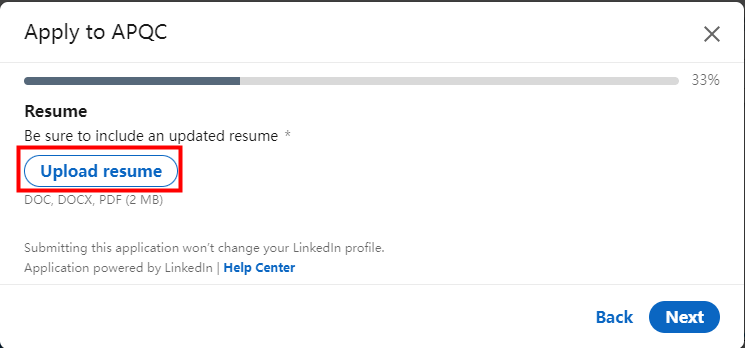 Step 5: Answer the additional questions and tap Review to check the information you just uploaded.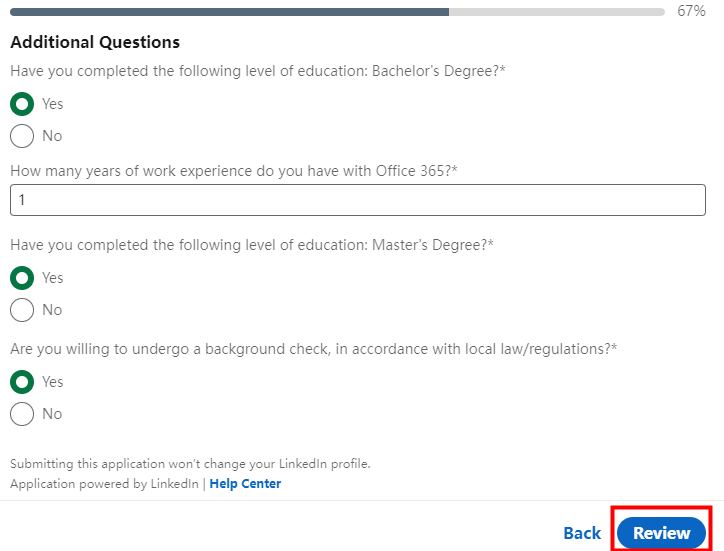 Step 6: Click Submit application if everything is going on well.

After you add a resume to your LinkedIn job application, the job poster will see it and can share it with others within their organization. Your uploaded resume will be saved by the website so that you can use it directly next time.
Upload Resume to Your LinkedIn Account
For the sake of future job applications, you can upload a resume to your LinkedIn account. By doing so, whenever you want to apply for a job on this platform, you can use the uploaded resumes directly. Let's see how to add a resume to LinkedIn this way.
Step 1: Tap Me in the menu bar and choose Settings & Privacy;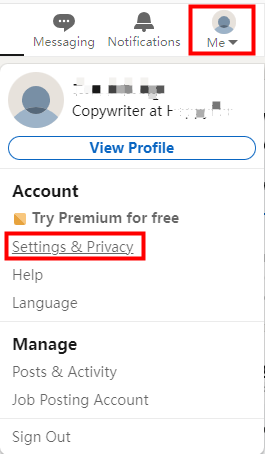 Step2: Hit Data Privacy on the left panel and select Job application settings under Job seeking preferences;

Step 3: Hit Upload resume to add a resume to LinkedIn;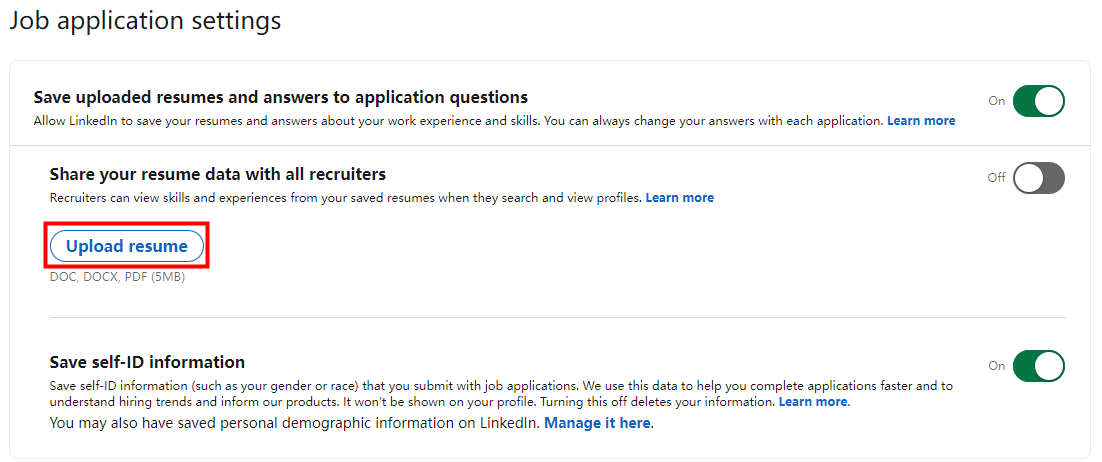 Since there is no limit on the number of uploaded files, you can tailor and upload multiple resumes to your LinkedIn account towards a particular job. Resumes uploaded this way are only visible to yourself.
Add Resume to LinkedIn as a Post
Your resume will get more exposure if it is uploaded as a post on LinkedIn. In this case, viewers can download your resume directly. Make sure you've removed information that you don't want to share in public before you post your resume on LinkedIn.
Let me show you how to add a resume to LinkedIn as a post
Step 1: Navigate to the Home page and hit Start a post;

Step 2: Click the file icon to select and add your resume to LinkedIn from your computer or cloud storage;

Step 3: Add a descriptive title to your resume in the Document title text box;

Step 4: Click Save to post the resume.
Add Resume to LinkedIn Profile
By uploading resume to LinkedIn profile, you can show off your expertise and experience. This can make you stand out from other professionals and demonstrate your distinctive personality and skill set, which may help you obtain new chances.
Let's walk you through how to add a resume to LinkedIn profile via its featured media section.
Step 1: Go to your LinkedIn profile and click Add profile section;
Step 2: Tap Add featured under Recommended;
Step 3: Hit the plus icon on the top right corner and select Add media;

Step 4: Add your resume and fill in the Title and Description fields;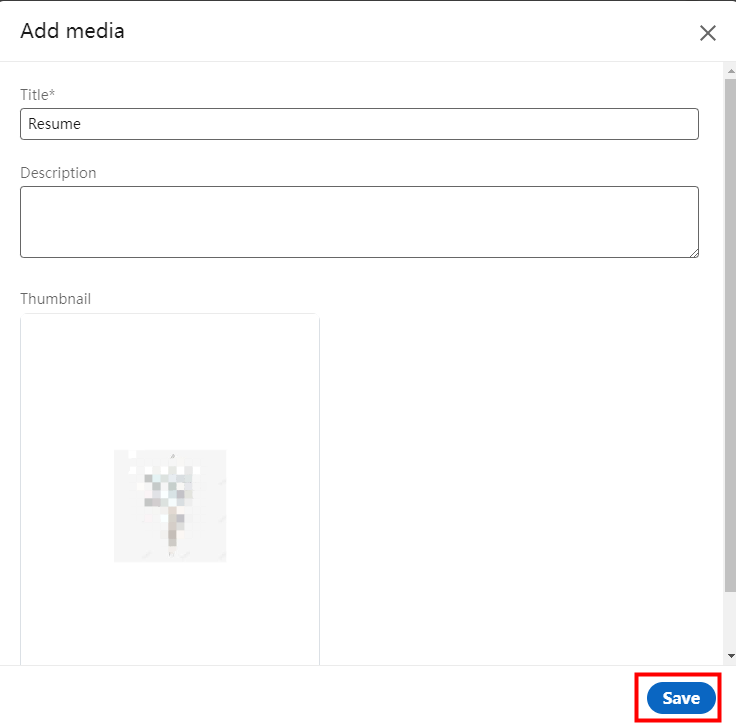 Step 5: Click Done and then Post when finished.
How to Edit a Resume in PDF
There are three file formats available when you add resumes to LinkedIn, namely, DOC, DOCX and PDF. Among them, most people will choose PDF since the layout and content inside a PDF file will be consistent across all devices. However, when it comes to editing a resume in PDF, you may need SwifDoo PDF.
SwifDoo PDF is a powerful PDF editor that provides a one-stop PDF solution. With this software, you can edit your PDF resume as easily as editing a Word document. You can edit texts, add images and links, change the layout and the background, or change the page size of your resume. Before adding your resume to LinkedIn, it's important to make sure your content is perfect edited.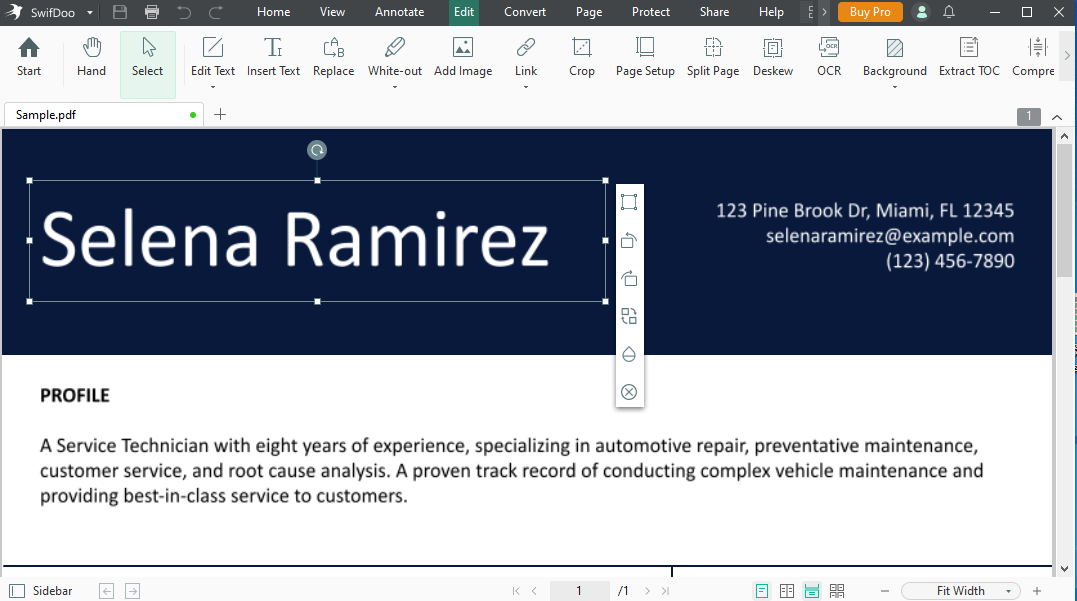 Besides, you can convert your PDF resume to Word or other file format with the PDF application to edit the content.
Conclusion
LinkedIn is the largest social media platform that focuses on business and employment. Adding resumes to LinkedIn will help you gain more exposure and opportunities while you are looking for a job. You can upload resumes to different sections of this platform.
Resumes added during a job application through Easy Apply are only visible to the employer. If you add a resume to your LinkedIn profile in the Featured section or add it as a LinkedIn post, the resume is public. As for resumes added to your LinkedIn account in your Job Application Settings, they are private to you. If you need to edit your resume in PDF, try SwifDoo PDF.