That Grammarly indeed seems to be the most popular English grammar checker. It helps many people perfect their work, passage, resume, letter, and so on. Even though it is so powerful, Grammarly is not the best choice for everyone. This page by SwifDoo PDF will introduce 7 free Grammarly alternatives that are also effective.
Read the following parts to get your work done!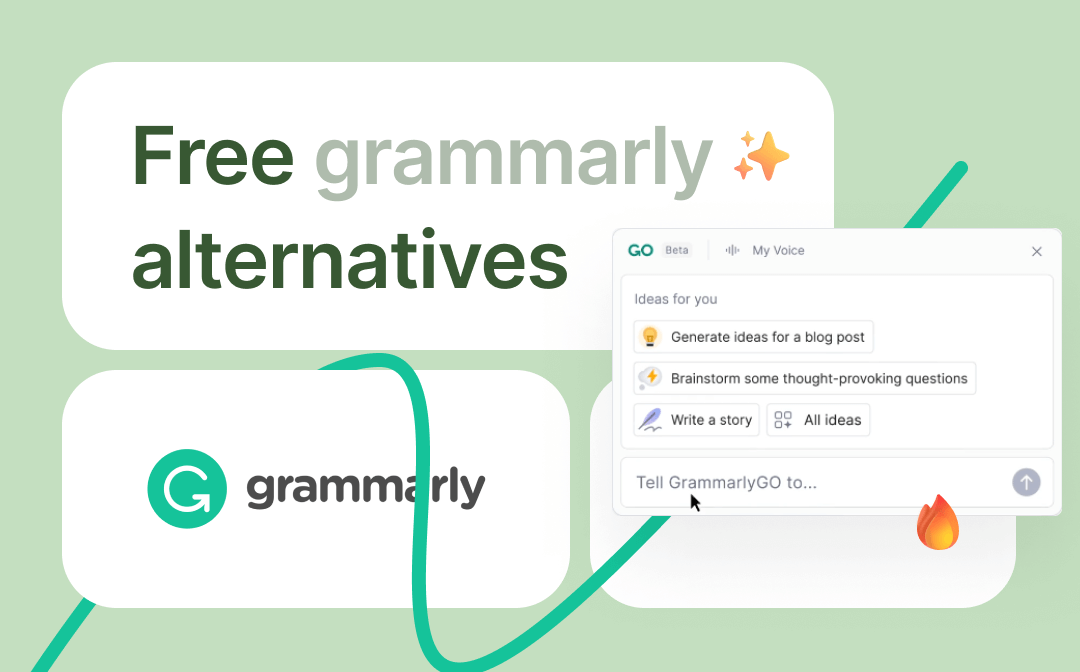 Top 7 Grammarly Alternatives Free
The table above is concise and can help you find the most desired grammar checker in the first place, but fully understanding it can help you use it better. This section will introduce you to 7 free alternatives to Grammarly. Some of them are very simple to use, and some of them require effort but are very practical.
The 7 Grammarly alternatives are tested on Google Chrome. It may take you 3-5 minutes to read the whole page and learn these apps like Grammarly but free.
ProWritingAid
If you are looking for a grammar checker that is similar to Grammarly, ProWritingAid may be your first choice. Just like it, ProWritingAid can detect common mistakes on each website that people have visited. This free Grammarly alternative can provide people with corrections on spelling, grammar, and readability. It has free and pro plans, but even the premium version is 24 dollars cheaper than Grammarly.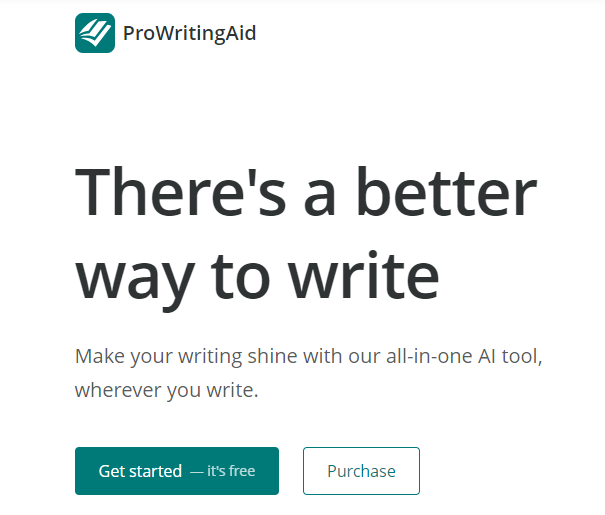 Features:
Customize checking. People can adjust different grammar-detecting settings to fit their genre and writing style.
Cross-platform supporting. This free Grammarly alternative works fine on Microsoft Word, Google Docs, Open Office, Scrivener, and Gmail.
Writing suggestions. As it shows on its official website, ProWritingAid offers people easy-to-follow suggestions, explanations, and advice right in its software. They make you write like an expert without years of practice.
Checking report. The free alternative to Grammarly has 20 kinds of reports. People can choose one out of them depending on their needs.
Limitations:
The plagiarism checker has to be paid separately.
Tips:
If you happen to have a PDF document and you need to check its grammar, see
how to save PDFs as Word
documents effortlessly.
Hemingway Editor
Ernest Miller Hemingway is one of the most famous novelists of the 20th century. He is known for his economical and understated style. Similarly, Hemingway Editor, the Grammarly alternative for free, can help you enhance the readability of your articles and correct the grammar. It aims to make your writing look like it came from a famous author. This free Grammarly alternative has also gained many compliments:
"Hemingway Editor is, like a good editor, attuned to the places where vanity seems to be getting the better of things." – The New Yorker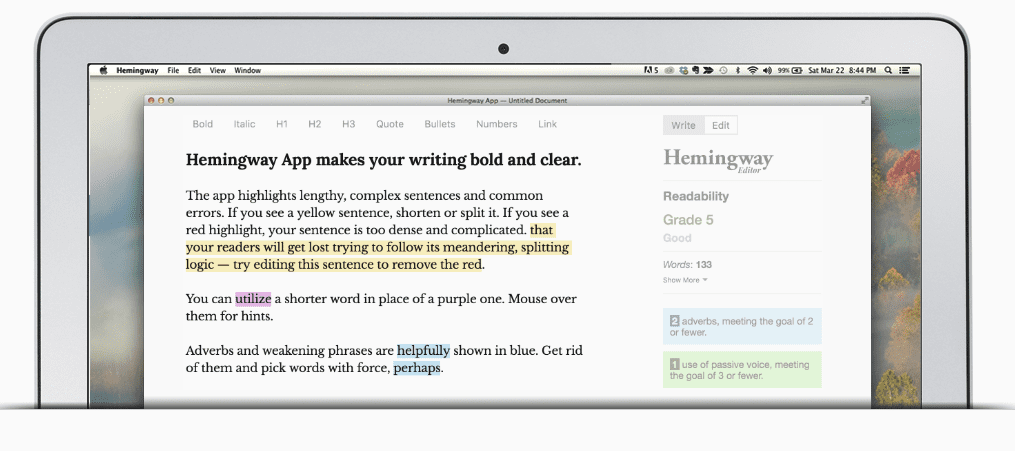 Features:
Unique readability ratings. It will rate and modify passages to make them easier to read and understand.
Clean and easy-to-use interface. People will find no ads or pop-ups that can be annoying.
Detailed suggestions about changing words.
Limitations:
When you finish modifying a sentence, this free alternative to Grammarly always goes back to the beginning of the article.
Lack of insights into tones and styles of articles.
Ginger
Words and grammar are indeed very important in writing, but if you pay more attention to writing a more natural passage, then you cannot miss Ginger, a free Grammarly alternative that can improve your work.
Like Grammarly, it will underline the errors based on the context, and then give you the right suggestion. It can analyze not only texts but also Word documents. Despite that, it offers a text reader so that people can hear what their writings sound like.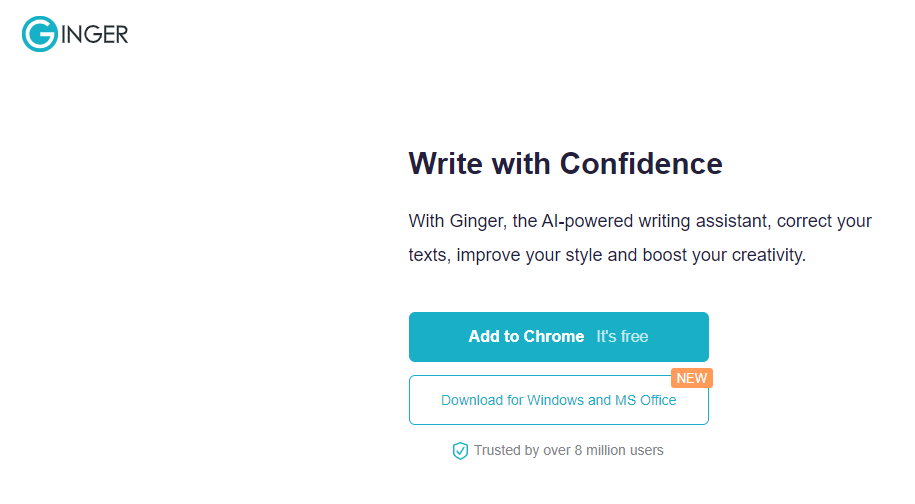 Features:
A "correct all" tool. This Grammarly alternative for free enables people to perfect their work with just a tap.
AI-based rephrase. It will paraphrase sentences in your articles and reduce the repetition of sentences to make articles less boring and easier to read.
Works on many platforms. The free alternative to Grammarly supports Google Chrome, iOS, Android, and desktop.
Limitations:
Grammar and spelling go first and the style is not so prioritized.
Ads on the webpage.
Writer.com
If you are looking for free Grammarly alternatives that can help not only you but also your team, then Writer.com should be the right one. It enables your team to stick to one style. The interface is similar to Google Drive and has already benefited many people who work as a group.

Features:
The dictionary only for you. This Grammarly alternative for free allows users to create dictionaries of their own styles.
Styled checking. People can check content according to their company's guide.
Integrated with other programs. Supporting Chrome, Google Docs, and Microsoft Word.
Limitations:
You cannot install it on computers or mobile phones.
PaperRater
PaperRater is a proofreading tool. It not only checks for grammatical errors but also checks whether the article is plagiarized. When using this free alternative to Grammarly, people can customize their education level and paper styles. If you are looking for a grammar checker that is for school essays, consider applying this one.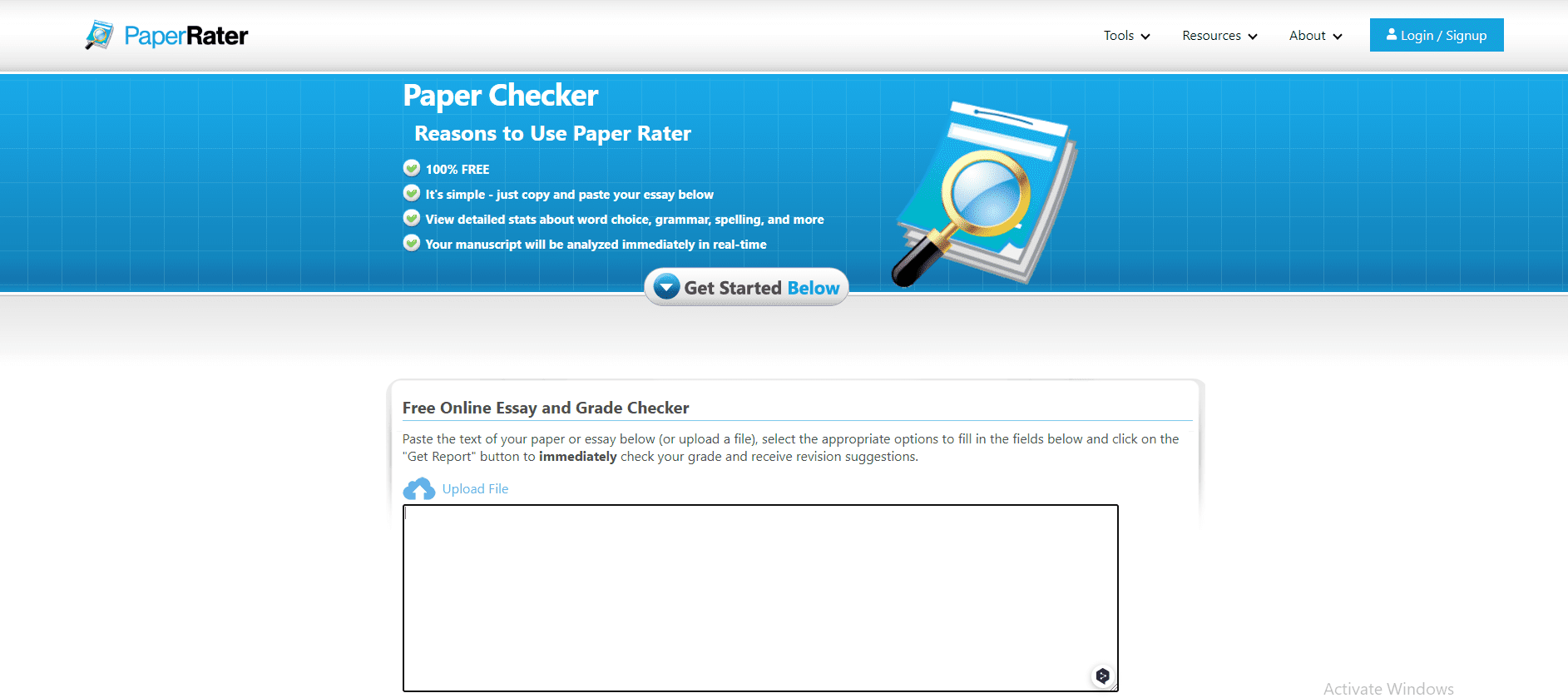 Features:
Plagiarism checker. Compare your work with 10B documents and improve the originality.
Performance graphs. Built-in graphs to the change of scores in real-time.
Limitations:
This tool is not so accurate and it has no mobile version.
Limitations:
The free alternative to Grammarly is more suitable for academic writing.
Quillbot
Quillbot is one of the best Grammarly alternatives for free on the Internet. It will check the content and give you suggestions. Despite grammar and spelling checks, people can use it to paraphrase their articles.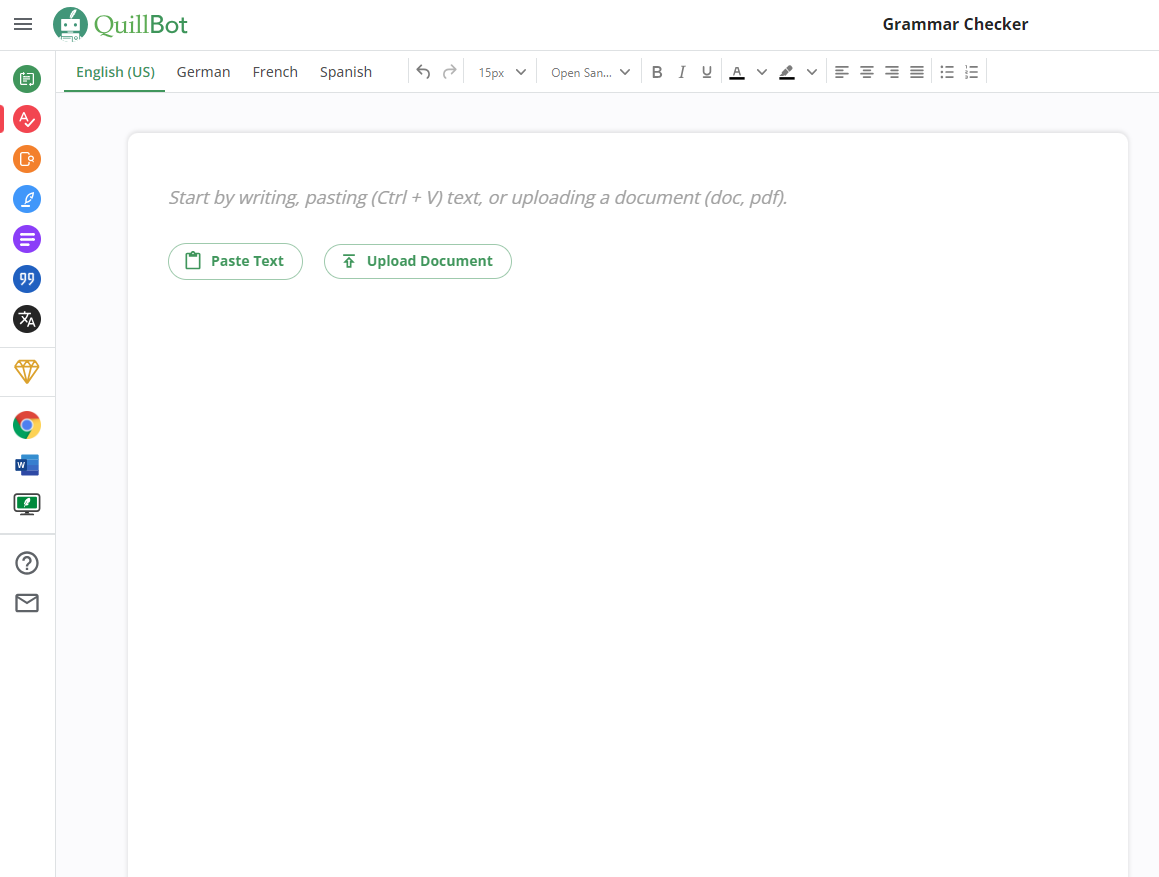 Features:
All-in-one writing helper. The free Grammarly alternative provides a paraphraser, grammar checker, plagiarism checker, translator, and more tools.
Easy-to-use interface.
Detection of multiple languages, including English, German support, French, Spanish, and so on.
Word document checking.
Limitations:
You need to pay to use its Chrome extension and the Microsoft Word tool.
ChatGPT
ChatGPT is an AI chatbot developed by OpneAI. It enables users to refine and steer a conversation towards a desired length, format, style, level of detail, and language used. That is to say, people can ask it to check the grammar and improve articles, as long as they use the right commands.

Features:
Customize checking requirements.
Powerful databases.
Limitations:
You need to pay to use this Grammarly alternative. This tool is restricted in some areas.
A Comparison Table of 7 Free Grammarly Alternatives
The above parts are detailed in their features, so you may be confused as to which is the best app like Grammarly, but don't worry, this article has put together a comparison table for you. It contains the free plan and the price of premium. They will help you to choose the right one for you quickly.
| | | |
| --- | --- | --- |
| Grammarly Alternatives | Free plan | Price |
| ProWritingAid | 7-day free trial | $30/month or $120/yr |
| Hemingway Editor | Free to use the web version | $19.99 |
| Ginger | 40-time free trial | $13.99/month or $84/yr |
| Writer.com | 14-day free trial | $18/month or $162/yr |
| PaperRater | Free | $11.21/month or $71.55/yr |
| Quillbot | Free to use the web version | $19.95/month or $99.95/yr |
| ChatGPT | Free | $20/month |
Bonus Tip: Make Perfect Articles with A PDF Tool
Due to differences in language habits and dialects, terminology, etc., people won't always revise their articles as grammar checkers like Grammarly suggest. But when the article opens in Microsoft Word, it will mark these "errors" with wavy lines. This makes the article look unprofessional. But if you are using a PDF file, there is no such annoyance. It cannot be easily edited, and therefore there will be no "errors". All you need is an easy-to-use file converter. SwifDoo PDF is a Word-to-PDF converter like that.
It is a PDF reader, editor, and PDF converter. This app can quickly convert a Word document to a PDF and maintain the original layout, without compromising the quality of images.
Here's how to use this handy file converter:
Step 1. Install and launch it on your computer.
Step 2. Click Convert >> Office to PDF
Step 3. Convert Word to PDF.
In the pop-up window, tap "+Add Files" to choose the file that you want to be a PDF, and then press "Start".
The Bottom Line
This page mainly talked about 5 free Grammarly alternatives. Each one came with its features, limitations, and prices. Some Grammarly competitors are free to use, but some of them are only free for trial. You can choose the one based on your needs and budget.