Many users protect their Excel worksheets and workbooks to prevent others from viewing or modifying the content, securing the essential files from accidental deletion of important formulas or unauthorized access. However, it can be frustrating when you or your team try to open, view or edit a password-protected Excel file but forgot or lost the password. In such a case, the need for a reliable Excel password remover may arise to remove passwords from Excel.
Many free, paid, online, and offline Excel password erasers are available in the market to gain access to your spreadsheet, but choosing one might take a lot of work. This article picked the 5 best Excel password removers for you to unprotect, crack, recover or break the password. Let us go through all of these to help you select your preferred one.
In Which Cases You Need an Excel Password Remover
There are many cases in which users need to remove the locks or recover forgotten passwords from protected Excel files using an Excel password remover. According to types of Excel passwords, they include:
An open password to restrict opening an Excel file or workbook.
A password for individual sheets to lock cells from unauthorized viewing or editing.
A workbook structure password to keep the hidden sheets and sheet structure safe.
A sharing password to prevent workbooks from being shared.
A password for the VBA code.
With an authentic Excel password remover, users can remove the passwords and view or modify the workbook. Moreover, these tools help remove passwords regardless of length, strength, and the ones having special characters.
With the needed cases known, you must be eager to learn the excellent tools that can help you resolve password-protected file issues. If you are facing the above-listed Excel protection issues, learn about the 5 best Excel password removers right away.
The 5 Best Excel Password Removers
While finding a competent and reliable Excel password remover can be a challenging task, we have selected the five best options. Let's dive into their deeper insights to know which one to settle for.
1. Daossoft Excel Password Eraser
Daossoft Excel Password Eraser is an excellent Excel password remover to help quickly remove lost or forgotten passwords for Excel files. With a user-friendly interface, it enables you to remove Excel open passwords, Edit, Workbook, and Sheet Passwords without a learning curve. Moreover, it supports all MS Excel versions with the file type .xls and multilingual passwords.
The Excel Password Remover has a high recovery speed and 100% recovery rate regardless of the encrypted Excel file size. Plus, it allows the recovery of passwords of any length and complexity. Windows users can use the program's free trial version to recover and remove all Excel passwords, but it lets you only view and use three or fewer characters of passwords.
How to Remove Password from all Excel Files with the Excel password remover:
Step 1: Download and run the "Daossoft Excel Password Eraser" software.
Step 2: Click "Open", browse to the desired Excel document, and add it to the remover.
Step 3: Select the "Remove Password" button to erase the Excel password.
2. PassFab for Excel
PassFab for Excel is a free Excel password remover that supports all Excel versions and formats with a recovery success rate of 90%. It supports GPU acceleration to recover restriction passwords at full speed with multi-core CPUs. The tool also instantly removes workbook or worksheet restriction passwords within a few seconds and is compatible with all Windows, Mac, and Excel versions.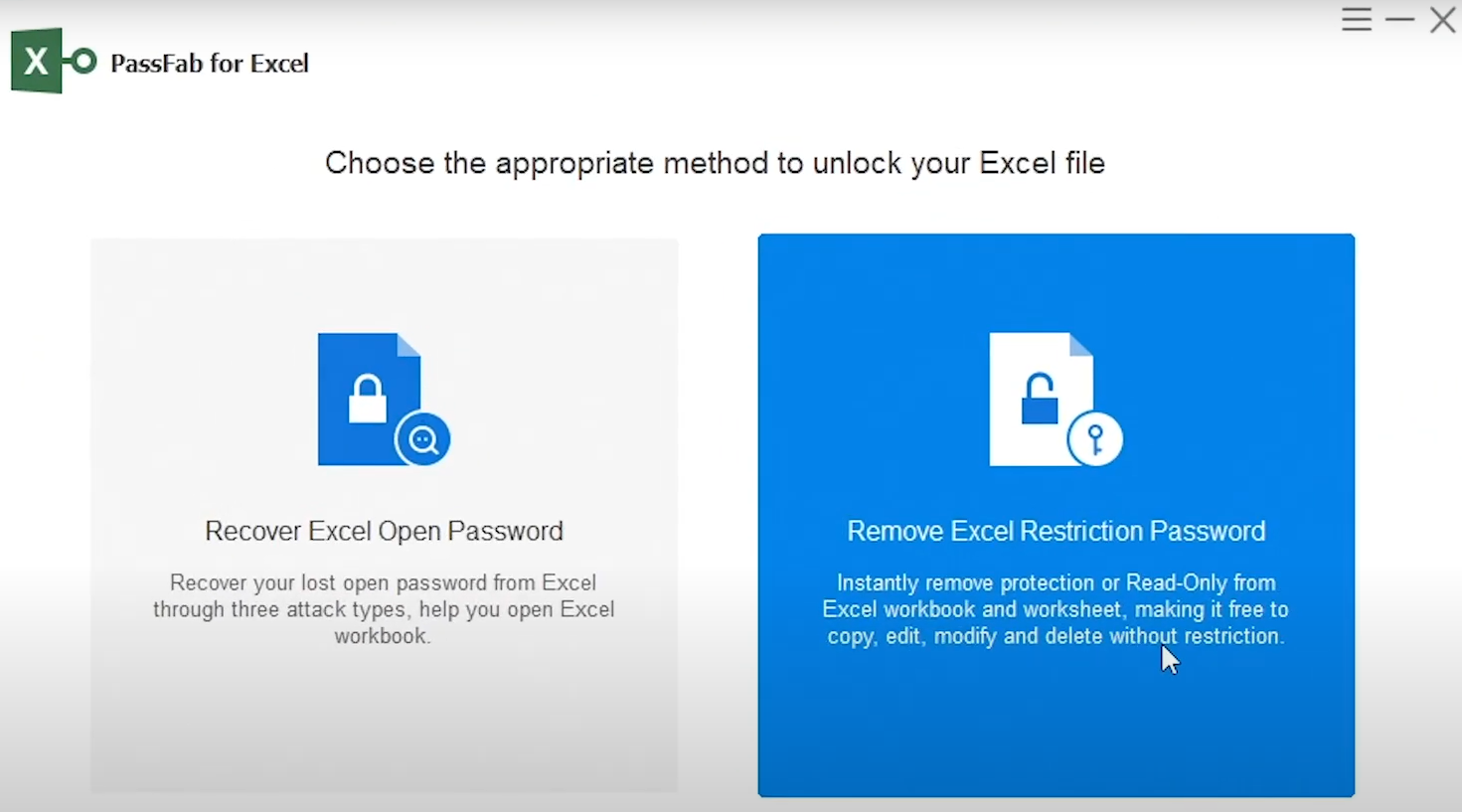 This Excel password remover removes almost all types of Excel passwords and unlocks Excel with three powerful password attack add-ons viz., Dictionary Attack, Brute-force Attack, and Brute-force with Mask Attack. Irrespective of password range, length, and complexity, it unprotects Excel workbook or/and sheet without a password. The program's free version does not recover or remove the password but lets you see if your file is supported or not.
How to use the Excel password remover to remove a password from Excel:
Step 1: Tap the "Remove Excel Restriction Password" mode.
Step 2: Import password-protected Excel files.
Step 3: Click "Remove" to remove Excel password successfully.
3. Dr.Excel
Dr.Excel is another Excel password remover that can recover Open Passwords and instantly remove Worksheet/Workbook protection (if the VBA code doesn't work) without compromising the original data. The program is compatible with Windows and Mac OS and supports multi-core CPUs and GPU acceleration with a ten times faster speed to find lost passwords on all Excel documents.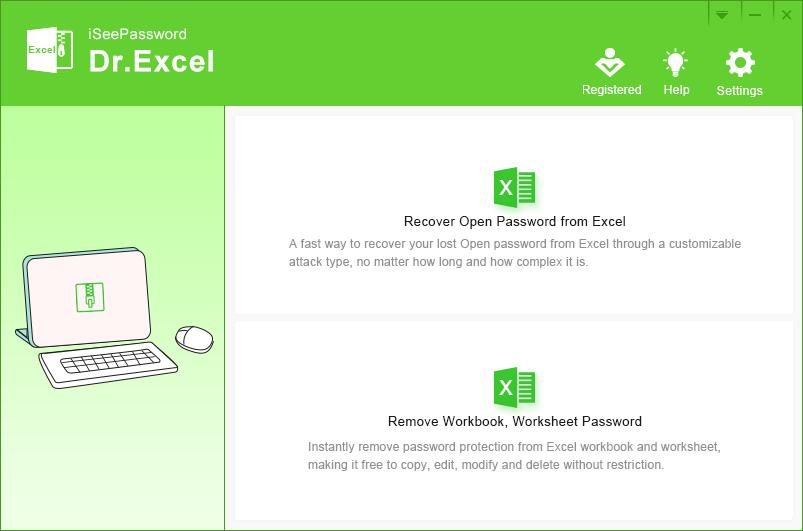 The Excel password remover software is available for free with a free trial if have an Excel file to remove password protection from. As a great Excel worksheet and workbook password remover and cracker, it is a great bet to remove passwords regardless of their length, strength, and complexity. It uses the three latest excellent algorithms, viz., Dictionary Attack, Brute-force Attack, and Mask Attack.
How the Dr.Excel Excel password remover allows you to remove a password from Excel:
Step 1: Download and install the password remover program.
Step 2: Select "Remove Workbook, Worksheet Password" and add your Excel file.
Step 3: Then specify the location to save the Excel file and tap the "Start" button.
4. Password-Find
Password-Find is a fast, easy, and browser-based Excel password remover to remove password protection from Excel on Windows, Mac, Unix, iOS, and Android devices. With a 90% success rate, this tool can unprotect the MS Excel workbook, and remove read-only protection from MS Excel files and VBA project passwords. It also removes and unlocks passwords from Word and PowerPoint files.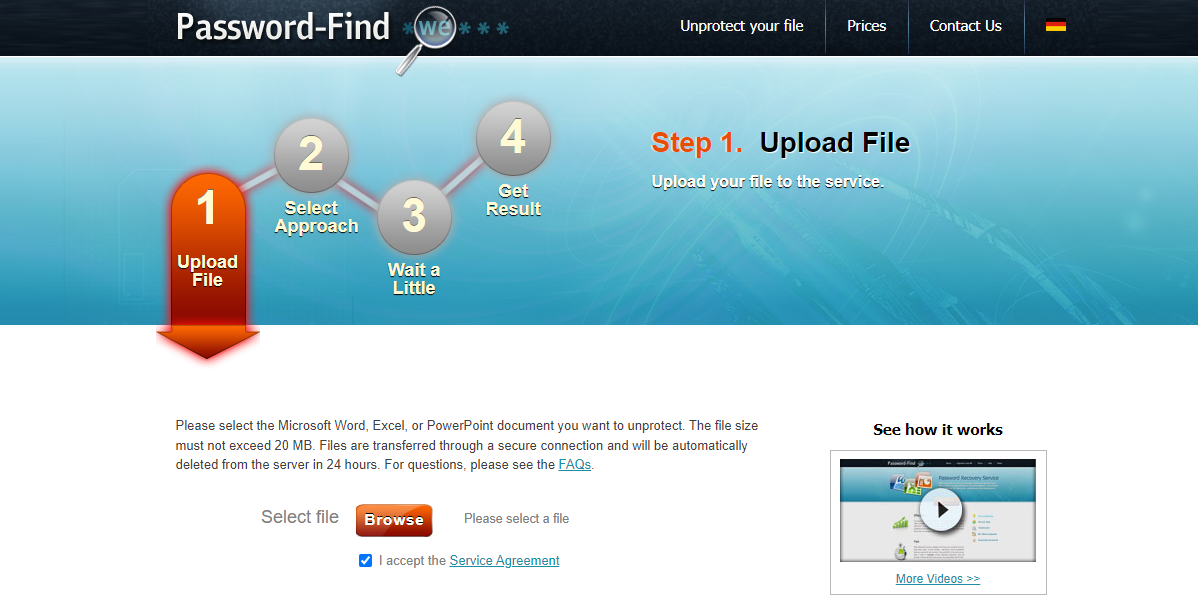 This Excel password remover and breaker works with all MS Excel versions and file types, i.e., .xls and .xlsx files. As also a password recovery software with a 1000x speed up, it is as fast as a home PC. It gives instant results and finds lost passwords to make your life easier.
How to remove Excel password using this free online Excel password remover.
Step 1: Click "Browse" to select and upload the password-protected Excel file;
Step 2: Hit "Next step" and choose the "Remove password" option;
Step 3: Click "Next step" again to clear the existing password from Excel, then download or view the file online.
5. LostMyPass
The LostMyPass Excel password remover allows you to decrypt Excel files and download unprotected files online for free. It can recover open passwords of all versions of encrypted Excel files (.xls and .xlsx) and remove permission passwords. The free Excel password remover tool uses two methods to recover passwords: Brute force by dictionary and Brute force with a mask. It supports unlocking an Excel file up to 100MB.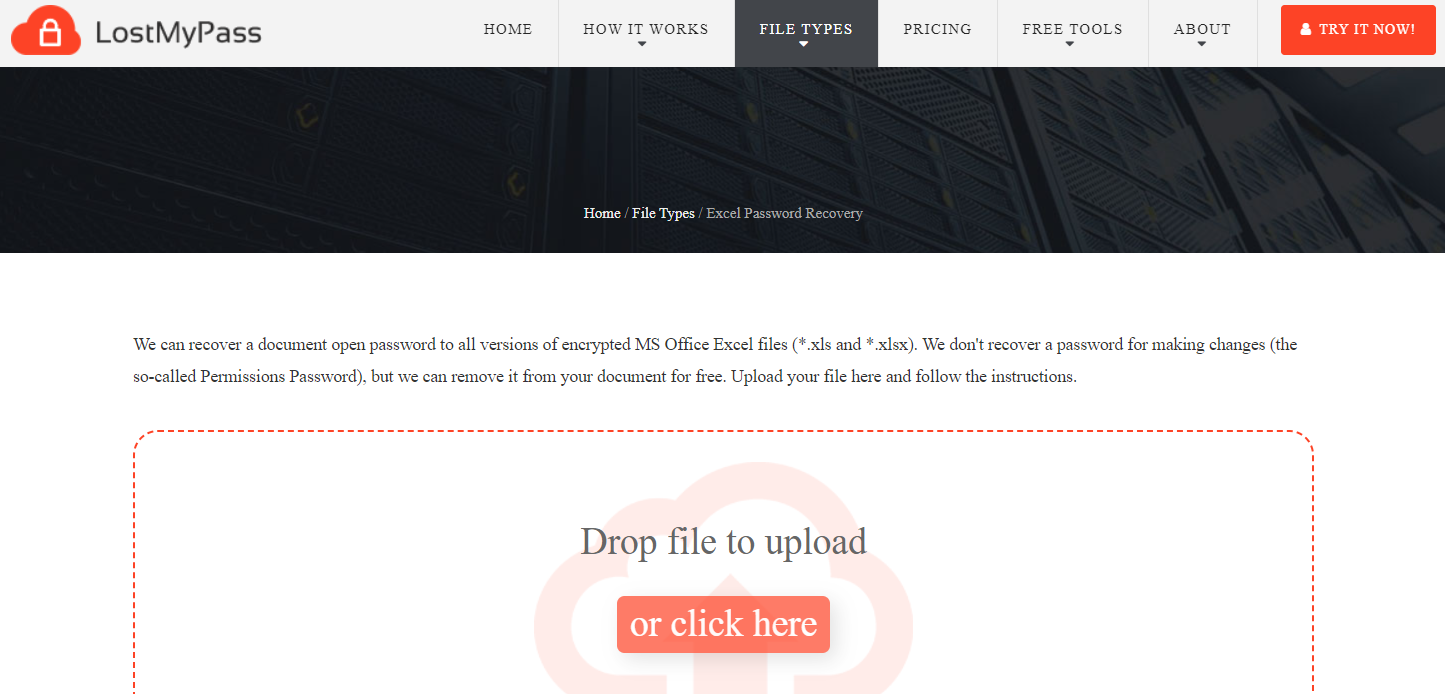 Besides being an Excel file password remover and unlocker, it helps generate random passwords, calculates how long it takes to brute force a password, and unlocks PDFs, Word or other documents, etc.
With this Excel password remover, you know how to remove passwords from Excel Files:
Step 1: Scroll the web and move to the official website of LostMyPass.
Step 2: Select "MS Office Excel" from the drop-down menu of "FILE TYPES".
Step 3: Drop the password-protected Excel file to the tool, and the password-cracking process will run automatically.
The Final Wrap Up
All these MS Office Excel password removers help you seamlessly unprotect the Excel files. Now it entirely depends on you - whether you opt for an Excel xls protection password remover freeware or paid software.
Forgetting a password is pretty normal, but opening the necessary file, in this case, is tricky and challenging. So here are the five best password removers for Excel files introduced to ease your work. You can download and install them or access them online from official websites and resolve the underlying password issues.
FAQs
How do I remove a password from Excel without knowing the password?
You need a dedicated Excel password remover or recovery tool to remove a password from an Excel file without knowing the password. The 5 Excel password removers will crack or break the password directly or recover the password so you can get rid of it then. Please be noted that you should only remove the password from the Excel file owned by you.