Remember the summer holidays of the 80s and 90s when you used to be glued to the TV screens watching Mickey Mouse, The Duck Tales, The Little Mermaid, and so on? Well, Disney is synonymous with our priceless childhood memories and has an unmatched fan base of kids and adults.
Disney characters are celebrated universally, and their essence is enough to keep everyone hooked. Besides the TV screens, even entertainment parks and theme parties have Disney characters to lure kids.
Disney stories have influenced many generations, and now even Disney coloring pages PDFs, and books are available to influence the coming generation.
Let's know how you can use these Disney coloring pages for your kids' benefit. So stay on for an exciting read.
The Never-ending Charm of Disney Characters
Disney Characters have a global appeal. Disney cartoons and films are inspired by classic fairy tales and cherished by children and adults of all age groups. These evergreen Disney characters can come in handy to make learning fun for your kids to learn the fundamentals of teaching.
Popular Disney characters like Mickey Mouse, Minnie Mouse, Donald Duck, Daisy Duck, Pluto, and Goofy have given deep nostalgic memories to every generation across the globe.
Some other famous Disney characters are:
Aladdin, Jasmine, and Genie
Belle
Dumbo
Pocahontas
Sebastian
Woody
Tinker Bell
Ariel
Snow White, Cinderella, and Rapunzel
Winnie-the-Pooh
Relevance of Disney Coloring Pages
Walt Disney's animated characters, cartoons, and films have left an unfading impression on everyone's minds. Apart from the TV screens, children love watching these Disney characters in their surroundings, including their rooms, dinner plates, stationery items, and school bags.
While you cannot renovate every accessory, you can print the Disney coloring pages PDF and the free download of the Disney coloring book to keep your kids busy and grow in an entertaining process.
Various good resources for Disney coloring pages on the internet are available, and kids are crazy for them. They can use different colors or paint on them to make creative art pieces and gain passive benefits in the process.
Blossoming Benefits of Disney Coloring Pages
Coloring is a cost-effective and fun activity requiring only a tub of colors and a few coloring pages. You can unlock creativity and support kids' and adults' emotional, cognitive, and physical development.
If not added yet, you should definitely add the therapeutic coloring activity to your child's routine for its abundant benefits.
#1 Develops motor skills in kids
Coloring activities build motor skills and hand strength in kids. For example, you can develop your child's muscles by using your hands to improve writing skills and endurance.
Where digital devices and technology demand greater use of thumbs, coloring develops an overall hand activity with balanced and fine motor skill development.
#2 Improves focus
Coloring activity is fun and entertaining to improve your child's focus and concentration. At the growth stage, it is a stress-buster and a joyful escape from tests, studies, and homework.
Children can focus on the character, coloring page, and pattern and feel accomplished with their end product.
#3 Helps build creativity
Coloring is for all age groups. There's no significant rule for coloring. This fact helps build creativity in kids and adults. Coloring can be a medium to express ideas and emotions, unveiling your creativity.
You can mimic reality or explore new possibilities with unconventional ideas. For example, you can use colors to express your moods and mind frame.
#4 Develops color recognition
Coloring helps improve color recognition in kids. Creativity can further create new colors by combining the available ones. Usually, paint is a suitable medium for mixing colors, but you can use colored pencils and crayons too.
Discuss the rainbow colors and let your child name them before using them to recognize them better.
#5 Builds reading skills
Coloring pages can include cartoon characters, patterns, flowers, shapes, letters, and words. Having letters, numbers, or alphabets on coloring pages for kids or young artists helps develop reading skills in young and growing children.
This way, you can teach reading and spelling skills to your kids in a playful manner without burdening or letting them know.
#6 Fosters social-emotional learning
Coloring is a great way to build and foster social-emotional learning (SEL) in young kids. There are endless options to express your thoughts and feelings through drawing.
For example, you can express your emotions and feelings by correlating them with rainbow colors. Similarly, you can use other affirmations and social-emotional language to build fine emotional regulation.
Some Free and Paid Websites to Download Disney Coloring Pages Pdf
Since you already know the benefits of coloring pages and how they can improve your child's motor skills and help in balanced development, you must not refrain from downloading these Disney coloring pages PDF instantly.
Here is a list of some popular free and paid websites which can download Disney coloring pages PDF without much effort for your and your kids' entertainment.
#1 Coloring.ws
Coloring.ws is a free website that lets you download printable coloring books for your kids and toddlers. It has multiple categories of coloring pages, where you can find themes of Holiday Coloring Pages, Religious Themes, Puzzles, and many more.
You can also find categories of Alphabets, Bible, Cartoons, Fairy Tales, Fantasy and Medieval, Music, Rainbows, Video Game Characters, and more.
While discovering these categories, you will find numerous coloring pages to download and make a coloring book.
#2 Mom Junction
Mom Junction has a fantastic collection of coloring worksheets in multiple categories. In addition, you can explore coloring books for kids to take prints and explore your creativity.
It explores categories of Disney Animal, Bible, Music, Educational, Snacks, Pattern, Sports, etc. You can scroll through these categories and fetch Disney characters and coloring sheets.
#3 Crayola
Crayola is another online platform that lets you print coloring pages for toddlers. You can also explore exciting activities on this website for your kids.
You can find coloring sheets of cartoon characters, Disney characters, places, words and letters, plants and animals, etc. Each category has multiple coloring pages. You can take prints of these pages and put them together to make a coloring book.
#4 Coloring-4kids.com
Coloring-4kids.com is a free platform offering free printable coloring sheets. You can discover a fantastic collection of sheets in a massive category with different cartoon images.
You can find categories of Disney, Cartoons, Season, Alphabet, Nature, Fruits, and more. And decide which type you want to download. You can print and hand over the coloring pages to your kids and let them explore creativity.
#5 Super Coloring
Super Coloring is an excellent website with a fantastic collection of printable coloring sheets for toddlers, preschool, and kindergarteners.
The website has multiple categories of coloring pages, drawing tutorials, paper crafts, puzzle games, calendars, and holidays for all age groups.
You can find over 92,000 colorings, dot-to-dots, silhouettes, and more. It has a good range of coloring sheets and books for teddy bears, cartoons, letters, little princesses, and more that you can download and make a book.
#6 First school.ws
First-school.ws is a great website to download printable coloring books for kids and toddlers, preschoolers, and kindergarteners.
You can find multiple categories of coloring worksheets for Fairy Tales, Angels, the Bible, Animals, Clowns, Homes, etc. Each type has a massive collection of coloring pages you can download to make a coloring book.
Accessibility of Disney Coloring Book PDF Free Download
You can print and download Disney character images, Disney coloring pages PDF, and more through the abovementioned free and paid websites. Likewise, you can also download the Disney springs map PDF in a printable format to suit your needs.
Your kids can choose to color the Disney printable PDF pages and be engaged in a fun activity for a long time.
Once downloaded, SwifDoo PDF software can help you combine these pages and pictures to make a Disney coloring book and gift it to your kids. Here's how.
SwifDoo PDF: An Excellent PDF Merging Tool
SwifDoo PDF is feature-rich software that provides complete care to your PDF files. You can easily access your coloring pages PDFs to open, view, and print them anywhere. Instead, you can convert your Disney character image to PDF and print it for your child.
SwifDoo PDF is a lightweight and fast-speed software that merges, converts, edits, annotates and performs multiple other functions. You can also compress, crop, split, and do much more by safeguarding your confidential PDF files.
Here's how to merge your Disney coloring pages PDF with SwifDoo PDF software.
Step 1: Install the SwifDoo PDF software and run it to launch it on your computer.
Step 2: Open the app interface and click Page > Merge.
Step 3: Select the Add Files tab and choose all the Disney coloring pages PDF from your computer storage you wish to merge.
Step 4: Click the Start button to merge the PDF files of your coloring pages. It takes barely a few seconds to combine. Once done, you can tap the Open Documents tab to view your merged files.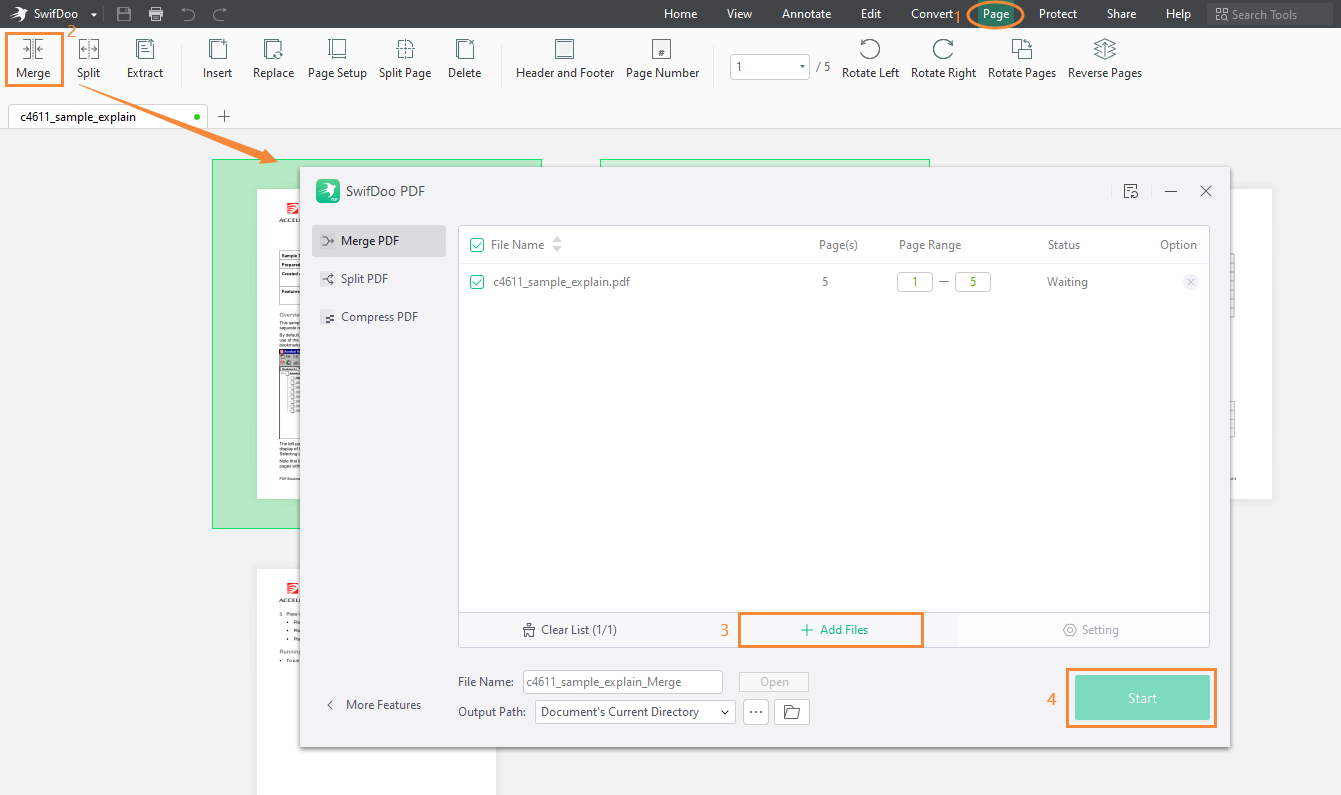 A Quick Wrap Up
Disney characters have had a nostalgic and positive impact on everyone. Disney coloring pages can be an excellent idea to help your child grow healthily and playfully.
You can print and download Disney coloring pages PDF and access them through SwifDoo PDF software to let your child color the characters with imagination and creativity.
Once downloaded, you can use these Disney coloring pages PDF to transform into colorful posters for your kid's room.