With everything that has happened in the world for the last 18 months or so, it's safe to say that filling a newspaper with info certainly won't be a problem.
Many schools and colleges have started to ask their students to download a newspaper template such as newspaper article template to create their very own school newspaper for homework, which is what we're talking about today.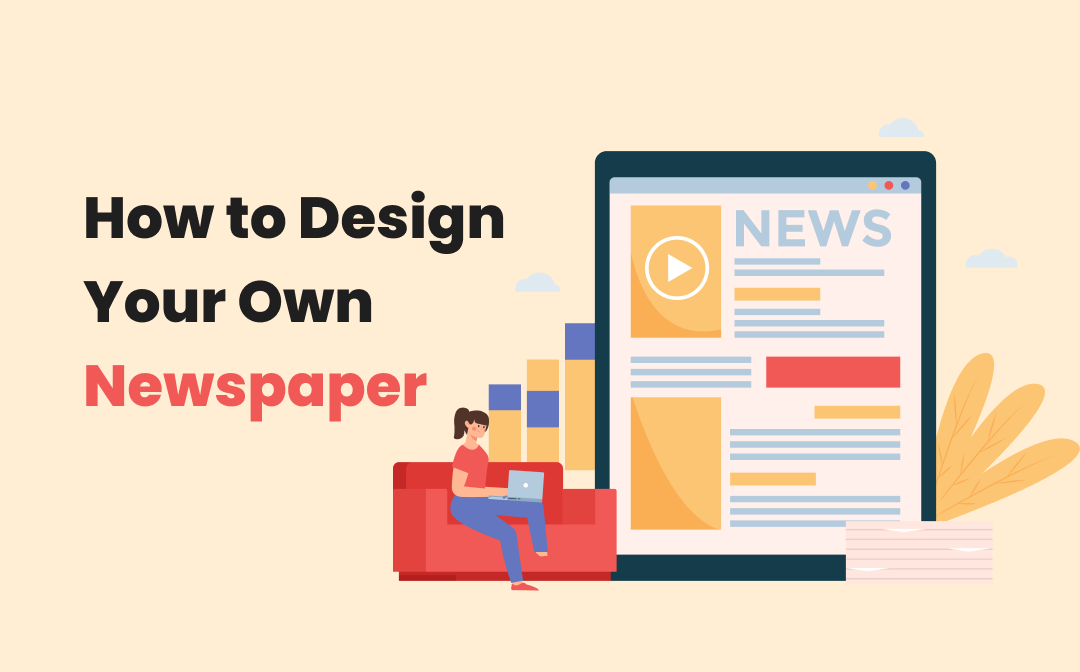 Designing your own newspaper for homework is tricky, and while you may not quite get it up to the standards of the New York times newspaper PDF download, if you take your time when designing it, you can design the ultimate school newspaper with minimal effort.
Here's a look at several tips on how to design a newspaper with a template.
Download a Newspaper Template
One of the first things you should consider when it comes to how to design a newspaper, is a suitable newspaper template, probably a newspaper article template for students or something other.
There are heaps of template download sites out there, so whether you want a more professional look such as a New York times newspaper PDF download, or more of an amateur and less-reputable newspaper like The Sun newspaper PDF, there are all manner of templates for you to save.
If you want to download newspaper article template files, there are sites like TemplateRoller, and Teachers Pay Teachers. The latter has a number of free and paid educational resources that you may need.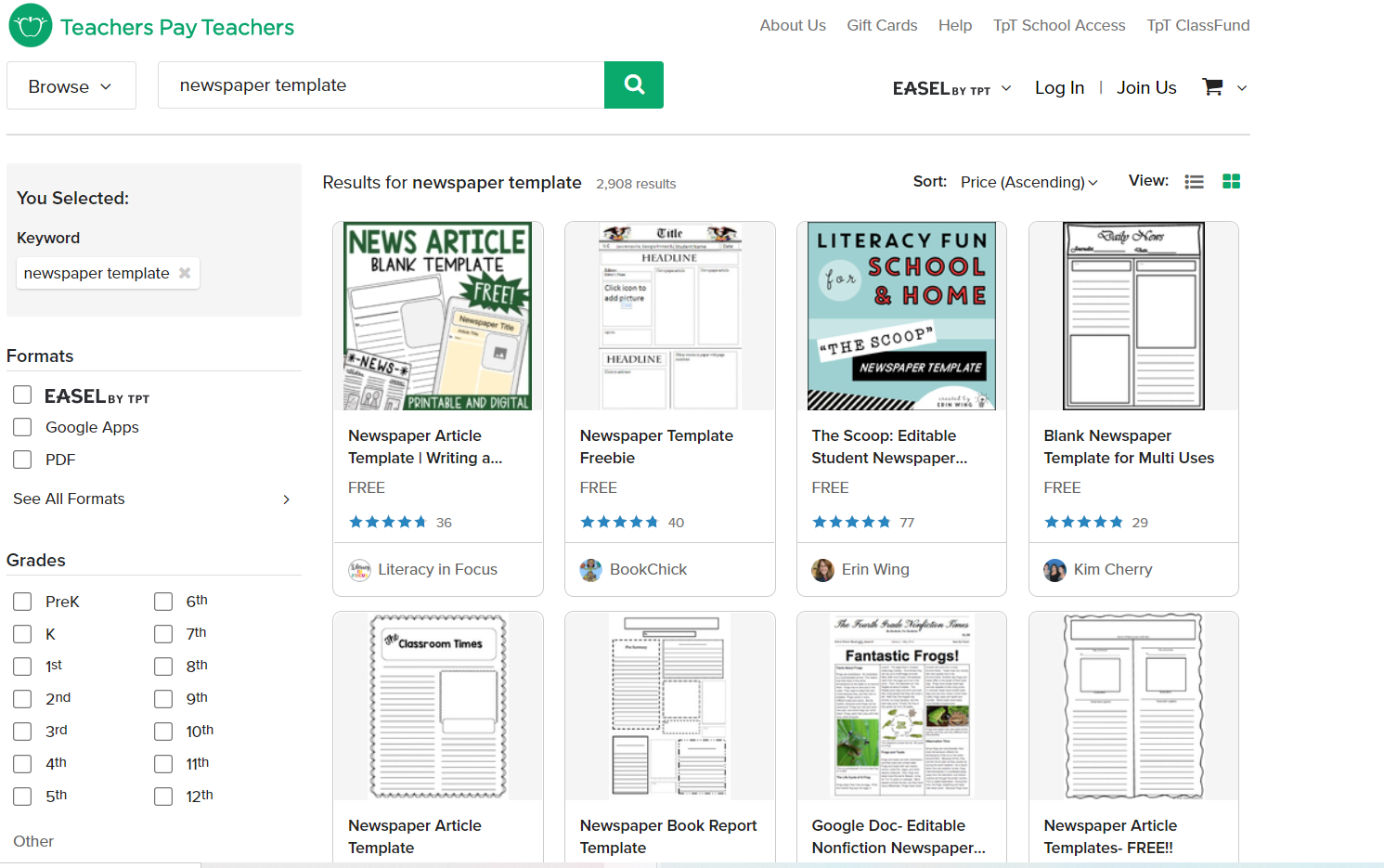 DexForm and Sample Templates provide some free report and school newspaper template resources in PDF/Word, and you can also find black and white newspaper template resources to use.
When you need to get a template from a famous newspaper for design reference, go to DocSlides site and download New York Times newspaper template Google docs or Microsoft word files.
When you have downloaded a template such as a blank newspaper template or a published newspaper sample, the main design elements are already there, so you can then edit it and add the info you want.
This brings us to the following part.
Edit and Personalize Your Template
If you have downloaded your preferred school newspaper template in PDF format, the next thing you need to do is open it up with SwifDoo PDF editor and start personalizing it.
With SwifDoo PDF, you can edit the template PDF, insert images and any other elements that you need directly into it, so you can make your newspaper stand out and look the part.
Let's dive into how to make your custom template with SwifDoo PDF template editor.
Step 1: Open SwifDoo PDF and import the PDF;
Step 2: Go to "Edit", "Insert Text" to make your newspaper template editable to type on your newspaper name or other titles. Before adding text, you can use "Whiteout" to erase the existing text;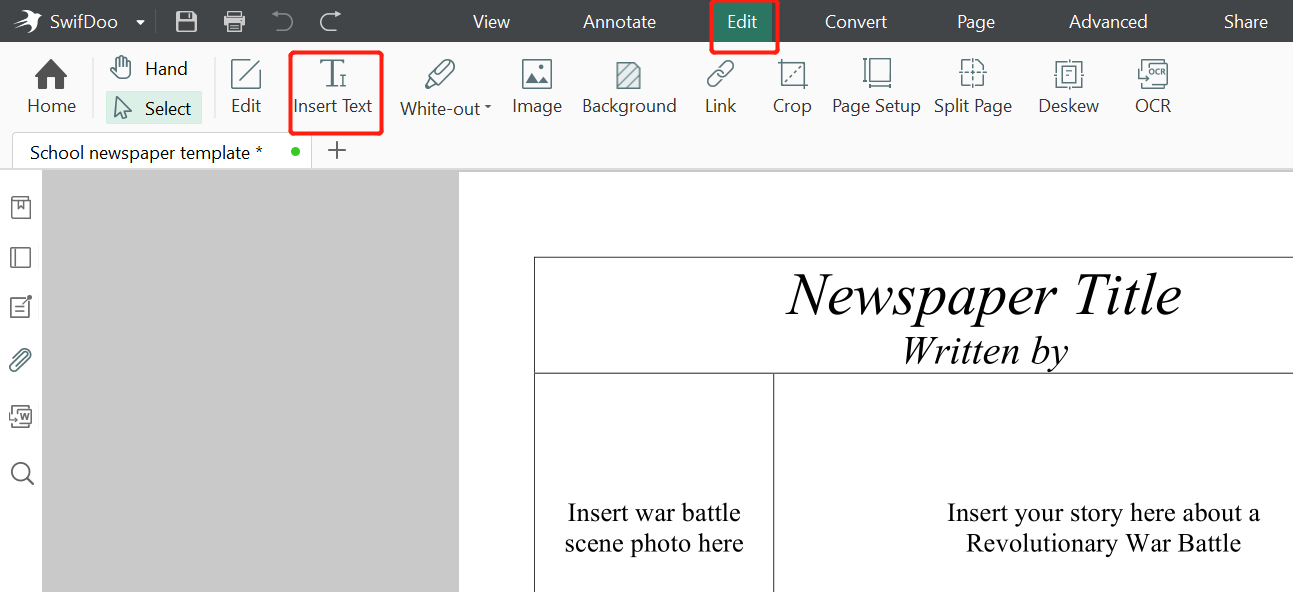 Step 3: Back to "Edit" and choose "Image" to add necessary images into the PDF. You can also click "Background" to add a background color or image to make your newspaper colorful.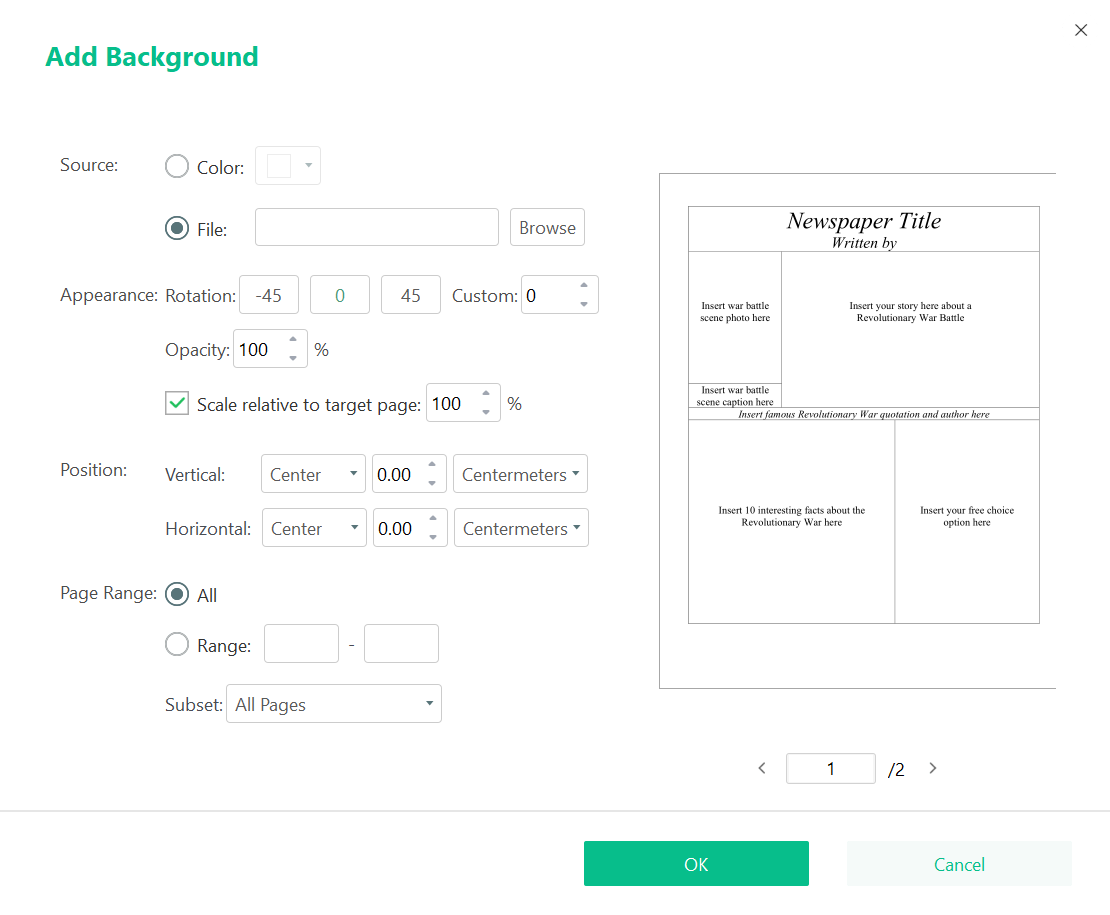 Alternatively, you can use SwifDoo PDF converter to convert your template PDF to a Word file to edit it. Here is the guide.
Step 1: Import your template into SwifDoo PDF software, tap "Convert" menu and choose "PDF to Word";

Step 2: Select saving path and hit Start to turn the template PDF into editable Word.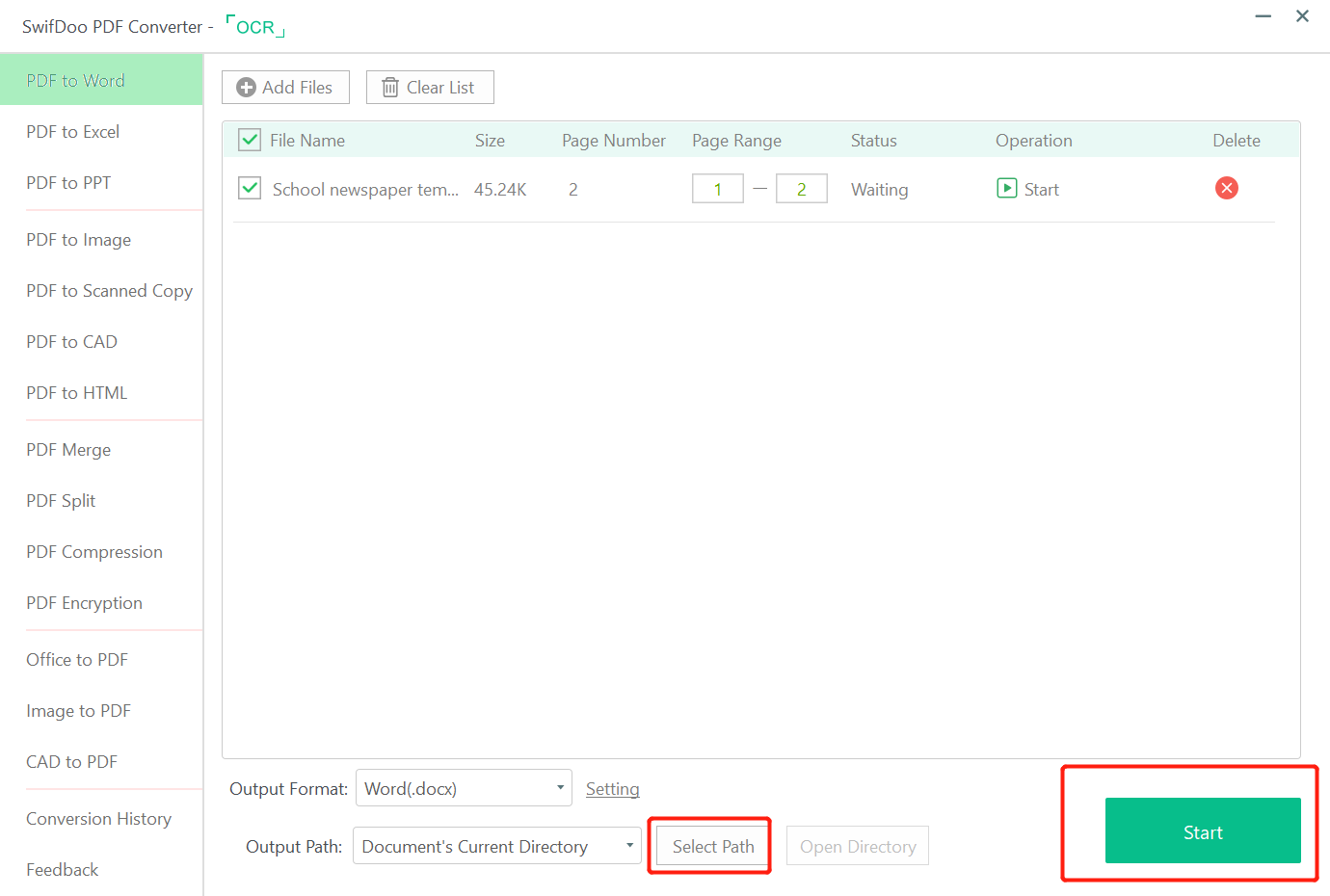 Once your school newspaper template is converted to a Word file, open it, make necessary changes, and add elements as you like. That's it.
Speaking of how to design a newspaper, there are several other factors to consider.
Use a Catchy Headline for your Newspaper
The whole idea behind a newspaper is to grab the reader's attention, and what better way to do so than with a bold, oversized, and dramatic headline?
Think of a catchy headline relevant to the main story that your newspaper is reporting on and think of clever and catchy puns to accompany it.
Use White Space
Even though the whole idea behind a newspaper is to report on, well, the news, you need to ensure you include plenty of white space in your design.
White space helps to break up walls of text and it helps the reader to digest key pieces of news without being overwhelmed by too much text.
Have Fun
Finally, as this is your newspaper, go ahead and have fun with it.
We know that a lot of newspapers can be designed to spread fear and propaganda, but yours is just a bit of fun for your school homework, so don't take it too seriously, and try to keep the content biased.
Before handing in your homework, don't forget to print out some copies of the newspaper you have designed and produced with the printable newspaper template PDF or the editable newspaper template Word file, just like a newspaper office would actually do.
How School Newspaper Design and Production Help You or Your Students
Designing and making a school newspaper requires generating ideas and topics, collecting materials, compiling information, layout design, etc. You almost need to be involved in every link of the work. Thus, it's a great way to improve your abilities in all these aspects. And you may impove yourself from the following practices.
During the production of school newspaper, you need to organize a team and cooperate with other students, which can develop your social and organizational skills.
In order to make the school newspaper content keep pace with the times, you should read a lot of extracurricular books, which will broaden your horizons and enrich your knowledge.
To design a newspaper, you can learn to use various tools, such as Photoshop to create pictures, Swifdoo PDF to convert and edit newspaper template PDF. It is a great learning experience.
All the knowledge and abilities gained in designing and making a school newspaper will help your job application and develop your future careers.
In schools, especially universities and colleges, there are many teachers and students who need to use PDF software to quickly make urgent changes to PDF files. If you are in charge of a school newspaper design, use SwifDoo PDF to get your work and study done more efficient and easier than ever.