Comics is intriguing, the purest form of entertainment. Comic books attract all ages people, and the appeal is undeniable. There are people associated with the most creative world who present classic comics for the readers. If you, too, belong to the creative category, read the article to get insights about comic books and comic template.
Comics recall our childhood days when various comic books were the only means of entertainment. Over the period, even in the funny world, there happened a drastic revolution. With the changing taste and preferences, comic books are different from our days. Our simple moral stories replace by guns, earth-saving elements, and many more. The modern components encourage readers to be glued to the storyline.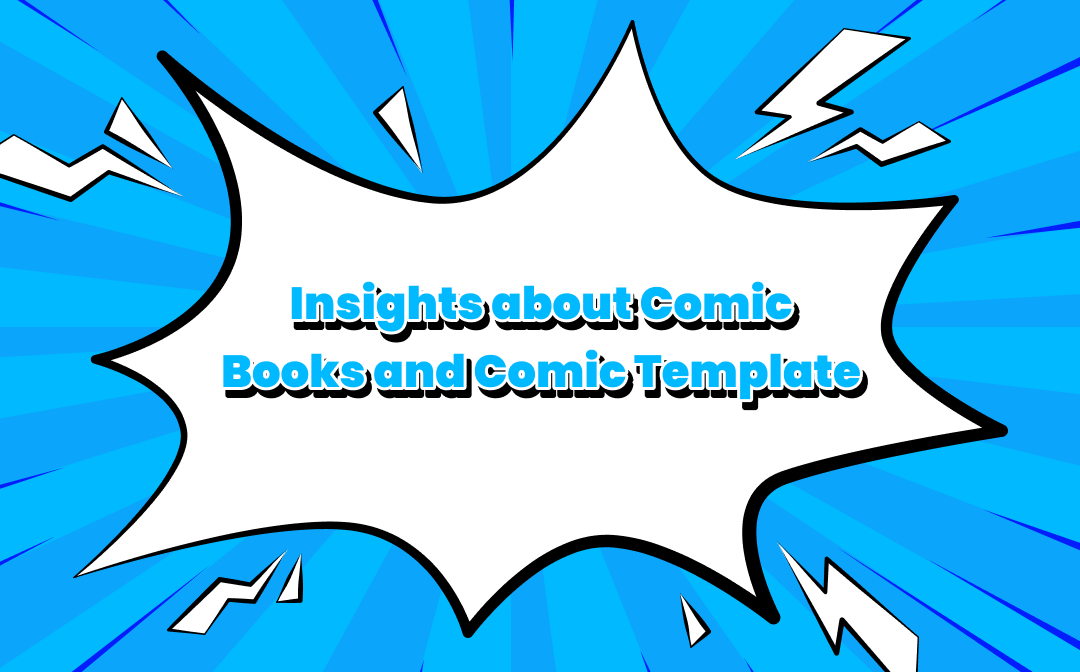 How the comic world has changed over time: A glimpse
In the 70s or 80s, Superman, Batman, and many other heroes won the hearts of large readers. There were days when Superman fought with eminent villains like General Zod or Lex Luthor and saved people with mere weapons. The Graphics were not as developed as today, so comic heroes fought with old versions of firearms with their dark characters.
Then evolution emerged, and with the help of technology, software, and the latest graphics, the year-old superheroes got the latest weapons. Surprisingly, now the landscape is vast, and superheroes have to deal with lethal weapons, intense conspiracy, and intelligent villains.
In our days, comic books are available for reading in hard book format. With the availability of the internet and computer now, they are available online. You can read for free but exclusive episodes are not free to access; you need to pay. You can download the pages for offline reading.
What is the impact of Comic books even in today's world?
Comics express a visual presentation of the storyline. The writers or narrators write the storyline and create visual graphics of various characters to represent the story in an exciting form. Other than reading, with comics, you can see the activities and actions that help develop the storyline.
Apart from entertainment, the usage of comics is vivid, including various social issues, government policies, health awareness, and many more. Thus comics have a significant impact on readers' minds as it quickly catches the attention, and the writer can humorously present his/her opinion. Finally, one can add a sense of humor and satirical presentation to make the narration interesting, eye-catching, and bearing a thoughtful message.
In a nutshell, we can say there's a list of positive effects of comic books even in today's busiest world:
You can read for your entertainment
The storyline can boost your boredom, and you feel fresh
The writer can help broaden your imaginative skill
You can resonate with the comic characters and find out your solution
You can learn new tricks and techniques about life skill
Thus, entertainment, comics, and their characters can influence your daily activities and intrigue you to think from different perspectives.
Comic Books and Comic Template: What are the Differences?
Comic books are available in the book format near the bookstore in your locality. Or you can access online comic books through Comixology (a cloud-based digital comics distribution platform that anyone can access). Comic Template is a bit different than books. When the writers create the characters, they need the template to express how the character speaks, how they fight with their enemies, how they care for people, and many more actions.
The template is a readymade form to describe the characters easily. The primary line starts with a comic strip template, where you will get a few lines or geometric figures. Next, you need to develop those lines or figures to make a complete picture. Hence, if you are to create a comic character and go through the comic stripe template, you need to develop it further with your innovative thinking and as per the storyline demands.
Thanks to the internet, both are now available online, and anyone can access them freely if they want to develop a storyline or introduce new characters to their readers' world. Isn't it interesting?
Comic books and Comic Template: The dual Renderation with PDF
Comic books have mass-appeal due to the excited storyline and the latest graphics they display. The most engaging comic books like Marvel, DC Universe, and Webtoon are available in pdf format. Why PDF? Because PDF gives the readers easy access to the pages they want to read, download, or save for repeated reading. Further, from any device, you can access those pdf books or templates; despite other devices, the layout of the content never changed. Want to know more advantages? Here they are:
You can download the pdf comic books of your favorite superheroes
The downloaded files' layout will be the same as the original books
You can read the pdf books online
You can quickly change the reading mode
You can select the reading mode anytime you want from the various modes list
You can access the pdf comics from your smartphone, tablet, or PC, whatever you have
You can share your PDF comic books with your friends
You can convert the comic stripe template into another format for further development
In this way, pdf books or templates can sort out your creative tantrum.
If you are searching for a pdf tool to read and access, pick SwifDoo PDF to assist you in the journey of reading and access pdf tool.
SwifDoo PDF Tool: Read the PDF books with Various screen Modes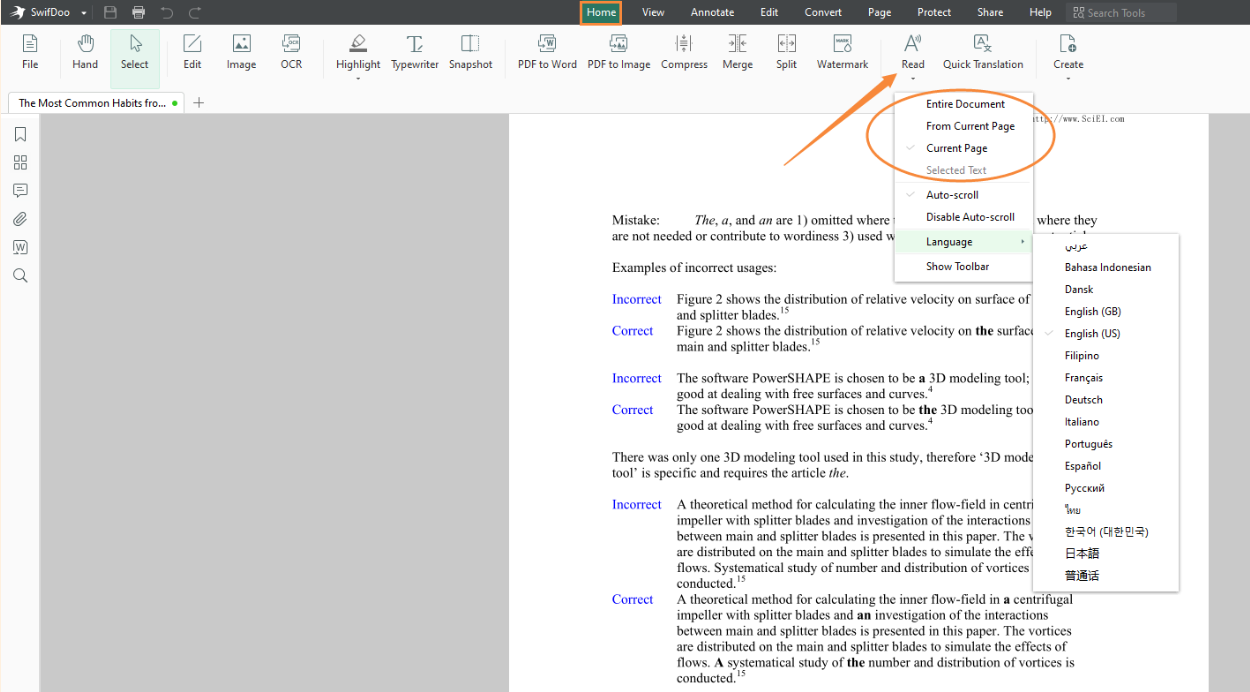 If you are an avid comic reader, pick the SwifDoo PDF tool to access your favorite pdf comic books online. You can easily read pdf books from any device available to you. Further, SwifDoo offers various ways to access your pdf comic books to read online. Full-screen or split-screen, which mode you prefer, you can switch easily before jumping into the adventure world of your favorite hero.
Why should you select SwifDoo PDF Tool?
There can be numerous reasons behind your selection. Among them are:
You can read pdf comic books with SwifDoo PDF without any hassle
You can switch the view Page mode for pdf reading.
You can select the page size you're comfortable with reading.
There are four reading modes available with Swifdoo PDF: Single, Continuous, Facing, and Book.
You can split the screen into four modes if you wish
Read the pdf comic books on full screen or scale pages per your preferences.
You can modify or alter the theme color of the software while reading your favorite hero and his adventure.
Slideshow mode is also available for the readers.
You can use Dictionary to find out a difficult word or phrase's meaning.
These are the most influential reasons for selecting SwifDoo PDF as your comic world journey. Additionally, you can bookmark, annotate and sign on your pdf comic books.
How SwifDoo help readers read PDF comic books with ease?
Reading comic books is a significant leisure time spent. You, too, can start reading today with the help of SwifDoo PDF if you don't know how to read the pdf comic books. Watch out for the below steps to learn how to read pdf books:
Step 1: Install the SwifDoo PDF software and run the program on your PC
Step 2: Open the interface
Step 3: Open the PDF comic books and click on View mode
Step 4: You can choose any one option from the reading mode list and start reading
Tips: You can switch the mode from one to another if you feel uncomfortable reading.
Final Words
Comic relief is necessary to add some fun or humor to our daily routine life. Hence comic books are an integral part of our daily dose of fun and entertainment. If you don't know how to read pdf comic books online, you can install the SwifDoo PDF tool to get easy access anytime. Further, if you are seriously pursuing the funny world and creating a comic stripe template, you can go for it to create your own storyline.