Since Christmas is nearing, you must be geared up to decorate your homes and rooms and invite your family and friends over. But can anything be more excellent than self-made customized decor items?
As Christmas paves the way for celebrations and new opportunities, you must not miss the moment to connect with your kids over paper craft creations. After all, paper crafts also shape learning activities for young children. So instead, why not try for a Christmas tree paper craft today?
So here is a list of all possible items and ideas you can try with your kids to begin with at the moment, and bond with them over these super-easy creations. Stay tuned to have a look.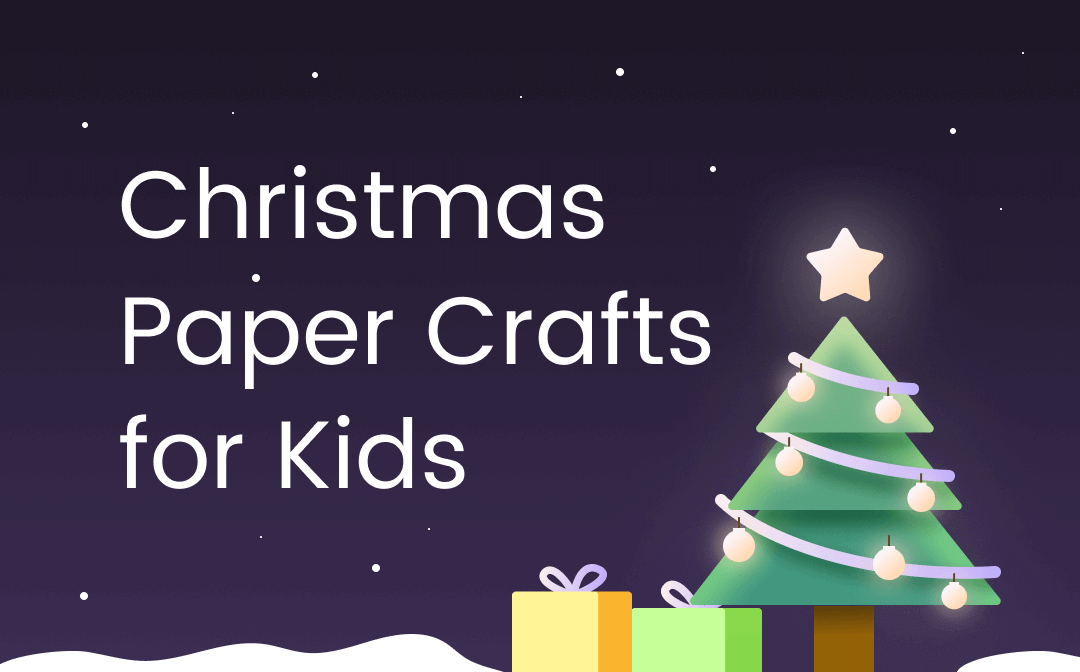 Christmas Paper Crafts Ideas For Kids
As Christmas is approaching, so should you with some exciting paper craft ideas for your kids. After all, kids love exploring their vast imagination with something as simple and cost-effective as paper. But, most importantly, working with papers can be absolute fun and easy.
Here's a round-up of activities to try with paper and make this Christmas season extra special.
1. Christmas Bookmark Corners
Santa bookmark
Reindeer bookmark
Christmas tree bookmark
Snowman Bookmark
Polar bear bookmark
2. Christmas Origami Projects
Origami Christmas tree/ 3D Christmas trees
Origami envelopes
Origami Star bowl/Star wreath
Origami paper box
Origami lucky stars
3. Christmas Paper Crafts Toys
Christmas multicultural Santa puppets
Reindeer paper puppets
Christmas Elf paper puppets
Christmas Flextangles
4. Christmas Paper Crafts
Paper Santa lanterns
3D paper Christmas Gnomes/ 3D Christmas tree cones
Kirigami stars
Giant paper bag
Snowflakes/ 3D paper snowflakes
5. Christmas Tree Ornaments, Gift Wraps, and Quilling Projects
Paper Baubles/ Paper Snowman
Kirigami paper bows
Quilled wreath earrings
Quilled Snowflake ornaments/ Rudolph gift tags
Quilled Christmas tree center pieces
Well, having stated the multiple ideas already, you must be excited to start with your therapeutic Christmas creations asap. So before sitting to begin your masterpiece, don't forget to check the list of frequently used Christmas paper craft materials to collect and keep ready beforehand.
Frequently Used Christmas Paper Craft Materials
Here's a list of items that come in handy regardless of your creations. Before starting with your Christmas paper craft, ensure to keep these things ready not to mess up your work or your kid's interest in between the magical creations.
White-colored printer paper (any size works perfectly fine)
Colored paper pad (works great for decoration purposes)
Construction paper (not mandatory, but it gives a sturdy finish to your creations)
Stationery items, including pencils, coloring pens, crayons, etc.
A pair of scissors
Good quality glue stick and tape
Glitter glue, decoration items like puffy paint, sequins, small paper shapes, buttons, ribbons, beads, etc.
These are just a handful of items, and you can use more as per your preferred choices. Christmas celebrations call for a Christmas tree mandatorily. So stay tuned for our guide to provide you with a helping hand in making a Christmas tree paper craft right away.
How to Make Paper Christmas Tree Craft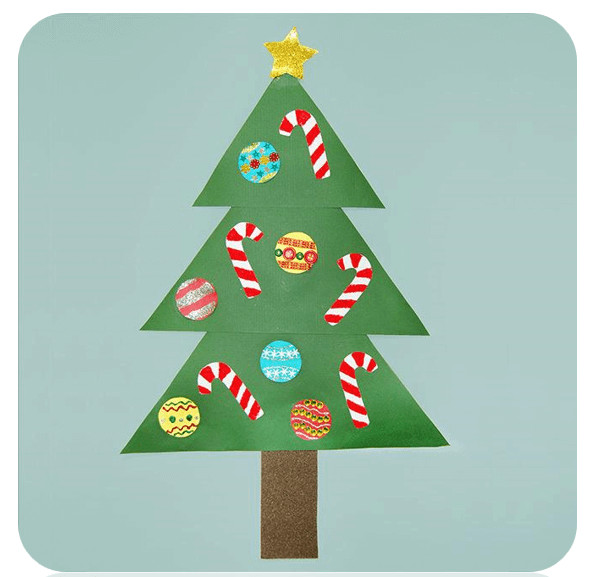 So here's a quick guide to help you get started with something without which Christmas celebrations are incomplete, Christmas Tree. Now, have a look at the rapid process of Christmas tree paper craft.
Step 1: Cut three to four green triangles in increasing size depending upon the size of your Christmas tree. You can use green-colored construction paper for a sturdy look.
Step 2: Next, glue the triangles together in a way to keep the largest triangle at the bottom and the smallest triangle at the top to form a Christmas tree.
Step 3: Make a tree trunk using rectangular brown-colored construction paper and glue it at the tree's back, near the bottom.
Step 4: Now, using the colored papers, cut out bells, bows, stars, candy canes, circles, and other shapes to decorate your tree.
Step 5: Decorate the shapes using crayons, colored pens, glitters, sequins, beads, rhinestones, tiny pom poms, lace, washi tape, rickrack, etc., and let it dry thoroughly.
Step 6: Finally, decorate the tree with these shapes using glue or tape, and place it wherever you want.
Wasn't it easy and exciting? Similarly, you can browse the net and try more paper craft items with multiple designs and guidance to it.
The Availability of Paper Crafts
The Internet is flooded with ideas, guidance, printables, and templates. All you must do is access them to get started. Multiple websites provide paper craft ideas and steps in PDF format for greater convenience. Once downloaded, you can easily access these PDFs anytime through the SwifDoo PDF.
If you have stored your ideas in Word or other formats, using the SwifDoo PDF software, you can quickly convert your documents to PDF format and merge your files to access all the ideas at a single click.
Quick Wrap Up
Paper crafts can be modified into a group or class activity where kids can create and decorate a bigger Christmas tree paper craft together. So instead of investing in expensive Christmas gifts, indulge in the art of paper creations to gift your loved ones the pure joy of love. Customize your creations and designs as per your preferred choices and grow your kid's mental ability in this fun learning activity.