Over the years, anime has gained widespread popularity. The Japanese anime and Manga characters are ruling the digital platforms and book stores. As interesting and exciting as the anime characters may appear, they are simple yet exaggerated. Have you ever been fascinated by these characters? Whether or not you are an ardent anime fan, you must have wished to draw an anime body character for once.
Despite knowing the proper fundamental techniques, you sometimes fail to get the natural balance to your character's outlines. But you need not be disheartened anymore as here we have got you covered with an anime body template that you can edit and take help to sketch one yourself.
We have also provided you with complete details on the anime body base and proportions so that you can quickly create an anime body drawing. Of course, some tips can help you save the day and ace your anime sketches. Stay tuned for a quick anime catch.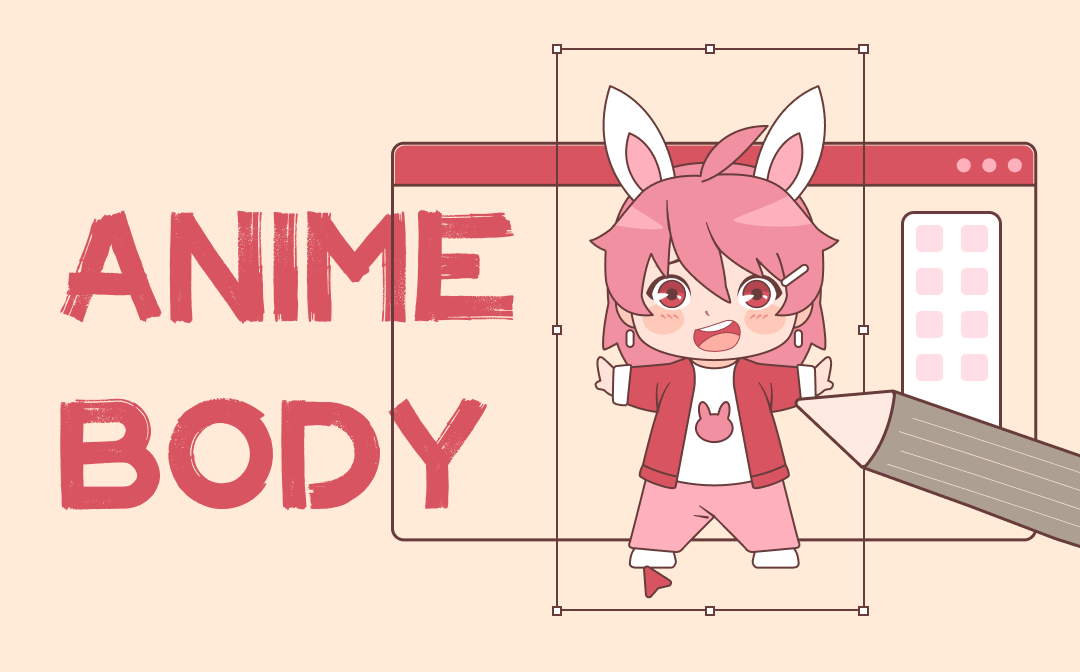 Anime: Modernizing and Uplifting the Cartoon Industry
Anime is a type of cartoon and animation that combines various art forms like colorful graphic art, cinematography, and characterization and has recently grown to be recognized as a genre globally. Usually, the anime characters are vibrant and have a relatively sizeable doe-like eye.
Animes are famous for their story themes and characters. Each character has a specific anime body. Generally, anime artists use particular tools to create various characters. Some of the tools are:
Leads
Mechanical pencils
Inks:
Traditional Inks: India ink, Drawing ink, Industrial ink
Special inks: IC Comic Super Black, Kuretake Manga Black
G Nib
Round Nib (Maru circle)
Turnip Nib (Kabura)
Wide marker
Paint Brush marker/pen
Rapidograph
Opaque white
White correction fluid
White ink
What Are the Different Types of Anime
Anime has risen from a cartoon form to a full-fledged animation industry. The globally renowned anime types are:
Shonen
Josei
Kodomomuke
Shojo
Seinen
What Are the Popular Anime Styles
Anime has developed various forms of art styles. Some of the mind-blowing and intriguing anime styles are:
Kawaii art style
Moe art styles
Realistic art styles
Beautiful art styles
Chibi art styles.
Weird art styles
Cartoon art styles
CGI art styles
Ecchi art styles
Standard art styles
Measuring the Anime Body Proportions Right
Drawing an anime right is a game of proportions. Once you ace the knowledge of head ratios, you can even sketch yourself as an anime character. To calculate the head-to-body size ratios, usually, you can refer to the character's head size.
Here we have provided you with the head proportions to draw the anime characters of different age groups. These are the standard proportions of an anime character, but they might vary for different anime styles and artists. For reference, we have used the example of a natural human head-to-body proportion.
● Real Human Proportion:
A head-to-body proportion for an average human height is 1:7 or 1:8. Which means that an average human's head size can fit 7 to 8 times in his entire body.
● Anime Head-to-Body Proportions:
The head-to-body ratio differs for Manga. The proportions that can be used for different stages of your anime characters are:
Chibi: 1:3 size
Child (1-year-old baby): 1:5 size
Pre-teens (12 to 16 years old): 1:5 size. However, the proportions might vary for a female anime body.
Teenagers and young adults(16 to 30 years old): 1:6 size
Adult: 1:7 size
Anime Body Base: Defining Silhouettes and Their Characteristics
Before creating the base of an anime body, you must know that there is a difference between the female and male anime characters and their specific characteristics. So let's quickly check the considerable differences to be sure of while designing your anime body.
● Difference in silhouettes:
Men and women anime characters have different body outlines. While the female bodies use circle shapes, the bodies of men are drawn using an upside-down triangle and straight lines. Generally, men are comparatively taller and have broader shoulders and a heavy torso.
● Female anime body base:
Females have curvier bodies than men. Some quick tips to get you started are:
Hourglass body silhouette (8-shaped torso)
Defined curves
Slim shoulders and neck (about 1.5x the head's width)
Large chest
Tiny waist (equal to the head's width)
Large hips (about 1.8x the head's width)
● Male anime body base:
Usually, male bodies have a square-shaped torso and pelvis. Some easy, elementary and quick tips to get you started with a male anime character are:
Wide chest
Small hips
Angular body line
Broad shoulders (approx 2x the head's width)
Thick or wide neck
Anime Body Template: Format and Layout of Anime Body Structures
Suppose you are an artist or someone who has a keen interest in art forms, especially anime characters, or if you want to gift a handmade anime character card to an ardent anime fan. In creating an anime, the body base can be complex, especially if you are new to this field and anime is not your forte.
But here is the trick. An anime body template can come to your rescue anytime. These templates are available online, so practically, they are only a click away. These can assist you with editing your anime body drawing. You can simply take print of these sketches and color them as per your needs or cut them to paste on your cards.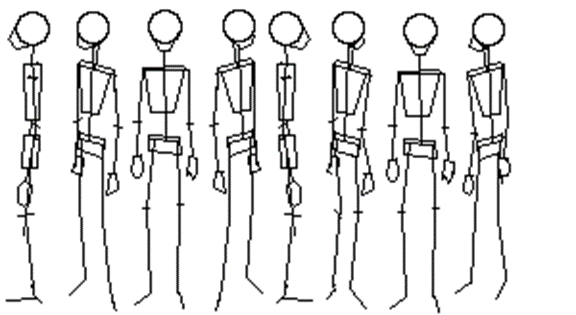 A handful of websites where you can quickly access, download, and print your templates are:
Pinterest
Papik pro
Anime outline
Anime bases
Clipart max
HT draw
Sporistics
Okuha
Etsy
Issuu
Deviant art
STL Finder
Matahari
Drawing for all
Typically, an anime body template is in PDF format. Despite having ease in accessibility, you would need a professional PDF tool to open these templates on your device. So you can use SwifDoo PDF Reader to open and read these templates and your PDF documents on the go.
SwifDoo PDF software also allows you to create and edit these templates to customize your needs. For example, you can arrange all your downloaded templates at a place in its library and choose to compress and merge them to suit your needs while retaining their original quality.
With SwifDoo PDF, you can also create your anime PDFs and share them with the online community to spread the joy.
How to Create an Anime Body Drawing Seamlessly
Creating an anime body requires the knowledge of some basic techniques. But, of course, having the right soft skills is an add-on beauty. Whether or not you have the inborn talent, you can try a sketch using a simple step-by-step tutorial provided below:
1. Sketch a skeleton:
It would be best if you sketched a skeleton to have a basic outline of your anime character. You can use random geometric shapes like squares, circles, ovals, and straight lines for a rough idea. The order of the silhouette includes:
Head
Spine
Chest
Pelvis
Limbs
2. Draw a crosshair:
Now proceed with future details by drawing a crosshair on the head. Draw a neck and torso using a cylindrical shape. Your torso must taper a bit at the waist.
3. Create joints and limbs:
Now using the ball shape, you must create the joints of your anime and add volume to the limbs using cylindrical shapes.
4. Sketch the facial features:
Now that your anime's primary outline is complete, you must start sketching the features. Then, start with the head and use the crosshair technique to trace the facial features.
5. Detail the body outline:
Now formulate the body outline of your anime using smooth lines. Then, you must connect the details neatly, visualizing your character.
6. Add details to facial features:
Now add details to the facial features of your anime. Sketch the eyes, then nose and mouth of your character. Trace the elements using dark and clear lines. Remember to remove the unnecessary guidelines.
7. Draw the upper body:
After sketching the detailed features of your anime's face, trace and draw the torso and limbs of his body, draw the details for muscles and fingers, and remove the unnecessary guidelines from the upper body.
8. Draw the lower body:
Now trace and sketch the details of the lower body of your anime. It includes portions like the legs, muscles of the legs, and toes. Once complete, you must erase the unnecessary guidelines from the lower body.
9. Check for the necessary details:
Since your anime body drawing is complete, you must inspect it thoroughly and wisely to check for any mistakes.
10. Add shade and ink to your anime:
Your anime body is ready to be inked. Using hatching, you can draw shadows to add depth, mass, and roundness to your anime. You can also choose to ink your sketch over the lines or use a white jelly pen to add highlights and reflection to the minute details of your character.
Pro Tip: You can use the online available anime body template to edit according to your needs and save time and effort.
General Tips to Follow While Creating an Anime Body
Since sketches and drawings are primary art forms that require skills and cannot be learned in a day, practicing them regularly can help you achieve perfection. However, you must be mindful of some general tips to follow as a routine to level up your artistic skills and, in turn, ace your anime body drawing. Some tips that you can follow are:
Watch anime characters closely.
Get in the habit of drawing.
Understand and sketch your art from a 3D perspective.
Learn the art of holding your pencil right.
Understand the value of light and dark shades.
Create value scales using stippling, cross-hatching, and traditional shading.
Focus on the proportions.
Learn to sketch from other artists' references.
Be mindful while selecting your references.
Explore different drawing styles; you can also try art forms other than anime.
Don't get discouraged by people's opinions and criticisms.
Take criticisms heartily as a motivation to improve your following sketch.
You must not focus on anime alone; get inspiration from real-life things to achieve an artistic flair.
Enjoy your drawing experience and measure your progress successively.
Practice is the key to perfection.
A Quick Sum Up
Lately, anime has taken up a lot of space. From releasing editions in novels to digital platforms using our screen time, anime has slowly yet steadily managed to capture a large chunk of space in our hearts.
If you are looking to create an anime body, we have provided you with multiple websites that can help you with downloading the anime body template. Some additional tips always come in handy to ace your game, keeping the spirit and motivation in you burning high. Following these tips and tutorials, you can draw any anime character.
To create an ideal anime body drawing, you must be thorough with the anime body base. We have already detailed you with the anime base and proportions information to help you kickstart your anime sketching journey.
So draw an anime sketch like your favorite character or your anime form and hang it on the walls of your room or gift it to your loved ones or a passionate anime fan today.