Change is inevitable and is bound to happen. But do you feel your drive for change has been nipped in the bud? Instead of being paralyzed by fear, you must keep moving, as doing something is a lot better than doing nothing.
Who Moved My Cheese steps in to inspire you and ignite your flames of zeal to muster up the broken courage and work towards a successful life. It tells a parable that you can directly apply to your own life. Stop fearing what lies ahead and dive into an environment of change and uncertainty. After all, no matter how much 'Cheese' you get in life, there's always scope for more!
"Life moves on, and so should we" is a famous quote from Who Moved My Cheese that should inspire you to know that once you stop feeling afraid, you feel good. And if you fail to change, you can become extinct!
So without wasting time, let's together look for the cheese!
Basic Info of Who Moved My Cheese
Book Name: Who Moved My Cheese
Originally Published: 7th September 1998
Author: Spencer Johnson
Original language: English
Genres: Motivational/Self-help book/Business fable/ Leadership/Psychology/Parable
About The Author: Dr. Spencer Johnson
Dr. Spencer Johnson has authored Who Moved My Cheese book. Johnson was an American physician and author born on 24th November 1938 in Watertown, South Dakota, U.S.A.. He left his medical career behind to pursue his passion for writing short books about life and children's tales that have been translated into 26 languages. He has co-authored many management books adding his own books to the 'One Minute Manager' series.
His last book, Out of the Maze, references his struggles with cancer (that eventually led to his death) and is a sequel to Who Moved My Cheese and was published posthumously in 2018.
Who Moved My Cheese book is still relevant in today's time, inspiring generations to become encouraged and set out on their excursion or journey to a bright and prosperous future.
About Who Moved My Cheese
Who Moved My Cheese is for you to become a champion of change. The book explains different situations through its characters where you must stop thinking too much about the cheese and instead start chasing it. No matter how big the cheese is, it won't last forever. So you must try to see the change coming and embrace it warmly. There's always new cheese to be found, so the moment you start working, things will automatically improve.
Who Moved My Cheese characters represent the central theme of the book. The story has two mice, namely, Sniff and Scurry, and two little people (similar to the size of mice) named Hem and Haw, who reside in a maze and look for 'cheese.'
'Cheese' is a metaphor that represents everything you want in life – happiness, a good job, money, loving relationships, possessions, peace of mind, or blissful health. While 'maze' is the path where you search for what you want – your workplace, family, school, community, etc.
While Sniff and Scurry spend most of their time running through the maze's corridors looking for cheese, Hem and Haw, too, spend their days in the labyrinth finding cheese, but it is not because of their hunger. They feel getting the cheese will make them happy, prosperous, and content. However, their complex brains make them think a lot, and every time they turn to an empty corner, they wonder if there's any cheese in the maze.
This act is synonymous with life. Every minute thinking of what the future holds for you or what success looks like, you are losing 60 seconds of your energy that you are not channeling to work towards. While humans are complicated, you need not complicate everything. Instead, be the mouse and start working towards it.
Who Moved My Cheese summary is all about management that describes an elementary pattern of welcoming change, finding success, being on the lookout for more change, and adopting it again to encourage you to develop a positive and confident attitude about life.
Where to Download Who Moved My Cheese eBook
This book has sold over 50 million copies worldwide in 47 languages. So you must have your hands on the Who Moved My Cheese PDF/eBook asap to elevate your ability to embrace and adopt change. It encapsulates the importance of being able to deal with sudden change. Johnson's way of narration and unique insights give you an indelible impression of managing change.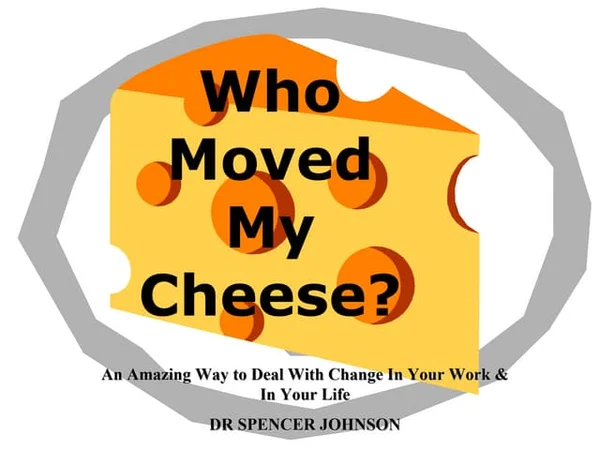 If you have ever purchased or downloaded Who Moved My Cheese from online eBook stores or any other sources, and are looking for a tool to convert the eBook formats in order to read on a selected device, you must download SwifDoo PDF to have a try.
It offers the most powerful functions for decrypting and converting any eBooks to PDF and ePUB.
Or you can continue reading Who Moved My Cheese online.
Read Online
Who Moved My Cheese book explains that instead of being preoccupied with your money and belongings, you must not fail to notice that your 'cheese' is disappearing each day. You need not be in denial and feel depressed about it. Instead, buck up and venture out to find new 'cheese.' Don't be in denial that things will stay the same forever; rather, be sound of your surroundings and always be ready for change.
Who Moved My Cheese: What is the Main Message of Who Moved My Cheese?
Who Moved My Cheese book is an allegory about change that could be anywhere – life, work, family, etc., telling you how to follow the correct approach to managing change. You must act as a Producer (Scurry) or Innovator (Sniff) and lean forward to detect and discover the changes and make them work in your favor. Instead of running from your fears that the changes might have in store, you must lean into changes and embrace them open-hearted.
Also, you must learn from Hem (Stabilizer) and Haw (Unifier) to make things systematic and organized and care for others while ensuring everyone works efficiently as a team. Initially perceived as a business book, Who Moved My Cheese is for everyone with a constant drive for change.
The Final Words
Who Moved My Cheese book is a fable that teaches that once you find the courage to move on, your fear's grip on you will eventually be loosened, and you will outgrow yourself toward a happier and more successful future. The actual challenges are not as enormous as the accumulated fears in your mind that stop you from moving forward. But once you take a step ahead, you not only explore the environment but, in the process, you explore yourself too – full of confidence to enjoy your new-found cheese!