Change is inevitable, and hope is the thing with feathers that guides one to keep moving no matter how harsh the circumstances might be. If you are hopeful, you can crawl through all the hardships.
To keep walking ahead with courage, you should constantly remind yourself of one of the famous quotes from The Shawshank Redemption, "I hope."
If you want to revive and awaken your lost hope, The Shawshank Redemption book is an absolutely brilliant story, something you should grab your hold on. It is a spellbinding tale of unfair imprisonment and offbeat escape with a seasoning of suspense, mystery, and a gut-wrenching plot where the characters bring out your emotions in the finest way.
The Shawshank Redemption Book Info
Book Name: The Shawshank Redemption
Originally Published: 1st January 1982
Authors: Stephen King
Original Language: English
Genres: Crime Fiction, Horror Fiction, and Suspense
The Shawshank Redemption: The Author
Who wrote The Shawshank Redemption book? Stephen King.
Stephen Edwin King was born on 21st September 1947 in Portland, Maine, U.S., to Donald Edwin King, a traveling vacuum salesman, and Nellie Ruth Pillsbury King. In 1967, he made his first professional short story sale, The Glass Floor, to Startling Mystery Stories, and continued to sell stories to men's magazines throughout the early years of his marriage.
In the fall of 1971, he began teaching English at Hampden Academy in Maine and continued producing short stories and novels. He rose to fame as a bestselling American novelist who has written over 200 short stories. Apart from reviving horror fiction, Stephen has also published a series of comics, The Gunslinger Born, based on his The Dark Tower series. He has also authored many other genres of suspense, science and fiction, and fantasy novels.
Stephen has won many awards, including the World Fantasy Award for Life Achievement and the Canadian Booksellers Association Lifetime Achievement Award. His book, Rita Hayworth and The Shawshank Redemption, was adapted for the screen in 1994 as The Shawshank Redemption and was nominated for seven Academy Awards, including Best Picture. The Shawshank Redemption play was even staged for the Gaiety Theatre, Dublin, in 2009.
The Shawshank Redemption: The Review
Is The Shawshank Redemption a true story? No. It is entirely a work of fiction by Stephen King, who manages to bring his characters to life.
The Shawshank Redemption is a quintessential tale of hope and friendship. More than anything else, hope drives the prisoners at Shawshank and motivates them to live.
In a nutshell, Red narrates the story about the human spirit of the protagonist, Andy, a banker, and his struggles in the Shawshank Prison. He is held in jail for killing his wife and her lover, but in turn, he is chased around by rapists, compelled to do tax work for the guards for free, and is subject to the worst treatment. At one point, Andy loses all hope and slips into depression, but eventually, he musters up the courage to light up his soul and flee from Shawshank prison.
In the 1940s, when Andy got thrown in jail, he formed a friendship with Red, a fellow inmate, and Rita Hayworth was famous as a pin-up girl back then. So Stephen uses her poster to denote Andy's lock-up period and how it connects with Andy's prison escape.
The Shawshank Redemption book has three tritagonists, Brooks, Heywood, and Tommy Williams, who are inmates at Shawshank State Prison, where Brooks Shawshank Redemption plays an important role.
He was at Shawshank for five decades, from 1905 to 1955, as he was sentenced for the murder of his wife and daughter. He serves as the prison's librarian and helps Red smuggle goods to other prisoners.
However, over the years, Brooks got comfortable with Shawshank and considered 'the prison' his real home. He was institutionalized, and his parole didn't go well with him. After his release, Brooks couldn't adjust to the real world due to the institutional syndrome and missed his inmates, especially Jake. However, there was no way of getting back to Shawshank, so he committed suicide by hanging and eventually died in 1955 at the age of 73.
The Shawshank Redemption E-Book
Stephen King draws his readers' attention merely through the vague title that leads them to read the book and get the sense behind it. King's Rita Hayworth and The Shawshank Redemption: A Novella in Different Seasons has ruled the TV screens and theatre stages since its release. Its popularity has even made it available as an e-book to read it anytime on the go. The Rita Hayworth and The Shawshank Redemption PDF is available online. You can improve the reading experience with a free PDF reader, SwifDoo PDF.
The book is an allegory for maintaining one's feeling of self-esteem when put in a specific position. Unconditional love and kindness, hard work, cooperation, and compassion are the moral values of The Shawshank Redemption that inspire you to read it once. It depicts friendship, hope, and redemption most simply and eloquently.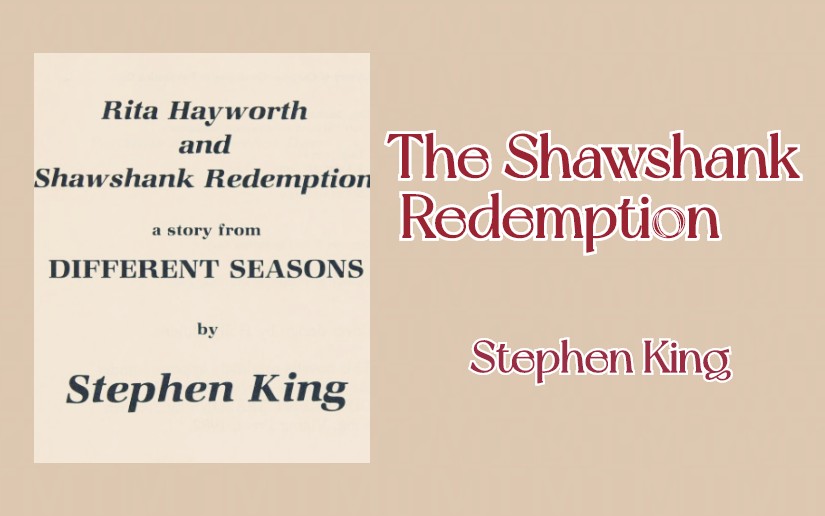 The Shawshank Redemption - Stephen King
If you have ever purchased or downloaded The Shawshank Redemption from online ebook stores or any other sources, and are looking for a tool to convert the ebook formats in order to read on a selected device, you must download SwifDoo PDF to have a try.
It offers the most powerful functions for decrypting and converting any ebooks to PDF and ePub.
Or you can continue reading The Shawshank Redemption online.
Read Online
What Is So Special About the Book?
The most remarkable thing about The Shawshank Redemption is its theme of hope, faith, and humanity and the implausible friendship that develops between the two inmates, Andy and Red. The book shows an incredible journey of hope, courage, and undying will.
Some The Shawshank Redemption quotes are bound to forever give you goosebumps, like the one where Andy says, "Hope is a good thing, Red, maybe the best of things, & no good thing ever dies." and the one where Warden Norton says, "Salvation lies within."
People like The Shawshank Redemption because it is inspiring. Despite being confined in a hopeless place with toxic surroundings for many years, its central theme, 'Hope,' compels Andy to think of a new and free life and dig his cell wall with a rock hammer; as a result, he is rewarded with freedom. Hope inspired Andy to write letters to the State Government for six consecutive years to acquire funds and renovate the prison library, which Norton, the warden, considered impossible.
Though the prison was a new place for Andy, he never accepted his deprivation from his real position and, thus, never 'adjusted' to the place. Instead, he just kept himself busy making his life and time at Shawshank meaningful in all possible ways and kept figuring out the way to somehow get out of it.
In Closing
The Shawshank Redemption book is a perfect example of persistence pays off. It defines hope's beauty in various aspects and teaches the lesson that if one believes he will fail, eventually, he will. So instead, one must be hopeful in all walks of life and believe that despite the bleak circumstances, things can and will get better. There's always a potential for things to get a cut above the prevailing conditions if you have hope. But the other side will never be revealed if one doesn't take chances. For instance, Andy could survive the trials and hardships of prison only because his spirit could not be shaken and broken.