Love and Other Words is a popular romance novel about two childhood sweethearts. They've been ripped apart from a tragedy for a decade but happened to reconnect when they grew up. What on earth stops them from talking to each other for eleven years? Will they face what happened straightforwardly and find a way out?
The book's name (Love and Other Words) has already told you what you're going to read. It tells a story about love, friendship, humor, spice, growth, etc. Once you grab this book, you cannot put it down unless you finished it. Let's get more information by reading the following content.
contents
Christina Lauren: Author of Love and Other Words
Christina Lauren isn't just a person. It's a combined pen name from the best friends and writing partners Christina Hobbs and Lauren Billings, who are good at writing contemporary fiction, teen fiction, and romance novels. They met each other while writing fanfiction online in 2009 and became co-authors a year later. Until now, they have produced nineteen New York Times Bestselling novels, and their work has been translated into over 30 languages. And they have been featured in publications such as Forbes, The Atlantic, The Washington Post, Time, Entertainment Weekly, and more.
Before becoming full-time writer, Christina and Lauren had a different life. Lauren Billings obtained her doctorate in neuroscience from UC Irvine and then spent her days studying neurodegeneration in the elderly. While Christina Hobbs used to work in a junior high counseling office surrounded by teenagers.
In addition to Love and Other Words, Josh and Hazel's Guide to Not Dating (2018), The Unhoneymooners (2019), The Soulmate Equation (2021), The True Love Experiment (2023), etc., have all achieved great success.
Love and Other Words Book Summary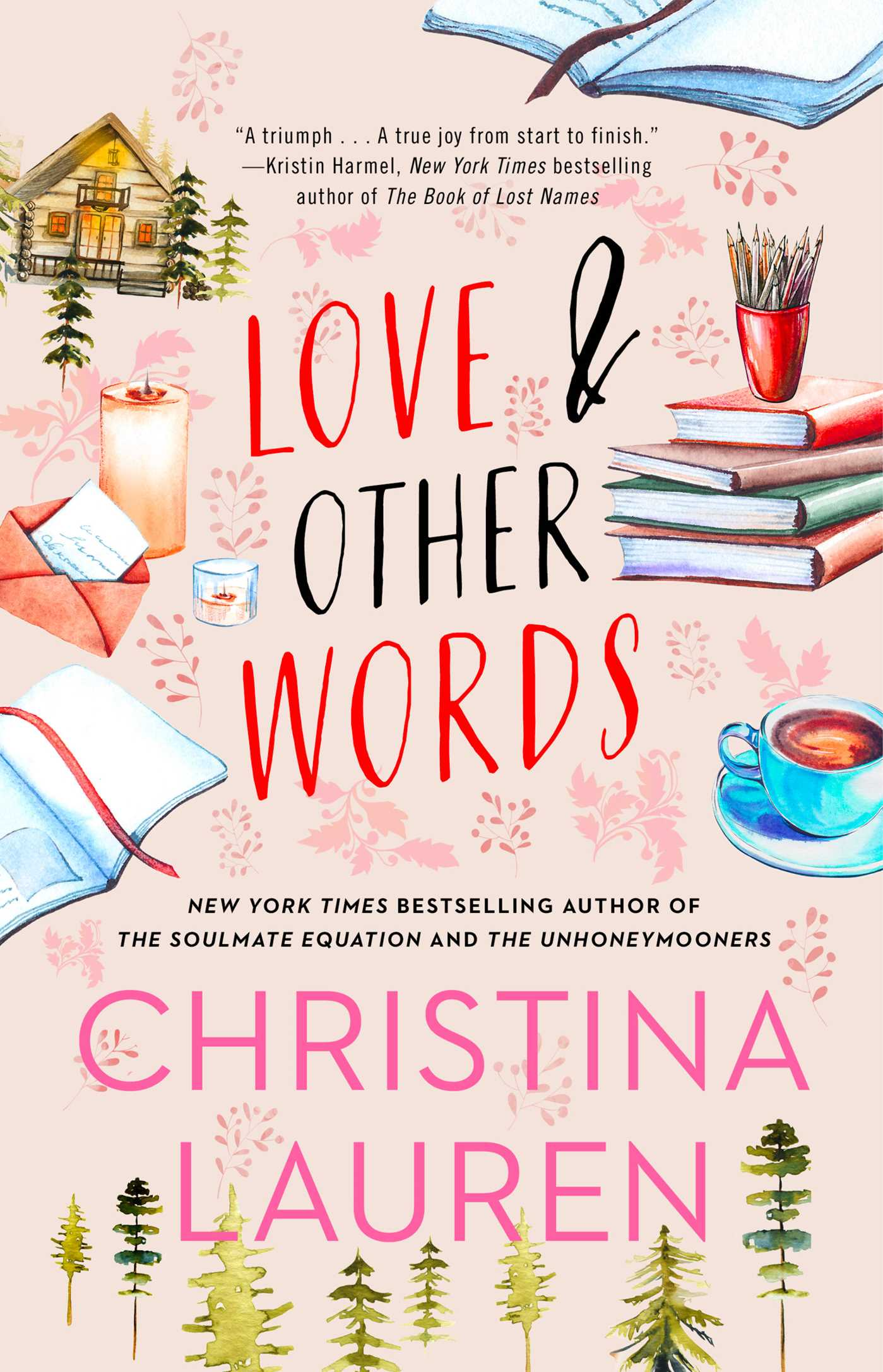 Love and Other Words is a contemporary romance novel written by Christina Lauren. The story explores the complexities of love, friendship, and the choices we make throughout our lives. It combines elements of both a coming-of-age and second-chance romance, providing readers with a heartfelt and emotional journey.
The novel follows the life of Macy Sorenson, who, as a teenager, had a deep connection with a boy named Elliot Petropoulos. They were inseparable friends, sharing their dreams, secrets, and passions. However, due to a traumatic event that tears them apart, Macy loses contact with Elliot and is left with a broken heart.
Years later, Macy is a successful pediatric resident with a loving boyfriend. Her life seems well-ordered and stable, but she still carries the emotional scars from her past. When she unexpectedly crosses paths with Elliot, her world is turned upside down. They quickly rekindle their friendship, and as their connection deepens, Macy must confront her unresolved feelings for him and the choices she made in the past.
The novel alternates between Macy's past and present, allowing readers to understand the depth of her relationship with Elliot and the pain she experienced when they were separated. The story explores themes of loss, healing, and the enduring power of first love.
Read Love and Other Words PDF Ebook
Amazon offers you various options to read Love and Other Words, including Kindle version, audiobook, hardcover, paperback, and audio CD. However, there's a more convenient way to read books: downloading and reading PDF eBooks. PDF is considered the most lightweight file format, and it's compatible with all OS and devices. A PDF file can be opened without requiring a dedicated PDF reader, making it effortless to view. Nevertheless, when reading PDF eBooks, a specialized PDF reader provides practical features to help you add comments on a book, enabling you to easily write down your thoughts.
Here, we'll introduce you to a lightweight and all-around PDF reader & editor named SwifDoo PDF. With its aid, you can highlight any word or sentence in Love and Other Words PDF, as well as annotate a specific paragraph. What's more, it also allows you to convert PDF text to speech, enabling you to listen to PDF eBooks hassle-free, as well as serving as a PDF translator, eliminating all language barriers.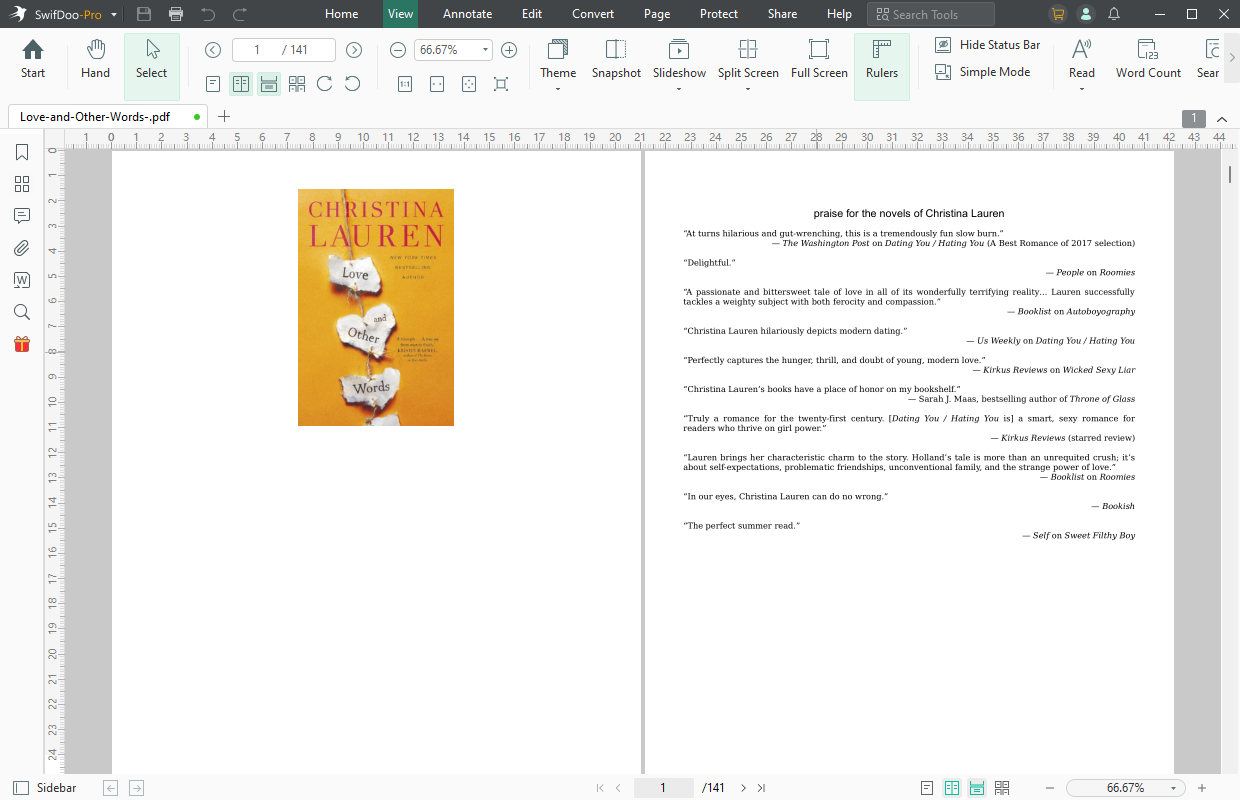 Best Love and Other Words Quotes
It's a perfect description. I never got to fall out of love. I just had to move on.
"Limerence." There's no other word like it: The state of being infatuated with another person.
"Why can't everyone be like you?" "I can be enough of your world that it feels like everyone is."
"Favorite word?" he whispers. I don't even hesitate: "You."
"I never got to fall out of love. I just had to move on."
"I've been waiting for you to come home for eleven years. I'll go anywhere you go."
"Treat your body carefully. Take care of it. Don't let anyone abuse it, and don't abuse it yourself. Every inch of your skin I made diligently; months I slaved over you. You are my masterpiece."
"It never occurred to me that love could be anything other than all-consuming. Even as a child, I knew I never wanted anything less."