"To be interesting, be interested." - Dale Carnegie.
Not everyone is born with the wholesome talents to influence people and inspire young souls. But one can surely learn the required skills to handle the surroundings gracefully. When you are shy and apprehensive, unspoken fears build around you, pushing you back into your shells and leaving you helpless from all ends.
To let your aura spark, you must ignite it by getting hold of it. When you feel frightened of confronting your fears or talking your mindful commotions to others, you can get a good self-help book, start reading and feel the magic happen to 'live the life your soul intended.'
The self-help guide book, How to Win Friends and Influence People has been lifting underconfident souls, feeding inspiration through its powerful self-help lessons to win friends and influence people. Though written quite a long time back, its principles are highly relevant in the modern world. The book is backed by testimonials of how it transformed lives with its real-life teachings.
How to Win Friends and Influence People: The Book Info
Book Name: How to Win Friends and Influence People
Originally Published: October 1936
Author: Dale Carnegie
Original language: English
Genres: Action book/Self-help book/ non-fiction
How to Win Friends and Influence People: The Author
How to Win Friends and Influence People is authored by the American writer Dale Carnegie. He was born in 1888 as Dale Carnagey (but later, he changed his name to Carnegie) in Missouri and described himself as a simple country boy. Coming from a poor farming background, he had to struggle through teaching college.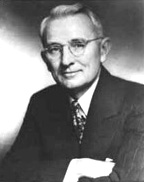 After working as a salesman, he tried his hands at writing novels and started teaching public speaking. The success of his courses resulted in publishing his first publication, How to Win Friends and Influence People, in 1936, which became a bestseller, selling more than 5 million copies in his lifetime.
Dale has touched many lives through his self-help genres and guides. Besides teaching his students how to make persuasive presentations and build positive relationships, Dale has also taught communication and social skills. His classic works continue to impact lives up to now. Dale is also the founder of the Carnegie Institute of EffectiveSpeaking and Human Relations.
How to Win Friends and Influence People: Transforming Your Life Boosting Confidence
So, in a nutshell, what is the How to Win Friends and Influence People summary? The book is written to inspire people, transform their lives in simple ways, and win others in their surroundings.
Each part of the book summarizes the main messages that each section has to offer with respect to behavior. The book tells you how to make people like you, win them to your way of thinking, change them without arousing resentment and become a good public speaker.
Dale has also discussed the importance of a smile that can effortlessly build great impressions and make others like you instantly. If you are underconfident or feel shy in facing the public or people at large, this book teaches you the techniques for handling them with ease.
Despite being a dry book (as it was written nearly a century back), its principles are still referred to and stand relevant in the modern era.
The original edition of How to Win Friends and Influence People (1936) also had Dale's 'Seven Rules for Making Your Home Life Happier,' but it was omitted from the revised edition of 1981.
How to Win Friends and Influence People: Why This is Deserving of Everyone to Read.
How to Win Friends and Influence People is a timeless guide for people who crave to improve their relationships and excel in life. It is for the ones who want to develop a keen desire to master human relationships. It teaches everyone that one does not have an inborn talent to connect with people but requires skills.
One should be honest with their flaws and imperfections but wilful in their endeavors to confront and conquer challenges and improve their skills. Of course, not all of this book's principles might resonate with you, but you must choose the ones that might help you in the current scenario.
When you consider things from another's point of view, you get a better understanding of the situation and deal with it with intellect. With its case studies and powerful situation-specific tips, you know you can apply them to your day-to-day dealings with people.
Some of the How to Win Friends and Influence People quotes influenced people and fueled the flames of inspiration to dive into the book and read it instantly;
"Talk to someone about themselves, and they will listen for hours" is one such quote that stands relevant in all spheres of life.
How to Win Friends and Influence People: PDF book
Over 30 million copies of the book How to Win Friends and Influence People have been sold across the globe, and in 2011 it was number 19 on Time's 100 most influential list. If you have not had a casual encounter with the original copy, you can even grab the How to Win Friends and Influence People PDF version and master your skills in influencing people around you. To boost your productivity, a handy PDF annotator like SwifDoo PDF is your assistant in marking up words or phrases that impress you.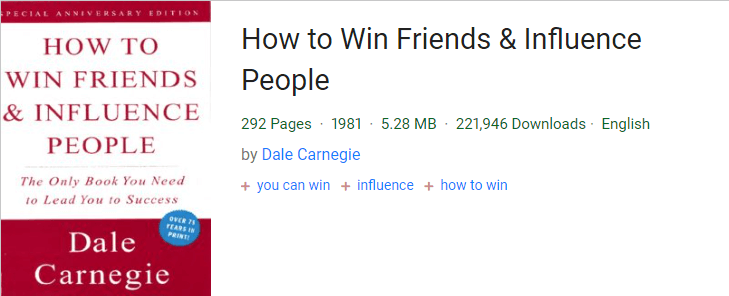 Dale's self-help guides and lessons let you learn and master the art of public speaking by advising you on your preparations and helping you build confidence in delivering a speech constructively. With anecdotal evidence, the book encapsulates how nourishing a person's dignity and morale can help him achieve better results than condemnation.
The Final Words
In today's era, where relationships are struggling to make ends meet, Dale's self-help guides like How to Win Friends and Influence People are a blessing for all anxious and shaky people. It helps you overcome your flaws and hesitancy in public speaking and influence people around you. Once you learn the techniques of managing people, you outgrow yourself and walk on the path to a successful life. Sadly, How to Win Friends and Influence People Sparknotes is not yet available.