Every day we encounter scenarios that may not run in our favor. But when the scale of troubles gets heavy over the counted blessings, we feel hopeless and surrounded by toxicity. So if you are failing to count on your blessings and are looking for a soul-soothing book to ignite your flames of hope and positivity and redefine your life's purpose, Fresh Water for Flowers should end your search by now.
Fresh Water for Flowers is a tale that defines that no matter how harsh life can be. If you are focused and keep moving towards your goals, you'll find your destiny and will get a chance to regrow fresh flowers in your life's garden.
But before you rush to grab your copy of the Fresh Water for Flowers book, don't forget to give this post a read.
We have traveled you through the book's micro details to cover its summary, reviews, and, of course, what lies in its tale that will be forever with you even when you finish reading it. So sit back and relax to enjoy a hearty read.
Fresh Water for Flowers: Book Info
Book Name: Fresh Water for Flowers
Originally Published: 28th February 2018
Authors: Valérie Perrin and Hildegarde Serle (Translator)
Original Language: French
Genres: Literary fiction, Contemporary literary mystery novel
Fresh Water for Flowers: The Author
Valérie Perrin is a French novelist born in 1967 in Remiremont, in the Vosges Mountains, France. Perrin grew up in Burgundy and settled in Paris in 1986. Many novels are credited to Perrin's name and have won her many awards. The Forgotten Sunday (2015) won her the Booksellers Choice Award and has been a long-selling bestseller since publication.
Three years later, in 2018, her book, Fresh Water for Flowers, was published. In 2020 it made its English Language debut and was even the best-selling book in Italy. The novel won her Maison de la Presse Prize, the Paperback Readers Prize, and was named a 2020 ABA Indies Introduce and Indie Next List title. Fresh Water for Flowers has been translated into more than thirty languages. Perrin was named one of the top ten bestselling authors in France in 2019.
Fresh Water for Flowers: E-Book
Fresh Water for Flowers is truly enchanting, with an eccentric young caretaker who brings exuberant life to a French cemetery of a small town. The protagonist is always present for the intimate and often humorous confidences of visitors. But her own life is predictable with the rhythm of mourning and sorrows. But soon, a stranger arrives in her life, and she finds their lives are intertwined.
The original publication of Fresh Water for Flowers was released in 2018 in French but soon debuted in English translation. If you haven't yet had an opportunity to go through Violette's life, her sufferings, and how she matured in the boundaries of the cemetery, you must grab a copy of the book's PDF in an instant.
You can find the Fresh Water for Flowers PDF at a click across the web and read it on your terms anywhere without the hassle of carrying a physical copy.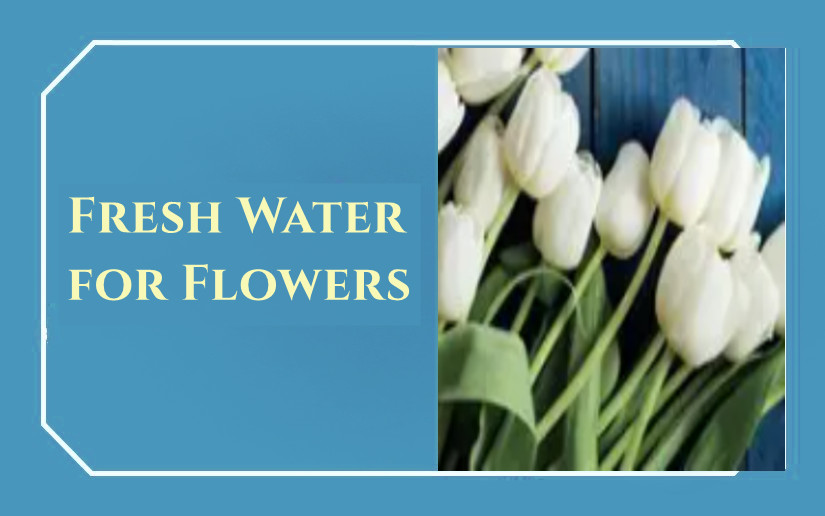 With the PDF reader and editor, SwifDoo PDF, you are able to easily read the book in different modes. It can translate, annotate, compress, and convert the PDF or ebook. You can convert EPUB to PDF or PDF to EPUB to view the book depending on your preferences.
Fresh Water for Flowers: The Summary
While a chapter summary of Fresh Water for Flowers may bring spoilers, ruining your emotional read, we are covering the book in a nutshell for a brief understanding to refrain from forming any opinion or spoiling the fun for you.
Fresh Water for Flowers is about a girl, Violette Toussaint, a caretaker at the cemetery in a small town in Burgundy who works to make arrangements for funerals and religious services for the deceased and their family. But Violette's own life is no less than an irony.
Violette has experienced difficulties since her birth - being abandoned at birth she was sent to foster families who neglected her emotionally, teased by peers and schoolmates, a failed marriage with an older man, Philippe, the death of her children, and above all, she was constantly underestimated to be of no use by everyone in her surrounding.
But you will find in Fresh Water for Flowers, with the job of a caretaker at the cemetery, her life seems to have found a new purpose to be regular and satisfying. The consistency gets in with encountering regular visitors, casual mourners, sundry colleagues (three gravediggers, three groundskeepers, and a priest) to being alone every evening, reading and listening to the radio, taking a bath, closing the shutters, and just feeling good.
Once the gates are shut, Violette is the owner of her time, and that's a luxury to her. But her routine according to Fresh Water for Flowers, disrupts one day when a local police chief, Julien Sole, visits her to scatter the ashes of his deceased mother on the gravesite of a complete stranger, his mother's one-time lover. Soon Violette's past knocks on the door of her present, and many answers arrive for her to find peace and begin a new life again.
Fresh Water for Flowers: The Review
Fresh Water for Flowers book review talks about Perrin's portrayal of Violette that speaks out to those who do not fit in with other people's conventions. Perrin illuminates what is exceptional and poetic in ordinary chores of life. Her writing is sublime, melancholic, elegant, and simply beautiful.
The novel is funny, moving, and an intimately told story of a woman who believes in happiness. Besides its theme, the book is atmospheric, delightful, and an absorbing fairy tale full of warmth, generosity, and poetry.
Despite being a profoundly sad story, it leaves you with a sense of hope and belief in the strength of a human heart. The book is for everyone who is craving a gentle read to provide many moments of comfort, bliss, of course, a reading delight.
Fresh Water for Flowers: What It Is About?
The theme of Fresh Water for Flowers book talks about tough yet mature love, loneliness, grief, death, God, and the absence of those whom we love. It is a tale that portrays the relationship between people and their animal companions.
You can think of the novel as an adulterous romance with mysterious deaths and uncountable burials.
Fresh Water for Flowers teaches everyone to cut back on their troubles when their thoughts turn dark. For instance, Violette faced multiple tragedies and hardships in her life but still remained delicate, extremely sensitive, thoughtful, and non-judgemental in her relationship with others.
So when you are wading through the unknown and are clueless about what lies ahead, you must seek different ways of growth and light and keep moving with hope and positivity. Even when the situation is challenging, one must make the best of it and give 'Fresh water to the flowers.
The Bottom Line
Fresh Water for Flowers book is a tale with a gripping plot that won't let you keep the book down unless you finish it. Most importantly, it will stay with you for long after you have finished it. The novel has the charm to wrap you in its story and introduce you to a new world with diverse people and leave you with new viewpoints and nuggets of valuable information.
With Fresh Water for Flowers PDF, you can read the tale of hope anywhere and access the chunks of positivity and happiness in your comfort.