One kiss lasts a moment. But a thousand kisses can last a lifetime.
In this modern era, soulmates, fairies, and all the spiritual goodness barely seem to exist, at least not with the naked eye. But then there are books that restore your faith in them and make you feel that true love still exists in a world of hookups and breakups.
Seldom do we come across books and stories that etch on our hearts and stay with us forever. And undoubtedly, A Thousand Boy Kisses is one such book that does its job righteously.
Cole's A Thousand Boy Kisses book is one of the most breathtaking and beautiful novels that you'll ever read in your life; for such masterpieces are created less often. We are sure that you'll love every single word of this book.
We will cover the book's complete book info, a word on its author, Tillie Cole, a summary, a review, and what age it is appropriate to read. And don't forget to have a word on A Thousand Boy Kisses PDF to access it and slip into the characters on your terms.
So comfortably sit back, grab your favorite chocolate, and be in with us for a quick, quirky read.
contents
A Thousand Boy Kisses: Book Info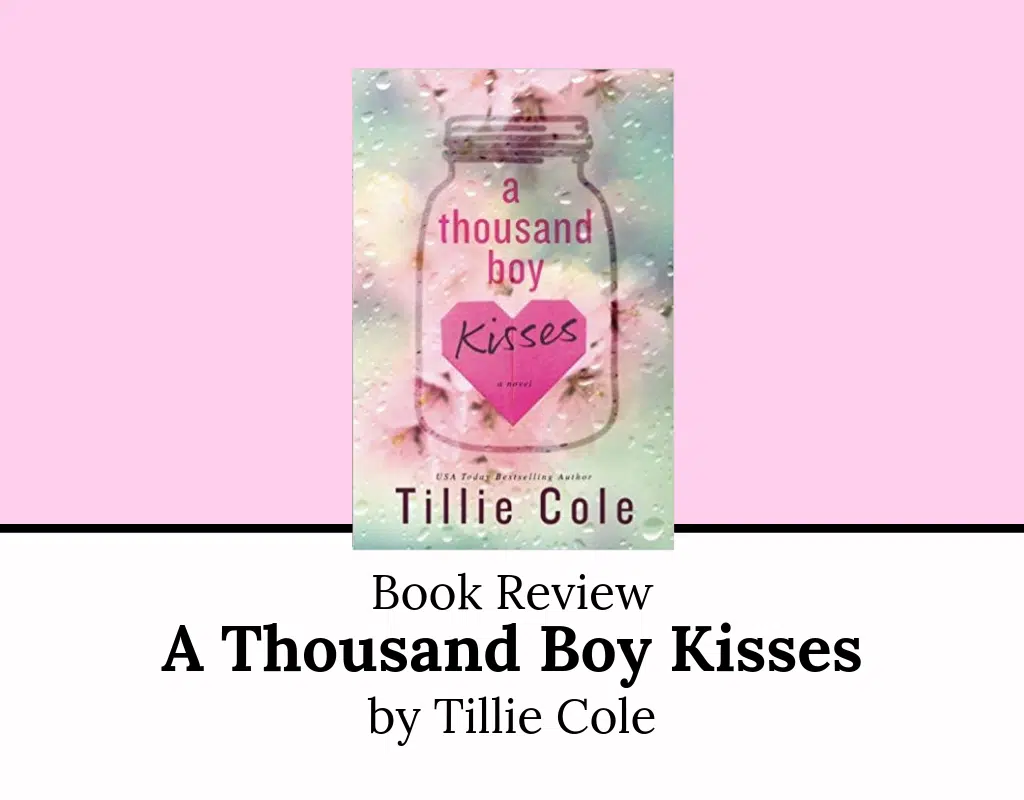 Book Name: A Thousand Boy Kisses
Originally Published: 15th March 2016
Author: Tillie Cole
Original Language: English
Genres: Young Adult Fiction, YA Romance Literature, Contemporary Fiction, Contemporary Romance
A Thousand Boy Kisses: The Author
Tillie Cole is a Northern girl renowned as Amazon and USA Today best-selling author. She was born in Stockton-On-Tees, a small town in the North-East of England, to an English mother and Scottish father, embracing both cultures equally well. Tillie attended Newcastle University in Newcastle-Upon-Tyne, England, and graduated with a Bachelor of Arts honors in Religious Studies.
After a couple of years, Tillie returned to complete her Post Graduate Certificate in teaching High School Social Studies. And then, on her husband's advice, she began her career as an author with her fertile imagination and has written 54 books until now in multiple genres of Contemporary Romance, Dark Romance, Young Adult (YA), and New Adult novels.
Finally, after several years of living in Italy, Canady, and the US, Tillie settled in England with her husband and son in her hometown. Some of Tillies' novels include A Thousand Boy Kisses and A Veil of Veins, Thoroughly Whipped, Eternally North, A Wish For Us, Sick Fux, A Sweet Home novel series, A Hades Hangmen novel series, The Sacred Souls series, The Deadly Virtues series, and more.
A Thousand Boy Kisses: The Summary
The whole plot revolves around the childhood sweethearts Rune and Poppy, who have been inseparable ever since the former moved to Georgia at seven years old. Both of them grow up together (next-door neighbors) and grow closer, only to realize that they have a love that's special - one that's once in a lifetime. But things take a turn when Rune's family is forced to move back to their home country temporarily, and Poppy has some secrets of her own to keep.
A Thousand Boy Kisses summary discusses the tale of Rune Kristiansen, a seventeen-year-old boy who returns from his native place Norway to the small town of Blossom Grove, Georgia, to his childhood friend Poppy Litchfield (his soulmate).
But Rune has many unanswered questions on his mind. For instance, why did Poppy cut all ties with him without any explanation despite promising to await his return faithfully? Rune's heart was broken a couple of years ago when Poppy fell silent.
But is there more to Poppy's silence? What happens when Rune discovers the truth? Is the tremendous heartache yet to come to Rune?
Spilling more beans to this standalone YA tear-jerker romance can bring spoilers ahead, and we don't want to spoil the fun for you. Instead, read on to know the meaning behind its title, A Thousand Boy Kisses, and how Rune helps Poppy complete the task given by her grandma when she was young.
But despite the odds, will they ever be together again? Their love is tested for better or for worse.
A Thousand Boy Kisses: The Review
A Thousand Boy Kisses gives you insight into what true love is, who soulmates truly are, and how powerful love can be. It provides a whole new meaning to LIFE.
Audiences may find a spiritual and tear-jerking ending to the A Thousand Boy Kisses book, but a beautiful one where the couple lives Happily Ever After! And the Epilogue ensures that Rune and Poppy are meant to be forever.
The novel is beyond the love story of two people who were bound to be together, whether on Earth or in the afterlife. A Thousand Boy Kisses book is about loving your family because, at the end of the day, that's the only constant one has. So one should adapt to the circumstances no matter how cruel they may seem because each and every day is precious.
The wonderful characters will stay with you long after you have completed and kept the book down because of its beautiful writing and spectacular ending. Especially, Poppy's character is cute, innocent, and purely written, and on the other hand, you shall be able to feel Rune's sufferings and pains as if he is one of your own.
A Thousand Boy Kisses: PDF Book
Undoubtedly, A Thousand Boy Kisses is the most incredible modern book the audiences of YA romance fiction could ever read. The novel is neither riddled with cliches, nor the writing style is unsophisticated. After reading it, you can find yourself in tears but happy ones! It will surely give you a Globus sensation, a lump in the throat feeling from the beginning.
But all that is ever said and written fall short until you gain a first-hand experience of the same. So here's where you can download A Thousand Boy Kisses PDF and read it whenever and wherever you go.
Of course, a PDF has high portability, and the convenience can make it easy to catch and keep up with the tale of Rune and Poppy. You can easily scroll the web and find A Thousand Boy Kisses PDF on the internet with a click.
Also, a handy PDF reader named SwifDoo PDF can be your go-to-tool to read A Thousand Boy Kisses PDF book with great convenience.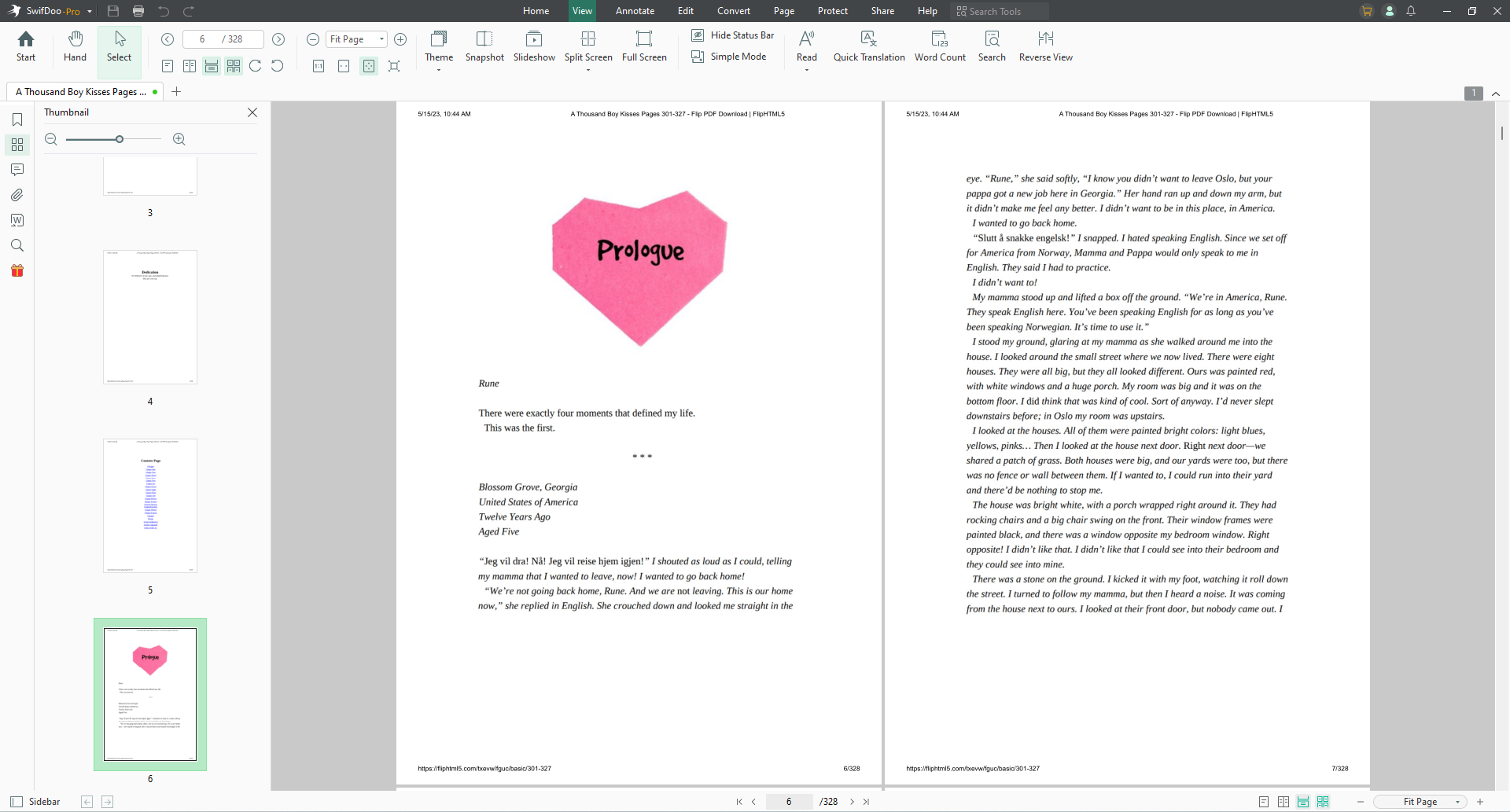 A Thousand Boy Kisses: Is A Thousand Boy Kisses Appropriate for a 13-Year-Old?
A Thousand Boy Kisses book is recommended for ages 14 and above. Its theme surrounds the notion that two people from different places can find a love to rival the greats.
A Thousand Boy Kisses teaches how love is the tenacity to ensure that your soulmate knows that they are adored in every way, every minute of every day.
The beautiful plot is addictive in a way and can push you through the tears. Undoubtedly, the book is a Young Adult tear-jerker that progresses with the changes in Rune's behavior as Poppy starts to ignore him. But can you expect a happy ending? Probably not! However, you can find a surprise in the Epilogue!
Discussing more can delve into spoilers. A Thousand Boy Kisses book is an emotional rollercoaster that follows the story of two soulmates as they go on an epic, adventurous love story that is undoubtedly intense for anyone. But as life is not a bed of roses, thorns are bound to occur, and bad things ultimately happen.
While Poppy is a fun-loving, high-spirited, full-of-life person who has pure joy for life, sunsets, and cherry blossoms, Rune, on the other hand, is brooding and closed off more and definitely, the personification of a 'Perfect Boyfriend.' But together, they are magical. You may find yourself hoping for nothing but the best for the two of them.
The Final Wrap
A Thousand Boy Kisses book is a thoughtful read that'll run in your mind and heart long after you have read it. You may find yourself replaying the Poppy and Rune's story and powerful scenes over and over again in your head.
Very few books are both spectacular and heart-wrenching, with a perfect yet tragic love story, and A Thousand Boy Kisses is definitely one among them. After all, Poppy and Rune had something "as special as special can be."
And yes! If you are ready to believe in the existence of a real love story and that it can last forever and ever, then don't forget to grab a box of tissues when you start reading A Thousand Boy Kisses PDF, as you may need one anytime.