Converting Markdown to PDF becomes a great need when requiring sharing Markdown files with others because of PDF's great portability. When it refers to converting files, you often require a dedicated file converter that supports two file formats. In this article, we've introduced three methods to help you turn a Markdown file into a PDF. Check the details below: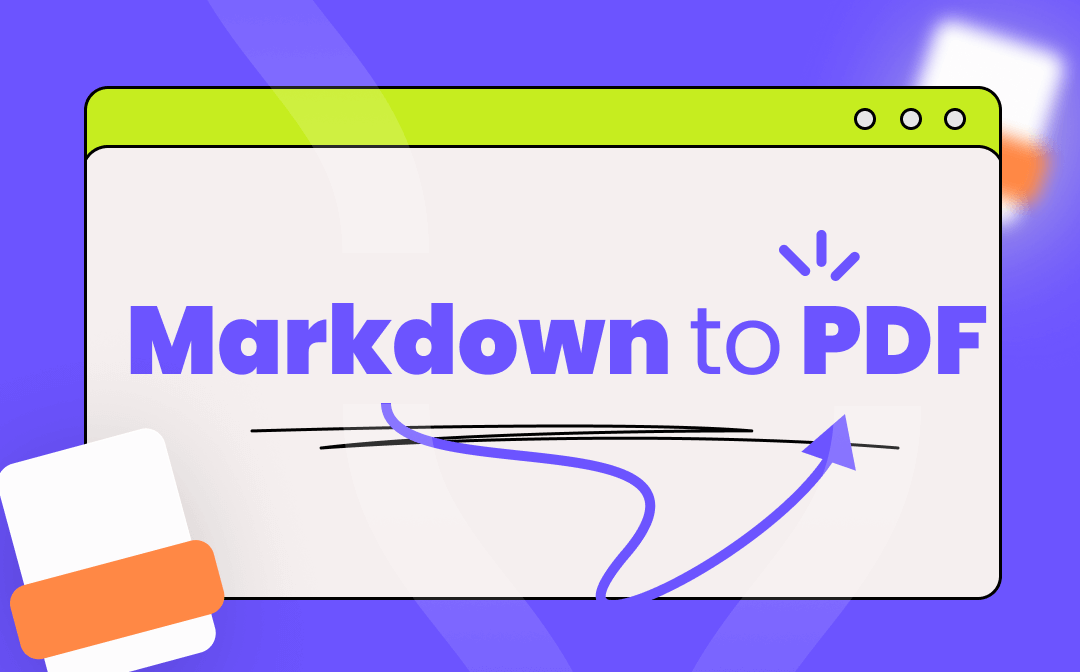 What Is a Markdown File?
Markdown is a Lightweight Markup Language. It allows people to write a file in plain text format and then convert it into a valid XHTML (or HTML) document. A Markdown file is a kind of text file written with Markdown language, usually followed by a .md or .MARKDOWN file extension. Because of its lightweight, easy-to-read and easy-to-write nature, and its support for images, charts, and mathematical equations, many websites use Markdown extensively for writing files or posting messages on forums.
Convert Markdown to PDF Offline
Converting Markdown to PDF offline requires a desktop PDF converter, and this tool have to support opening and converting files with a .MD extension. Luckily, SwifDoo PDF released a new version not long ago, in which you can convert Markdown to PDF and vice versa without breaking a sweat.
Save Markdown Files as PDFs on Windows
In SwifDoo PDF's new version, it starts to allow users to transform PDF to/from EPUB, XPS, Markdown, and PDF/A, plus all the other conversions it has supported, resulting in a more comprehensive PDF converter. SwifDoo PDF is fully compatible with Windows 11/10/8.1/7/XP, covering all major Windows operating systems.
SwifDoo PDF has supported various of conversions among different files and formats, such as Word, Excel, PowerPoint, CAD, and so on. In addition, it also serves as a powerful PDF editor. All text, images, and links can be easily modified.
Follow the steps below to learn how to save a Markdown file as a PDF with SwifDoo PDF:
Step 1. Download SwifDoo PDF and install it on your PC, then launch it.
Step 2. Open a PDF file in this software and click Convert on the top navigation bar. Then tap More to PDF and select Markdown to PDF.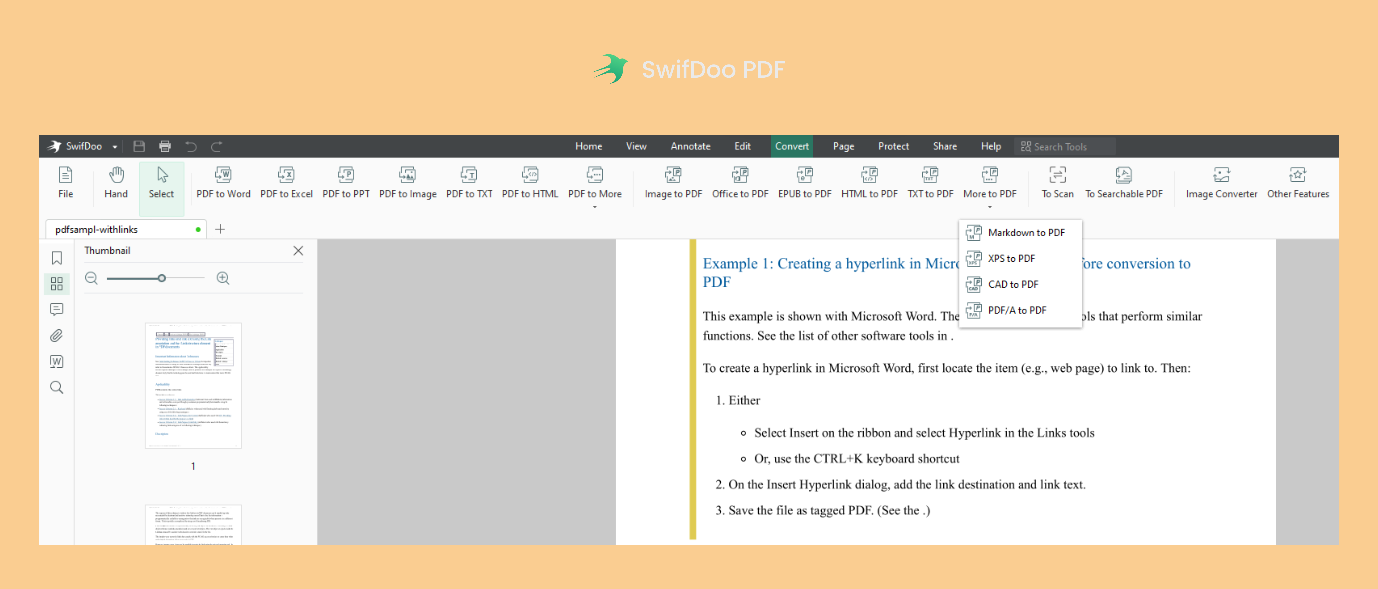 Step 3. Click + Add Files to upload your Markdown file (a .md extension). Then tap the Start button to turn the Markdown file into PDF.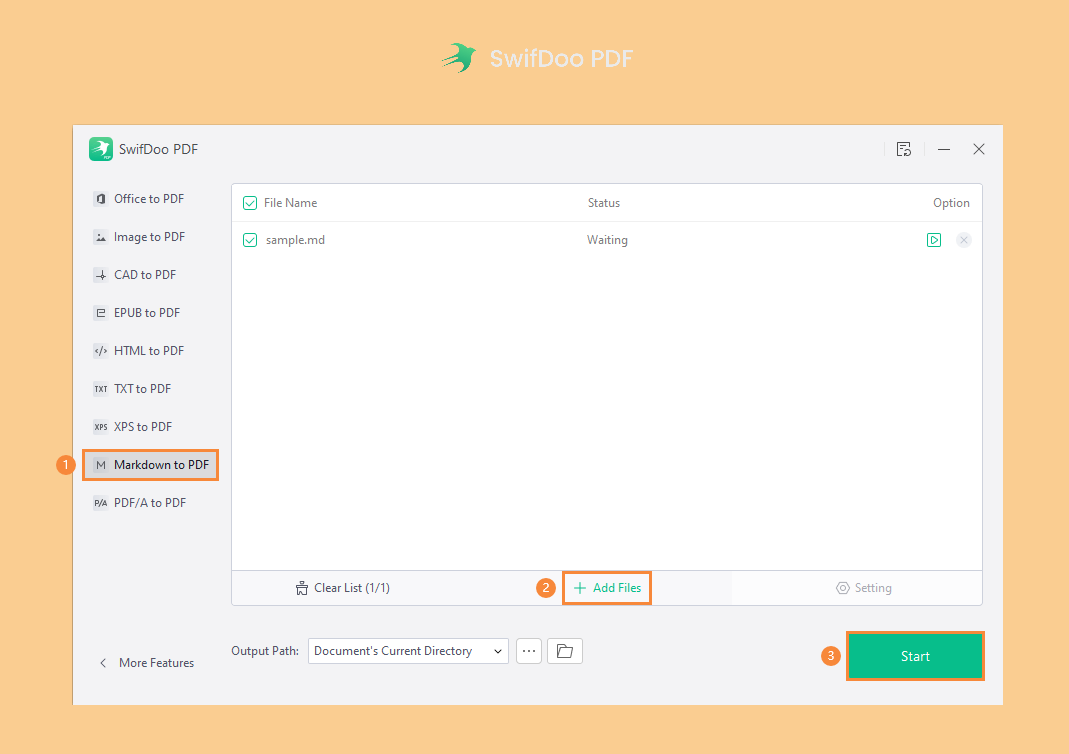 SwifDoo PDF also enables you to convert files in bulk, especially when you have multiple files that need to be converted. Besides, this PDF editor allows you to use Search Tools in the top navigation bar to locate a specific feature.
Transform Markdown into PDF on Mac
After learning how to convert Markdown to PDF on Windows, let's have a look at converting MD to PDF on Mac. On macOS, you also need a third-party file converter, since there's no default application on Mac can help you open a Markdown file.
Calibre is a multi-platform eBook manager, fully compatible with Windows, Mac, and Linux operating systems, as well as Android and iOS. It can help manage Markdown files and convert them to PDFs for free. By the way, you can also use Calibre to convert MOBI, EPUB, HTMLZ file formats, etc. to PDF and vice versa.
Let's see how to convert Markdown to PDF on Mac with Calibre for free:
Step 1. Free download and install Calibre on your MacBook.
Step 2. Open your Markdown file in Calibre. Then click Convert books in the top menu bar.
Step 3. Select PDF from the drop-down menu of the Output format. And tap the OK button to start your conversion.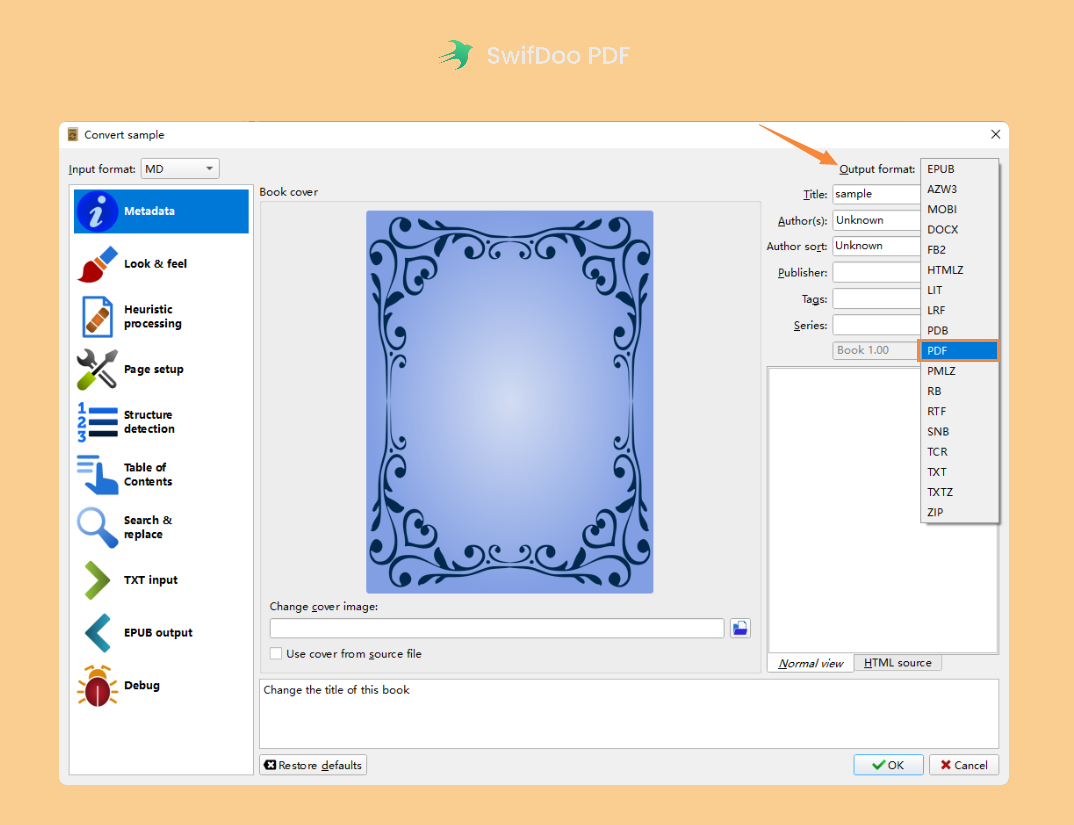 Apparently, Calibre is a free method, and it can also transform an MD file into PDF on Windows and Linux. However, it cannot be used to edit the converted PDF file when necessary. After all, it's a common thing to get a disordered PDF file.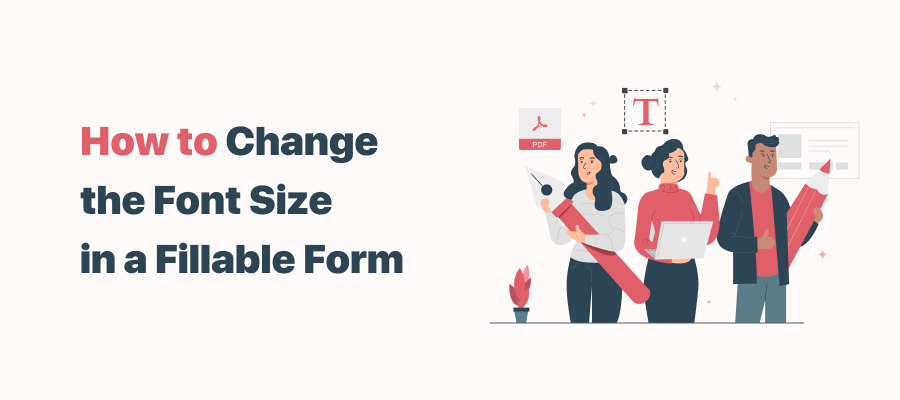 5 Approaches to Change the Font Size within a PDF Form Field
If you want to figure out how to edit or change the font size in a fillable PDF form to make the PDF look more consistent, this post can help.
READ MORE >
Convert Markdown to PDF Online
Vertopal is a free online file converter that can help convert your pictures, documents, and fonts to a variety of formats, as well as edit and optimize files online for free. This Markdown to PDF converter is very easy to use, and you can choose any file format you need from the top menu bar.
After logging into Vertopal with your Gmail, you can import files from some major cloud services, such as Google Drive, Dropbox, and OneDrive. Besides, opening a file from your local folders and dropping documents straightforwardly are also supported.
Let's see how to turn a Markdown file into a PDF with online tools:
Step 1. Search Vertopal on Google and enter its official website.
Step 2. Tap the Choose File button on the homepage and select your Markdown file.
Step 3. Choose PDF from the drop-down menu of Convert to. Then click Continue.
Step 4. On the preview page, hit Convert in the top-right corner. Remember to download the converted PDF file manually.
Many programs claim them to be free, while they actually require a subscription plan. However, Vertopal is a real free file converter, and you only need to log in it with an email account. But there's one flaw we need to point out: too many annoying advertisement windows pop up on its webpages.
Wrap Up
Converting Markdown to PDF isn't a difficult thing with so many file converters in this blooming market. No matter what files you want to convert, you can always find a handy tool in seconds. With no bias, SwifDoo PDF is versatile, enabling you to convert PDF files to many other file formats and vice versa. In addition, editing PDFs with SwifDoo PDF is just as simple as editing Word documents. Free download it now and start your journey.