Introduction:
In this era of digitization, documents that used to be filled offline can now be switched online. However, with more reliance on the internet, the possibility of information leaks has consequently increased.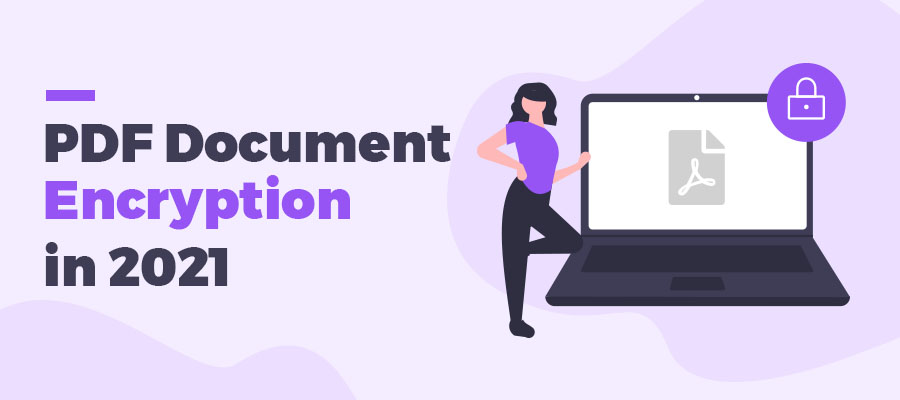 There are times when someone needs to send a PDF containing large amounts of sensitive and confidential information, such as an individual's address, phone number, bank account, or tax information. You don't want to leave this type of information open to hackers for malicious purposes.
However, sometimes things just go wrong and out of control. Fortunately, PDF encryption is available for use. With encryption, your PDF documents are well protected.
How to Encrypt PDFs with Desktop PDF Programs
When it comes to encryption and decryption, SwifDoo PDF is a good choice. Here's how to add an opening password to your PDF documents using SwifDoo for Windows users: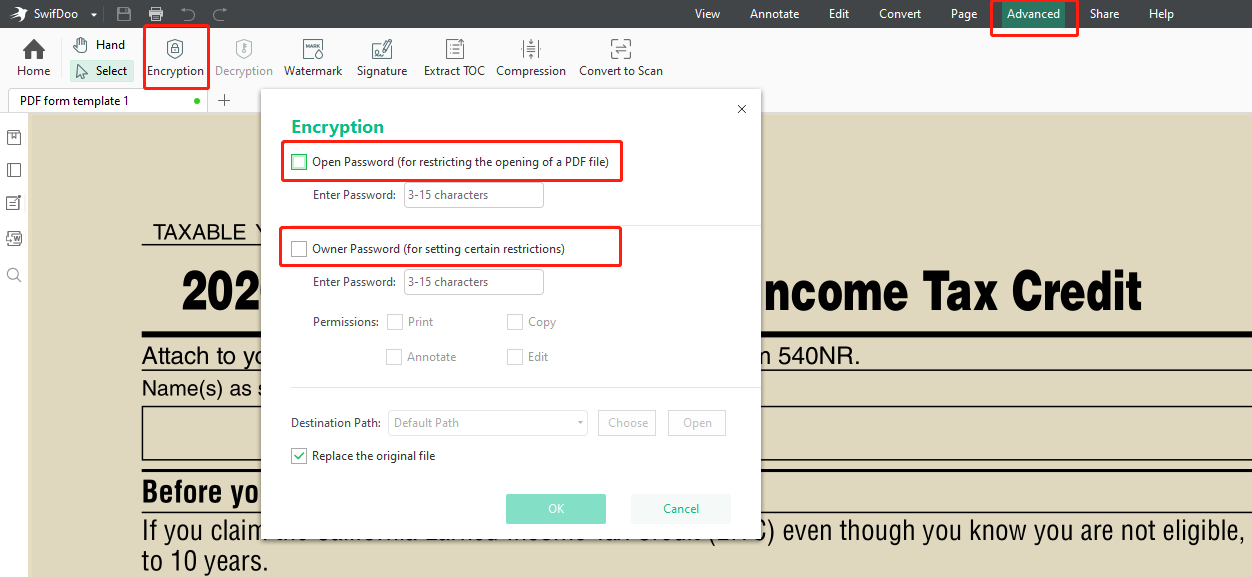 Step 1: Open a file in SwifDoo PDF and then click Advanced- Encryption;
Step 2: Choose what kind of password you want to apply to your document: opening password or permission password;
Step 3: Set your password;
Step 4: Click Yes to save the changes.
How to Encrypt PDFs On Mac
Good luck to Mac users for having an inbuilt PDF locker - Preview. This natural PDF viewer can both help edit PDF and password-protect PDFs. Here's how to encrypt your PDFs with Preview on Mac:
Step 1: Open a PDF document using Preview;
Step 2: Select File to choose Export. In the Export Page, click on the Encrypt button;
Step 3: Enter your password as required, and then click Save.
Tips:
You can also enter a new name for the PDF if you want to create a passworded copy and keep the original PDF unencrypted.
How to Encrypt PDFs with Online PDF Tools
If you'd like to try web-based PDF programs to protect your PDFs, iLovePDF is a good one. Let's have a look at how to encrypt PDF files with iLovePDF:

Step 1: Type the URL on the search bar;
Step 2: Click on the Protect PDF button;
Step 3: Import your PDFs that need encryption to the workstation. ;
Step 4: Enter your password on the text box and click Save to password-protect the current PDF.
Note:
Users can optionally choose to upload PDFs from Google Drive, Dropbox, and local folders. When finished, PDFs can be directly shared into the cloud storage platforms or displayed as a downloadable link.
When Do You Need to Encrypt PDFs?
Protect Copyright
In the 21st century, the significance of copyright has been accentuated more than ever. The purpose of copyright law is to protect the process of artistic and scientific inventions by ensuring the exclusiveness of authors and inventors to benefit from their works of authorship. Therefore, preventing the data or information from copyright infringement is one practical reason to encrypt a PDF document.
Although copyright law is strictly implemented in the United States, it may not be as strictly adhered to in other nations. Legally, copying or another form of plagiarism violates the law. Ethically, stealing and copying creative works and ideas is offensive and disrespectful to the original authors.
Maintain Content Integrity
Another scenario for locking your PDF is to ensure content integrity. If you spend a lot of time, for example, on modifying your thesis and adding scattered annotations throughout the document, encrypting your PDF document can ensure all changes made on the thesis require a password.
In addition, images are often part of PDF presentations. Sometimes, users will, either accidentally or purposely, alter the position, compress page size or delete the images if this document is not protected by a password. This will negatively affect the content integrity for sure.
Why Do You Need to Encrypt PDFs?
Ask yourself this question: why do you need to encrypt a PDF? Apparently, for your information security. Essentially, the core of PDF encryption is to guarantee information security. In summary, there are two primary reasons to lock your PDF: to manage those who are authorized to view the document and to control who can make any changes to the PDF.
Without the protection of passwords, your PDF is at risk from everybody. Anyone can read it and the value of your information no longer exists. As a stable format, PDF is famous for its convenience of distribution and sharing. This advantage can sometimes become a disadvantage, for instance, with unauthorized copying and printing.
Panama papers remain fresh in the memory. In 2016, 11.5 million documents leaked, which put file and data security under the spotlight. Therefore, if we care about file security, we'd better learn how to protect our digital PDFs.