Introduction:
When you add a bunch of pictures or plenty of content into a PowerPoint presentation, it may result in a large file size. Large PowerPoint files will take up a lot of your disk space and slow down file uploading and sending. Thankfully, there are ways to compress PowerPoint files to avoid the hassle.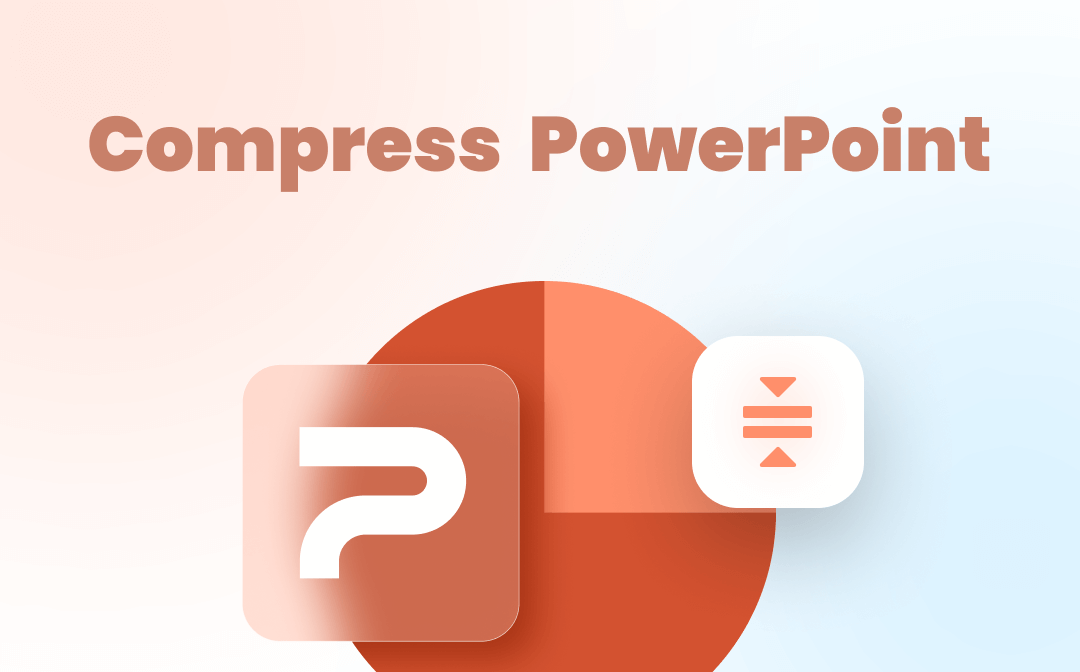 PowerPoint files, also known as PPT or PPTX files, are created by the Microsoft PowerPoint program. Compressing PowerPoint files can be easily done with the right methods. Here we introduce how to compress PowerPoint in three easy ways to you in this post.
Compress PowerPoint with SwifDoo PowerPoint Compressor
SwifDoo PDF is the go-to solution for needs related to digital documents. The software designed for Windows is a powerful file compressor. It can compress PowerPoint, PDF, Excel, Word, and image files straightforwardly. Compressing multiple PowerPoint files in one click is possible with it. What's more, the program allows you to convert PowerPoint to image, edit, convert, split, and do many more with PDF documents.
Learn how to compress a PowerPoint file using the SwifDoo PowerPoint compressor.
Step 1: Download the PowerPoint compression software for free, tap Compress PDF in the home interface, and click More Features in the pop-up dialogue box;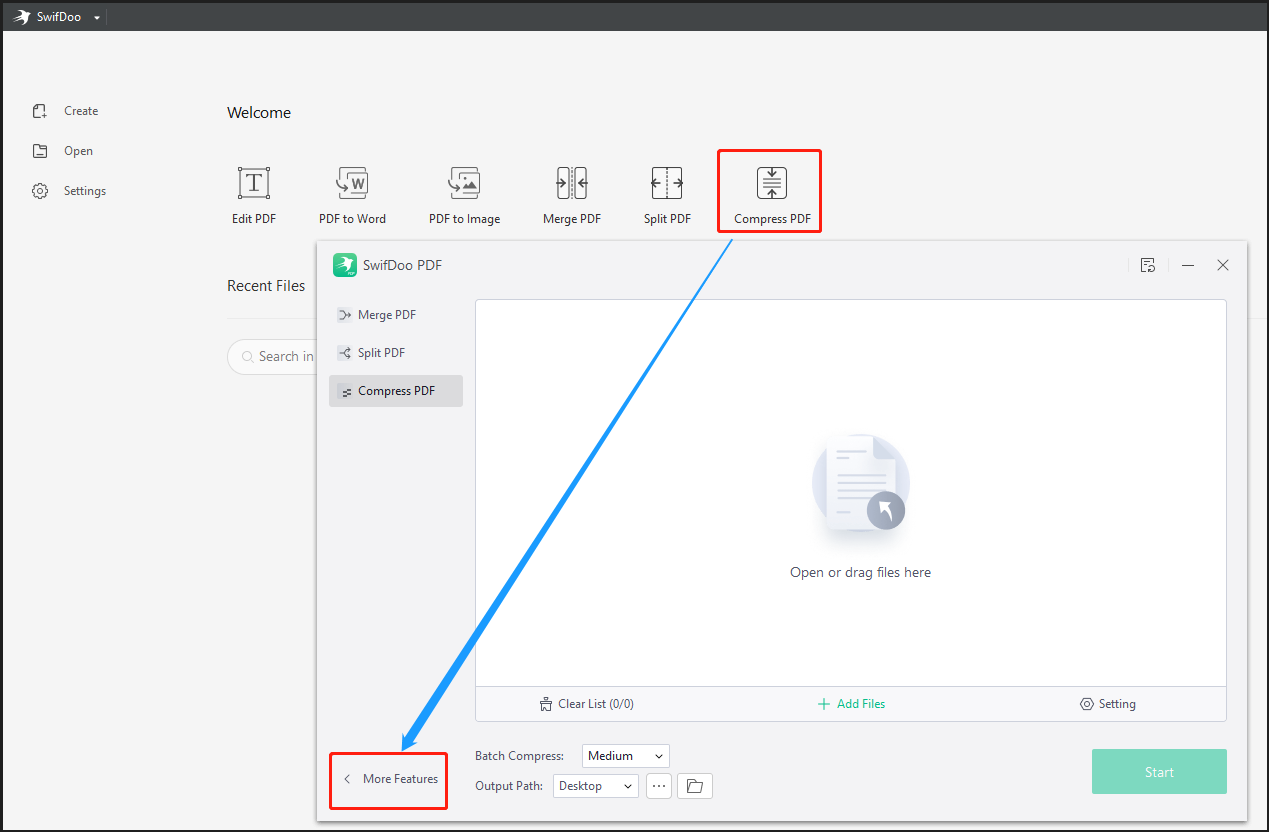 Step 2: Choose the Other Features option to select the Compress PPT tool, and add your PowerPoint file to the new window;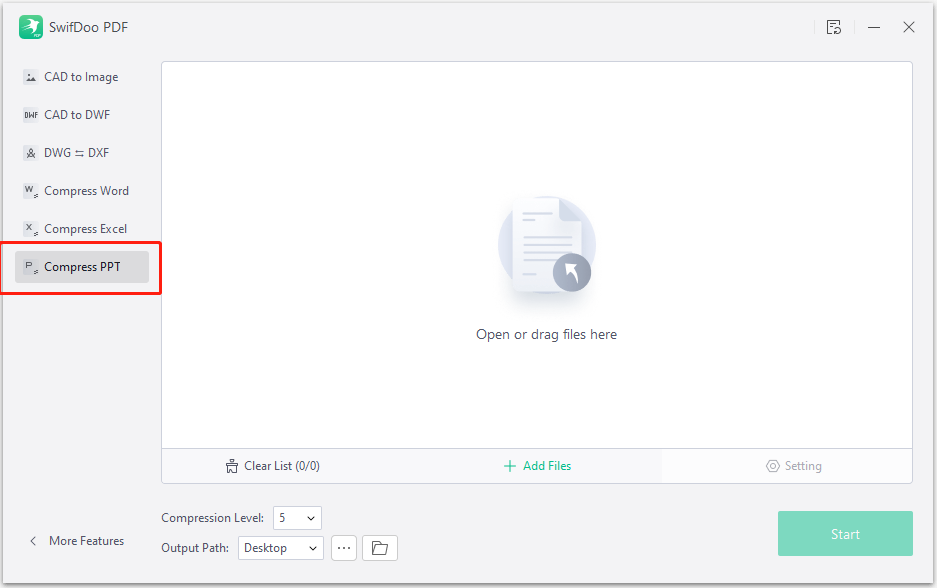 Step 3: Select your desired compression level and a location for saving the compressed file, then hit Start to compress the PowerPoint (PPT) file.
Before you compress PowerPoint files using SwifDoo PDF, there are different compression levels (1-9) to choose from. The higher the compression level, the smaller the compressed PowerPoint files. The process of compressing a PowerPoint file takes just a few seconds and you can add and process a batch of files in one go.
SwifDoo PDF is also one of the best PDF converters that converts Office documents to PDFs and vice versa. It allows you to turn your presentations into PDFs to reduce the file size. Besides, if your file contains heavy images, utilize the image compressor in the software to compress the images in your PowerPoint slides. So the file size will be smaller. In any way, you can compress PowerPoint files for free with a 15-day free trial.
Compress PowerPoint with the Compress Pictures Feature in PowerPoint
The best way to compress a PowerPoint file containing lots of images might be to compress these images. The good news is Microsoft PowerPoint has a native feature allowing you to do that without third-party software. The feature offers 4 compressed image quality options. Here is how to compress PowerPoint file size by compressing pictures in PowerPoint.
Step 1: Select an image in your PowerPoint file opened with MS PowerPoint, and click on the Picture Format tab appearing on the top;

Step 2: Select the Compress Pictures command;

Step 3: Choose your preferred compression option and resolution for compressed images, click OK and PowerPoint will compress the images. Then save the file with the optimized size.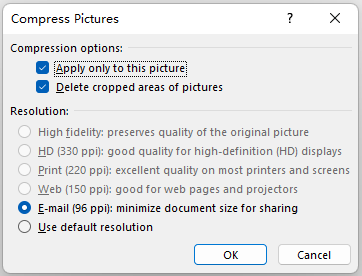 Whether you are running Microsoft PowerPoint 2013 or the latest Microsoft 365, the steps to compress a PowerPoint file with the above method are similar. To compress all the pictures in your PowerPoint file at once, deselect the "Apply only to this picture" option. Depending on what you compress PowerPoint for, for email sharing or printing, choose the most suitable image resolution. The lower the resolution, the smaller the size of the images and the PPT file.
Compress PowerPoint with the Compress Media Command in PowerPoint
If you've inserted videos or other media content into your presentation, a quick way to compress the PowerPoint file is to compress the videos and other media files. You can complete the task within the PowerPoint program. There are three video quality options for you to choose from. Here is the step-by-step guide below to compressing PowerPoint file size with the compressing media feature in PowerPoint.
Step 1: Open your PowerPoint file with videos in PowerPoint, go to File and click Info;
Step 2: Choose the Compress Media command and select a video resolution such as Full HD (1080p);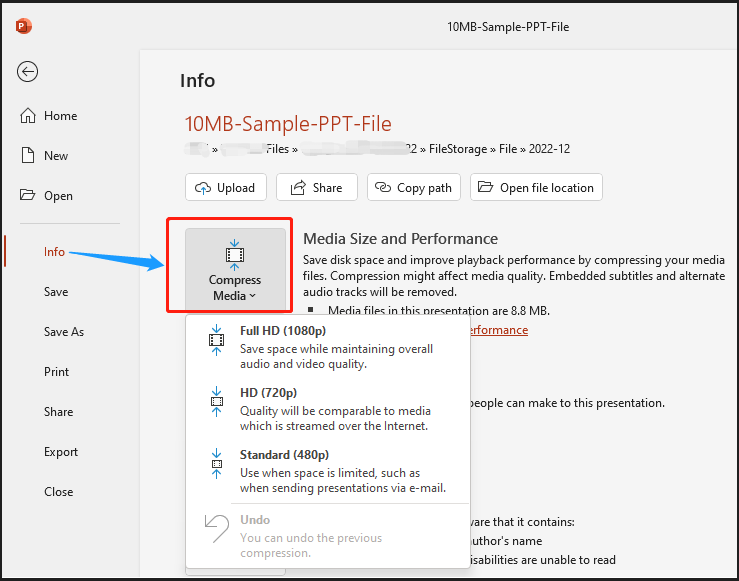 Step 3: After PowerPoint finish compressing the media files, a small dialogue box will come out to tell how much the size has been reduced, click Close and save the shrunk file.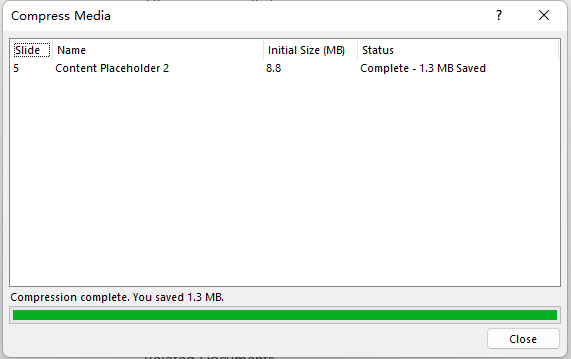 Once the compression is completed, you can check the resulting media size underneath "Media Size and Performance". If you are not satisfied with the compressed file, click "Compress Media" to undo the action. To compress PowerPoint files without losing much quality, adopt a higher resolution.
Conclusion
In today's hybrid work environment, it is important to be able to efficiently process digital documents to collaborate with others timely. You can compress PowerPoint files to dramatically reduce their size with a dedicated PowerPoint compression program. Or, consider shrinking a PowerPoint file by compressing pictures or videos included in it.
SwifDoo PDF is recommended with the capability of compressing various files including PowerPoint, PDF, Word, and Excel. It can also convert between these files. It is developed to help you achieve more in less time and maximize your productivity.
Frequently Asked Questions about Compress PowerPoint
How do I compress 50 MB in PowerPoint?
You can compress images and videos in your PowerPoint file to make the file size smaller. To compress videos, go to File > Info > Compress Media. After compression, you can see how many megabytes have been cut down. You can undo the compression to choose a different resolution. To compress pictures, go to File > Save as > Browse > Tools > Compress Pictures. Or, use a file compression app like SwifDoo PDF to compress PowerPoint files and decrease the file size.
Why is a PPT file so large?
Commonly, a PPT file is heavy due to the embedded objects and elements, such as unused slide masters, fonts, images, videos, and audio. A fast way to reduce the file size is to download a compression program.