Introduction:
Sometimes you may need to extract text from a PDF to edit or search for specific content or use the text somewhere else. In this case, you will want a PDF to text converter to convert your PDF to a text TXT file. With so many document converters that claim they can convert PDF to text, it may take you a lot of time to test and find a really good-to-use one. That's why this post is written, to narrow down your selection.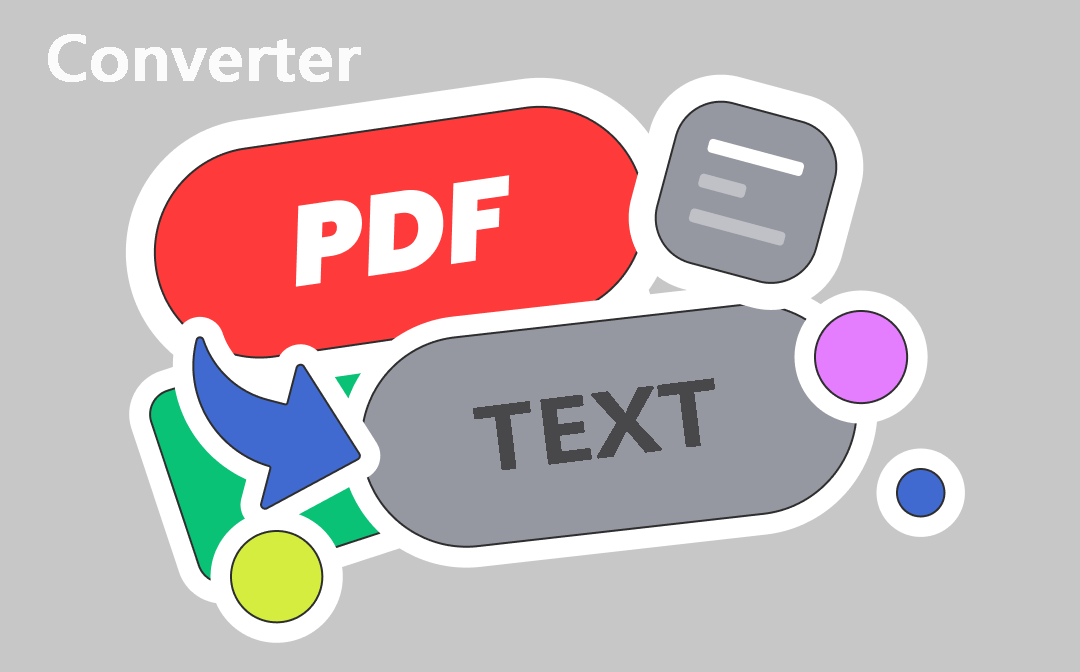 According to features and comprehensive performance, we've introduced the 5 best PDF to text converters. Some let you convert PDF to text in a desktop app on your computer, like SwifDoo PDF, and some others are accessible from browsers. They are fast and most of them offer free service.
5 Best PDF to Text Converters You Should Try
The best PDF to text converter should transform your PDF into plain text (TXT format) straightforwardly in a streamlined workflow. It better has an advanced OCR engine to recognize and extract text from PDFs more accurately. Read on to learn and choose your favorite converter to convert text-based or image-based and scanned PDFs.
1. SwifDoo PDF - Best PDF to Text Converter for Windows
SwifDoo PDF is one of the best PDF to text converters and editors recommended by PCWorld. The PDF converter allows you to convert an entire PDF or just certain pages of a PDF to text by entering the page ranges. It can batch convert a group of PDFs in one go and supports multiple document languages. Equipped with industry-leading OCR, the converter software greatly guarantees reliable conversion results.

The PDF to text converter enables you to convert image-based and scanned PDFs to text with paragraph layouts mostly preserved using OCR. Besides TXT, the plain text format, SwifDoo PDF can also output Office file types without losing the formatting. It offers a free online PDF to Word converter to convert PDF to Word for editing the text as well.
To convert PDF to text with the PDF to text converter, import a PDF and click the PDF to TXT tool. For an image PDF or scanned copy, first choose the OCR tool and then hit the text conversion option. The PDF to TXT file converter will work its magic at once.
What SwifDoo PDF is and can do:
PDF image and PDF scan to text converter and normal text-based PDF to text converter that offers a 15-day free trial without limitations.
Batch conversion is allowed.
High-quality text extraction that retains the overall original content layout.
Swift and simple conversion process.
OCR convert scanned PDFs to Word, Excel, and PowerPoint files.
Image PDF to searchable and editable text PDF converter with OCR
View, annotate, compress, split, and directly edit a PDF.
The PDF to text converter software is available for free download for all recent Windows. Try it now!
2. PDF2Text Pilot
PDF2Text Pilot is an open-source text from PDF extractor and PDF to text converter that is free to download and use for Windows. It supports batch processing more than 1 PDF at the same time and allows you to merge the PDFs into one TXT file or not. You can reorder the added PDFs before converting them. This software is loved by developers to solve text extraction tasks with the code of the program.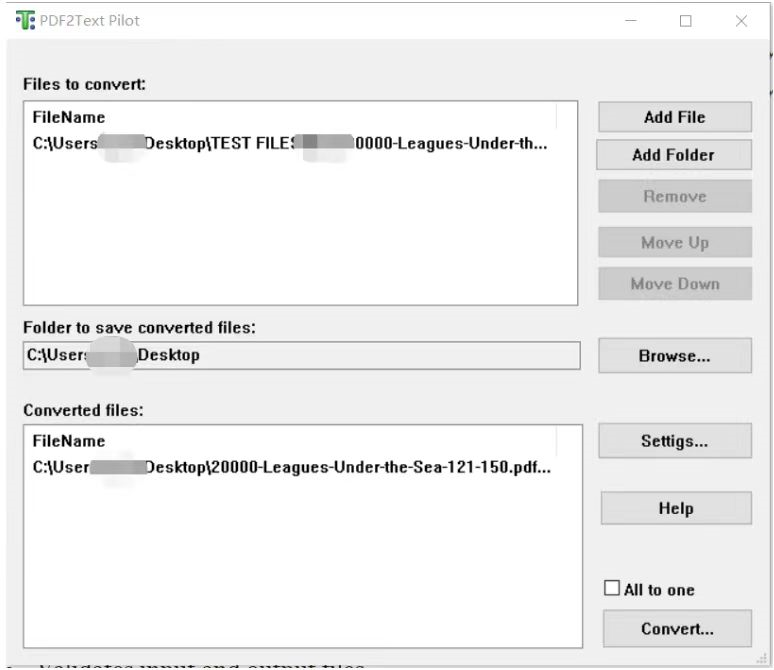 The best free PDF to text converter doesn't space or arrange the converted text the same as that in the PDF. That downside makes it a bit difficult to read the content. But if all you need is to find your target information, the program is an ideal choice. The user interface is clean and intuitive. This PDF to text converter freeware is only for Windows download.
3. PDF Expert
If you need to convert PDF to text, this is where PDF Expert comes into play. The software is one of the best PDF annotators, editors and converters with a modern and neat interface. To start a conversion, drag and drop your PDF into it, click "Export" and choose the "to Text" option. The PDF to text converter for Mac will complete the task in seconds. Moreover, there are tools to convert PDF to Word, Excel, PowerPoint and image format and vice versa.

The PDF to TXT text file converter can be downloaded on iOS for free to get your job done on the go when needed. The app also allows signing and highlighting a PDF.
4. OCR2Edit
Another best PDF to text converter is OCR2Edit, which runs online for free with OCR tools. The free converter allows you to convert PDF to text without registration and software installation. You only have to get into its website, choose the right conversion tool and upload your PDF. It can retain most of the layout. The text recognition tools also enable you to get text from images and scanned PDFs.

The online OCR-integrated text and scanned PDF to text converter allows free download of files generated by it online but requires a longer time to finish a conversion.
5. Convertio
Convertio is a multi-purpose and powerful document converter that provides a PDF to Word, PDF to rich text format, PDF to plain text, and more file converters for online use. It can turn several PDFs into TXT text files simultaneously. The browser-based and cross-platform PDF to text converter can be accessed from all PCs and mobiles and allows you to save files to the cloud.

Image, spreadsheet, ebook, audio and video format conversions are included in its capabilities. The conversion speed is nice but there are pop-up ads in the interface and scans or images to text conversion is not supported.
To Sum Up
All the best PDF to text converters have their strengths and weaknesses though they already stand out from a ton of options on the market. To convert PDF to text online, the two online converters above are worth considering depending on whether your PDF is scanned or not. If you have numerous PDF files to convert, the open-source PDF to text converter app and SwifDoo PDF are the go-to solutions.
SwifDoo PDF, as one of the most full-featured PDF applications, not only lets you change PDF to TXT format but also empowers you to make text and image edits to PDFs without conversion. The free trial of it doesn't need your credit card info and comes with all the features. No file size or quantity limits set. Just give it a try!