Introduction:
It's time to prepare for the 2024 New Year! Let's begin with designing fancy wish cards and writing touching New Year messages. A wishing message helps express your feelings precisely. But how to write the Happy New Year card creatively and make a great start for the year 2024? Just read this article. You'll get answers.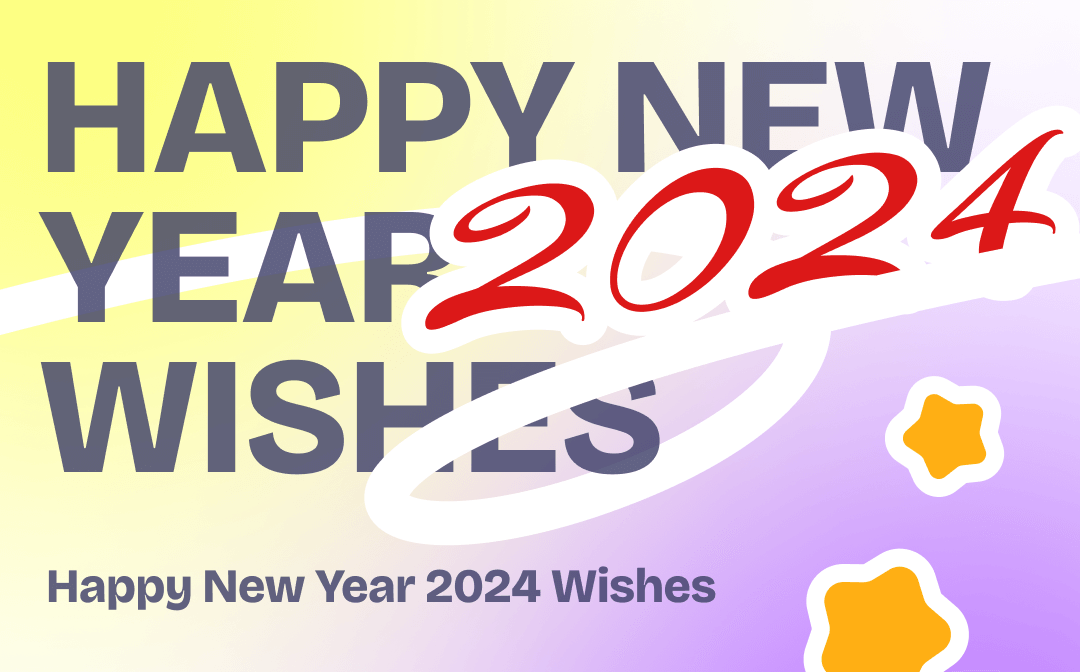 Farewell to the passing days and wish you a better new year is a meaningful way to move forward and start a new year. Whoever you want to wish her/him a happy new year, simply check our post and get a wish quote to write down or greet others face-to-face.
10 Best 2024 New Year Quotes for Family Members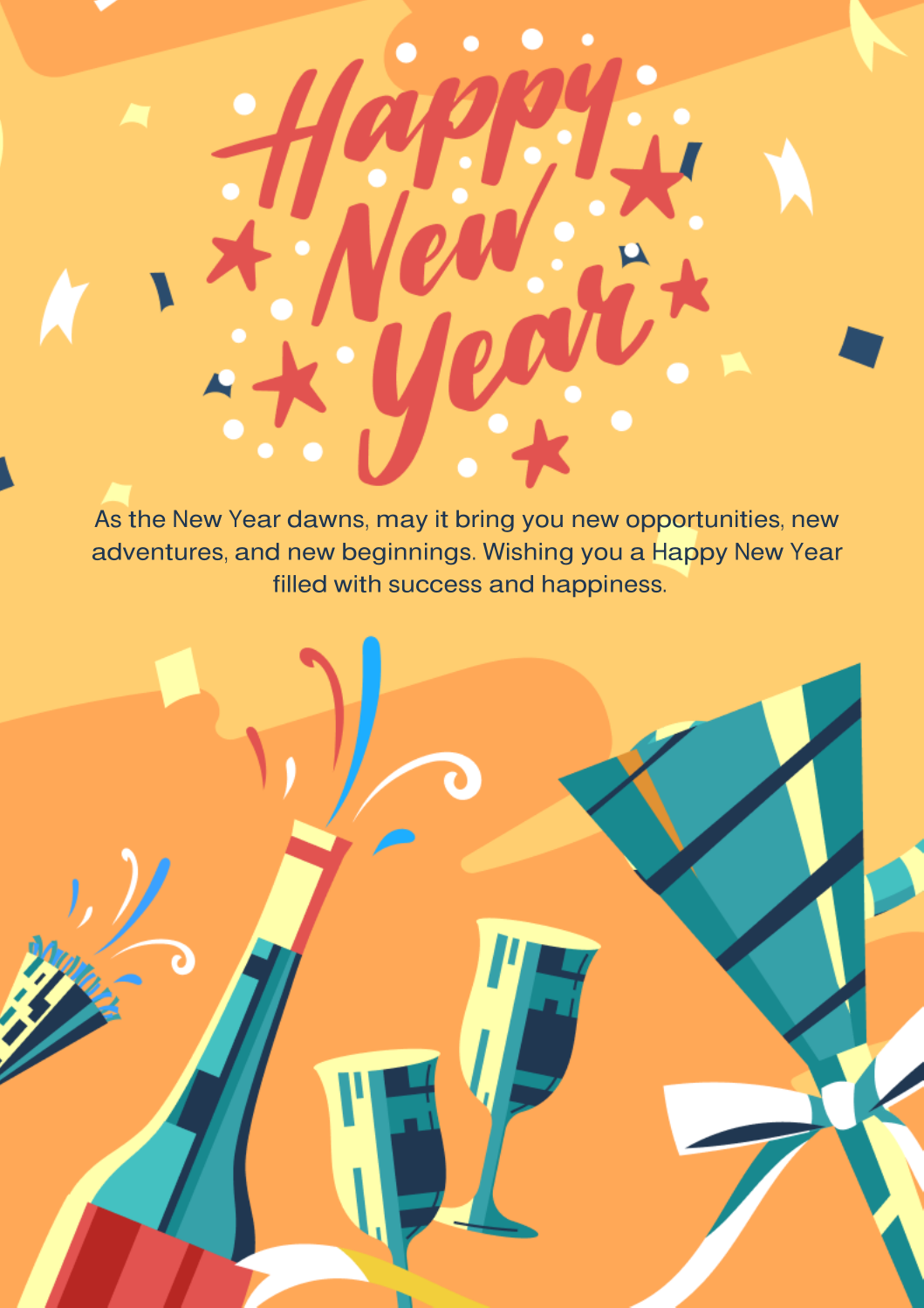 Click to Download this PDF Card Template >>
May the new year bring your family an abundance of joy, love, and laughter. Let every moment be a treasure to cherish together.
As we step into 2024, may the bond between your family members grow stronger, and may your hearts be filled with warmth and togetherness.
Wishing your family a year filled with countless new adventures, unforgettable memories, and the sweetest of moments.
In this fresh chapter of 2024, may your family continue to be the shining example of love, unity, and support. Happy New Year!
Let the coming year be a canvas for your family to paint beautiful memories, one stroke at a time, creating a masterpiece of happiness.
May the new year bring your family the gift of good health, the wealth of happiness, and the abundance of love that you truly deserve.
In 2024, may your family's story be written in golden letters, each chapter more exciting and heartwarming than the last.
New Year's wishes to your family, where every day feels like a holiday, and every night is filled with dreams and starry-eyed moments.
Here's to a year of family gatherings, shared meals, and endless love. May the joy of togetherness light up your lives in 2024.
As you step into the new year, may your family be a source of inspiration to all, radiating love, kindness, and positivity. Happy New Year!
10 Best Happy New Year 2024 Wishes for Friends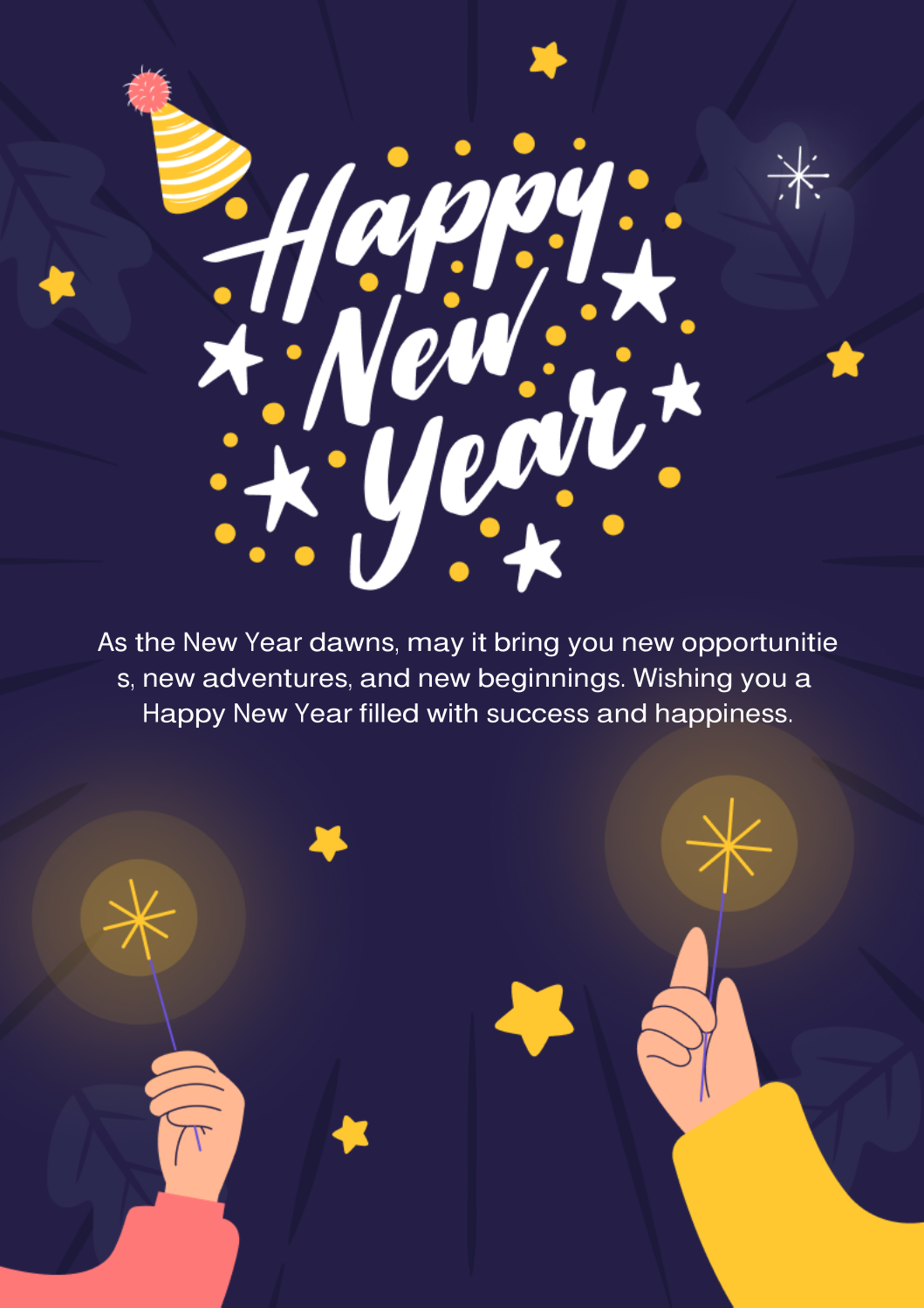 Free Download New Year Wish Card >>
Cheers to a New Year, my friend! May 2024 be filled with exciting adventures, lasting memories, and the discovery of new paths to happiness.
In the book of life, may the chapters of your friendships be the most captivating ones, with the New Year unfolding more tales of joy and laughter.
As the clock strikes midnight, may your friendships continue to shine brightly, like a constellation of love, laughter, and unwavering support.
Happy New Year, my dear friend! May your days be filled with the laughter of loved ones, the warmth of cherished moments, and the sweet surprises of life.
Here's to a year of shared dreams, conquered challenges, and the growth of our friendship, which is as rare and precious as a shooting star.
Let's raise a toast to the laughter we've shared, the adventures we've embarked upon, and the friendship that has been the anchor of our lives. Happy 2024!
May the new year bring fresh opportunities, exciting experiences, and a deeper bond between friends, like a fine wine that gets better with time.
With the dawn of 2024, may our friendship continue to bloom, with each day offering a new reason to celebrate the beautiful connection we share.
Wishing you a year filled with the melody of laughter, the rhythm of joy, and the harmony of cherished moments with friends like you.
Happy New Year, my friend! May the coming year be a masterpiece painted with the colors of friendship, happiness, and endless possibilities.
10 Best 2024 New Year Messages for Love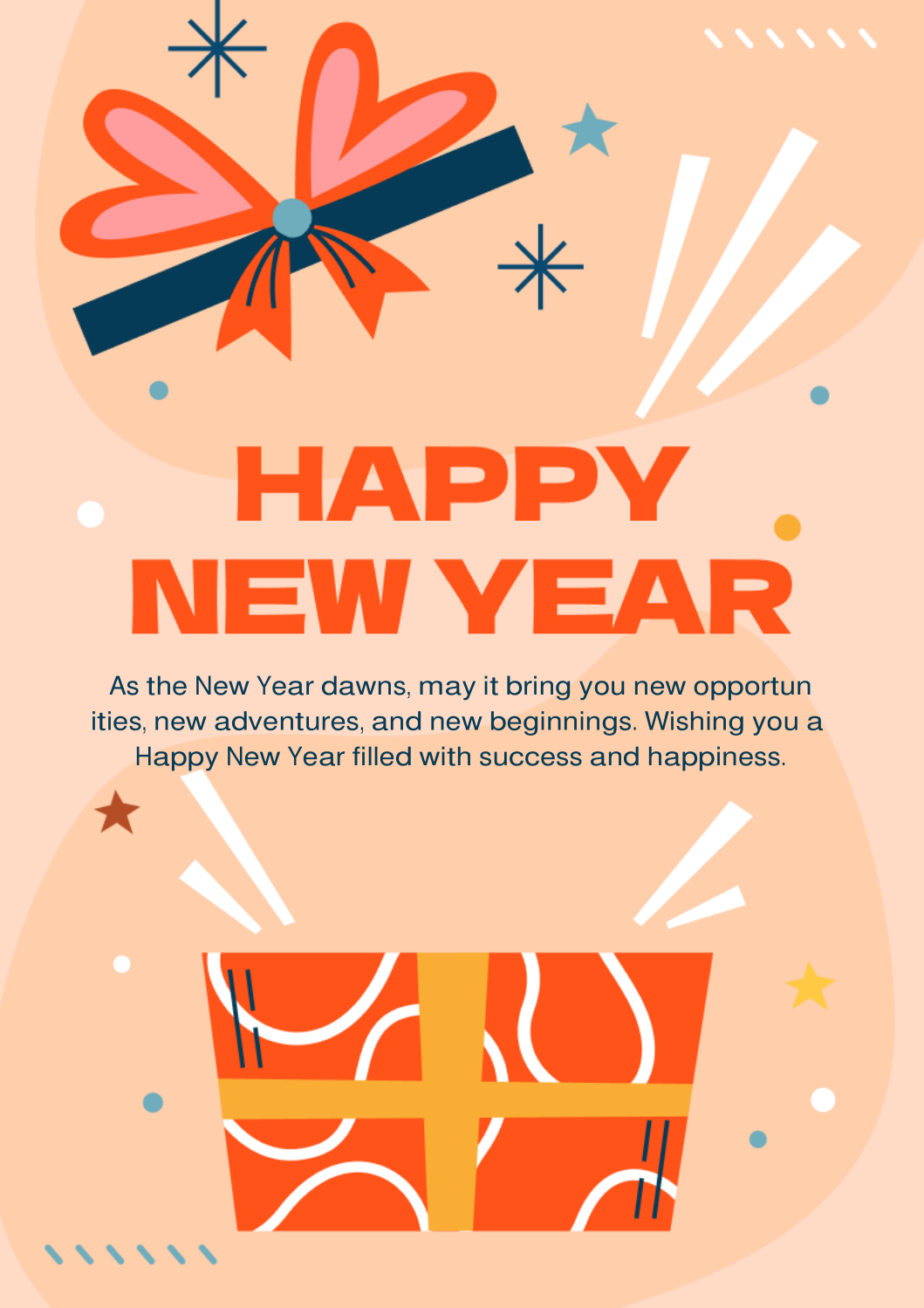 Download PDF Template for Free >>
In this new year, may our love story continue to unfold, like the pages of a captivating novel, filled with romance, adventure, and unending affection.
Happy New Year, my love! Here's to another 365 days of stolen kisses, warm embraces, and a love that only grows stronger with time.
As the calendar turns, may our love shine as brightly as the fireworks, and may our hearts beat in perfect harmony, embracing the promises of 2024.
In 2024, let's create a love so deep that it becomes a legend, a love story told for generations as the perfect example of what love truly means.
Wishing you a year where love blooms like a garden in spring, with every moment spent together adding another petal to our beautiful relationship.
Happy New Year, my dearest! May the coming year bring us more stolen glances, sweet whispers, and the unwavering love that sets our hearts on fire.
Let's welcome 2024 with open arms, ready to write a new chapter in our love story, filled with unforgettable moments and endless affection.
May our love be the guiding star in the vast sky of life, leading us to a year filled with shared dreams, heartfelt conversations, and a love that knows no bounds.
Happy New Year, my love! With each passing day, our love story becomes more enchanting, and I can't wait to see where this journey takes us in 2024.
Here's to a year where our love grows deeper, our bond becomes unbreakable, and our hearts find solace in each other's embrace. Happy New Year, my one and only.
10 Short Happy New Year Wishes for 2024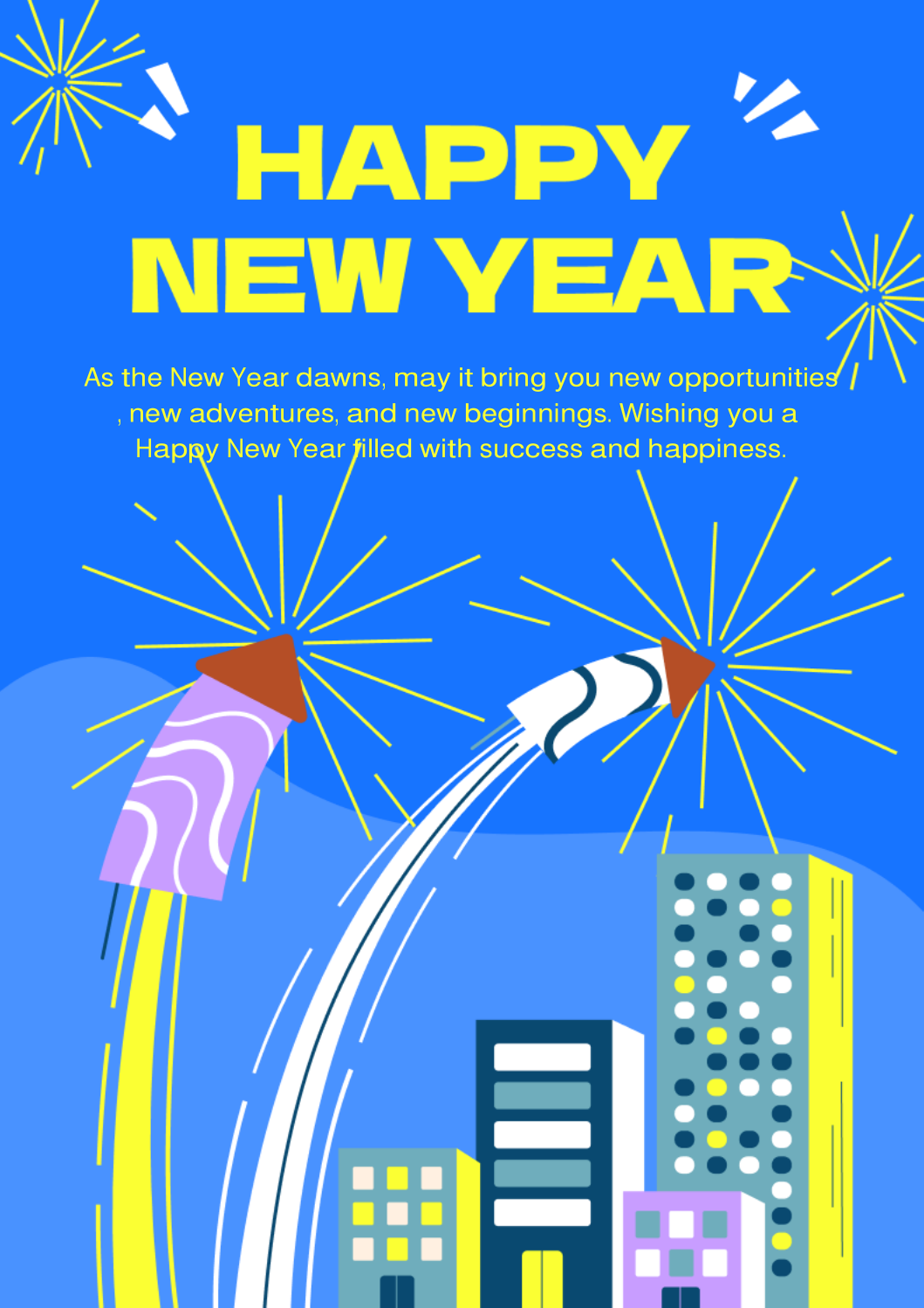 Write Your New Year Wishes Down on This PDF Card >>
Cheers to a bright and joyful 2024, filled with new adventures and cherished moments for all.
Wishing you a year of health, happiness, and endless opportunities in 2024.
May the coming year be your best one yet, with happiness and success at every turn.
Happy New Year! May 2024 bring you love, laughter, and endless possibilities.
Here's to a fresh start and a world of new possibilities in 2024.
May your days be filled with sunshine and your nights with stars this year.
In 2024, let's create a masterpiece of unforgettable moments together.
Cheers to a kind, compassionate, and beautiful 2024.
May the year ahead be filled with inspiration, success, and happiness.
Here's to a year where dreams come true and hearts are full of hope. Happy New Year!
Design Unique Wish Cards for the 2024 New Year
Undoubtedly, a New Year wish is important for celebrating the Happy New Year. But if you design a unique wish card yourself can better express your thoughts.
In this part, we'll show you how to create New Year wish cards in PDF format, which is considered the most stable and compatible file format. A PDF card can be shared across different devices and OS as well as printed without losing formatting. By creating 2024 New Year wish cards in PDF, you can easily send them to your friends.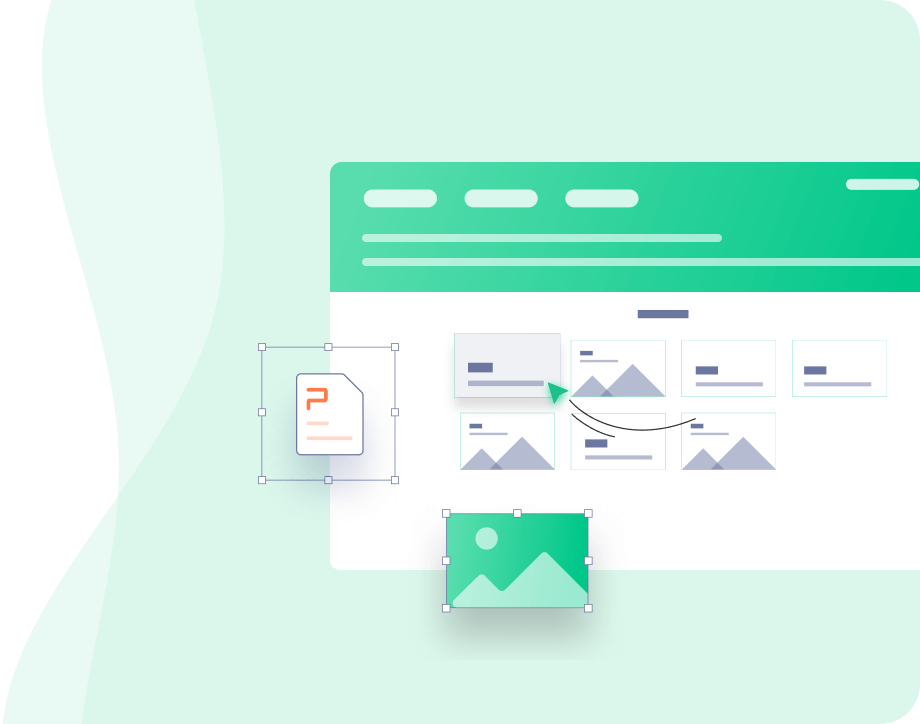 SwifDoo PDF: All-in-One Free PDF Editor
Edit, compress, organize, and split PDFs
Annotate PDFs by adding notes, stickers, etc.
Convert PDFs to Word, Excel, and other editable files
Free Download
Windows 11/10/8.1/7/XP
Here's how you can design PDF wish cards for free:
Step 1. Free download SwifDoo PDF on your PC and launch it.
Step 2. Click on Create from its homepage and select Blank. Then adjust the PDF page size and confirm it.
Step 3. Feel free to add 2024 New Year wishes messages and images to this PDF card.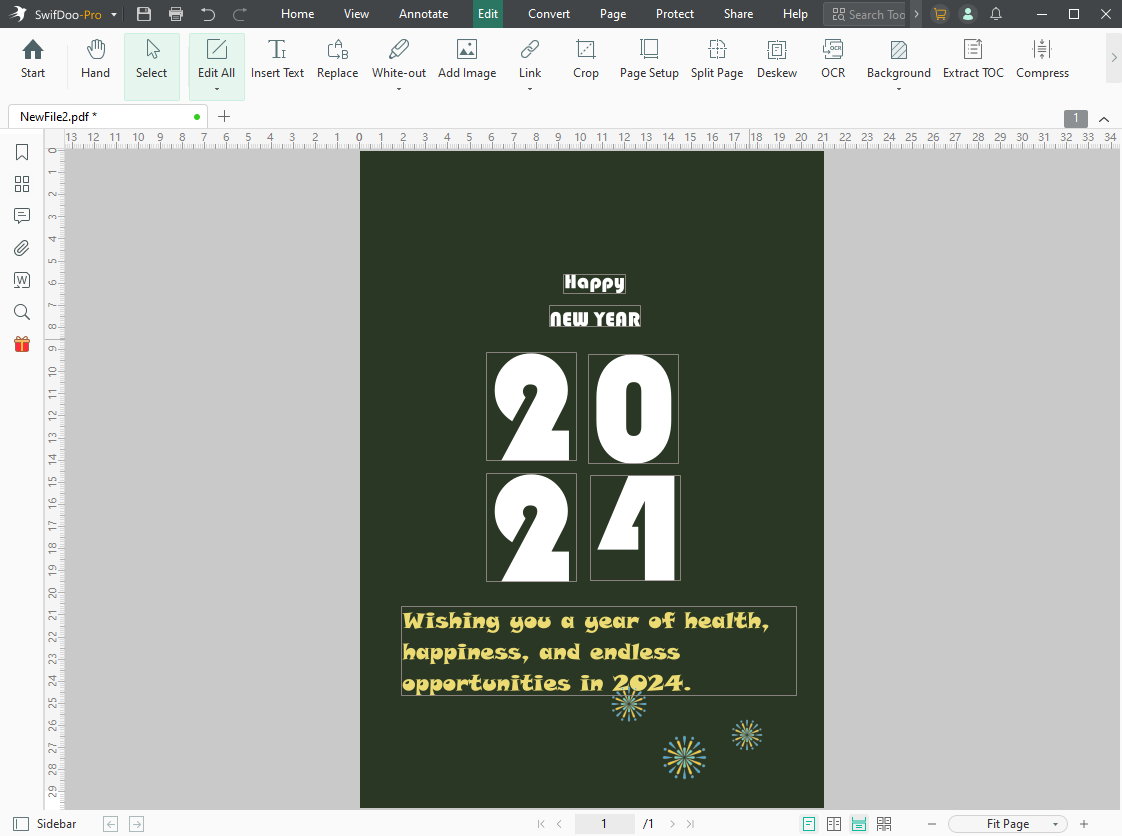 Step 4. Print it out or share it with others directly.
Alternatively, you can download any PDF template from this article and effortlessly edit the text with SwifDoo PDF.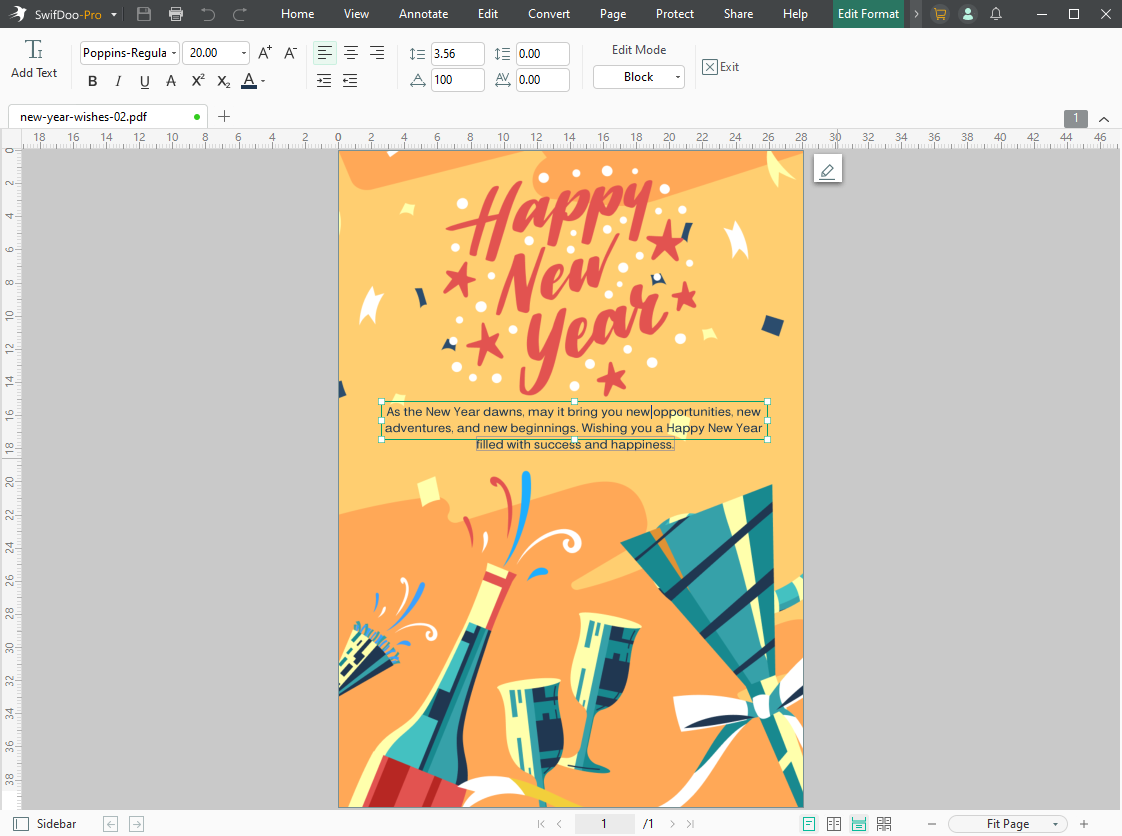 SwifDoo PDF is a popular PDF creator & editor for manipulating PDF files. It allows you to add text, images, and stickers to a PDF file for designing holiday or birthday cards, etc. Moreover, if you share the PDF card over the Internet, you can also insert audio or video files seamlessly with the help of SwifDoo PDF.
So, download SwifDoo PDF on your PC and master the art of PDF to make the best 2024 New Year cards right now!