Thanksgiving is around the corner! It's definitely one of the most important and busiest holidays in a year. Families gathers, making a big dinner and talking about what's going on recently. Traditionally, turkey, gravy, and Pumpkin pie always star in the Thanksgiving menu. With time passing by, however, it seems like that all the traditions for Thanksgiving become old-fashioned. And the dinner also gets boring, obviously. So, we've collected some funny Happy Thanksgiving quotes over the Internet, empowering you to bring much joy to the table. In addition, we also prepare some Thanksgiving greetings & wishes that you can write down on Happy Thanksgiving cards and share them to your friends or families. Let's dive in!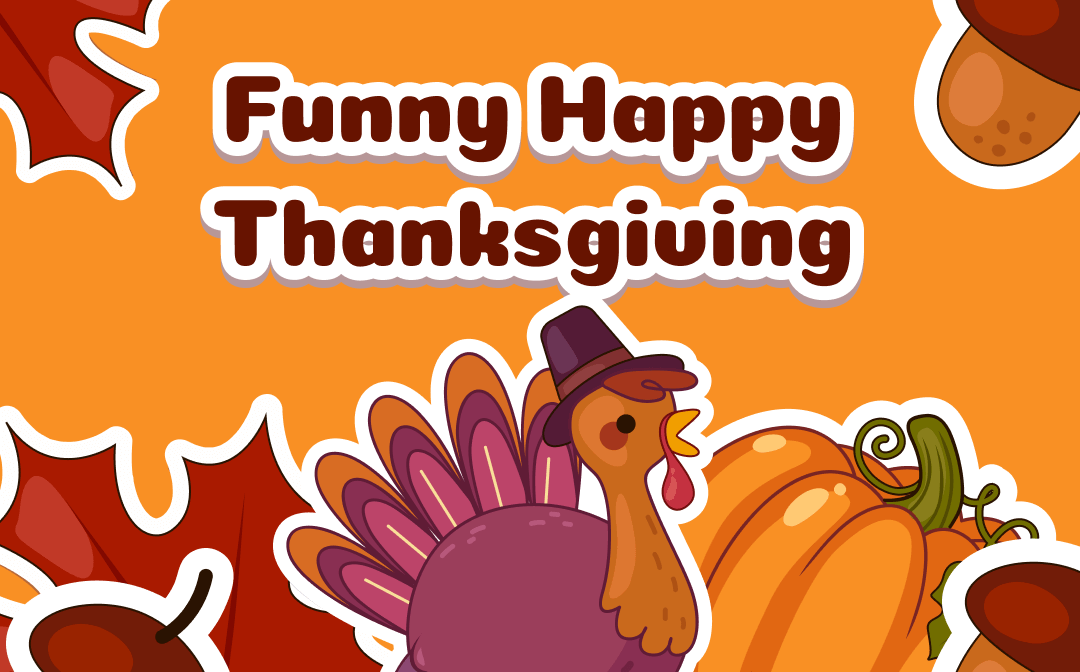 Funny Happy Thanksgiving Quotes
We've collected 10 funny Happy Thanksgiving quotes across the web, which can liven up your parties and make your families laugh loudly. Check them below: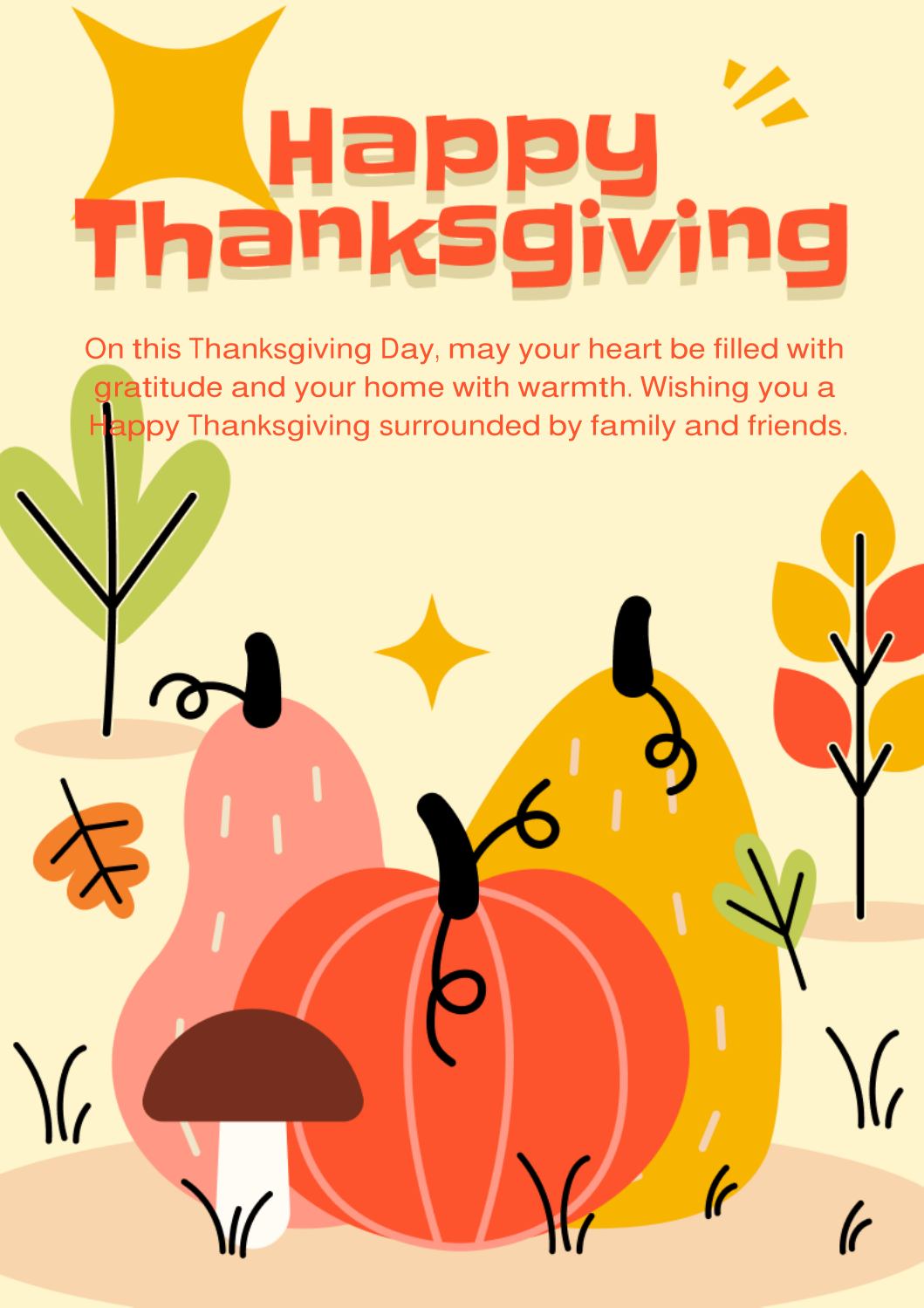 Free Download Thanksgiving Card Template >>
"Thanksgiving is the day when you turn to another family member and say, 'How long has Mom been cooking this turkey?' 'Five hours.' 'She's fast, it's only taken me 3 minutes to eat it!'" — Unknown
"Cooking Tip: Wrap turkey leftovers in aluminum foil and throw them out." — Nicole Hollander
"Thanksgiving is an emotional holiday. People travel thousands of miles to be with people they only see once a year. And then discover once a year is way too often." — Johnny Carson
"I come from a family where gravy is considered a beverage." — Erma Bombeck
"I'm looking forward to seeing pie this Thanksgiving more than members of my own family." — Damien Fahey
"Thanksgiving dinners take eighteen hours to prepare. They are consumed in twelve minutes. Half-times take twelve minutes. This is not a coincidence." — Erma Bombeck
"It took me three weeks to stuff the turkey. I stuffed it through the beak." — Phyllis Diller
"On Thanksgiving Day, all over America, families sit down to dinner at the same moment – halftime." — Unknown
"Thanksgiving is a time to count your blessings, one by one, as each relative goes home." — Melanie White
"I'm thankful for a lot of things, but mostly, for all the post-Thanksgiving sales!" — Unknown
Funny Happy Thanksgiving Jokes
In addition to humorous Thanksgiving quotes, decent jokes also add additional flavors to this holiday. If you have no talent after the dinner, try to make some jokes! Here are 10 Thanksgiving-related jokes you should remember in case that your brain gets empty on that occasion!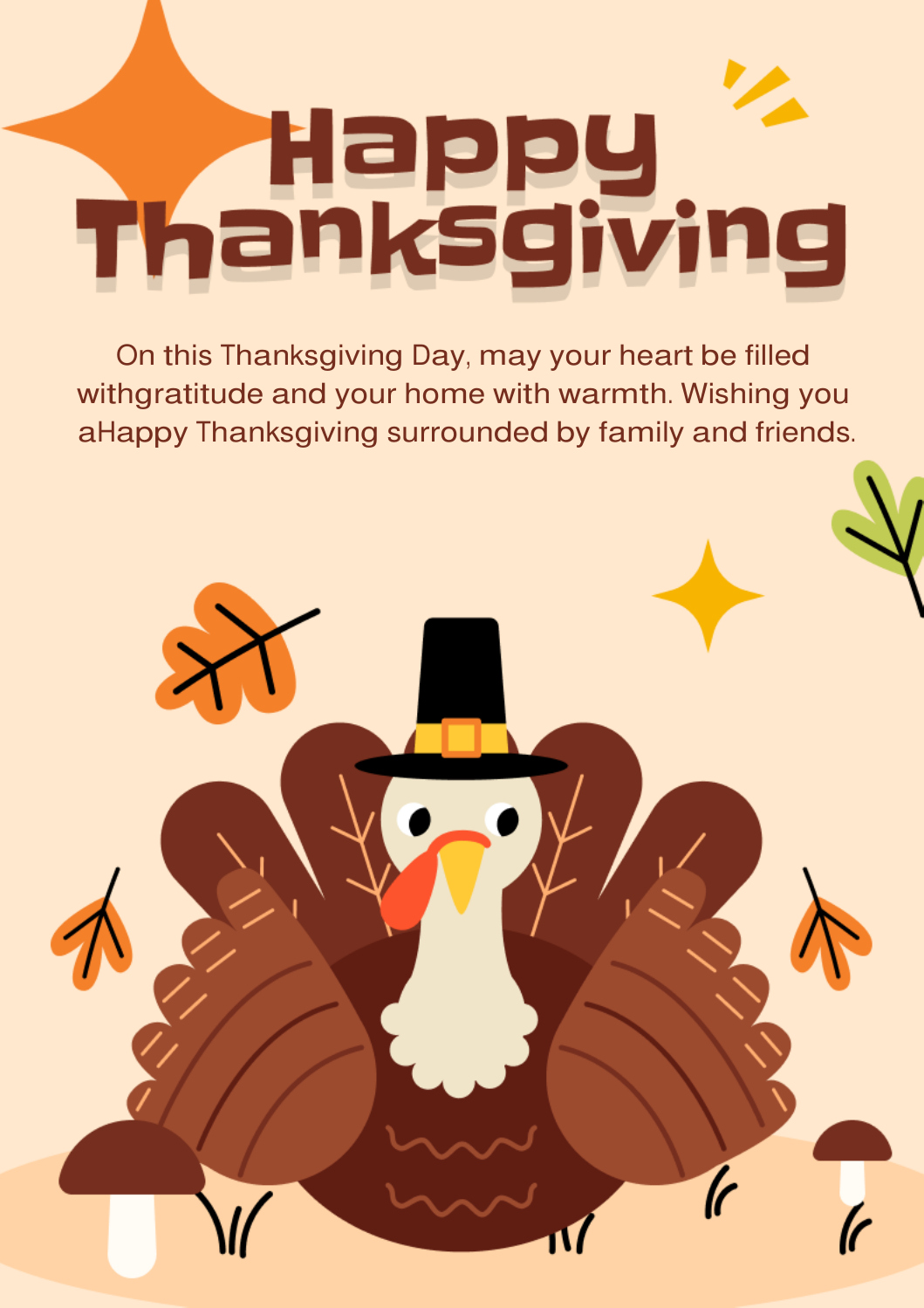 Click to Get the Thanksgiving Card PDF >>
"Why did the turkey join a band?" "Because it had the drumsticks!"
"What do you call a turkey on the day after Thanksgiving?" "Lucky!"
"What kind of music did the Pilgrims listen to on the first Thanksgiving?" "Plymouth Rock!"
"What do you get when you cross a turkey with a penguin?" "A bird that likes to stuff itself!"
"Why did the cranberries turn red?" "Because they saw the turkey dressing!"
"What do you call a can opener that doesn't work on Thanksgiving?" "A turkey!"
"What do you call a Thanksgiving dessert that you bake in the fall?" "Pumpkin pi!"
"Why did the turkey sit on the tomahawk?" "To try to hatchet!"
"What's a turkey's favorite dessert?" "Peach gobbler!"
"What's the key to a successful Thanksgiving dinner?" "The tur-key!"
Happy Thanksgiving Greetings & Messages
If you want to write or say some Happy Thanksgiving greetings to your families or friends, we've also got you covered! In this part, you can check 20 Thanksgiving messages that are suitable for all. Just select the one that you like the most!
Save the Card Template for Thanksgiving Days >>
Wishing you a bountiful Thanksgiving filled with love, laughter, and delicious food!
May your Thanksgiving table be as full as your heart this holiday season.
Gratitude turns what we have into enough. Happy Thanksgiving!
Here's to counting blessings, not calories, this Thanksgiving.
May your day be as bright as the autumn leaves and as warm as a turkey's hug!
As we gather around the table, let's remember that family is the greatest gift of all. Happy Thanksgiving!
Giving thanks is a sign of a grateful heart. Thank you for being a part of my life. Happy Thanksgiving!
May your home be filled with the joy of family, the warmth of friends, and the love of the season. Happy Thanksgiving!
On this day of gratitude, I'm thankful for friends like you. Happy Thanksgiving!
May your heart be as full as your plate this Thanksgiving.
Wishing you a harvest of happiness this Thanksgiving!
Grateful for the past, embracing the present, and looking forward to the future. Happy Thanksgiving!
Thankful for the moments, big and small, that make life beautiful. Happy Thanksgiving!
May your Thanksgiving be filled with laughter, love, and leftovers!
Giving thanks for the simple joys and the people who make life extraordinary. Happy Thanksgiving!
As we gather to eat, let's remember to give thanks for the blessings in our lives. Happy Thanksgiving!
Gratitude is the best attitude. Happy Thanksgiving to you and your loved ones!
Here's to enjoying the company of good friends and family, and to counting our blessings.
Wishing you a Thanksgiving filled with love, laughter, and lots of pie!
May your heart be as full as your plate this Thanksgiving, and your spirits as bright as the fall colors.
Design Thanksgiving Greetings Cards PDF
When writing down Thanksgiving messages, Thanksgiving cards become a must. The easiest way to get a Thanksgiving card is to buy from a shop or download a template from the Internet. However, they may be old-fashioned and repeated. So, we recommend you design unique Thanksgiving cards on your own.
PDF is one of the most stable file formats that is best for printing and sharing. No matter what device you use to view or print, a PDF card will keep intact as it was created originally.
Here, an excellent PDF creator named SwifDoo PDF is waiting for being introduced to you. It serves as an all-around PDF card maker, enabling you to add images, stickers, and texts in various fonts, etc., granting you with full responsibility to craft special holiday cards for Thanksgiving Days. In addition, if you share PDF greeting cards online, you can also attach rich media file to the PDF, including audio and video files. By doing so, people who receive this wish card can watch the greeting video or listen to you, which could surprise them for sure.
So, just download SwifDoo PDF and start crafting a 100% unique Thanksgiving card for your loved ones.
Here's how you can design Thanksgiving cards for free with SwifDoo PDF:
Step 1. Launch SwifDoo PDF on your device.
Step 2. On its homepage, click on Create > Blank and choose the preferred PDF page size.
Step 3. Click Edit and add any image & text to this PDF card.