Daughters are precious! And so is the day they were born to ignite parenthood for any couple. Whether she's entering her teenage years, gracing adulthood, or raising a family of her own, she'll always be your baby girl! But it's her birthday, and what can be the best way to wish her? Merely saying Happy Birthday might not do the job when she deserves the best.
Instead, we suggest you put your thoughts into words and ensure it's her style. We can help you with our list of birthday greetings. We will help you with 30 warm, thoughtful, and special birthday wishes for adult daughter to make her special day more memorable and fun-filled.
That's not it. This passage even discusses a quick way to make a birthday greeting card to put your expressions onto it and celebrate your daughter's day in the most memorable manner. Let's check.
contents
10 Warm Birthday Wishes for Adult Daughter
While you wouldn't want to miss out on any opportunity to pamper your daughter on her special day, birthday wishes are equally essential to make her feel the little joys of how blessed you are to have her as your daughter. Check these ten warm birthday wishes for adult daughter.
Free Download Birthday Card >>
Happy Birthday, my sweetheart, from your number one fan: your loving mom! I'm so blessed and honored to call you my daughter. I wish every person would experience this kind of love.

With great determination and drive, the sky is the limit for a talented young woman like you. Happy Birthday, my prettiest daughter!

The day you came into this world will forever be my favorite day! Happy Birthday, Jessica, you will always be my little girl!

Happiest of days to my wonderful daughter, Chloé, on her Birthday! May this year bring you endless opportunities and abundant reasons to smile and make you happier!

Sending you love, hugs, and birthday cheer, and wishing you fun in everything you do. Have an exciting birthday, my dear daughter!

Today, you're a little bit older but a lot more fabulous. May your gracious spirit continue to shine and touch others. Happy Birthday, daughter!

Happy Birthday to my forever-built-in best friend. Live your best life today and every day, sweet girl! Have a wonderful birthday!

You're the best thing that ever happened to me. May all your wishes come true today and every day! Happy Birthday, Princess!

You're my biggest inspiration. You illuminate the lives of everyone you meet. Happy Birthday to my darling daughter!

Just when I think you can't brighten my life even more, you prove me wrong — year after year. Cheers to another birthday!
10 Special Birthday Wishes for Adult Daughter
Of course! The cake is important to celebrate any special occasion, especially birthdays! But some warm, fresh, and crisp birthday wishes are equally essential to make a lasting impact no matter how big she has grown! These ten sentimental and special birthday wishes for adult daughter are sure to brighten your daughter's day.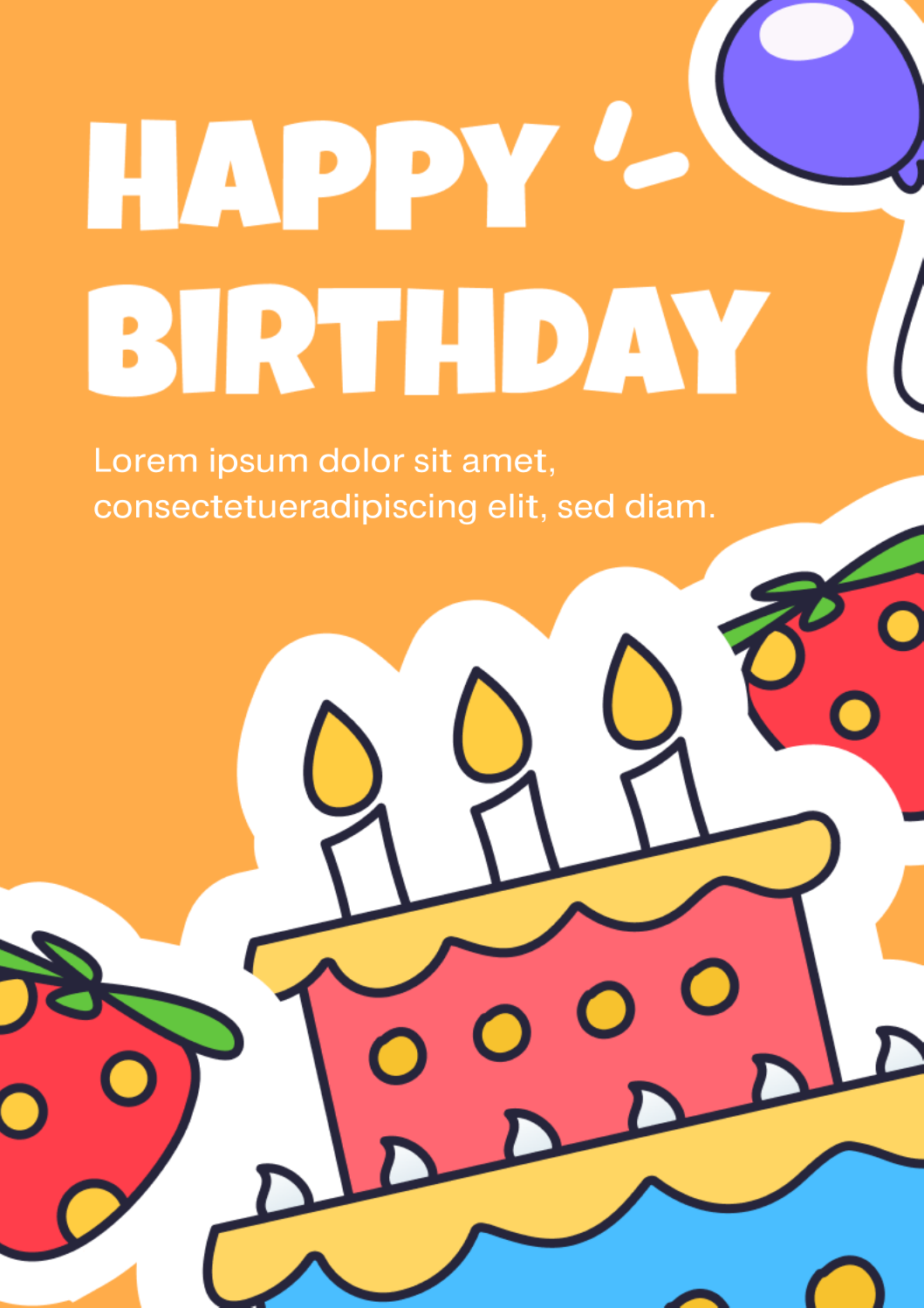 Get Birthday Card for Adult Daughter >>
Another year smarter, funnier, and all-around wonderful-er! Happy Birthday, my darling girl, Daisy.

Being your mother is a privilege and honor. I'd do anything for you today and always. Happy Birthday, Rose!

I'm so proud to say the mini version of mine is way better than the original one. Happy Birthday, sweetheart.

I hope that your celebration is as sweet as you are. Let's eat cake! Happy Birthday, the most precious gift I've ever received.

May God grant you all the desires of your heart. It has been a dream to watch you grow every day! Happy Birthday, my gorgeous daughter!

Sending you birthday wishes of celebration and cheer! Hope you have a larger-than-life gala on your special day, Evelyn!

It's my prayer that blessings shower down on you today. May God continue to keep you happy, healthy, and kind. Happy Birthday, sweet daughter.

Today is about you. I'm so grateful for having a daughter like you. I can't wait to celebrate with you all day long! Happy Birthday, Scarlett!

You deserve everything this world has to offer and more. I hope you get it all because you are beyond worthy. Happy Birthday, my Sunshine!

You're such an inspiration to those around you. Keep shining like the star that you are. Happy Birthday, Lucy!
10 Thoughtful Birthday Wishes for Adult Daughter
Gifts are everyone's favorite but written words and birthday greetings have not lost their charm yet. So you can include short birthday greetings on your presents as an outward token of expression or write thoughtful and heartfelt notes for your princess. We understand it can be hard to think about what to say on your daughter's birthday, but you can check out our ten sorted and thoughtful birthday wishes for adult daughters to include this year.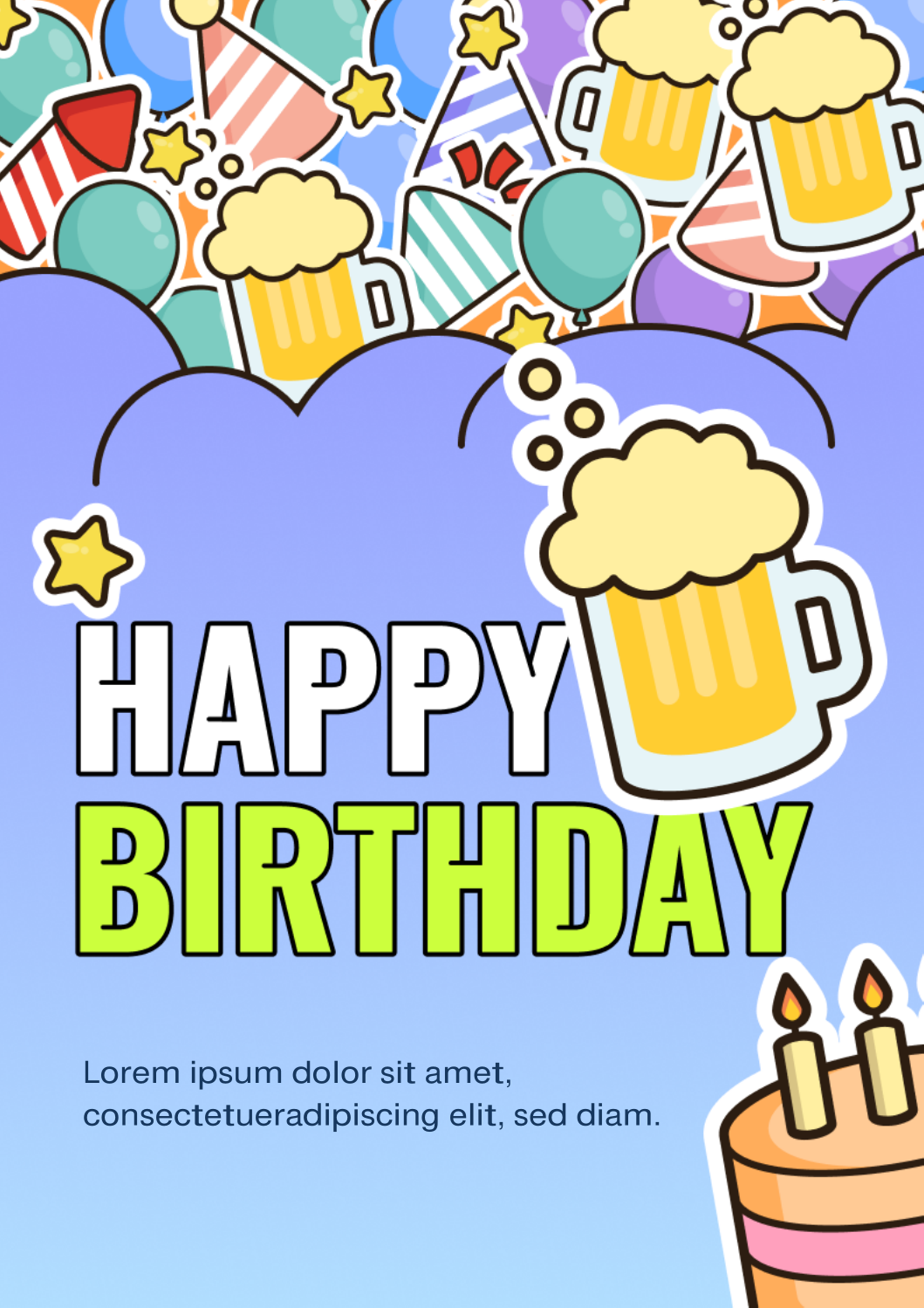 Download Birthday Card for Free >>
Thank you for being a fantastic daughter. My heart beats for you! Happy Birthday, my sweet daughter, Ana!

Happy Birthday, my precious daughter! You'll always be the apple of my eye. The world is a better place because you're in it!

We are so proud of the beautiful and intelligent woman you've become. Happy Birthday to our dearest daughter, Alice!

You're the brightest jewel in our family. Wishing you a fun and memorable day! Happy Birthday to my precious daughter!

You give us a thousand reasons to smile every day. Our best wishes are with you always. Happy Birthday, my darling daughter, Mia!

No person can make me laugh and smile like you do. You're such a joy to be around—hugs and kisses for you, my lovely daughter, today and always. Happy Birthday!

Happy Birthday, Angel. May your day be full of fun, sunshine, rainbows, and laughter!

Today, I ask God to bless you with joy on your Birthday and always. Happy Birthday to my beautiful daughter!

You've grown into a remarkable woman and mother. I am proud of you. You are our biggest blessing from Heaven. Happy Birthday, Sweetheart!

You're the icing on my cupcake. You make everything sweeter! Happy Birthday, sunshine.
Create Birthday Cards for Adult Daughter
Now create a personalized birthday card for your daughter in one click with SwifDoo PDF. Customize these birthday wishes for adult daughter or use them as it is to express your feelings and make your daughter's special day more memorable.
SwifDoo PDF lets you design unique birthday cards for adult daughters. It is one of the best PDF creators to annotate, convert, merge, compress, crop, edit, and create PDFs hassle-free. You can create a personalized PDF birthday card and share and print it with the PDF creator tool. Moreover, SwifDoo PDF lets you add images and change its font size, style, and background color in a few steps.
Check how to add birthday wishes for adult daughter in a card template with SwifDoo PDF.
Step 1: Launch SwifDoo and click the Open button to select the template to be customized.
Step 2: Click Edit > Edit All.
Step 3: Copy your birthday wishes and paste them into the PDF.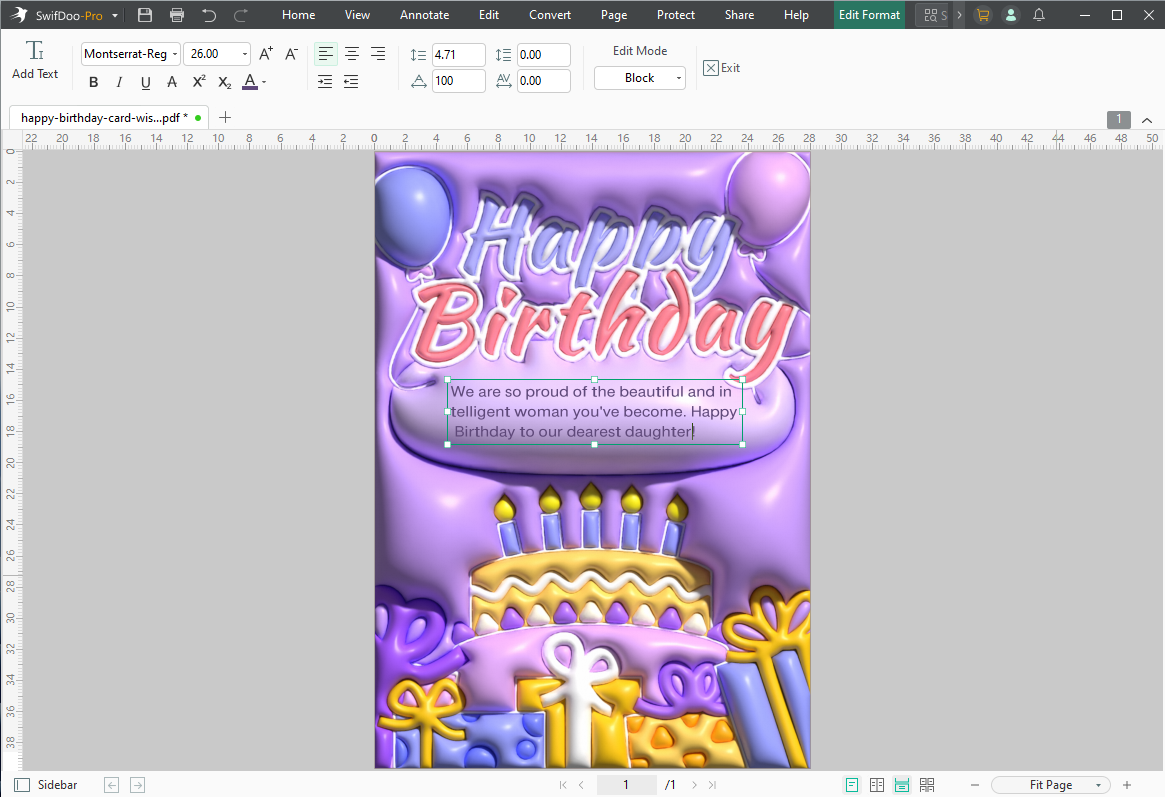 Step 4: Add images and write personalized text. Then edit them along with the background color to meet your requirements.
Once your birthday card is ready, you can print a PDF and send it to your daughter with SwifDoo PDF or post it virtually on her active social media networks like WhatsApp, Facebook, Instagram, etc. SwifDoo PDF is the best solution to solve all PDF-related issues.
The Final Thoughts
You should not miss any opportunity to make your loved ones feel cherished, appreciated, and loved, especially if it's your daughter's birthday. Before you fall short of words, we have guided you with the 30 best thoughtful, warm, and special birthday wishes for adult daughter. You can make a birthday card with SwifDoo PDF and customize these wishes, or post one on her social media handles at every hour of the day! Download SwifDoo PDF today for all your PDF-related needs.