Introduction:
Birthdays are a happy and joyous occasion for everyone. They add a moment to celebrate and appreciate your loved ones. Having said that, an 80th Birthday is a huge and momentous milestone, and these fortunate people deserve love on their special day, ecstatic, joyous celebration, and most importantly, respect. Besides gifts, why not add some 80th birthday wishes to make it all the more special?
You can make a card and write catchy phrases for 80th Birthday that talk of a life well lived and express your love, gratitude, and appreciation towards them. So, come with us as we explore the best ideas for Happy 80th birthday wishes to put in those greeting cards and spread smiles all around.
15 Top 80th Birthday Wishes for Him
1. On your 80th Birthday, may God's grace shine upon you and fill your heart with peace, love, and happiness. May you continue to be a shining example of faith to all who know you.
2. Happy 80th Birthday to my role model. I feel incredibly blessed to have you and learn so many beautiful things.
3. My dear friend, I am incredibly grateful to have you in my life. Happy 80th Birthday, buddy.
4. To a special Dad, you're the coolest and most fabulous 80-year-old I know. Happy Birthday, and happy every day you are loved! A bouquet of happiness for you!
5. I wish you many more fruitful and beautiful years. I'm filled with happiness to see that you're still enjoying life to the fullest at age 80. I hope to be as joyful, active, and productive as you when I turn 80. Happy Birthday. Laughter and joy forever!
6. Well done on having successfully passed through 80 years of life! I wish you many more fruitful years— Happy 80th Birthday.
7. Happy 80th Birthday to my supportive and loving brother! Thank you for always being there for me. May this year be filled with blessings and happiness.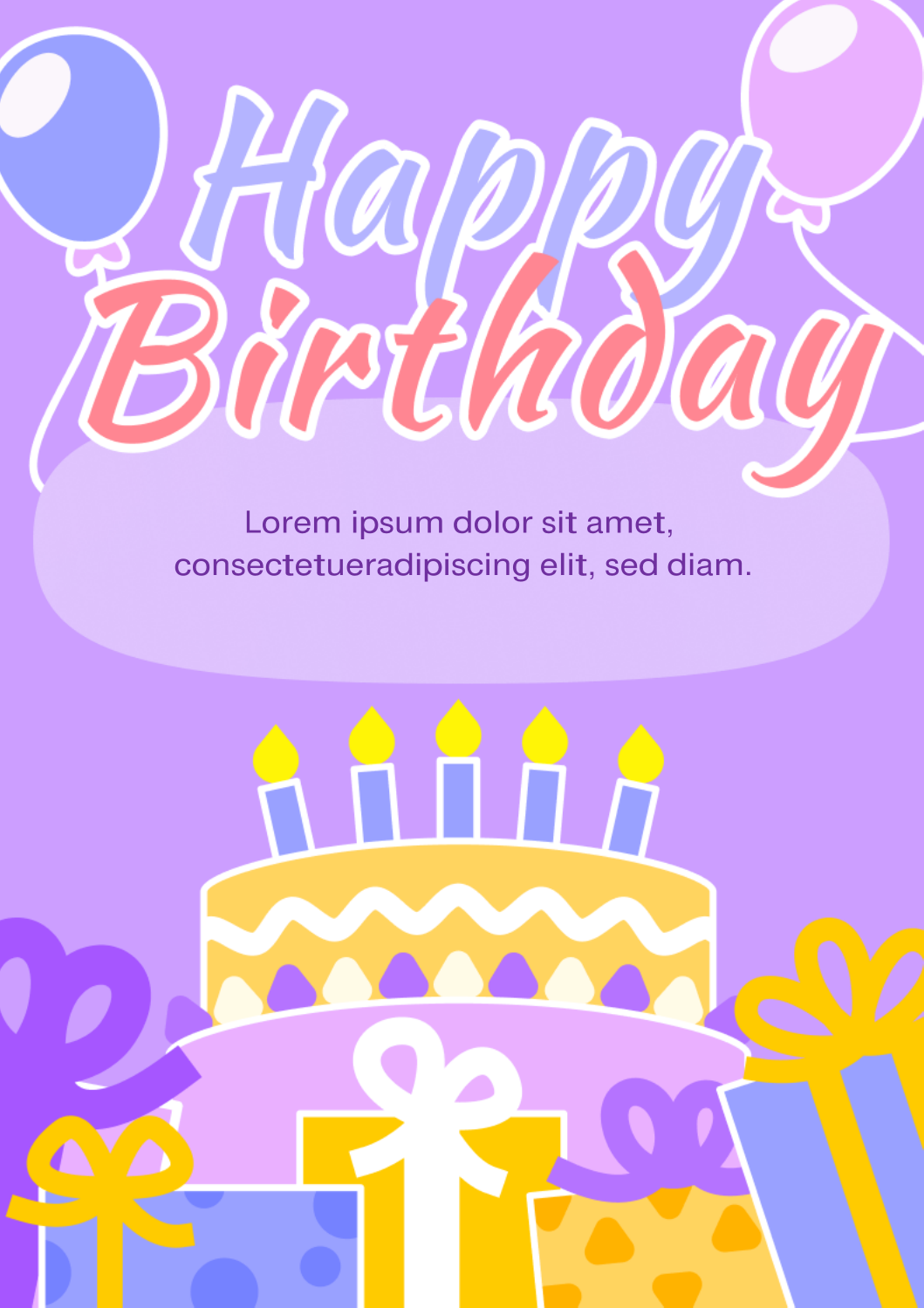 Download the 80th Birthday Wishes Card in One-click >>
8. Your infectious energy and positivity brighten our dullest moments! Happy 80th Birthday. May your Birthday be filled with as much laughter as you have shared with us.
9. Happy 80th Birthday to my dearest friend! You're not just a year older; you're a year wiser, funnier, and more fabulous.
10. Happy 80th Birthday, Dad! Your love and support have made me the strong person I am today. May this milestone year be filled with joy, laughter, and cherished moments.
11. Congrats on reaching your 80th Birthday. You've been blessed to witness many things in life with lots of memories to share with us. May you have a blessed day!
12. I hope your tour around the sun was enjoyable. Here's marking 80 glorious years of fun, love, and a fantastic uncleship.
13. Turning 80 means the beginning of another year with eight decades of wisdom behind you! Let's raise a toast to you and your life!
14. Wishing you a happy 80th birthday, Grandpa, filled with God's presence and guiding light. May He continue to lead you on a path of righteousness and bless you abundantly.
15. You seem to have an easy time reaching 80. You make it look like it was an easy ride. Congratulate yourself on your special day!
Write Down Your best 80th Birthday wishes with the SwifDoo PDF. However, if you are looking for more of the best birthday wishes for Grandpa, you must read this article.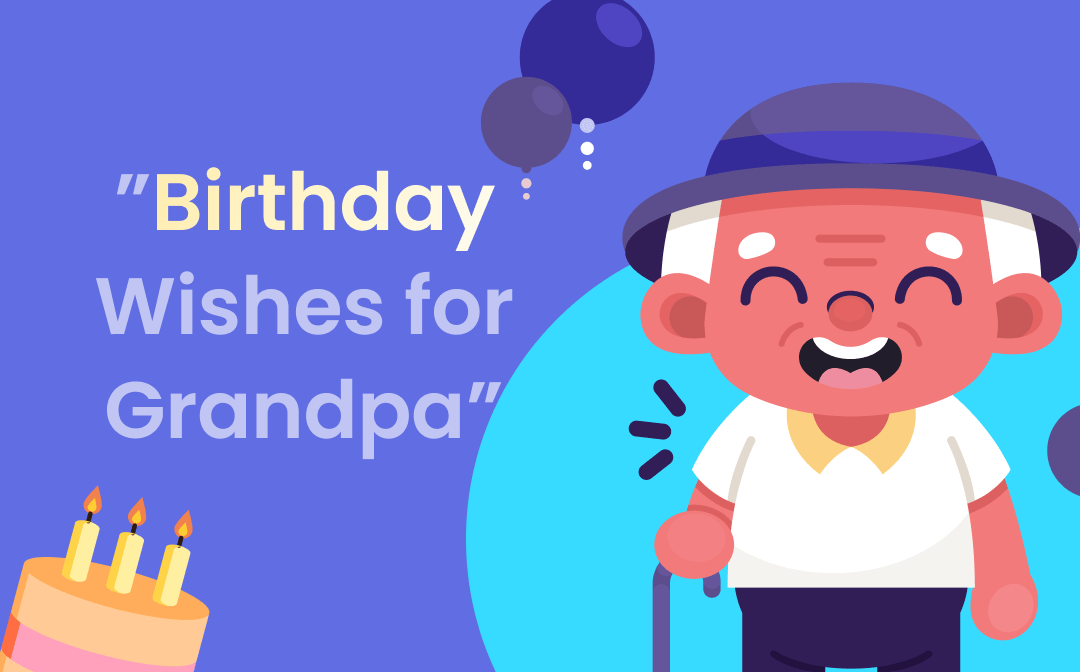 30 Birthday Wishes for Grandpa: Quotes with Card Templates
Is your Grandpa's birthday nearing? Then these funny, sweet, heartwarming, and unique birthday wishes for Grandpa can be handy to wish him on his special day!
READ MORE >
15 Top 80th Birthday Wishes for Her
1. On your 80th Birthday, may you be surrounded by loved ones, and may God's love and grace be ever-present. Thank you for being a living testament to the power of faith.
2. None of us would be who we are today without having you to mentor and guide us. May your wisdom and light continue to show us the way! Happy Birthday.
3. May your 80th Birthday be one of your most special. You are loved by so many! Happy Birthday. 80 is just another way to say beautiful.
4. Wishing you a beautiful, bouncing, bountiful 80th birthday and a fantastic year ahead, Aunt. May this day be no less of a celebration. Here's to a day full of cherished moments.
5 To a special Mom, you're just as beautiful at 80 as you've always been. You just creak a little bit more.
6. On your 80th Birthday, we celebrate all that is beautiful about you. I hope this Birthday becomes as memorable as you are.
7. Happy 80th Birthday to the most amazing friend! Our journey together has been filled with fun, laughter, adventures, and unforgettable moments.
Access the Free 80th Birthday Wishes Card >>
8. Your grace, wisdom, and love have always been the guiding light in my life— Happy 80th birthday wishes. Have a fantastic day.
9. Happy 80th Birthday to my extraordinary mom! Your love has shaped me in more ways than words can express. Enjoy your special day, Mom!
10. Wishing my beloved sister a fantastic 80th birthday! You're a shining light in my life. May this year be filled with joy, laughter, and beautiful memories.
11. Congratulations on turning 80, my sweetest Grandma! Your love is like a warm embrace. Thank you for always making us feel cherished. Enjoy your special day!
12. Happy 80th Birthday to my wonderful sister. We can no longer call you an old cow; the correct term is 'cranky elderly lady.'
13. Your 80th Birthday is a day to celebrate all the sunrises and sunsets, beauty and blessings, joy and laughter from your 960 months of life! Wishing a million magic wishes to you!
14. I'd like to express my deepest gratitude and profound respect for who you are to me. I extend my love and best wishes— Happy 80th Birthday.
15. Happy 80th Birthday, dear sister! Your wisdom and guidance have been invaluable. May this year be a time of reflection, gratitude, and celebration of your remarkable life.
Using these wishes, make a birthday card to show your loved ones how much you care. Customize and decorate your 80th Birthday wishes card in SwifDoo PDF.
20 Funny 80th Birthday Wishes
1. If things really do get better with age, then you're approaching perfection! Congratulations on turning 80! Don't worry, age is just a number. In your case, it's a vast number, but who's counting?
2. You know you're getting on a bit when your grandkids have got grey hair. Jesus Christ, the 80s is going to be rough.
3. Congratulations, buddy! You have completed 80 laps of the sun. Happy 80th Birthday. Let the celebrations' be GIN.'
4. Have you ever wondered how much you would be worth at this age if you were wine? Not as much as you're worth to me, my friend. Happy Birthday! Cheers to 80 amazing years!
5. Happy 80th Birthday Brother. We look like those two old blokes from the muppets.
6. Do you remember when you turned 21? At your age, I wouldn't either. Who cares? Have a great 80th birthday!
7. Happy Birthday to someone approaching 85, just from the wrong direction. You're now at an age where napping is not a hobby but a skill. Enjoy your well-deserved rest, and have a fantastic birthday!
8. I regret to inform you that your seventies have EXPIRED. But hey! Even though you are turning 80 today, you don't look a day over 79.
9. I'd have gotten you a cake, but 80 candles are just asking for trouble. HAPPY 80TH BIRTHDAY. I HOPE YOU CAN READ THIS!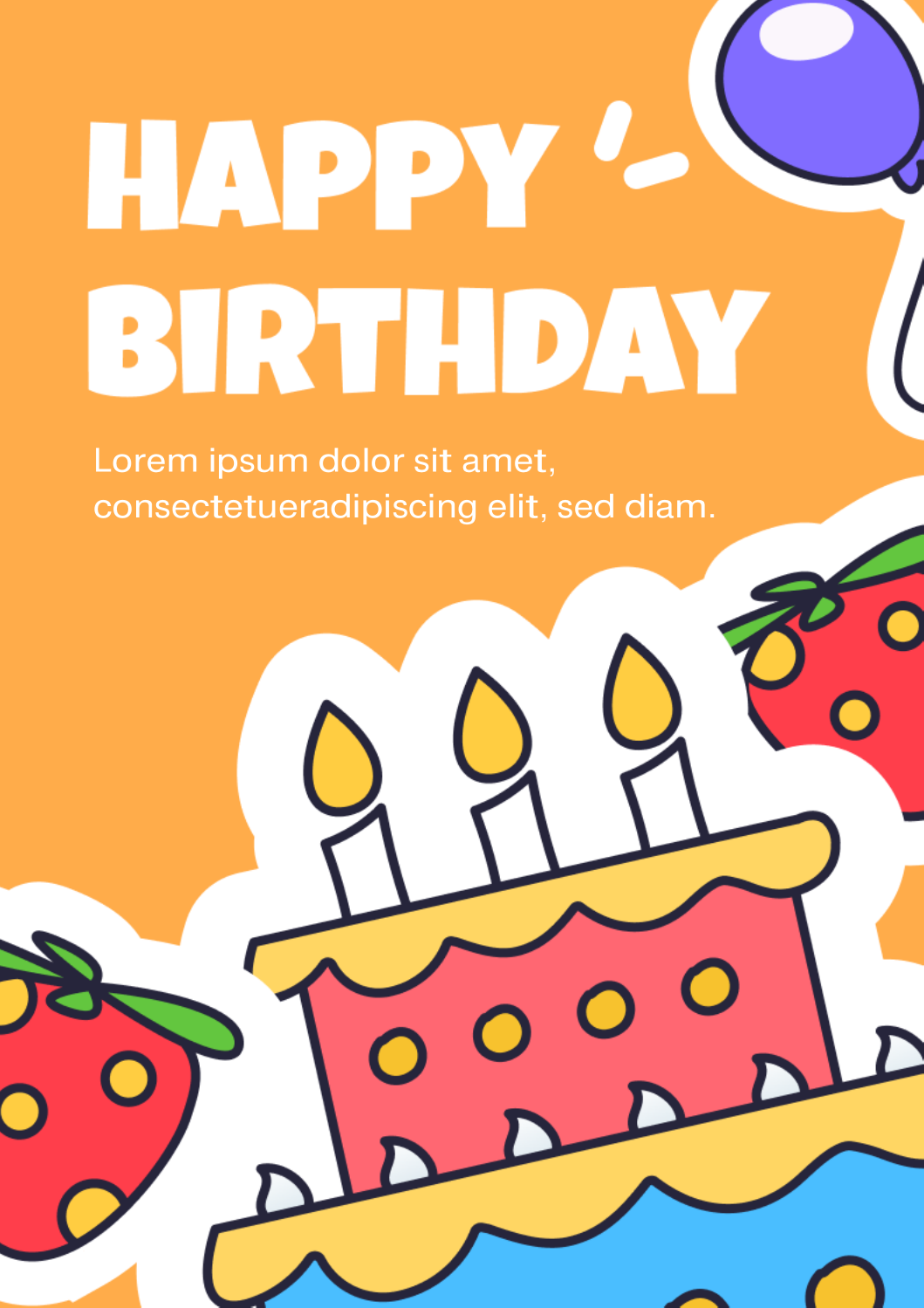 Download the Birthday Wishes to Send Your 80th Birthday Messages>>
10. It's a good thing you have had 80 years to develop your sense of humor because I'm looking forward to you saying something funny. Happy 80th Birthday, Champ! Let's par-tee!
11. Unless you are cheese, age is something that doesn't matter. So chill and party. Have a magical 80th birthday!
12. You're maturing like a fine wine; it's taken 80 years to happen, but still. Happy 80th Birthday, you beautiful old raisin.
13. You have been around for 29200 days… Not that I'm counting. Happy 80th Birthday!
14. Today, you are twice as old as a forty-year-old, which means you are twice the fun. Embrace your wisdom and celebrate in style!
15. Happy 80th Birthday to my favorite old vintage. I wish I'd known you when you were 20 years younger. But I hadn't been born.
16. Don't let anyone in their 90s tell you you're too young to do anything. After all, you have a maturity beyond your years despite your youthful looks. Remember, 80 is only 13 in Scrabble.
17. Turning 80 is a significant achievement. I'm not saying you are old… But if you were a whisky, you'd be really expensive! Happy 80th Birthday!
18. It feels like only yesterday you were in your 70's. I wish I had your many, many, many years of experience.
19. Happy 59th go of your 21st. Good luck blowing out all your candles.
20. 8 decades and forever to go… You have seen and experienced a lot. If there's something to learn, you have known and learned it all. The actual test now is trying to remember it all! Happy 80th Birthday, my friend.
Hopefully, this list of funny 80th birthday wishes has given you a few ideas on how to spice up any 80-year-old celebration. Send the best 80th Birthday Sayings with a card using the SwifDoo PDF.
How to Make an 80th Birthday Wishes Card by Yourself
Now you can send heart-touching 80th birthday wishes to the people who matter in your life. Pick any of these greetings or send out extra special and personalized messages to your loved ones and make their Birthday more special and memorable. Add a dash of fun by making a birthday card and watch them smile ear to ear.
SwifDoo PDF can be your go-to option to create a birthday card from scratch or customize its readily available templates. It is the ultimate solution to your PDF documents that enables you to create, view, edit, convert, compress, annotate, split/merge, and manage PDFs in a few clicks. You can convert your PDF documents and cards to images or print them and hand them to your loved ones.
Check out how to create an 80th birthday wishes card in this program.
Step 1: Download and launch the SwifDoo PDF creator on your system.
Step 2: Click Create in the left pane and tap Blank on the homepage.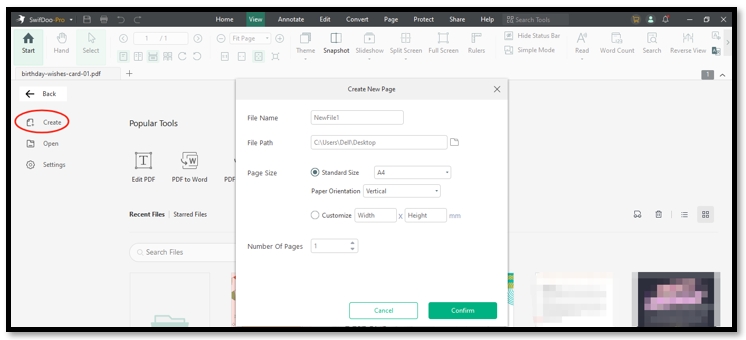 Step 3: Select a preferred page size and tap Confirm.
Step 4: Type your 80th birthday wishes and greetings in the text box and add images to make it more beautiful.
Or, you can use SwifDoo's free card templates and customize them to make an 80th birthday card quickly.
Step 1: Launch and open the card template in the SwifDoo PDF.
Step 2: Click Edit in the main menu and select Edit All.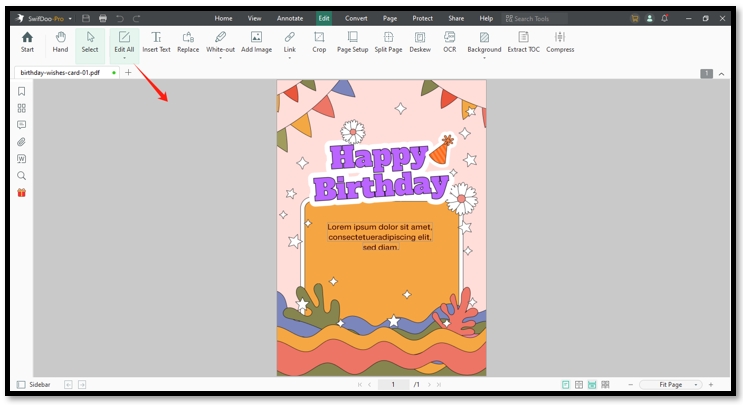 Step 3: Copy and paste your chosen 80th Birthday wishes into the text box in the PDF.
Step 4: Insert a picture and more personalized texts if needed.
Once created, you can change the font size, style, and color of your text to meet your needs.