It's not easy for everyone to make it healthy and strong and celebrate six decades of life! While the journey must have seen all the hardships, pains, smiles, sorrows, and blessings, it's time to celebrate the joyous occasion with heartfelt 60th birthday wishes. As the celebration is grand, choosing the right birthday wishes is equally important to express your heartfelt gratitude and appreciation towards your recipient. But you need not stress; we have collected a few great ways to wish your loved ones a happy 60th birthday.
The blog's purpose is pretty simple: to introduce you to the 60th birthday messages for your special people and brighten their day with a sweet birthday card. Get ready to put a smile on your loved one's faces with our funny, inspirational, sentimental, and meaningful birthday messages and wishes. Let's get started.
contents
Crafting Meaningful 60th Birthday Wishes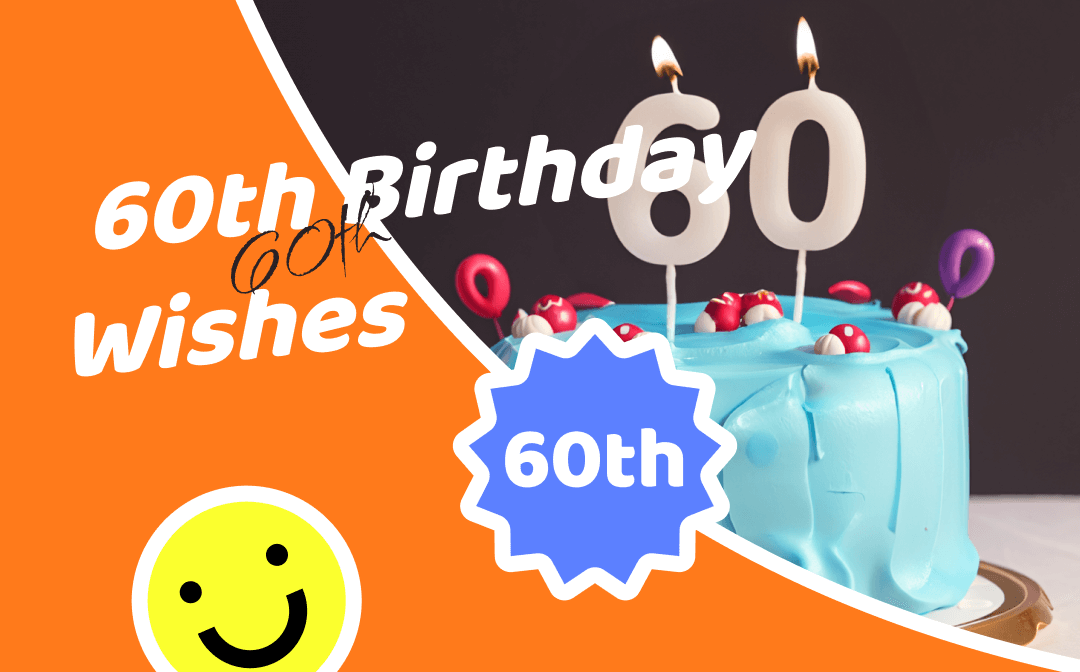 Crafting a beautiful and heartfelt message for a birthday can be challenging when you haven't planned ahead. But once you're clear on the direction and thought, you can quickly draft 60th birthday wishes. Every wish includes personalization and sincerity in messages.
Consider the birthday recipient, your bond, and how they celebrate their special day. For instance, if it's a family member, business associate, best friend, your life partner, etc. Different birthdays call for different messages like there's a difference between turning 25, 37, 42, or milestone birthdays like 50/60/70.
Reflect on their life stages or add an essential event. Even humor and nostalgia play a critical role in birthday wishes. Just consider your tone while writing one to express your emotions beautifully.
10 60th Birthday Wishes for Family Members
Family bonds and shared memories unite one through thick and thin. Whether it's your parents, siblings, grandparents, or relatives turning 60, it's an exciting moment to celebrate, and they deserve inspirational birthday quotes and heartfelt birthday messages on their special occasions.
Every child deserves a parent like you! We wish you the happiest of 60th birthdays, which we'll celebrate in style.

No matter how old we both are, you'll forever be my inspiration. Happy 60th Birthday, Little brother!

Happiest of birthdays, Archie! Remember, 60 is the new 40! Congratulations on reaching this milestone birthday!

You've always been my favorite uncle. I can't wait to celebrate at your birthday party this weekend. Happy 60th Birthday, Uncle!

I'm so blessed to have a great parent like you to look up to. You deserve the world, happy 60th birthday!

To the loveliest sister in the entire world, I wish you a happy 60th birthday! Now you're 60, maybe you'll finally stop lying about your age.

Happy 60th Birthday, Mum. You really are the glue of this family. Sending you all the best wishes. I'm sure you'll be celebrating in style.

Have a wonderful day celebrating this momentous occasion, Cousin!

I can't quite believe you're sixty. It seems like only yesterday was the day we first met. Have a wonderful day celebrating this momentous occasion, Matilda!

Happy 60th birthday, Leo. You're the best brother I could ever ask for! Life is better with you in it. Stay blessed!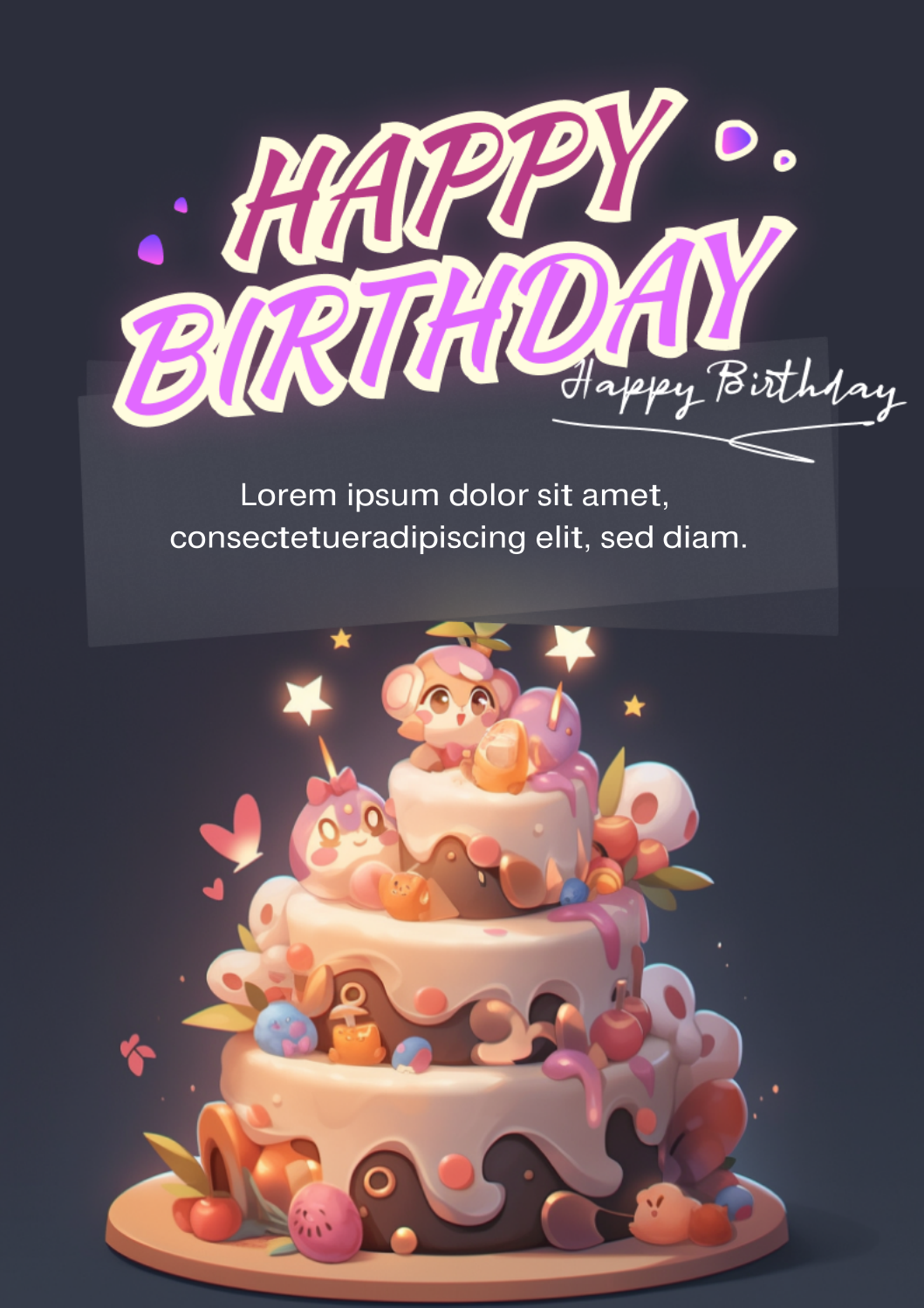 Download Birthday Cards for Families >>
10 60th Birthday Wishes for Friends
A sincere friend makes your life more prosperous and more enjoyable. When it's your friend's birthday, you can consider funny birthday wishes for 60th birthday, besides heartfelt and thoughtful ones, to celebrate their big moment.
Happy 60th birthday, Arthur! Here's to growing even older and becoming care home neighbors soon enough.

Congratulations on your 60th birthday, Henry! Let's keep aging together like fine wines.

You're the life of the party and always know how to make me laugh. I wish you a great birthday and many more years of laughter and joy! Happy 60th Birthday, Edward!

There's no running away from the fact you're 60. Besides, running is for the younger folks. Happy 60th Birthday, Albert!

Happy Birthday, Eleanor! Enjoy your day, and don't worry about turning 60 because it's awesome. To confirm, ask an 80-year-old person.

You might be sixty, but you barely seem to have aged to me. Mind you that might be because I see you every week. Happy 60th Birthday, Florence!

I can't believe you're 60. You look brilliant – I know it took 60 years, but it paid off. Happy 60th Birthday, Elizabeth!

We've been friends forever, and long may it continue. Happy Birthday, Harold, one of my oldest and dearest friends!

So you're finally turning sixty, are you? I guess this makes it official: we technically are now really old friends. Happy Birthday, Agnes!

Happy Birthday, Alex! Welcome to Club 60. Membership comes with many privileges and benefits. No old farts permitted.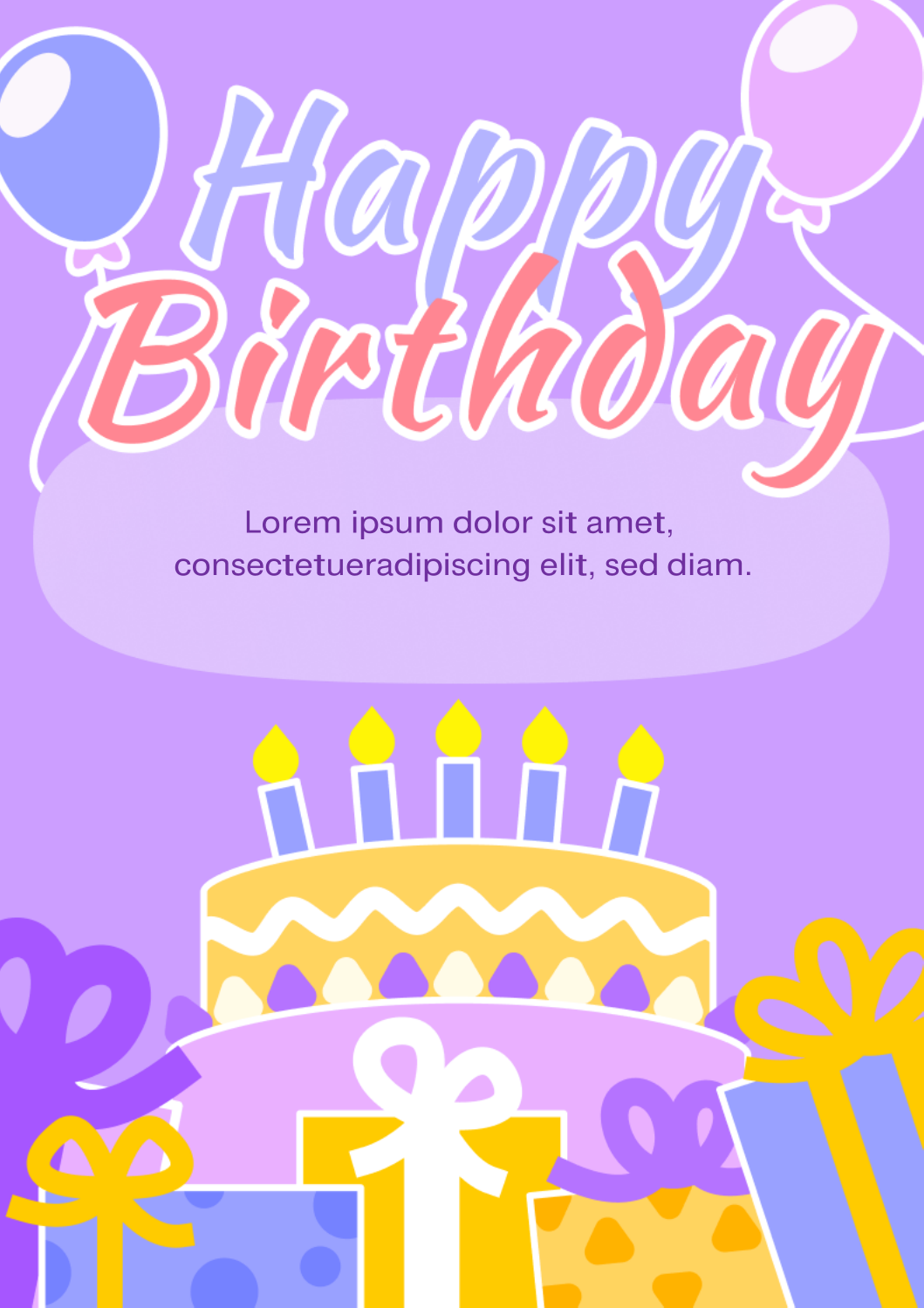 Free Download Birthday Card Template >>
10 60th Birthday Wishes for Colleagues
Professional relationships and a spirit of camaraderie are essential to sail effortlessly through office work and politics. And when your favorite colleagues/coworkers turn 60, you can write meaningful birthday wishes for them to make their special day more memorable.
Wishing you a happy 60th birthday and many more years of sharing your knowledge and experience.

Happy 60th Birthday, friend! You've been there for me through thick and thin, and I'm so grateful to have you in my life. I wish you a great birthday and many more years of love and friendship.

You've done a great job bringing our team together this past year. I'm so happy to be working alongside you!

Happy 60th Birthday to a fantastic coworker and friend! You're a great team player. I hope you know how much I value the hard work and dedication you bring to the table. I wish you a great birthday. Cheers!

You're a great leader; your guidance has been invaluable to me and our team. May you have a great birthday and many more years of leadership and success. Happy 60th Birthday!

I'll tell you what, you don't look a day over 59 – happy 60th Birthday!

Happy Birthday to my colleague, who truly brings out the best in me. You've always been a source of great ideas and creative solutions. I'm so glad we get to work together!

Happy 60th Birthday, colleague! You're a true professional, and I respect the high standards you hold yourself to. Have a great year ahead!

Happy 60th Birthday, John! You're a great partner to work with. I'd hire you a million times over. Wishing you a very happy birthday; hope it's a great year!

Happy Birthday, Sir. You've always been a great mentor and inspiration. It's so wonderful to have someone like you as our leader.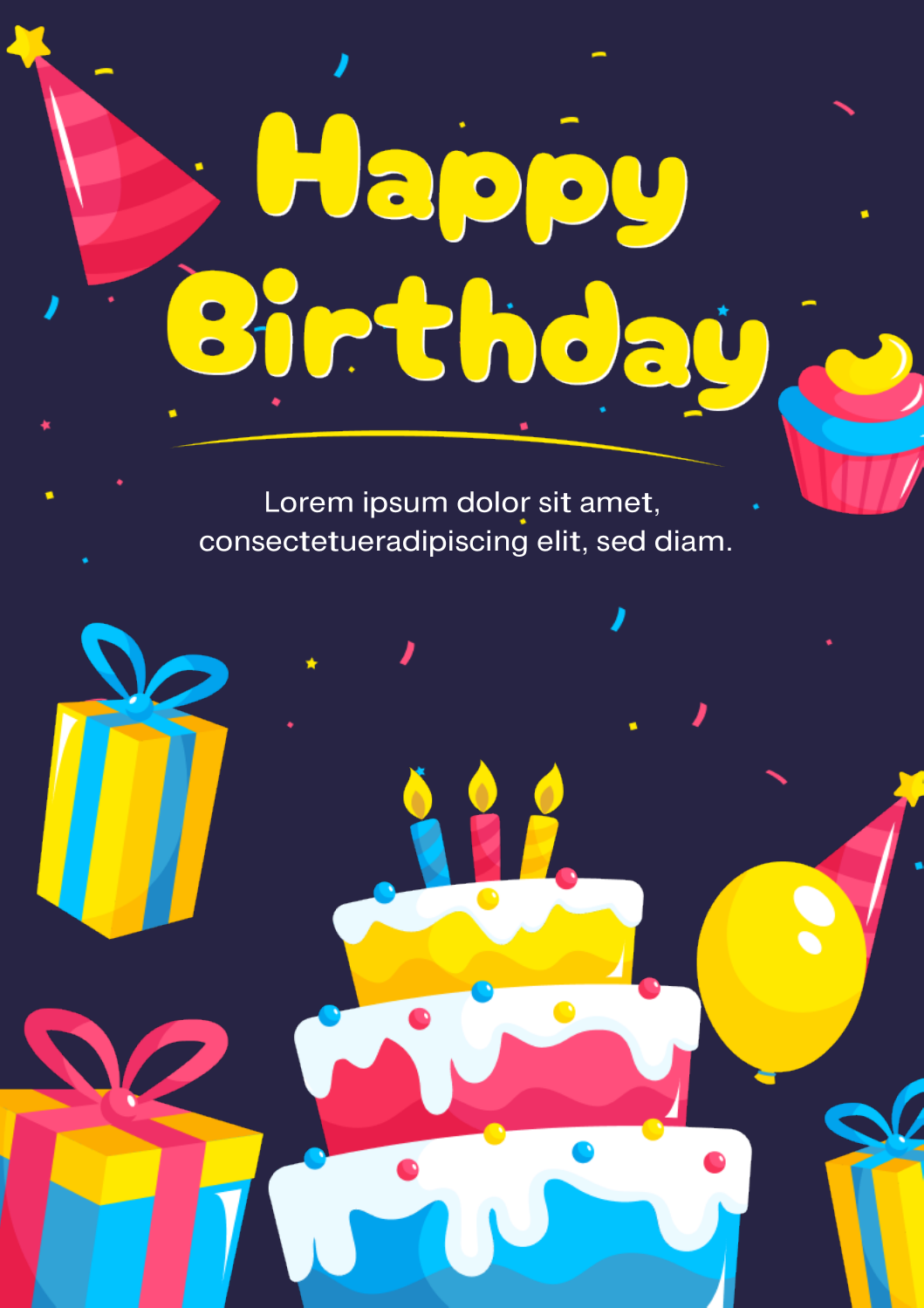 Download Birthday Wishes Card for Colleagues >>
Create 60th Birthday Wish Cards
A PDF birthday card is good for sharing and printing and gets created effortlessly. Luckily, SwifDoo PDF can solve all PDF-related issues.
SwifDoo PDF is a complete solution to deal with all PDF-related needs and activities. Instead, you can also use it to design unique birthday cards with 60th birthday wishes. Undoubtedly, SwifDoo PDF is one of the best PDF creators that lets you create PDFs hassle-free.
Once you choose your funny/inspirational or heartfelt 60th birthday messages, you can use SwifDoo PDF to make a card and share it with your family, friends, or colleagues. Let's check how to create and edit one with this fantastic PDF creator.
Step 1: First, download and launch the SwifDoo PDF creator on your Windows PC.
Step 2: Click Create in the left pane and choose Blank on the homepage.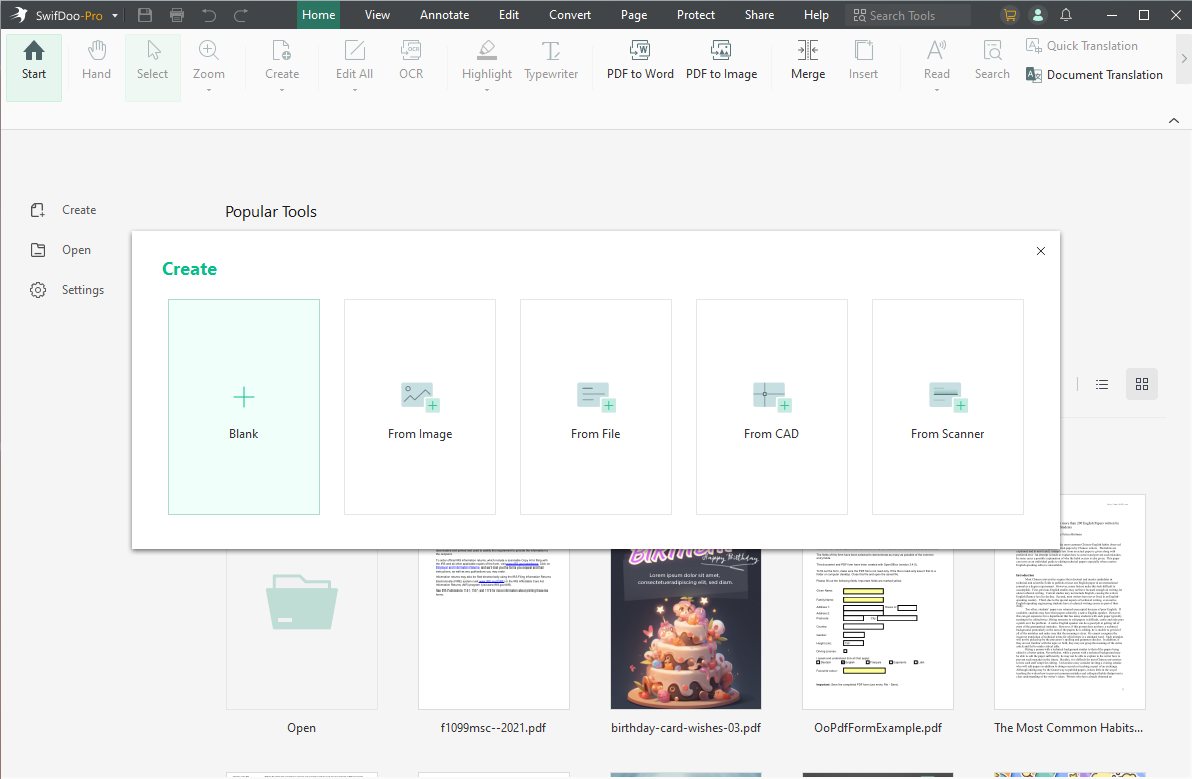 Step 3: Select a preferred page size and click Confirm.
Step 4: Type your 60th birthday wishes for family, friends, or colleagues on the PDF page and add photos to make it more beautiful.
Alternatively, you can use SwifDoo PDF's free card templates and custom-make them to create a birthday card quickly.
Step 1: After downloading the SwifDoo PDF, click Open to open the card template.
Step 2: Select Edit > Hit Edit All.
Step 3: Copy and paste your chosen 60th birthday wishes/messages for family, colleagues, and friends into the PDF's text box.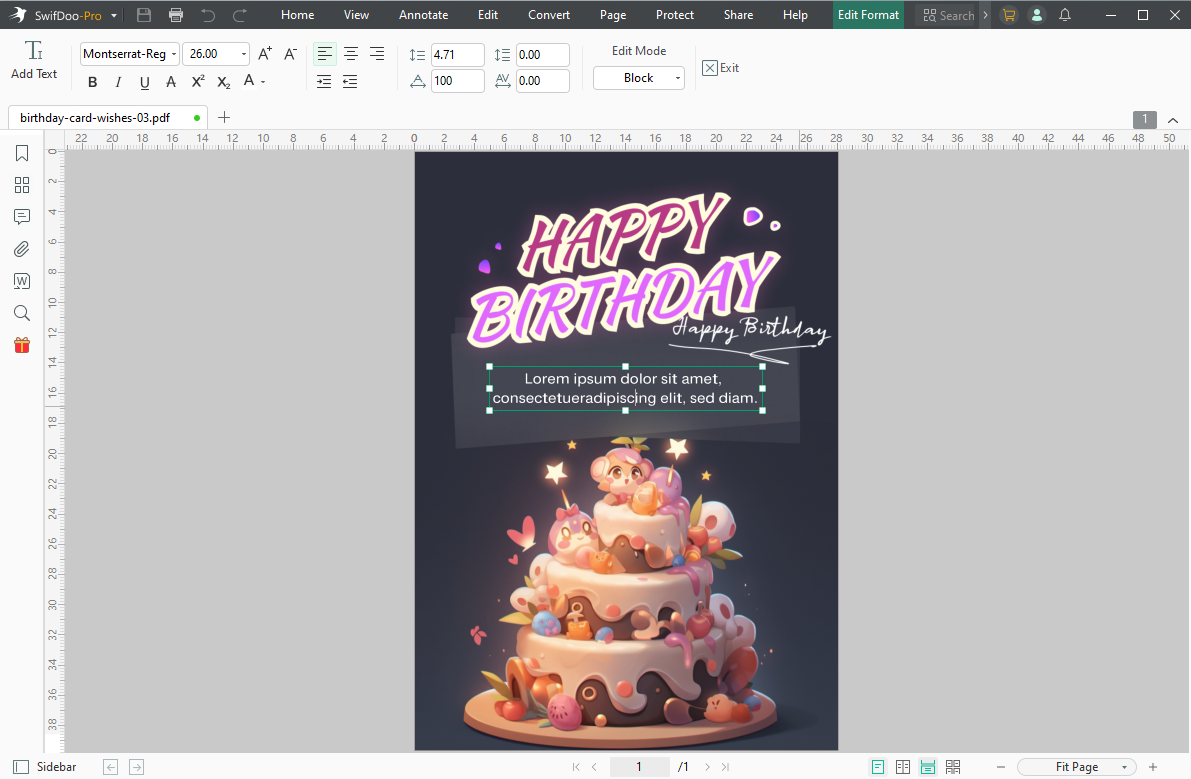 Step 4: Add a picture and more birthday messages/texts if needed. Then, edit the text's font size/style and background colors to meet your requirements.
SwifDoo PDF offers various font styles to enable you to change the image and text's properties and create exclusive birthday cards with even handwritten texts. But besides that, it protects your other essential PDF documents with a password and allows you to convert, edit, and annotate your PDF files hassle-free.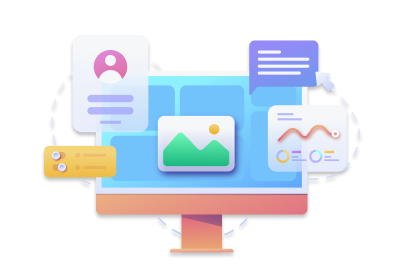 SwifDoo PDF: All-in-One Free PDF Tool
Annotate PDFs by adding notes, bookmarks, etc.
Convert PDFs to Word, Excel, and other editable files
Edit, compress, organize, and split PDFs
Try It Now
Buy Now
Final Words
60th birthday marks six decades of life and is notable for everyone. While one is excited to receive 60th birthday wishes, we have suggested different funny, inspirational, and heartfelt 60th birthday messages for family, friends, and colleagues. Don't just write your greetings this year on their social media accounts. Instead, make a card and print it for a sweet keepsake. SwifDoo PDF can help you make one in a minute. Try it once!