Introduction:
50th birthday marks the accomplishment of half a century. While it's a sign of getting older, wisdom also comes in complimentary. The golden birthday year welcomes new opportunities to feel more grateful for each passing day, make better choices, and be more confident in your decisions.
This milestone certainly deserves a grand celebration, and whether you do or not, ensure to send meaningful
golden jubilee wishes
to show your love. It could be for a dear family member, friend, spouse, or loved one.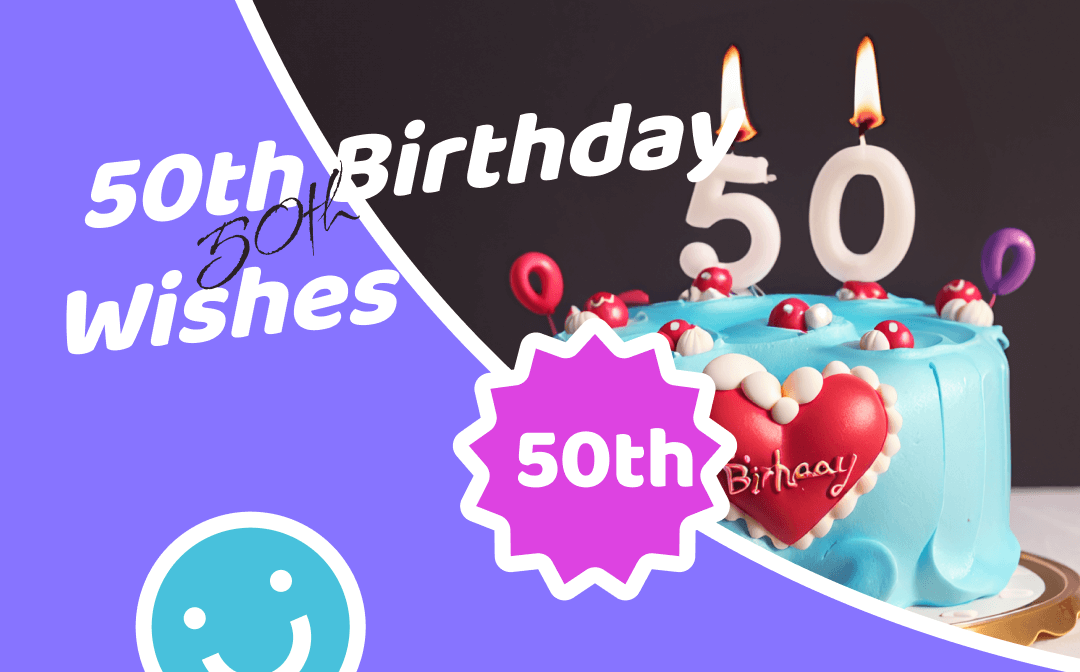 This blog intends to provide you with funny, lighthearted, sentimental, and inspirational 50th birthday wishes to wish your favorite person his life's next innings in the most thoughtful way. As celebrating 50 is not less than a milestone, you must shower 50th birthday messages through a card, so they can have it as a keepsake and enjoy their memorable day.
contents
Crafting Personalized Wishes
What makes a birthday greeting more unique and special is how deeply you connect with the person. For instance, general birthday wishes might make them smile and feel grateful to have you around, but personalized greetings might make them nostalgic, traveling down memory lane and filling them with joy with the good old days.
You can pick a theme for your golden jubilee wishes to make your recipient's birthday truly special. Include nicknames, specific memories, or inside jokes that only you people share. Consider their interests, like love for a typical food or a particular color, pet or animal, or any activity they can personally connect with.
This way, your recipient will feel unique and cherished, wondering how you remember the nitty-gritty details of their likes and were thoughtful to include them in their special birthday greetings.
10 Funny and Light-hearted Wishes
Humor plays a vital role in celebrating this milestone. But when using a funny element in writing your 50th birthday messages, be cautious against crossing any sensitive boundaries with humor so as not to upset your recipient. Check out a selection of 10 best humorous 50th birthday wishes.
If getting older means getting better… you're advancing towards perfection! Happy 50th birthday! I hope it's as wild as your hormones are about to be!

50 today? It seems like only yesterday you were 49. While you're an oldie, you're still a goodie. Happy 50th Birthday, Oliver!

You only turn 50 once. Make the hangover worth it! Happy 50th birthday to a true mid-century classic.

Happy 25th anniversary of your 25th birthday! Happy Birthday, Steffy! Foxy, funky, and a fabulous 50 years young.

Don't think of it as 50. Think of it as 21 with 29 years of experience. I wish you all the best on your 50th birthday!

You're not old – you just need a little WD40. Happy 50th Birthday to my biggest cheerleader and forever best friend! Xoxo

Happy birthday to someone who's 50 in body and 15 in mind. 50 and fabulous – keep on sparkling!

Turning 50 may be mandatory, but growing up is optional. Happy Birthday, kiddo!

Whoever says 50 is the new 30, let's keep company with them. Happy Birthday, Elsa! Let's party!

One minute, you're young and cool… and the next, you're 50. Happy Birthday, Peter! Make the most of your day.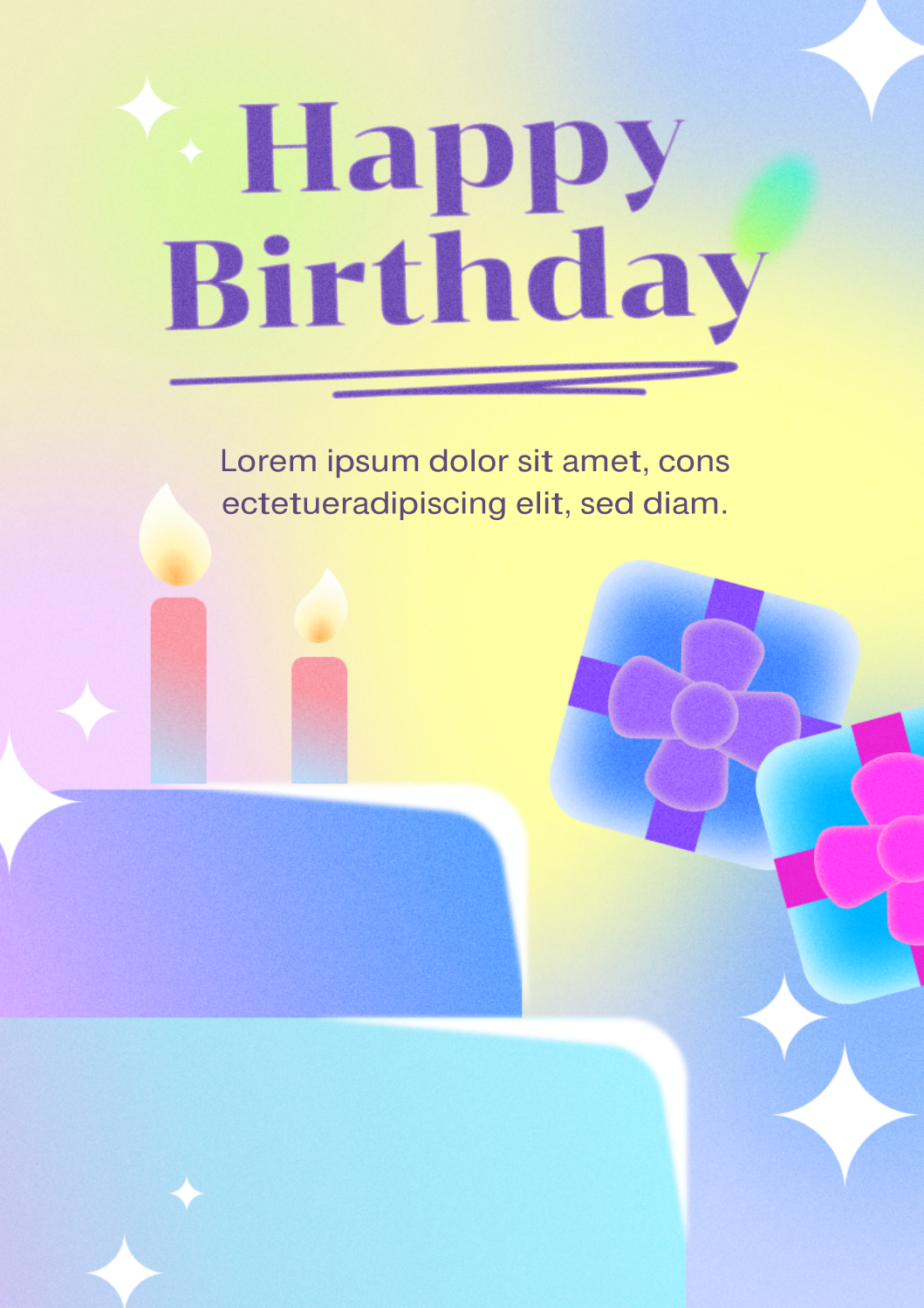 Get Free Card for Funny Birthday Wishes >>
10 Sentimental and Heartfelt Wishes
Expressing love and appreciation through heartfelt 50th birthday wishes is fantastic as it'll embrace the perfect occasion. These sentimental and heartwarming wishes help you connect on a deeper level. Let's see the ten best touching and emotional 50th birthday messages.
Wishing you all of life's finest things at 50 – you've got the wisdom to appreciate them and the grace to make them look good.

50 today, and just as gorgeous on the outside as you are on the inside. Sending you all the love on your remarkable milestone birthday. Happy 50th, darling.

Happy 50th, sweetheart! I wouldn't trade you for the world and will always appreciate your wise words and love. I wish you always be blessed with God's choicest blessings.

I hope your 50th year is your favorite so far! I can't wait to make more amazing memories with you. Have the happiest birthday ahead!

I'm so happy to be able to have seen you grow into the most wonderful person, and I can't wait to celebrate your next big birthday at 60.

Happy 50th birthday Charlie! Wow, this means the Earth has had half a century of your wonderfulness, and here's to many more!

You've created a wonderful life and a beautiful family. Congrats on 50 incredible years! P.S. You're the youngest 50-year-old I know! Happy Birthday!

Happy 50th birthday! Every day with you is a delight, and I can't wait for many more birthdays. Congrats on hitting 50. Enjoy your day!

Happy 50th Birthday to one of the most fabulous creations of this century! I must tell you 50 is only a number when you're forever young. Happy second 25th Birthday!

50 looks good on you. You make turning fifty classy, fabulous, and chic! Wishing you a delighted birthday on this special day.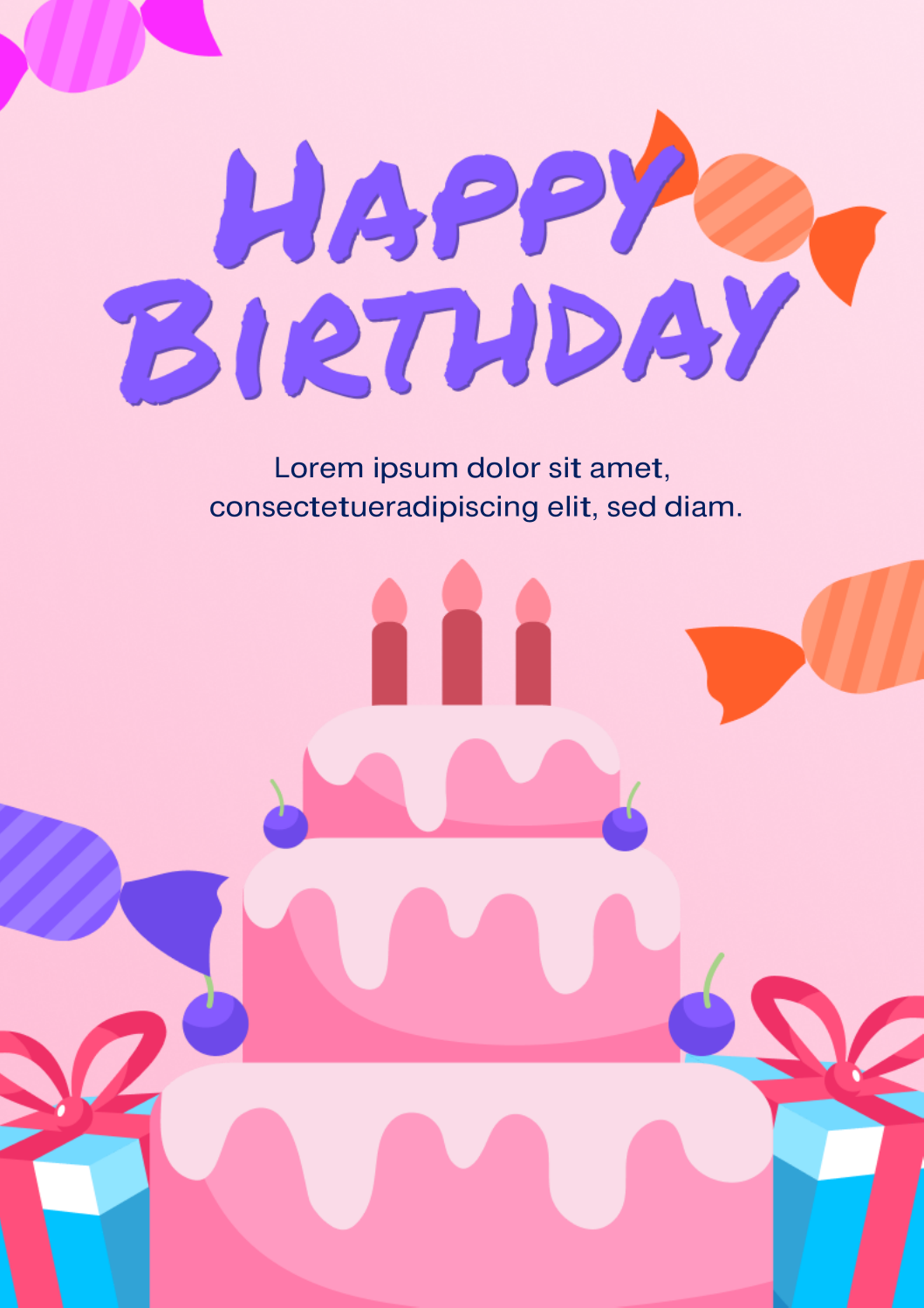 Download 50th Birthday Card Template >>
10 Inspirational Wishes for the Future
Inspirational golden jubilee wishes will help your recipient set new goals and aspirations to fill with gratitude and walk towards a blissful life. Check the ten motivational 50th birthday wishes to embrace the future with enthusiasm.
I hope you create as many unforgettable memories in the next half-century as you did in the first fifty years of your life.

One of the best ways to cherish and enjoy life is to forget your age. Just remember the best memories you had. Have the happiest birthday ahead.

It's time to take the best trip of your life, get a tattoo inked, buy a sports car, and enjoy retirement. Make your midlife an adventurous ride—Happy 50th birthday.

I highly appreciate your honesty and respect for your personality. May the good God keep showering blessings on you. Congrats on making your half-century brighter! Happy 50th Birthday, friend.

Everything good comes to those who turn 50. Good food. Good wine. Good friends. Good love. Happy 50th birthday!

Your 50th birthday is not only special for you but also for us. We've seen you as a strong leader and a motivating factor in our lives. I wish you peace, success, and good health. Happy Birthday!

Irrespective of age, being healthy is one of the biggest accomplishments. I wish you the best of health for the coming years of your life. Happy 50th birthday, buddy.

It is a beautiful time for you - you look no older than 30, but you have the wisdom of all lived years. Happy Birthday

May your next 50 be as wonderful as your first 50. Enjoy your 50th birthday! I wish you health and wellness and pray your dreams come true."

Today, you have turned 50. I have seen you mellowing like a well-aged bottle of whiskey. Keep blooming.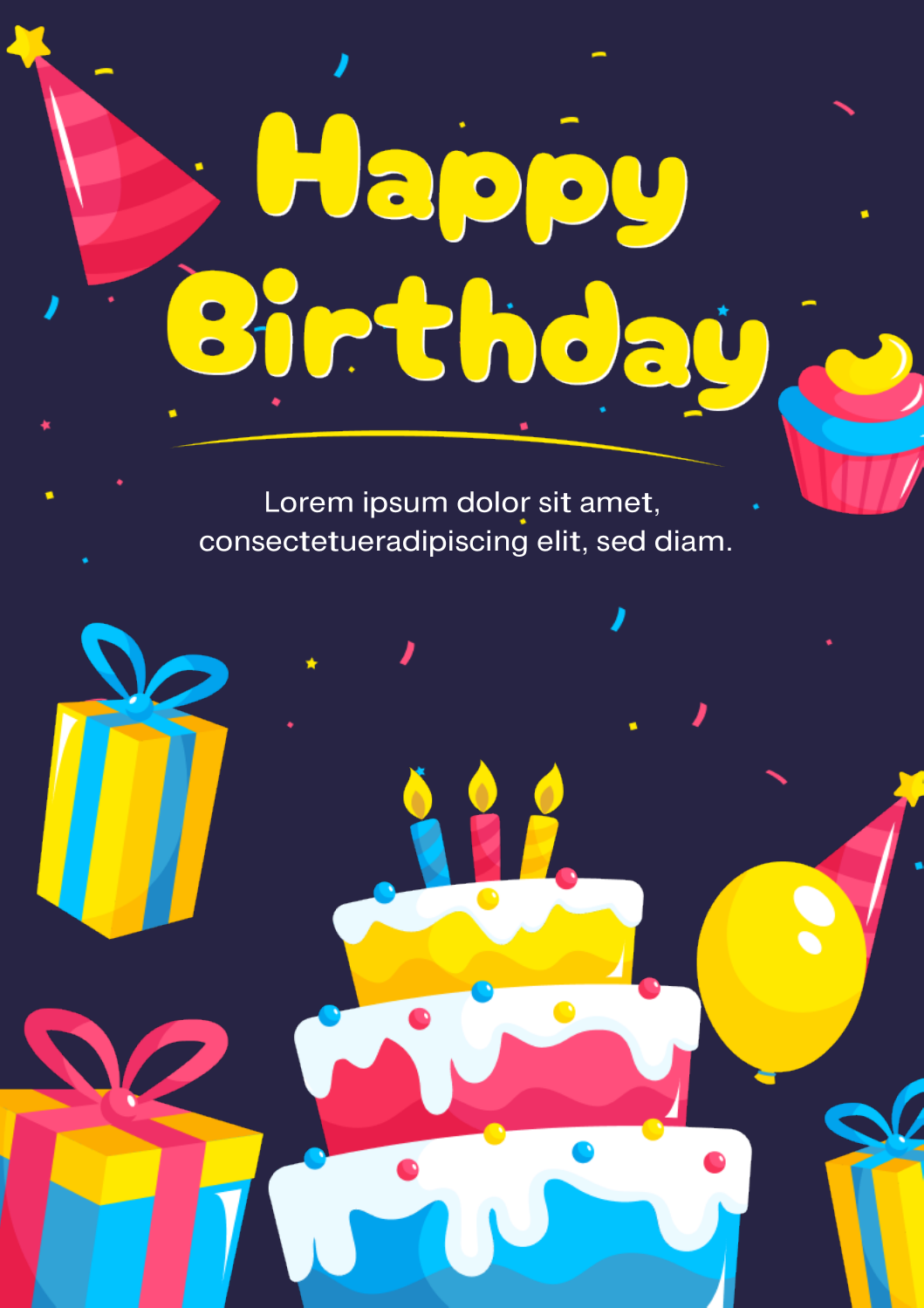 Free Download Birthday Wishes Card >>
Create 50th Birthday Wish Cards
50th birthday marks the struggle, accomplishment, and experience of life. After all, half a century of life is a big deal. When your close ones achieve this milestone, it's always double the celebration. So, make the most of this opportunity by expressing your heartfelt appreciation and emotions by making a birthday card through the SwifDoo PDF creator and editor.
SwifDoo PDF lets users design unique birthday cards and add 50th birthday messages to make a special occasion more memorable. SwifDoo PDF is one of the best PDF creators, enabling users to create and edit/annotate PDFs hassle-free. While a PDF birthday card is suitable for sharing and printing, SwifDoo PDF ensures to solve all PDF-related issues.
Step 1: After downloading SwifDoo PDF on your Windows PC, open its free birthday template.
Step 2: Click Edit and select Edit All.
Step 3: Write down your heartfelt golden jubilee wishes. Or, copy/paste any of our suggested 50th birthday wishes provided in this article and add images.
Step 4: Print your birthday greeting card.
Besides creating and sharing birthday greetings, SwifDoo PDF is also a valuable tool to fulfill to adhere to all your PDF requirements. It lets you convert a document to PDF and vice-versa, merge & split a file, crop, compress, and protect your confidential PDFs with password protection. Luckily, SwifDoo PDF is also a one-stop solution for all your PDF needs.
Final Words
Completing 50 years marks the revelry of a well-lived life and the lessons and learning received along. So, undoubtedly, sending 50th birthday messages is a good idea to felicitate them and express your jubilation. Pick the 50th birthday wishes that are worth the occasion depending upon your bond: funny/lighthearted, sentimental/heartfelt, inspirational/motivational, and customize them with a personal touch. This year, write your golden jubilee wishes and make a card with the SwifDoo PDF to make your loved ones' day more memorable.