You may have encountered files with the.XLT extension without knowing what they exactly are. In this post, we will help you find out what an XLT file is, how to open it, and how to convert it.
What Is an XLT File?
Created by Microsoft Excel, the XLT file is a spreadsheet template used to create new spreadsheet files. The XLT file format was the first file format that Excel used, and it was replaced by the Office Open XML format (XLTX) since Excel 2007 was released.
As a part of the Microsoft Office suite, Microsoft Excel is one of the most popular and widely used programs. Excel 97-2003 supported creating new XLT files by default. The new Excel program also allows users to open and save a file as an XLT file.
How to Open an XLT File
Since the XLT file format was created by Microsoft Excel, you can open an XLT file with Excel for sure. All Excel versions enable you to open XLT files with a breeze. If using web browsers, iOS, or Android devices, you can also open an XLT file with Google Sheets. Both Excel and Google Sheets allow you to edit the template that the XLT file contains.
Apart from Microsoft Excel and Google Sheets, many other programs can be used to open XLT files, such as Lotus Translation Table, Procomm Plus Translation Table, PDFCreator, Microsoft Application Virtualization, and Microsoft Open XML Converter. If you happen to use any of these programs, they may help you a lot.
How to Convert an XLT File
XLT files are not that commonly used these days because there are many new spreadsheet file formats. To convert XLT files to other spreadsheet formats, like XLS, XML, XLTX, etc., you can use Microsoft Excel directly.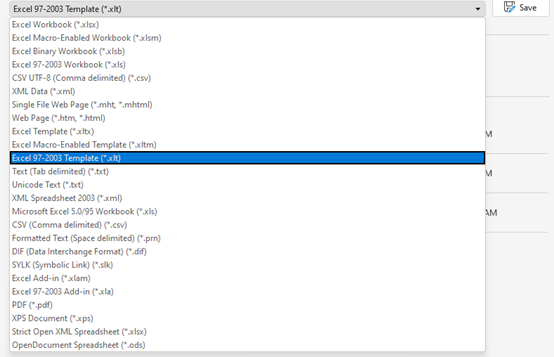 Converting an XLT file in Excel only takes seconds. You only need to click File > Save as, and select a file format, then hit Save to finish the conversion.
If you need to convert XLT files to other formats that Excel doesn't support yet, you can utilize dedicated file converters to perform those complicated conversions.
Difference Between XLT and XLS Files
XLT files are mostly used for creating templates, while XLS files are used for making spreadsheets. For example, if you need to use one template many times, like a resume, you can save it as an .XLT file, which can be renewed without changing the format whenever you want.