Have difficulty in opening a WPT file? Or do you just happen to know this term and wonder what it is? Then you are on the right page. This article is going to present a general picture of WPT files. You can learn tips on how to open this file as well.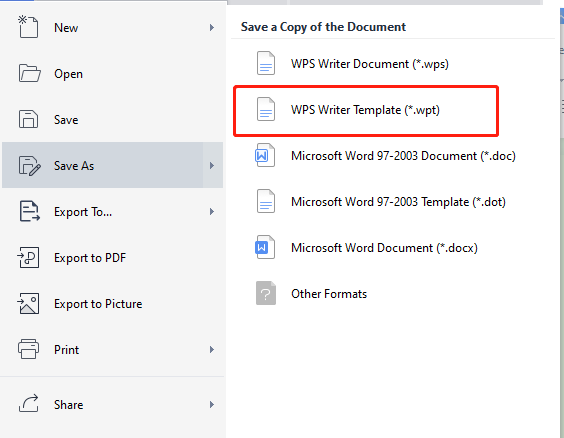 What are WPT Files
A WPT file usually refers to a WordPerfect template file whose file extension is .wpt. It is a text file template created by WordPerfect, a word processing application owned by Corel. A WPT file is saved in a binary format and can contain text, charts, images, tables and other textual data.
A WPT file is a pre-formatted document and its role is similar to that of a DOT file. It is used to create multiple WordPerfect document files (WPS files) with similar or the same page formatting and content. This avoids redundant work when creating and writing files with identical information.
There are other types of WPT files created by different word processing applications. Here we list two more of them which are relatively common in our life.
Kingsoft Writer is a word processor and is part of the Kingsoft WPS Office suite. It creates the Kingsoft writer template file (WPT file) with the file extension of .wpt as well. It is also a temple file predefining the page layout of a Kingsoft Writer document (WPS document).
Another WPT file is the Microsoft Works template file created by Microsoft Works, a productivity program developed by Microsoft. It consists of predefined text, images, page layout, and other formatting elements to duplicate new Microsoft Works files (WPS files).
How to Open WPT Files
A WPT viewer is required in order to open WPT files. You can either download a specific program that supports the WPT format or use an online WPT viewer to read a WPT file. Here we list several common programs and online viewers to open WPT files:
Corel WordPerfect: a professional word processor for Windows system and good at creating and opening WPT files;
Kingsoft WPS Office: an alternative for Microsoft Office and providing free services to view WPT files on Windows, Mac, Linux, iOS, and Android.
ASPOSE Words Viewer: a free online document reader that supports WPT, DOCX, CSV, TXT, and other formats.
To open a WPT file by Corel WordPerfect, you can select "File" > "Open" to choose your WPT file. WPS Office opens WPT files by double-clicking, and you can choose or drop your WPT file to the upload box to read the file with ASPOSE Words Viewer.