Maybe you are tired of copying and pasting the same document just in order to create and fill out files with similar information. Then a DOTX file can be a great help. Read on to know what a DOTX file is and how to open or edit it.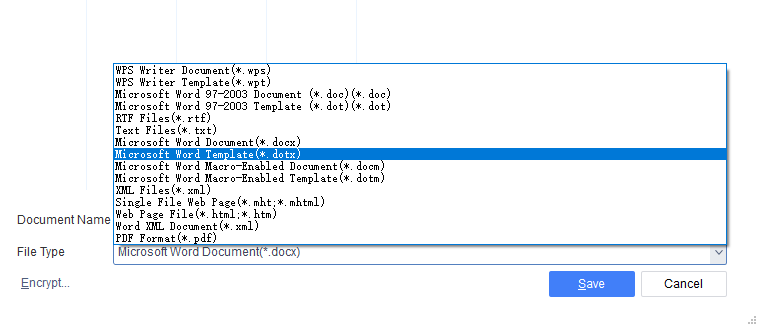 What Does DOTX Mean and What Is a DOTX File
With the launch of Microsoft Word 2007, the DOTX format is introduced to replace the DOT format. This format is dependent on Office Open XML (OOXML), a zipped XML-based format.
A DOTX file is a Microsoft template file and its file extension is .dotx. This type of file includes predefined settings to duplicate DOCX documents. Those settings consist of headers and footers, font sizes, page margins, and other formatting.
A DOTX file frees users from repetitive work when generating documents with similar or identical layouts and content, such as invoices, resumes, and standardized official documents. By double-clicking, users can create a new file with the same layout by default instead of setting up the layout manually. The template file will not be overwritten.
How to Open DOTX Files
There are many word processors to open DOTX files. You can choose your preferred one in accordance with the device and system you use. Some programs that support DOTX format are listed:
Microsoft Word: the best application to view DOTX files and compatible with Windows, macOS, Android, and iOS.
Apple Pages: a good choice to view DOTXfiles on iOS, iPadOS, and iOS operating systems.
WPS Office: an office suite to view and edit DOTX files for Microsoft Windows, macOS, Linux, iOS, Android, and HarmonyOS system.
Apache OpenOffice: an open-source office productivity solution to open DOTX files for Microsoft Windows, macOS, and Linux users.
Google Docs: an online word processor offered by Google which is accessible via any web browser and supports comprehensive file formats.
GroupDocs. Viewer App: a free online file viewer and editor with a complete set of tools.
How to Edit DOTX Files
As a template file, it is convenient to use a DOTX file to create new DOCX documents. However, editing a DOTX file can be a problem. Many people find that they can't edit DOTX files by their desktop applications and each time they make changes to their template file, they have to save it as a new document.
To edit a DOTX file, directly launch the word processor you use, click "File" in the toolbar, select "Open" to choose the template file and open it, make your changes, and then tap "Save". You will successfully modify the DOTX file. If you just double-click the document to open it and make changes, you are not editing it, instead, you are creating a new file.
In case you may need to send a DOTX file to coworkers or others to check the content, it is better to convert DOTX to PDF. PDF is known as a good format for sharing and printing. To convert a DOTX file to a PDF file, you can use an online PDF converter to swiftly complete the task.