Sometimes when you have already paid for the subscription, your account status still shows you are using the free trial version. The possible reasons are listed below:
1. After placing the order, you need to redeem the activation code to activate your account. Only by doing so, you can log into your SwifDoo PDF account as a paid member. Here are the steps to redeem your activation code.
Step 1: Copy the activation code in the order email you received;
Step 2: Sign into your account on SwifDoo PDF's site;
Step 3: Click Redeem Activation Key on the User Center page, and paste the activation key into the input box;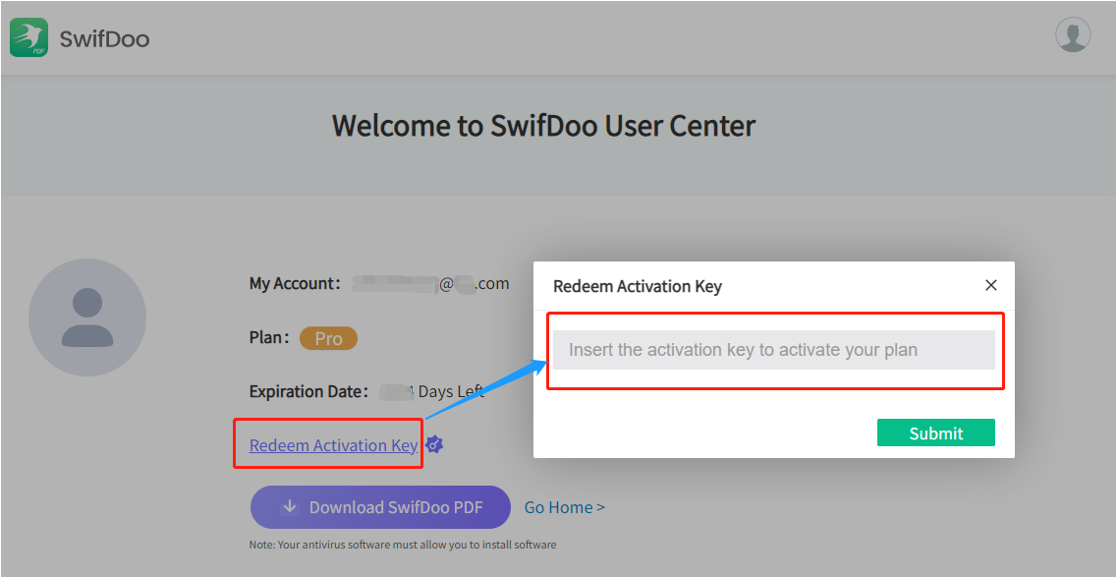 Step 4: Tap Submit to activate your purchase plan, then you can view your plan and expiration date.
After activation, log into the SwifDoo PDF application to use.
Note: If your login password is automatically generated, please change the password as soon as possible for security reasons.
2. Please make sure your account is logged in or not. When you've just placed the order and your account remains logged out, please log in to the program; when it is logged in, please log out first and then re-log into the software.
3. SwifDoo PDF, similar to other programs, will require users to re-login to the software once a month, with the purpose of better safeguarding users' personal information. Users need to check whether the account has been logged out by default.
4. One possibility is that your account has expired. In this case, please check the expiration date of your account.
5. Please make sure the software you've purchased is SwifDoo PDF.