When you decide to look for a new job/career, having a quality resume proves to be so vitally important. Your resume is what helps sell yourself to your future employers and allows you to showcase your skills and qualities, but if it isn't up to standard, you can't expect to impress employers and get hired.
A proper file format is vital for sending a quality resume. If you are a fresh graduate and have no much experience in job application, you may wonder: should i send my resume as a PDF or any other type of file? Believe it or not, but one of the biggest mistakes that job-hunters tend to make is failing to create and send their resume in PDF format.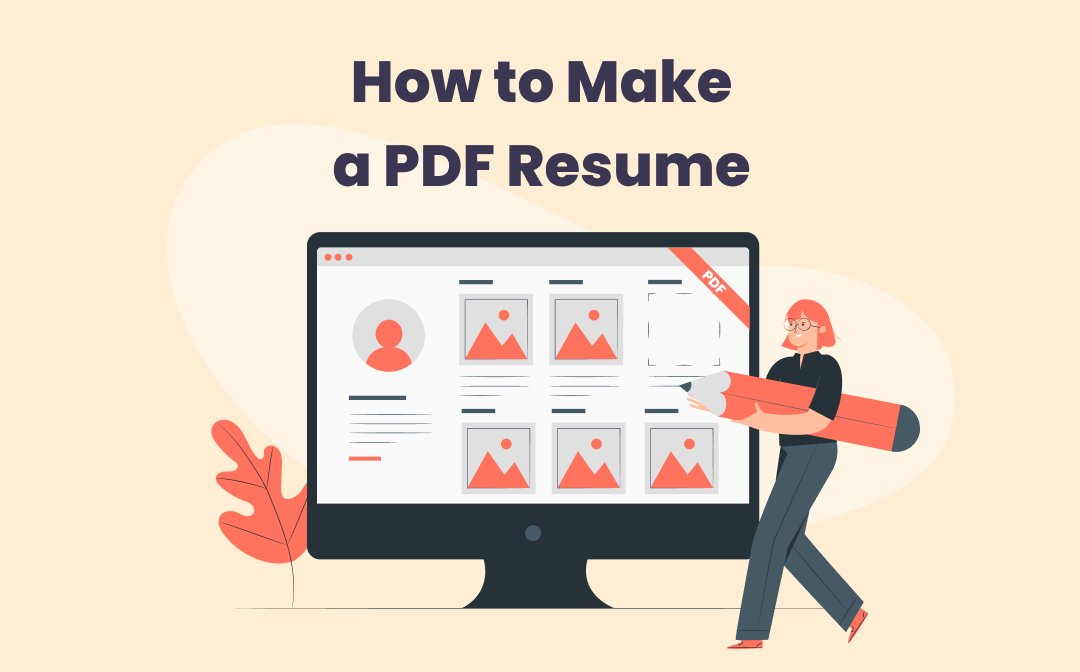 With so many awesome quality PDF providers out there such as SwifDoo PDF, it's easy to find employers prefer to receive a PDF resume. Here's a look at the reasons.
Should I Send My Resume as a PDF?
In fact, many job seekers prefer to PDFs while others swear by Word documents. If you can't decide whether to send resume as PDF or Word, we can first learn about the two formats.
Portable Document Format (PDF) is a versatile file format and a PDF file can be transferred without losing formatting and layout regardless of the software, hardware or operating systems.
However, a Microsoft Word file commonly in DOC format, or any other word processing document may display in different layouts on different versions of word processing software or computer OS.
Here we've listed several reasons why you should send your resume as a PDF, unless recruiters ask for a Word format.
A PDF file is compatible with all platforms and will appear exactly as the original when employers receive and view it.
Sending your resume as PDF can protect your information from unwanted changes because PDF is not easy to edit. But if there is a need, you can use SwifDoo PDF editor to alter the content.
PDFs look more formal than Word documents as you can find most of public documents in the world are in PDF format.
Next, let's explore more advantages of creating a PDF resume and why you should use SwifDoo PDF.
Easy to Open
Technology is a wonderful thing when it goes right. When it goes wrong, it absolutely sucks and it can put you in a truly awful mood for the rest of the day or week.
Because PDF is so popular, most employers prefer job applicants to send in their resumes via PDF as opposed to Word because PDFs are so easy to open on a whole variety of different devices.
A PDF is much easier to open which means that employers will be far more likely to read it thoroughly and begin learning why you feel you're the perfect candidate for the job that they're advertising.
PDFs Are Easy to Edit
Okay, say for example that you have created a resume only to find that you've made a mistake in there that needs rectifying, if you created it in PDF format, you may find that it is tough to edit. With SwifDoo PDF software, you have a PDF resume editor and things will be so easy.
Whether you've made a few typos, have included incorrect contact details, or have simply forgot to add something important, if you use SwifDoo PDF, select what needs to be selected, and edit it in a matter of seconds.
Now check out how to edit resume on PDF.
Step 1: Open the PDF with SwifDoo PDF application, and tap Edit on the top;

Step 2: Click Edit in the sub-menu bar, then directly change the text you want to correct;
Step 3: Exit the current editing mode, tap Edit on the top, hit your profile photo or any other image and choose Edit Image;

Step 4: Select a tool in the pop-up toolbar to resize, rotate, replace the picture, or adjust the image transparency.

If necessary, you can add a background color or image to the PDF with SwifDoo PDF editing feature.
Existing Design from PDF Template
Another advantage of creating and sending your resume in PDF format is you can make use of a template PDF and don't need to design the layout and formatting yourself.
There are many resume template PDF download sites such as Resumeviking.com and Wise, which provide all sorts of templates you may need, including free sample or blank resume PDF for maintenance technician, police officer, project manager, and so on.
When you have downloaded your favorite template, use SwifDoo PDF to erase the existing content and fill in your own information.
What's more, SwifDoo PDF lets you convert PDF resume to Word, so you can make use of the templates in Microsoft Word.
PDF Is the Preferred Format of Most Recruitment Companies
Because of what we've outlined above, another reason to create resume in quality PDF is down to the fact that most recruitment companies and employers in general, prefer PDFs.
Across Europe and the USA, PDF is the dominant format and is by far the most popular, due to its user-friendliness, the things we've highlighted above, and because PDFs take up so little space.
PDF Allows You to Create the Most Popular Resume Format
According to market research, reverse chronology is the most popular method used in writing a resume and a PDF allows you to effortlessly utilize this technique.
This reverse-chronological format is easy to skim and read, recruitment agencies and employers are familiar with it, and ATS' (Applicant Tracking Systems) can read this particular format with ease.
If you wish to use SwifDoo PDF, the great thing is the fact that it is so easy to create a PDF resume in reverse-chronological format.